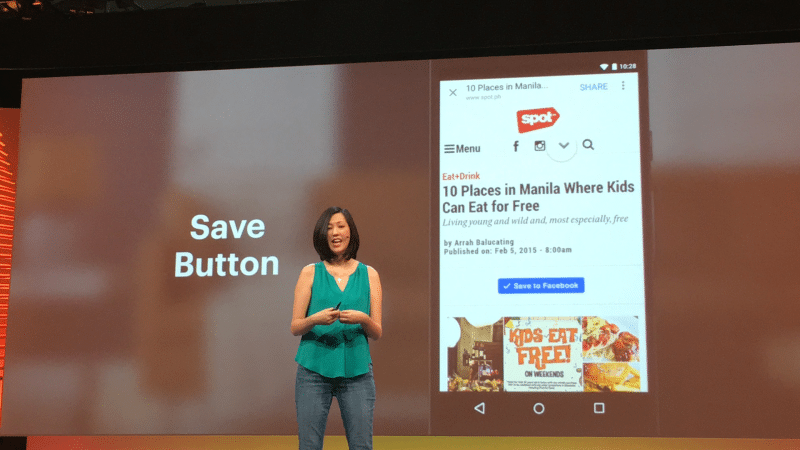 It has been almost four years since Facebook introduced "save for later" button has appeared. If you haven't noticed it, it's a way for storing articles, videos and other things you find on Facebook for later. The problem is that your list of saved items has never had a prominent place in Facebook's apps. In order to access it, you must first tap the dreaded "more" button, then scroll halfway down the list of options.
Surprisingly – despite its relative obscurity, Facebook says 250 million people take advantage of the save feature every month. Now, Facebook has a new strategy to make that number grow.
At the F8 developer conference, Facebook introduced a "Save to Facebook" button for the web. Publishers can now add the button to their standard article template. Whenever a user taps the button, it will save the article or video directly to their Facebook queue. If that sounds a lot like Pocket and Instapaper, well, it is.
There are key differences, though — Facebook doesn't strip articles of their formatting and advertisements. Given the high percentage of traffic that many publishers derive from Facebook, the company may have more success in getting them to add a "Save to Facebook" button than Pocket, which offers a similar button of its own.
At launch, Facebook's save button will be available on Product Hunt, the popular Silicon Valley coolhunting site and on Overstock. The latter site demonstrates how save buttons have potential benefits as e-commerce tools. Although, why anyone would save an item to Facebook instead of just leaving its tab open on Overstock until they decide whether they want it is kind of beyond me.
We'll have to see if big publishers add the button to their article pages. In an era where media companies are striving to maximize their total content views, the lure of additional traffic from Facebook be irresistible.
Comments
comments