Share your creatives (photos, videos, etc.) with AdvertiseMint via Dropbox.
Important note: Title your Dropbox file as "[Business name]'s Creatives." For example, "Coca Cola's Creatives." DON'T title your file as "AdvertiseMint" as that will make it very difficult for our team to find.
Step 1: Go to File and Click "Share"
Click "Files" then hover your cursor over the file you want to share. Click the "Share" button next to the file.

Step 2: Send file to dropbox@advertisemint.com
Send your file to dropbox@advertisemint.com. Make sure that you choose the "Can edit" option next to the email address you entered. This gives us full access to your file.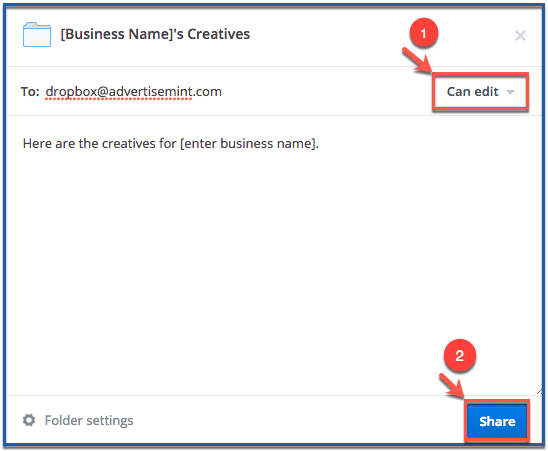 Step 3: You're Done
You know you have successfully given AdvertiseMint access to your file when the purple circle appears on your file as indicated on the image below.