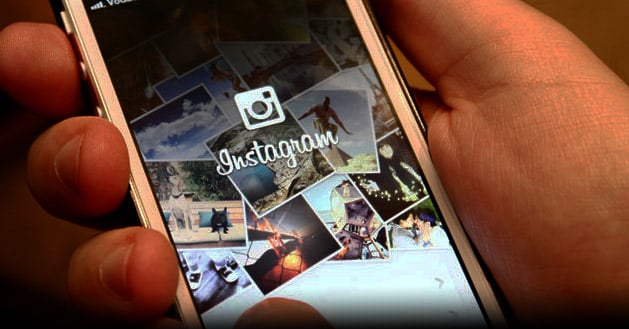 Grow your business using Instagram ads
Are you looking to reach over 600 million targeted users on the world's most popular visual social network? As an Instagram advertising agency, AdvertiseMint can be your solution for targeting the right customers, saving money on ad spend and scaling your campaigns to meet your ROI goals. Whether your business goal is to announce a new product, increase app downloads, drive traffic to purchase or attend an upcoming event, Instagram ads are proven to reach a highly visual and engaging audience. Our Instagram agency can help you tap into the niche market that will love your product or service, quickly getting your business where you want it to be.
Here are three reasons why you need to advertise on Instagram.
Digital advertising is growing
Businesses are increasing their budget for digital advertising every year. In fact, the total online spend is expected to increase from $151 billion in 2015 to $204 billion in 2018. Digital advertising is growing because consumers are spending more time online via computers and mobile devices. Additionally, digital advertising provides more targeting mechanisms than traditional media.
One of the of the world's largest mobile ads platforms
600 million — that's how many Instagram users there are all over the globe. Over 75 million of them interact on a daily basis. Additionally, almost 76% of Instagram users live outside the US — an entire new market for your business to access. With such a large base of regular users, Instagram is the ultimate platform to globally reach your target audience.
Highly engaged Instagram audience
On Instagram, there are over 40 billion photos shared and 3.5 billion likes every single day. Engagement rates on Instagram stay consistent at 4.2% while engagement on other social media platforms such as Facebook and Twitter are between 0.3 and 0.7%. The reason that engagement is drastically higher on Instagram is because it's highly visual and easy to use, making it quick to absorb information as well as allowing a much wider range of people to interact with each other.
Request a Free Consultation

What can an Instagram advertising agency do for you?
Clicks to Website
With Instagram, you can send people directly to any page on your website that you want them to visit.
Website Conversion
Provide clear call to action buttons such as "Buy Now" or "Shop Now" that enable Instagram users to know exactly what action you intend for them to perform.
Mobile App Installs
Allow users to download your app – quick, easy and directly taken to the App Store for iOS or Android.
App Engagement
Display ads directly to users that have already downloaded your app reminding them of new features and ways to use your app.
Video Views
Tell your business story or announce the launch of a brand new product with 60 seconds videos.
Mass Awareness
Drive mass awareness to a targeted audience with guaranteed impressions and placement in the top ad position of Instagram's feed in Photo, Video or Carousel formats.
An Instagram advertising success story
Did you know that Michael Kors kicked off the first Instagram Ad with an image of a watch? Eighteen hours later, the ad had received 217,000 likes and gained 33,985 new followers. Instagram advertising will give your business the reach and engagement that you never imagined possible.
See how Capital One and Toyota leveraged the carousel ad format by working with an Instagram advertising agency in the following video.
Are Instagram ads right for you?
Take our Quiz to see if Instagram advertising is the right fit for your business!
Good News
If you answered "YES" to any of the questions, Instagram advertising will be a great fit for you.
Example of brands using  Instagram advertising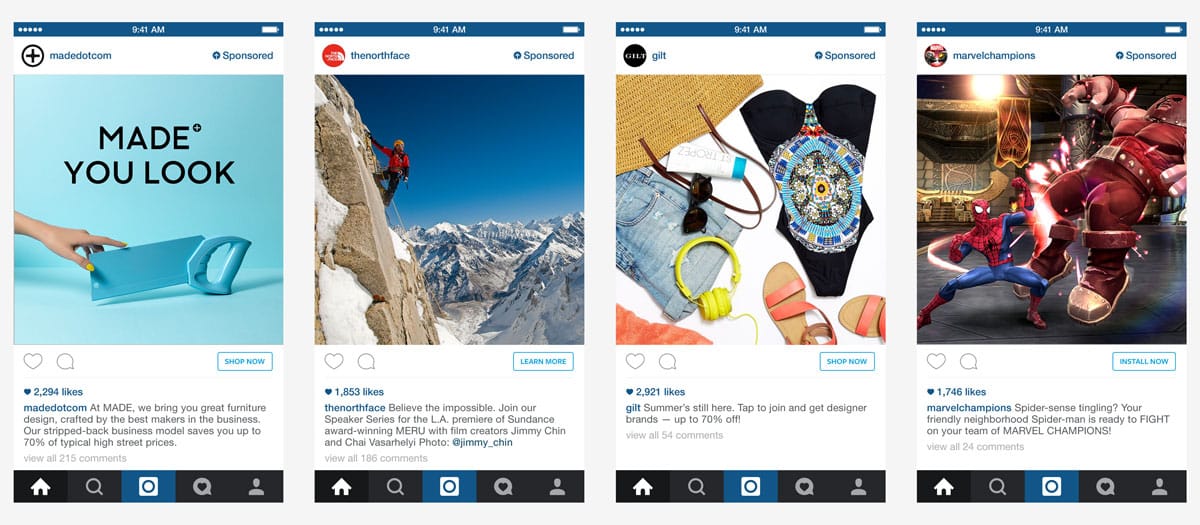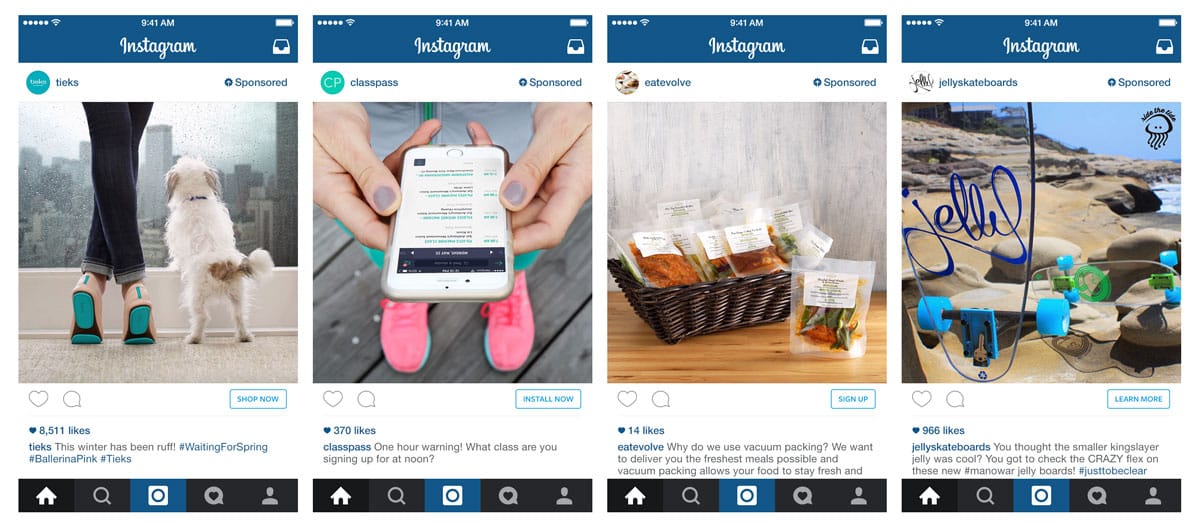 Frequently asked questions
How much does Instagram advertising cost?
Similar to Facebook Advertising, you choose a daily or lifetime budget for each advertising campaign, including how much you are willing to pay per ad result. So far, pricing on Instagram has been averaging a cost-per-thousand views, or CPM, of $6.70. However, you can expect that cost to drop as more advertisers jump into the system. Most importantly, users are two and a half times more likely to click on ads than on other social media platforms. That means that spending $50 on an Instagram advertising campaign can go much further than on another platform.
How are Instagram ads different from Google ads?
There is one big difference between the two. Google AdWords is the world's largest and most popular PPC advertising platform and has become synonymous with the term "paid search." The two terms are used interchangeably, even though other platforms such as Bing Ads work in a similar way. Paid search focuses on the targeting of keywords and the use of text-based advertisements. Advertisers using AdWords bid on keywords, specific words and phrases included in search queries entered by Google users in the hopes that their ads will be displayed alongside search results for these queries.
Instagram ads are a prime example of what is known as "paid social," or the practice of advertising on social networks. With the highest number of monthly active users (or MAUs) of any social network in the world, Instagram has become a highly competitive and potentially lucrative element of many businesses' digital advertising strategies.
Although Instagram advertising can be thought of as similar to AdWords, in that advertisers using both platforms are essentially promoting their business via the Internet, this is where the similarities end. Unlike paid search, which helps businesses find new customers via keywords, paid social helps users find businesses based on the things they're interested in and the ways in which they behave online.
Think of it this way: AdWords helps a customer with a specific need find you, while Instagram advertising helps you find customers before they have the need that your product or service helps satisfy.
Why AdvertiseMint?
AdvertiseMint is a digital advertising agency that specializes in helping successful companies advertise on Instagram.
Working with an Instagram advertising agency has several advantages for your business.
AdvertiseMint wants to earn your business every month. We have no sign up fees and require no long term contracts.
Digital agency services:
AdvertiseMint also provides advertising services with the following ad platforms:
AdvertiseMint agency pricing
We believe in keeping things simple. Our pricing is based on the total amount of Instagram advertising spend that we manage each month. Clients are billed monthly and payments made via credit card. Our contracts are month-to-month.
Starter
30%
When monthly media spend is between
$3,000 – $9,999.
$0 Set Up Fee
Account Manager
Conversion Tracking
Facebook Remarketing
Custom Audiences
Monthly Reporting
$299/month Min Fee
Popular
15%
When monthly media spend is between
$10,000 – $49,999.
$0 Set Up Fee
Account Manager
Conversion Tracking
Facebook Remarketing
Custom Audiences
Monthly Reporting
Email Support
Ultra
10%
When monthly media spend is above
$50,000.
$0 Set Up Fee
Account Manager
Conversion Tracking
Facebook Remarketing
Custom Audiences
Real-Time Reporting
Phone Support
Clients and Testimonials
Some of our notable clients include:


"AdvertiseMint helped me create Facebook Ads, and I couldn't be happier with the job they did. Their team is very knowledgeable, and they helped me create a Facebook ad campaign quickly while still explaining what they were doing every step of the way. I would recommend AdvertiseMint to anyone with a business looking to use Facebook as an advertising tool. In the complicated world of social media advertising, they really know what they're doing." – McCall, Florida
"Before I found AdvertiseMint, I had looked into several other companies that, on paper, appeared to be bigger and more established. However, during the vetting process, I was impressed with their communication and speed at which the projects were completed. It was for this reason that I chose to go with AdvertiseMint, and they continue to impress me with their knowledge, speed and communication." – Alex, California
"We have worked with AdvertiseMint for over a year, and I am grateful to have them as our Facebook advertising agency. They are very knowledgeable about Facebook, and they are always fast to implement our requests. We have worked with them on sponsored posts, direct response and dynamic product ads. They have always fought to get us a positive ROI. " – Jim, California
"I work for a global brand with over 1.5 million followers. With that many followers you would think we would have all our social media in order. Nope! We found AdvertiseMint online after searching for a Facebook marketing and advertising agency. We had a problem with our fan page verification, but, within a few hours, they had it resolved, and the verified icon was added to our site. Thanks!" – Maricia, California
A personal invitation from our Founder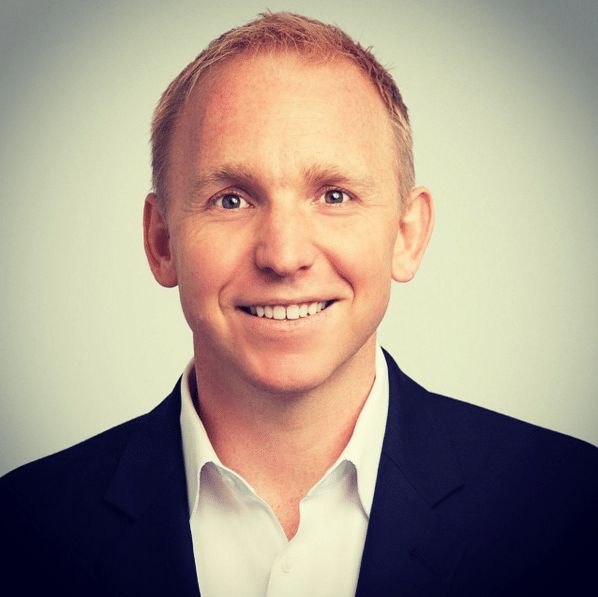 Hi. Working over the past 15 years in digital advertising and marketing, I've realized how vital it is to have great people on your team. Because the digital landscape is changing so quickly, it's important to work with a Facebook advertising agency that understands your goals, has a deep knowledge of the available tools, and clearly communicates the actions being implemented.
I founded AdvertiseMint to become the leading Facebook advertising agency and to ensure you always received the best possible return on your investment. Our friendly team is standing by and ready to ensure your campaigns are profitable. I know there are many options when it comes to Facebook advertising agencies, but we would love to have the opportunity to prove that our team is the best choice to manage your Facebook ads.
– Brian Meert, CEO and Founder, AdvertiseMint.com
AdvertiseMint | Facebook Advertising Agency
7080 Hollywood Blvd, Hollywood, CA 90028
1-844-236-4686