With over half a million people, Manchester is a bustling and dynamic city. It's an excellent hub for businesses, balancing its rich industrial heritage with modern urban flair. If you partner with a Manchester advertising agency like Advertisemint, they can boost your business's visibility. This ensures your brand resonates with the locals in Manchester, where the city's history and contemporary vibe intersect.
Best ways to advertise in Manchester
Manchester is a vibrant city, and your business will need a marketing strategy to break through the noise. Manchester residents are bombarded with daily social media ads, search ads, billboards, TV ads, and radio ads. It's essential that your advertising dollars are being spent efficiently. Here are some of the most popular Manchester advertising options for businesses. 
Manchester Paid Social Advertising
Paid social allows Manchester businesses to reach consumers directly in their area. This is done by geo-targeted ads targeting a specific zip code or a one-mile radius around a single point. Advertisers can also target aspects like interests, behaviors, or custom audiences of their customers, prospects, or visitors. You can learn more about each of the following types of advertising below:  
Manchester Paid Search Advertising 
Paid search allows Manchester businesses to reach consumers searching for their products or services on Google or Bing within a specific geographic area. These ads allow your business to appear on top of Google searches or Google Maps. This ensures customers find your business first before they find your competitors. 
Manchester Local Advertising
There are countless options for reaching consumers located in the Manchester area. Each advertising option brings opportunities, challenges, and the need to monitor for a positive return on ad spend for the business. If you want to help to grow your business with local Manchester ads, please contact Advertisemint. You can learn more about local Manchester advertising options here: 
Local Cable Ads 

Billboard Advertising

Manchester Metro Advertising

Direct Mail 
"Manchester is the city of the future, and always will be." – Tony Wilson, music manager and founder of Factory Records
How to Advertise with Manchester Sport Teams 
Manchester residents are fervent about their sports, showcasing unwavering loyalty and passion for their local teams. From football to rugby, Manchester offers businesses an exceptional opportunity to engage with a diverse and zealous audience, not just on match days but throughout the entire year. If you're keen on tapping into advertising opportunities with Manchester's sports teams, make the call to Advertisemint now. Discover collaborative ventures with legendary teams such as Manchester United, Manchester City, and Sale Sharks Rugby Club. 

How to Advertise to Manchester Universities, Colleges & Schools 
If your business has customers between 13 and 30, you should look at advertising options for Manchester students. This youth-focused segment is rapidly changing regarding which social media platforms they use, how they access information, and the technology they utilize daily. Generally, a mobile-first demo, reaching a demo requires a fluid strategy with both content and ads that resonate with the audience. If you want to advertise to students in the Manchester area, please contact Advertisemint to discuss the best advertising and marketing options for higher education. The following are some of the most popular schools in Manchester: 
Manchester Universities 
Manchester Colleges 
Manchester High Schools
Manchester High School for Girls

– Established in 1874, this independent day school offers a high-quality education to girls aged 4 to 18. Known for fostering a rich academic environment, the school prides itself on its history of producing strong, confident, and independent young women

.

Manchester Grammar School

– Founded in 1515, this independent day school provides education to boys aged 7 to 18. As one of the country's leading grammar schools, MGS has a long-standing reputation for academic excellence, complemented by its extensive extracurricular activities

.




Manchester Grammar School on Instagram

William Hulme's Grammar School

– This co-educational school, which has both primary and secondary departments, offers a rounded curriculum with an emphasis on academic achievements. Part of the United Learning Trust, it has a rich history dating back to its foundation in 1887

.
How to advertise on Manchester Transport (TfGM)?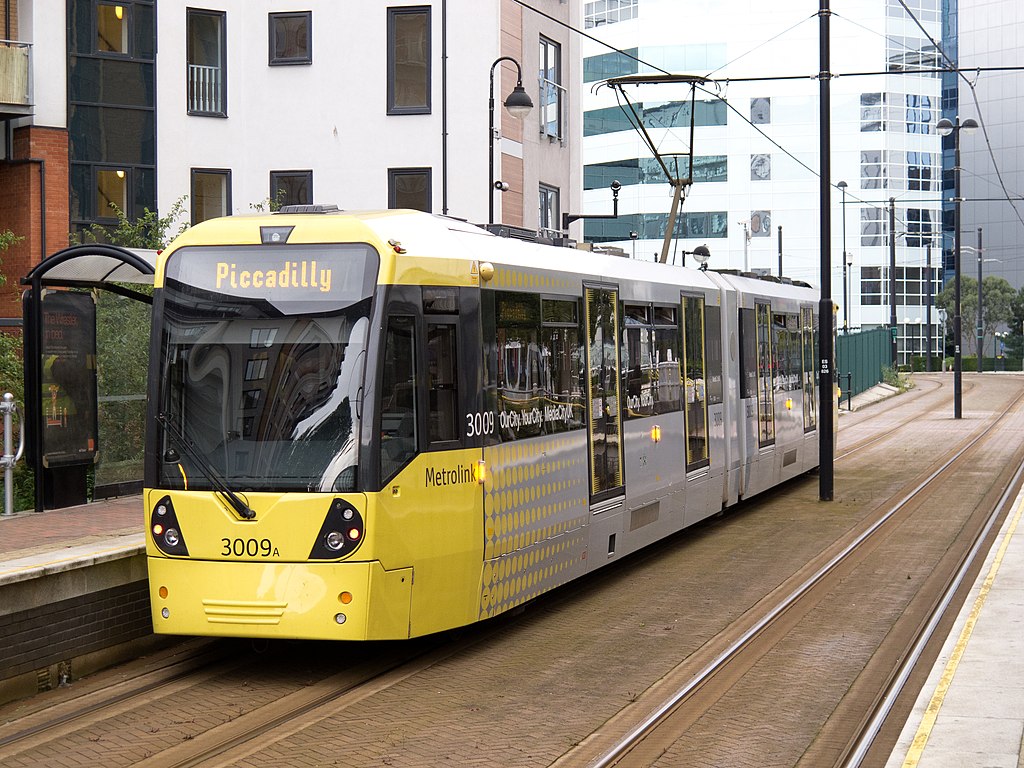 Boasting an intricate network of roads, tram lines, bus routes, and an ever-growing rideshare community, Manchester's inhabitants and tourists traverse an expansive transportation system daily. With Manchester's Transport for Greater Manchester (TfGM) overseeing an array of public transportation options, the city presents distinctive advertising platforms targeting daily commuters with precision on location, demographics, and other factors. Whether you're considering advertising on the Metrolink trams, bus branding across the city, taxi promotions, or delving into the rideshare market, our team at Advertisemint is poised to create a bespoke advertising approach for you. Let us help amplify your business with impactful transportation ads in the Manchester region.
How to advertise on the radio in Manchester?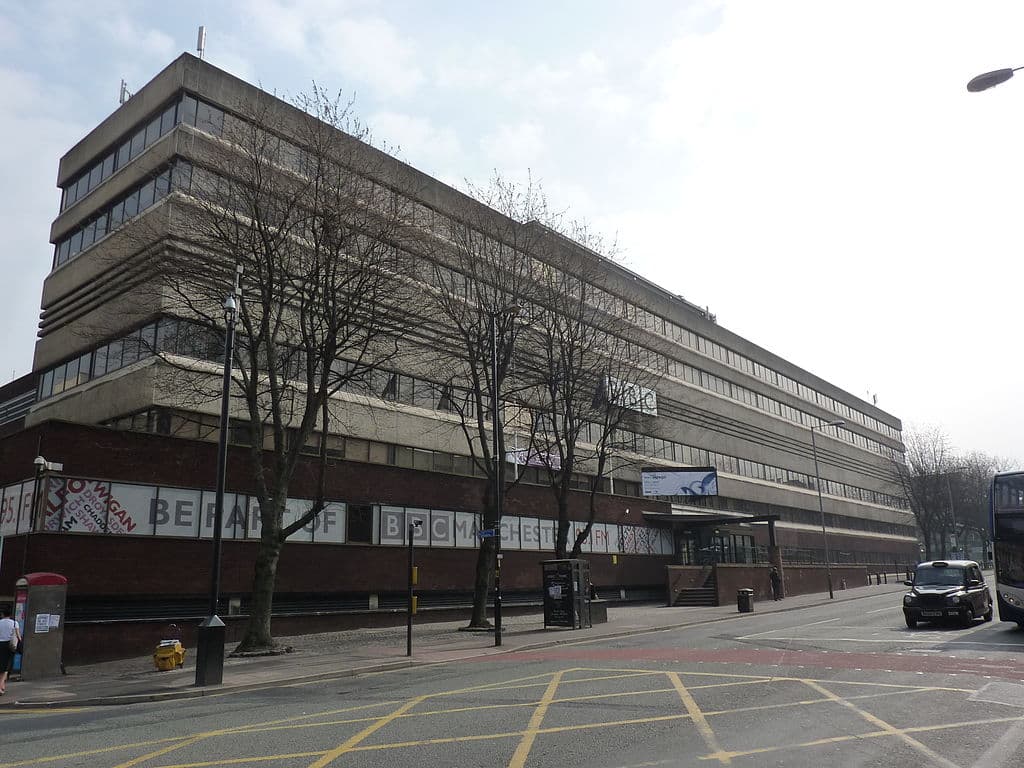 Manchester's diverse audience tunes into popular radio stations such as Key 103, BBC Radio Manchester, Hits Radio, Galaxy Manchester, and Smooth Radio. Whether commuting on the Metrolink, strolling through Piccadilly Gardens, or unwinding at home, Mancunians enjoy a diverse mix of news, talk shows, and musical genres. Radio advertising in Manchester presents businesses with an invaluable chance to engage with locals in an intimate auditory environment. Strategize your ads by focusing on specific stations, preferred music types, or peak listening times. Moreover, with the rise of digital platforms like Deezer and Spotify, businesses can refine their ads, targeting listeners based on postcodes, music preferences, and other unique interests. If you're eager to amplify your brand's voice in the Manchester radio realm, our team at Advertisemint is ready to help. Together, we can create an effective radio advertising campaign for your brand. 
How much does billboard advertising cost in Manchester?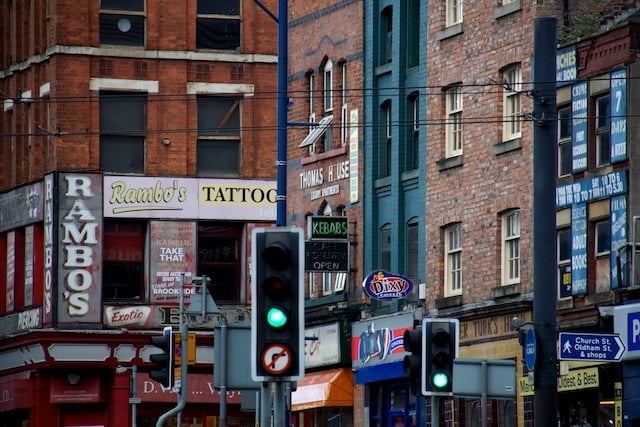 As you traverse Manchester, whether on Deansgate, Oxford Road, Piccadilly, or speeding along motorways like the M60, M62, or the M56, a common sight is the myriad of billboards gracing the cityscape. Prominent companies like JCDecaux, Clear Channel, and Primesight oversee a substantial portion of these advertising spaces. In Manchester, billboard advertising costs generally range from £1,000 to £7,000 per month, varying greatly based on traffic counts and the inherent appeal of the billboard's location. It's not uncommon for advertising networks to offer leftover slots at discounted prices, especially if advertisers are open to flexible placements and durations. If you're contemplating billboard advertising in the Manchester area, our team at Advertisemint stands ready to guide you. We're committed to helping you devise the best strategy, identify the most suitable locations, and ensure that your advertising efforts deliver a satisfying return on your investment.
What are the most popular restaurants in Manchester? 
Manchester, fondly known as the "Northern Powerhouse", is renowned not only for its historical significance and football but also for its burgeoning gastronomic scene. Whether it's gourmet dining influenced by global cuisines, traditional local pubs, contemporary fast-food joints, or avant-garde food stalls, Manchester caters to every palate. Creating the ideal advertisement for Manchester's dining establishments can be a nuanced task. The challenge lies in appealing to both the local Mancunians and the steady stream of tourists and visiting professionals. Effective dining promotion fuses the essence of location, the allure of the menu, innovative marketing strategies, competitive pricing, and harnessing the influence of social media platforms like Instagram, review portals like TripAdvisor, and regional forums.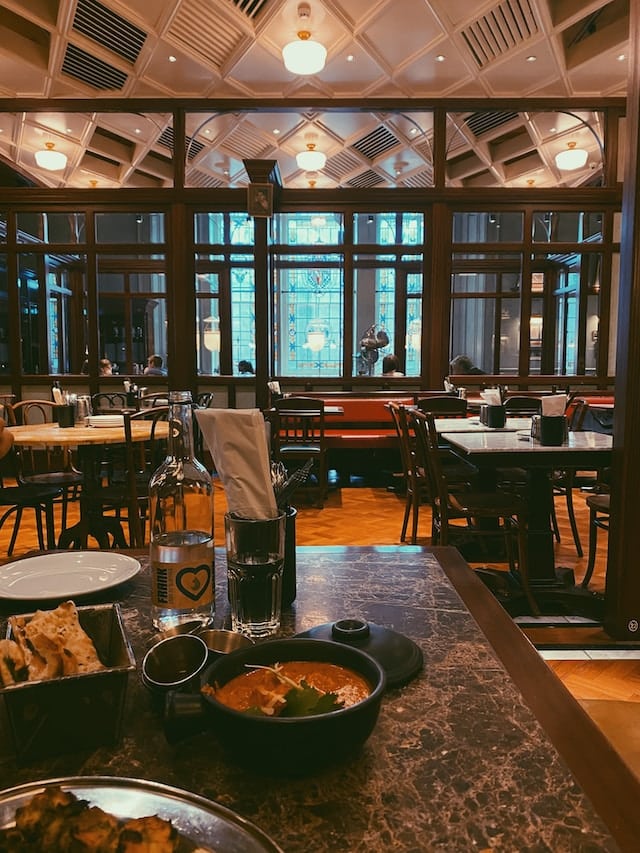 If you're keen on bolstering your restaurant's footprint in Manchester, teaming up with experts like Advertisemint could be your best bet. Here are some top-notch dining spots in Manchester for reference:
Top 10 things to do when you visit Manchester? 
"Manchester is a lively city famous for its football, historic sites, and mix of cultures. Every year, many tourists visit to watch football matches, explore old buildings, and experience local festivals. If you have a business in Manchester, you can create ads to attract these tourists and tell them about the best things in the city. Some online platforms even let businesses show ads to people who are visiting for a short time. If you're thinking of advertising your hotel, cafe, or any local service to people in Manchester, joining hands with Advertisemint can be a smart move. Here's a quick guide on the top things to see and do when in Manchester: 
The list gives you a taste of Manchester's multifaceted allure. Whether it's the thrill of roller coasters, nature's serenity, or space's magic, Manchester promises something for everyone.
Popular social media accounts in Manchester you need to follow. 
Engaging socially can be a game-changer in creating meaningful connections. Paid social ads seamlessly weave your business into the content-rich tapestry that users are engrossed in. Here's a compilation of prominent Manchester-based social media handles that you'd want to keep tabs on to remain updated on all things Manchester:
Everything you need to know about Manchester real estate advertising.
With thousands of estate agents and letting agents in the Manchester area, there is constant need for estate brokers and agents to get their properties in front of the right homebuyers. There are lots of options from targeted paid social and paid search ads, along with local options like Yelp, Google and Nextdoor and then options like direct mail or local cable ads. There are also digital options for real estate such as Realtor Connections, Zillow Real Estate Agency Advertising and the Trulia Real Estate Ad Network. Commercial real estate brokers are now using paid social to promote videos of their properties using LinkedIn ads to reach a B2B audience. Please note that many of the ad platforms have rules and limitations regarding the targeting of individuals while promoting real estate ads based on age, gender, ethnicity and location. The team at AdvertiseMint is happy to help you work through your options and can help you ensure you are generating leads for both home sellers and home buyers. For more detailed information on real estate advertising in Manchester, please contact Advertisemint. Here are some of the neighborhoods you need to know about when advertising in Manchester, England.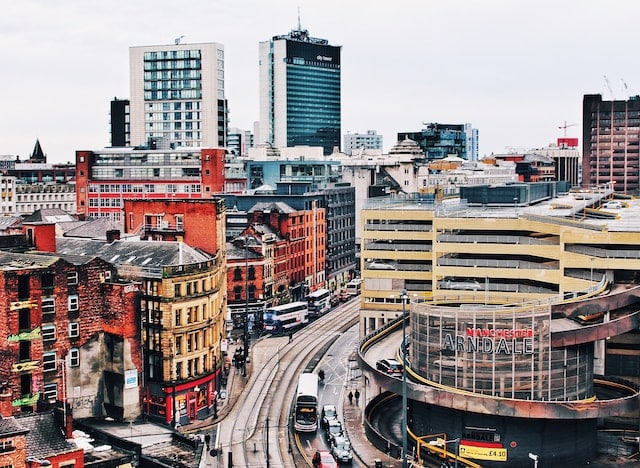 Northern Quarter Real Estate Advertising –

Often regarded as Manchester's trendy heart, the Northern Quarter is brimming with vintage shops, indie boutiques, and quirky bars. The neighborhood's murals and street art are a testament to its bohemian spirit.

Ancoats Real Estate Advertising –

Once an industrial hub, Ancoats has undergone significant rejuvenation. Now, old warehouses have transformed into stylish apartments, and cutting-edge eateries and cafes have sprouted, making it a favorite spot for young professionals.

Deansgate Real Estate Advertising –

Known for its historical landmarks like the John Rylands Library, Deansgate is a blend of old and new. It's home to upscale restaurants, bars, and shops, as well as iconic Beetham Tower, Manchester's tallest building.

Castlefield Real Estate Advertising –

This picturesque urban heritage park showcases Manchester's industrial past with its restored Victorian houses, Roman-era fort, and old canal system. It's a peaceful escape in the heart of the city.

Chorlton Real Estate Advertising –

A leafy suburb south of the city center, Chorlton is loved for its independent stores, organic food outlets, and the vibrant Chorlton Green – a favorite amongst families and professionals alike.

Didsbury Real Estate Advertising –

Comprising East and West parts, Didsbury is a lush residential area known for its parklands, stylish boutiques, and array of pubs and eateries.

Salford Quays Real Estate Advertising –

Positioned on the Manchester Ship Canal, this modern development area boasts attractions like the Lowry arts venue and the Imperial War Museum North. It's also the headquarters for the BBC in the North West.

Fallowfield Real Estate Advertising –

Primarily known as the student area due to its proximity to the University of Manchester, Fallowfield is lively and young, teeming with pubs, bars, and student accommodation.

Rusholme Real Estate Advertising –

Hosting the famous Curry Mile, Rusholme is the go-to spot for those craving flavorsome South Asian cuisine. It's a vibrant area with a multicultural atmosphere.

Spinningfields Real Estate Advertising –

One of Manchester's newest areas, Spinningfields is the city's financial hub. With modern glass buildings, upscale eateries, and fancy boutiques, it radiates a polished, contemporary vibe.
Complete guide to annual events in Manchester. 
When looking at advertising for events in Manchester, from its iconic music festivals, historical commemorations, sporting fixtures, to the celebrated food and drink festivals, it's essential to understand Manchester's dynamic event landscape. Initiating a promotional campaign in Manchester typically requires foresight and early planning, especially given the magnitude and expected audience of the event. For an in-depth insight into event marketing or to delve into potential sponsorship opportunities, please reach out to Advertisemint. Our dedicated team stands ready to guide you through a successful campaign in Manchester's thriving event scene.
How to advertise a professional service business in Manchester?
There are so many professional service providers in Manchester that it can become crowded and difficult for many consumers to find your business. If you are a lawyer, doctor, dentist, contractor, accountant, or work in childcare, food services, event planning, plumbing, electrical, carpentry, roofing, HVAC, waste removal, or security services – then you need to be advertising your services. You must ensure you have local pages created on Google Local and Yelp and paid ads to ensure customers see your business first. You should also run paid search and social ads so individuals can visually see and experience your business's services in Manchester. If you need help advertising your service-based business in Manchester, please contact Advertisemint and speak with one of our advertising experts. 
Manchester government advertising 
Countless municipal and government departments often have highly specific advertising needs in the Manchester area. If you are a Manchester politician running for office or work in a Manchester-based government division and need assistance with setting up marketing campaigns, advertising campaigns, or any creative elements like videos, photography, or graphic design, AdvertiseMint can help you build a strategy, accommodate any government regulations, place the media and report back on the KPIs required for success and return on investment. For reference, here are a few of the top government resources for Manchester.
What is the Best Manchester Ad Agency? 
We believe AdvertiseMint is the best Manchester advertising agency. AdvertiseMint brings a full team of advertising experts, including account managers, media buyers, copywriters, and creative experts in video production, editing, photography, graphic design, and data analysis to ensure our metrics are met. We would love the opportunity to help grow your business. 
Disclaimer: AdvertiseMint is an advertising agency that provides advertising and marketing services to businesses located in Manchester. The details provided on this page are for informational purposes and to help explain the services we provide for our clients. AdvertiseMint has no affiliation or exclusive partnerships with the city of Manchester, tourist locations, government divisions, sports teams, educational institutions, annual events, restaurants, or other businesses mentioned on this page.