With over 900,000 residents and a thriving tech industry, the iconic city of San Francisco brings a huge opportunity to grow your business. Businesses that use a San Francisco advertising agency like Advertisemint can help ensure their story is reaching the right customers at the right place and the right time.
Best ways to advertise in San Francisco
San Francisco is a vibrant city, and your business will need a marketing strategy to break through the noise. San Francisco residents are bombarded with daily social media ads, search ads, billboards, TV ads, and radio ads. It's essential that your advertising dollars are being spent efficiently. Here are some of the most popular San Francisco advertising options for businesses. 
San Francisco Paid Social Advertising
Paid social allows San Francisco businesses to reach consumers directly in their area. This is done by geo-targeted ads targeting a specific zip code or a one-mile radius around a single point. Advertisers can also target aspects like interests, behaviors, or custom audiences of their customers, prospects, or visitors. You can learn more about each of the following types of advertising below:  
San Francisco Paid Search Advertising 
Paid search allows San Francisco businesses to reach consumers searching for their products or services on Google or Bing within a specific geographic area. These ads allow your business to appear on top of Google searches or Google Maps. This ensures customers find your business first before they find your competitors. 
San Francisco Local Advertising
There are countless options for reaching consumers located in the San Francisco area. Each advertising option brings opportunities, challenges, and the need to monitor for a positive return on ad spend for the business. If you want help growing your business with local San Francisco ads, please contact Advertisemint. You can learn more about local San Francisco advertising options here: 
"San Francisco has only one drawback – it is hard to leave." – Rudyard Kipling. 
How to Advertise with San Francisco Sports Teams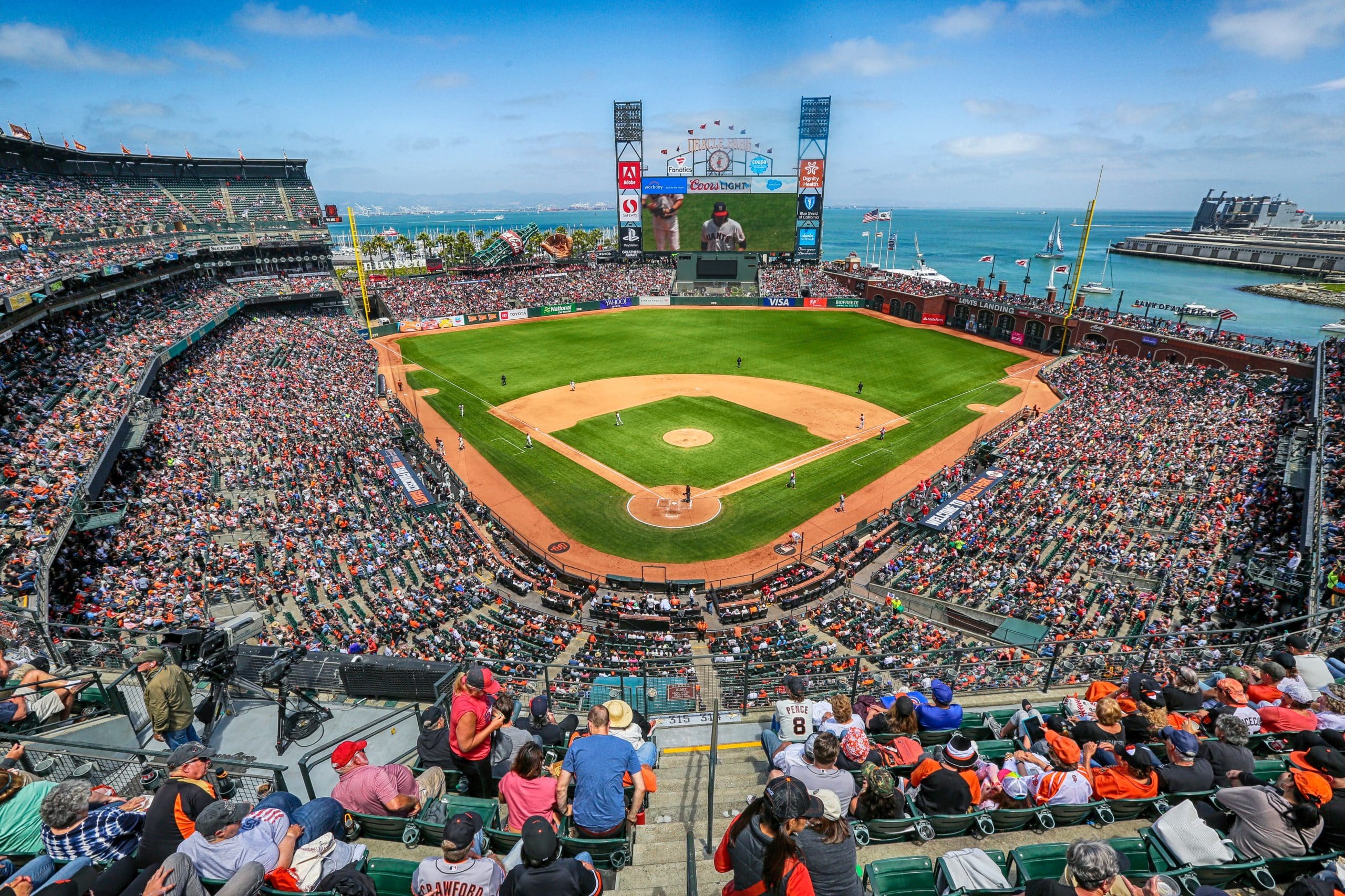 San Francisco is a city rich in sports tradition, home to passionate fans who rally behind their teams through thick and thin. Businesses looking for branding and outreach opportunities will find San Francisco's sporting landscape fertile ground. There are numerous chances to connect with a broad spectrum of dedicated fans from baseball to football. To explore advertising opportunities with San Francisco's major sports teams, contact Advertisemint for more details on partnering with the Giants, 49ers, Golden State Warriors, and San Jose Sharks.

San Francisco Giants (MLB) – Founded in 1883, the Giants are one of the oldest teams in MLB. They play their home games at Oracle Park. The San Francisco Giants have won 8 World Series titles, first in 1905 and most recent in 2014.
San Francisco 49ers (NFL) – An iconic NFL franchise, the 49ers have clinched 5 Super Bowl titles. They play their home games at Levi's Stadium in Santa Clara.
Golden State Warriors (NBA) – Based in the San Francisco Bay Area, the Warriors are a powerhouse in the NBA. They have 6 NBA championships and play their home games at the Chase Center in San Francisco.
San Jose Sharks (NHL) – Though based in San Jose, the Sharks are integral to the Bay Area's sports culture. Competing in the NHL, they play their home games at the SAP Center.
How to Advertise to San Francisco Universities, Colleges & Schools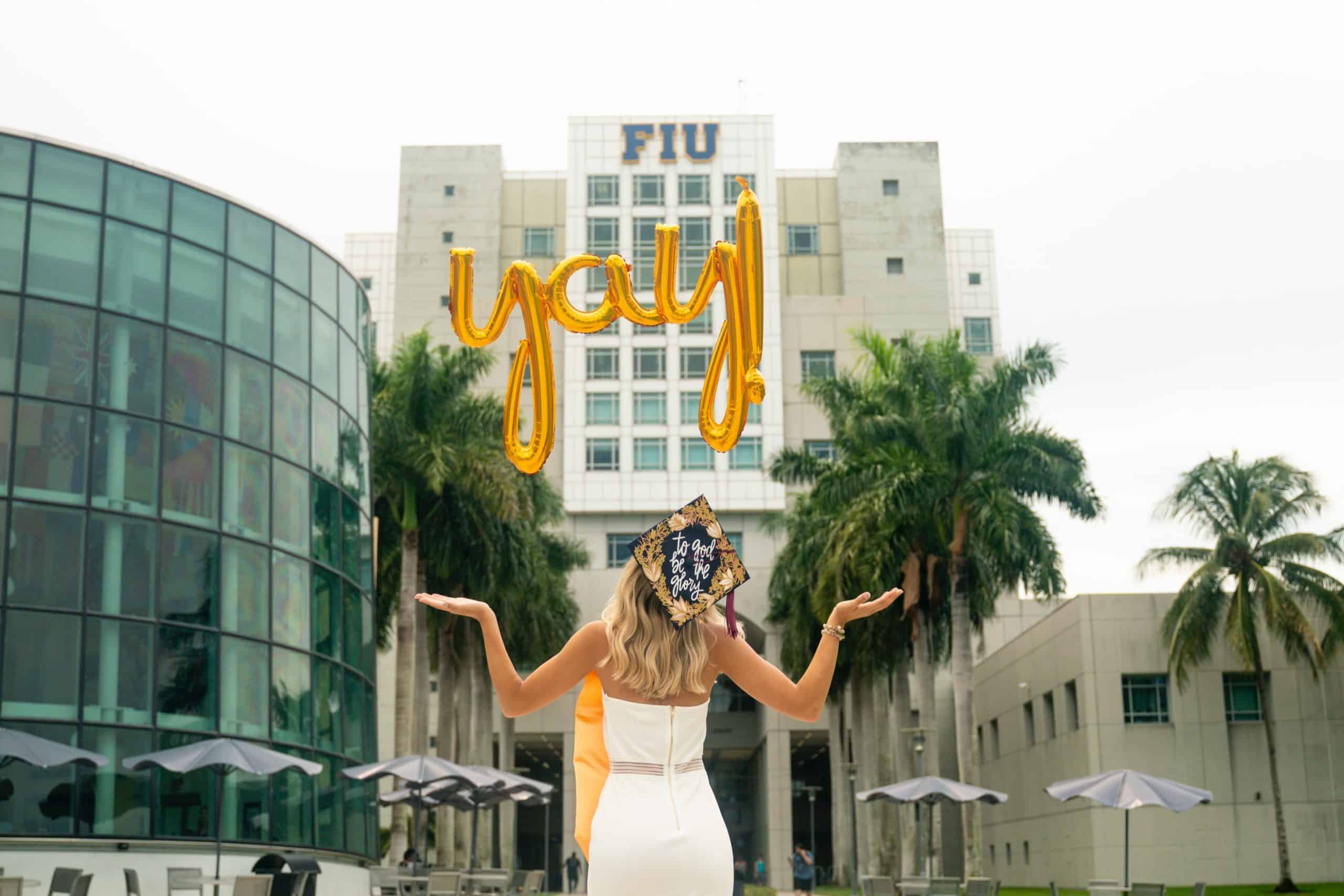 If your business has customers between 13 and 30, you should look at advertising options for San Francisco students. This youth-focused segment is rapidly changing regarding which social media platforms they use, how they access information, and the technology they utilize daily. Generally, a mobile-first demo, reaching demo requires a fluid strategy with both content and ads that resonate with the audience. If you want to advertise to students in the San Francisco area, please contact Advertisemint to discuss the best advertising and marketing options for higher education. The following are some of the most popular schools in San Francisco: 
San Francisco Universities 
University of California, San Francisco (UCSF) – Renowned for its focus on health sciences, UCSF is a leading institution in medical research, patient care, and education.
San Francisco State University (SFSU) – A public university with a diverse student body, SFSU offers a broad spectrum of disciplines committed to social justice.
University of San Francisco (USF) – A private Jesuit university, USF is known for its programs in business, law, nursing, and the liberal arts.
San Francisco Colleges
City College of San Francisco (CCSF) – One of the largest community colleges in the U.S., CCSF offers many courses and programs designed for transfer, skill-building, and personal enrichment.
San Francisco High Schools
How to advertise on San Francisco metro and public transportation?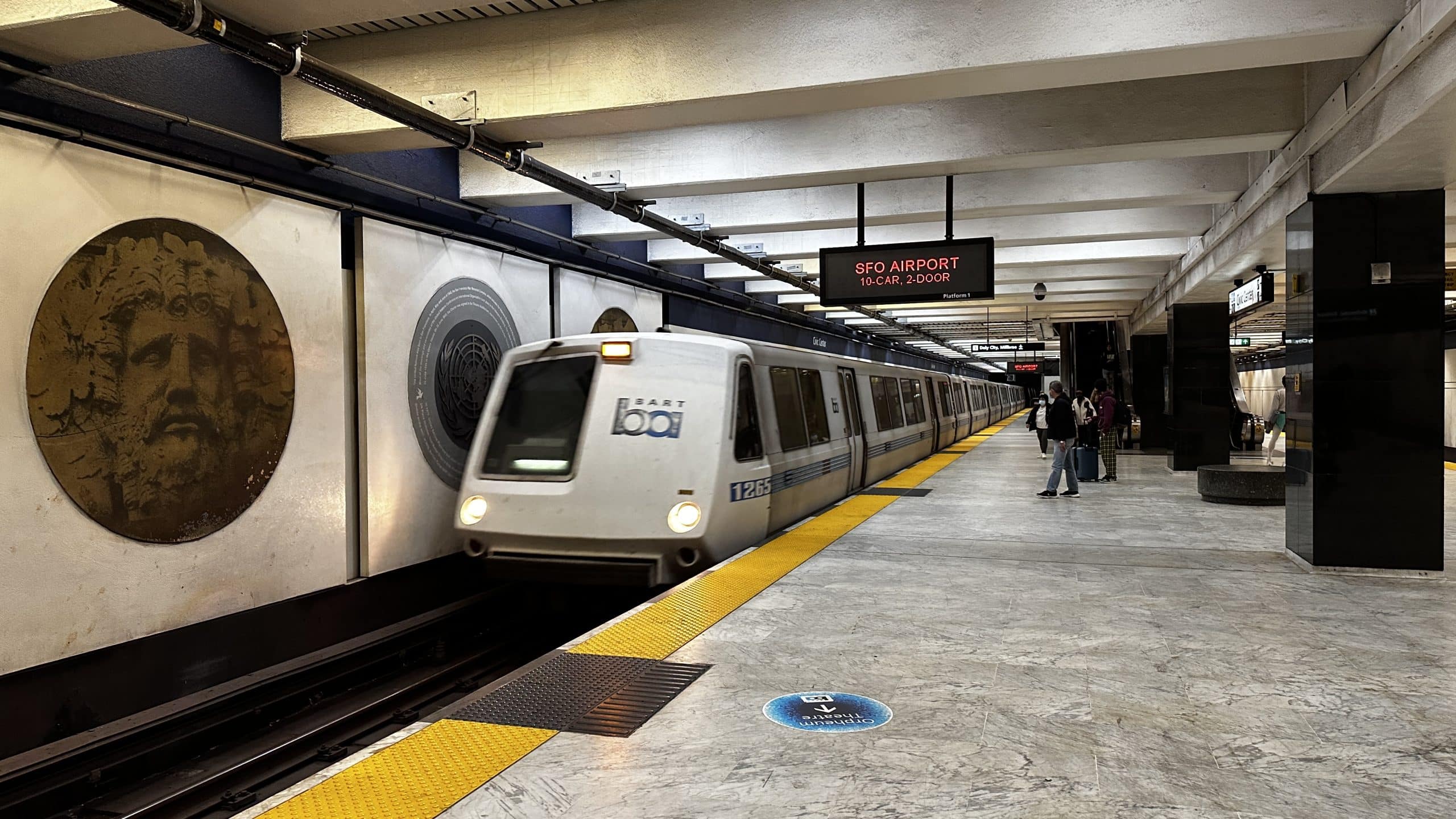 Navigating through San Francisco, one encounters a rich tapestry of transportation means – from its iconic cable cars and ferries to buses, bike lanes, and the BART system. The San Francisco Municipal Transportation Agency (SFMTA) oversees a vast network accommodating hundreds of thousands of daily boardings. Given this high density of commuters and travelers, San Francisco offers unique advertising opportunities to target audiences based on specific locations, demographics, and more. If you're keen on leveraging San Francisco BART advertising, San Francisco MUNI bus advertising, San Francisco taxi advertising, San Francisco rideshare advertising, or any other transport-based promotional opportunities, the team at AdvertiseMint is eager to collaborate. Let's explore an effective advertising strategy tailored to the San Francisco Bay Area's diverse and bustling transportation landscape. 
How to advertise on the radio in San Francisco?
San Francisco boasts a diverse radio landscape, with stations like KQED, KMEL, and KNBR catering to a mix of news aficionados, music lovers, and sports enthusiasts. Whether during the rush-hour commute across the Golden Gate Bridge or while working in the heart of Silicon Valley, residents of San Francisco rely on the radio as a primary source of entertainment and information. Advertising on San Francisco radio channels allows businesses to connect with the city's eclectic audience in a personalized manner. Campaigns can be tailored based on specific stations, music genres, and peak listening times. Moreover, the rise of digital streaming platforms like Pandora and Spotify offers advanced targeting capabilities, such as zoning in by zip codes, music preferences, interests, DMAs, and more. For businesses eager to tap into the vibrant San Francisco market through radio advertising, the AdvertiseMint team stands ready to assist. Our expertise will ensure your radio campaigns resonate, captivate, and drive profitability in the Bay Area. 
How much does billboard advertising cost in San Francisco? 
Whether you drive down Market Street, Van Ness Avenue, Geary Boulevard, or one of the many bridges connecting San Francisco to the Bay Area, you will see billboards. Most San Francisco billboards are owned by large networks such as Lamar, Clear Channel, or OutFront Media. The average price of billboards in San Francisco is between $3,000 to $20,000 per month and is based on the traffic and desirability of the location. Many of the networks offer remnant or lower cost options if you are flexible on the locations of the billboards and the time they are displayed. If you want to run billboard ads in the San Francisco area for your business, the team at AdvertiseMint can help you build your ideal strategy, determine the best locations, and ensure your campaigns are executed and provide a positive return on investment.
What are the most popular restaurants in San Francisco? 
The bustling streets of San Francisco are home to a smorgasbord of culinary delights, from iconic seafood spots by the wharf to experimental fusion eateries in the Mission District. With the Bay Area's reputation for top-notch dining experiences, restaurant advertising in San Francisco requires a strategic approach. You must captivate the hearts of the local residents and appeal to the throngs of tourists, tech enthusiasts, and professionals visiting the city. Effective restaurant advertising leans into the 5Ps – Place, Product, Promotion, Price, and People, especially those who champion your eatery on platforms like Yelp, Google, Nextdoor, and various social media sites. If you're eager to elevate your restaurant's presence in San Francisco's dynamic culinary scene, the AdvertiseMint team is here to guide you. With our deep knowledge of the local market and advertising expertise, we'll ensure your establishment stands out. For inspiration, here's a showcase of some of San Francisco's most beloved eateries: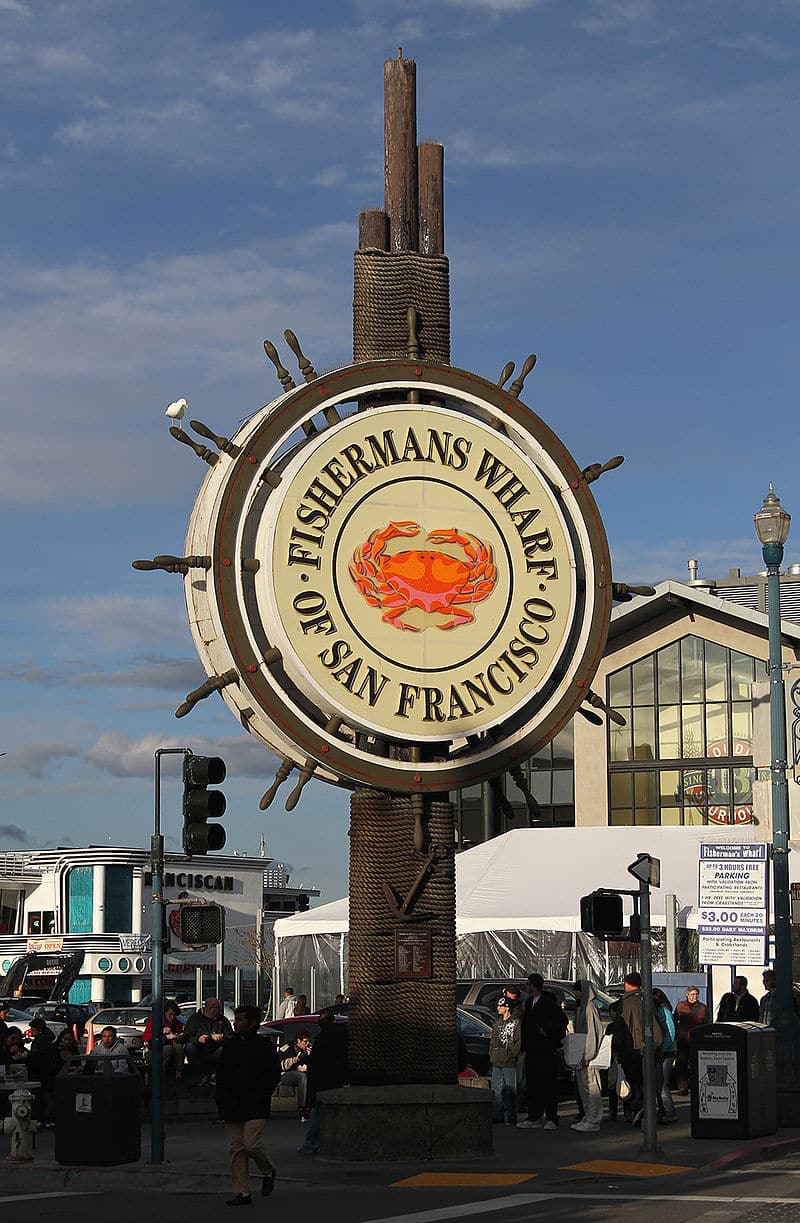 Top 10 things to do when you visit San Francisco? 
With millions of people visiting San Francisco annually, advertising to tourists is essential for events, activities, tours, hotels, transportation, food, and more. Businesses need a specific advertising strategy to reach people visiting a specific area. Many paid social ad platforms can target individuals who are in a specific location but do not live there. Reaching this continuous stream of consumers can become a huge revenue opportunity for local businesses. If you want to help with your hotel, tourism, or transportation ads in the San Francisco area, please contact AdvertiseMint for more information.
Here are some of the most popular things to do when you visit San Francisco:
Golden Gate Bridge

– The Golden Gate Bridge is undoubtedly one of the most iconic landmarks in the world. Take a walk or bike ride across the bridge, or take a ferry to Alcatraz Island for stunning views of the bridge from the water.

Fisherman's Wharf:

Fisherman's Wharf is a popular tourist destination with seafood restaurants, shops, and attractions. Take a ride on the iconic cable cars, or visit Pier 39 to see the sea lions.

Chinatown:

Chinatown is the oldest and largest Chinatown in North America. Explore the narrow streets and alleyways and sample the delicious Chinese food.




Twin Peaks:

Twin Peaks offers stunning city and bay views. Hike to the top of either peak for the best views.

Golden Gate Park:

Golden Gate Park is one of the largest urban parks in the world. Explore the Japanese Tea Garden, the California Academy of Sciences, and the De Young Museum.

Haight-Ashbury

: Haight-Ashbury is a historic district known for its 1960s counterculture history. Visit the Haight-Ashbury Museum, or walk down Haight Street and browse the vintage clothing stores.




Lombard Street:

Lombard Street is a crooked street known as the "most crooked street in the world." Drive or walk down the street and see how crooked it is!

Stow Lake: Stow Lake is a man-made lake in Golden Gate Park. Rent a paddle boat or rowboat and explore the lake.

Palace of Fine Arts

: The Palace of Fine Arts is a beautiful building originally built for the 1915 Panama-Pacific Exposition. Walk through the gardens or visit the Palace of Fine Arts Theatre.

Stow Lake

: Stow Lake is a man-made lake in Golden Gate Park. Rent a paddle boat or rowboat and explore the lake.
Popular social media accounts in San Francisco you need to follow. 
Staying updated on the latest happenings in San Francisco is easier than ever with the rise of social media. By tuning into key accounts, you can immerse yourself in the city's culture, news, and events from the comfort of your digital device. Whether you're a business looking to engage with the community or an individual keen on staying in the loop, here's a list of prominent San Francisco social media accounts to follow:
Everything you need to know about San Francisco Real Estate advertising.
With tens of thousands of real estate agents in the San Francisco area, there is a constant need for real estate brokers and agents to get their properties in front of the right homebuyers. There are many options, from targeted paid social and paid search ads to local options like Yelp, Google, and Nextdoor and then options like direct mail or local cable ads. There are also digital options for real estate, such as Realtor Connections, Zillow Real Estate Agency Advertising, and the Trulia Real Estate Ad Network. Commercial real estate brokers are now using paid social to promote videos of their properties using LinkedIn ads to reach a B2B audience. Please note that many ad platforms have rules and limitations regarding targeting individuals while promoting real estate ads based on age, gender, ethnicity, and location. The team at AdvertiseMint is happy to help you work through your options and can help you ensure you are generating leads for both home sellers and home buyers. For more detailed information on real estate advertising in San Francisco, please contact Advertisemint. Here are some neighborhoods you need to know about when advertising in San Francisco, California.
Financial District

– San Francisco's business hub, this district is bustling with towering skyscrapers, major banks, and tech startups. Close by, the Embarcadero waterfront offers stunning bay views and the historic Ferry Building.

Chinatown

– One of the oldest and most vibrant Chinatowns in the U.S., this neighborhood is a cultural treasure trove, boasting an array of shops, restaurants, and unique architecture.

North Beach

– A lively Italian district known for its European flair, delicious trattorias, and the famous City Lights bookstore.

Mission District

– Known for its diverse culture, colorful murals, and historic Mission Dolores. Valencia Street in the Mission is filled with eclectic boutiques and eateries.

Haight-Ashbury

– Famed for its 1960s counterculture, this bohemian neighborhood offers vintage shops, colorful Victorians, and the historic Red Victorian Bed & Breakfast.

Nob Hill

– A posh residential district with grand hotels, Grace Cathedral, and the famous cable car lines passing through.

SoMa (South of Market)

– An expansive district home to tech companies, loft apartments, the San Francisco Museum of Modern Art, and AT&T Park, where the Giants play.

Pacific Heights

– Known for its historic mansions, upscale boutiques, and panoramic views of the Golden Gate Bridge, Alcatraz, and beyond.

Castro

– Celebrated as a beacon of LGBTQ+ pride and activism, the Castro dazzles with rainbow crosswalks, iconic theaters, and lively nightlife.

Marina District

– Offering views of the Golden Gate Bridge, this neighborhood is a hub for shopping, dining, and strolling along the scenic Marina Green. 
Complete guide to annual events in San Francisco.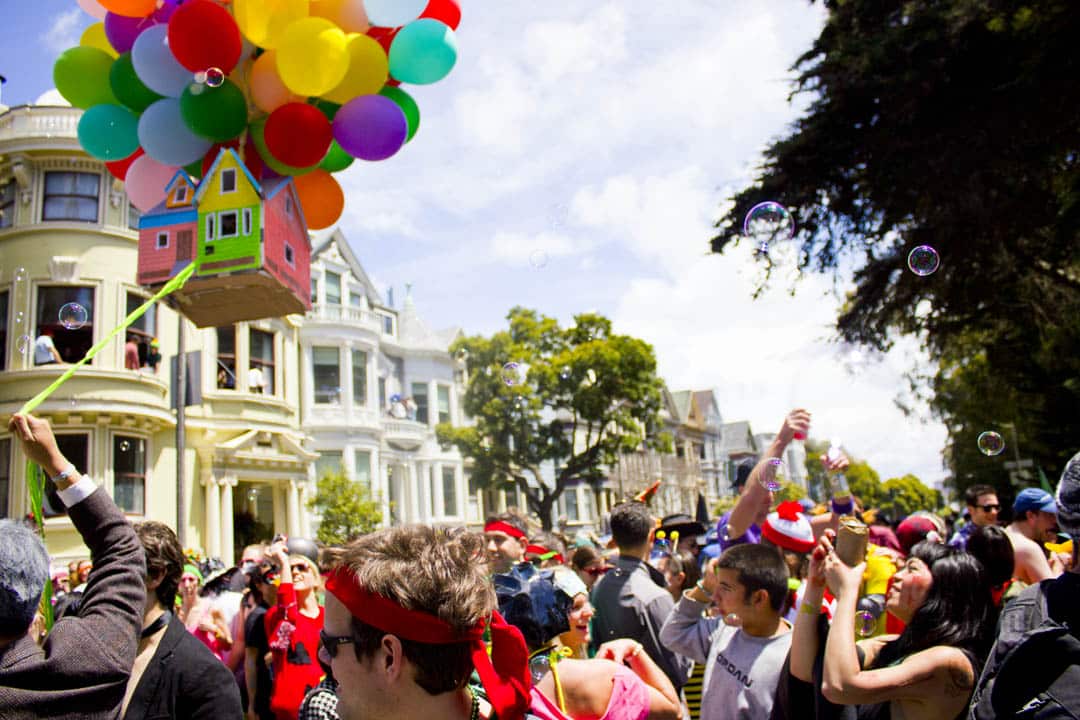 For those interested in marketing a concert, race, festival, or any other event in the San Francisco region, grasping the city's annual event landscape is crucial. To effectively promote an event in San Francisco, starting your advertising efforts anywhere from two to nine months prior is often essential, depending on the size and expected turnout. If you're keen to delve deeper into event marketing or sponsor a local San Francisco event, do get in touch with Advertisemint – our team of advertising professionals is eager to assist! 
How to advertise a professional service business in San Francisco?
San Francisco has so many types of professional service providers that it can become crowded and difficult for many consumers to find your business. If you are a lawyer, doctor, dentist, contractor, accountant, or work in childcare, food services, event planning, plumbing, electrical, carpentry, roofing, HVAC, waste removal, or security services – then you need to be advertising your services. You must ensure you have local pages created on Google Local and Yelp and paid ads to ensure customers see your business first. You should also run paid search and social ads so individuals can visually see and experience your business's services in the San Francisco area. If you need help advertising your service-based business in the San Francisco area, please contact Advertisemint and speak with one of our advertising experts. 
San Francisco government advertising 
In San Francisco, numerous municipal and government departments have precise advertising requirements. If you're a politician vying for a seat in San Francisco or work within a government sector based in the city and need help with marketing, advertising campaigns, or creative works such as videos, photography, or graphic design, AdvertiseMint is your solution. We'll help formulate a strategy, ensure compliance with government regulations, manage media placements, and provide detailed reporting on KPIs for optimal ROI. Below are some of the essential government resources in San Francisco for reference:
What is the Best San Francisco Ad Agency? 
We believe AdvertiseMint is the best San Francisco advertising agency. AdvertiseMint brings a full team of advertising experts, including account managers, media buyers, copywriters, and creative experts in video production, editing, photography, graphic design, and data analysis to ensure our metrics are met. We would love the opportunity to help grow your business. 
Disclaimer: AdvertiseMint is an advertising agency that provides advertising and marketing services to businesses located in San Francisco. The details provided on this page are for informational purposes and to help explain the services we provide for our clients. AdvertiseMint has no affiliation or exclusive partnerships with the city of San Francisco, tourist locations, government divisions, sports teams, educational institutions, annual events, restaurants, or other businesses mentioned on this page.