Grow your business with a Toronto advertising agency. 
With over 2.9 million people, Toronto is a big and vibrant city. It's a good place for businesses because it has both city areas and green spaces. If you team up with a Toronto advertising agency like Advertisemint, they can help your business get noticed. This means your brand can reach people in Toronto, where the city's excitement and nice views meet.
Best ways to advertise in Toronto
Toronto is a vibrant city, and your business will need a marketing strategy to break through the noise. Toronto residents are bombarded with daily social media ads, search ads, billboards, TV ads, and radio ads. It's essential that your advertising dollars are being spent efficiently. Here are some of the most popular Toronto advertising options for businesses. 
Toronto Paid Social Advertising
Paid social allows Toronto businesses to reach consumers directly in their area. This is done by geo-targeted ads targeting a specific zip code or a one-mile radius around a single point. Advertisers can also target aspects like interests, behaviors, or custom audiences of their customers, prospects, or visitors. You can learn more about each of the following types of advertising below:  
Toronto Paid Search Advertising 
Paid search allows Toronto businesses to reach consumers searching for their products or services on Google or Bing within a specific geographic area. These ads allow your business to appear on top of Google searches or Google Maps. This ensures customers find your business first before they find your competitors. 
Toronto Local Advertising
There are countless options for reaching consumers located in the Toronto area. Each advertising option brings opportunities, challenges, and the need to monitor for a positive return on ad spend for the business. If you want to help to grow your business with local Toronto ads, please contact Advertisemint. You can learn more about local Toronto advertising options here: 
Local Cable Ads 

Billboard Advertising

Toronto Metro Advertising

Direct Mail 
"Toronto is a city where anything is possible." – David Crombie, former mayor of Toronto
How to Advertise with Toronto Sport Teams 
Toronto residents hold a deep love for their sports, displaying unmatched enthusiasm and dedication to their home teams. From hockey to baseball, Toronto provides businesses an unparalleled opportunity to connect with a wide and passionate audience, not just during game nights but all year round. If you're interested in diving into advertising opportunities with Toronto's sports teams, reach out to Advertisemint today. Learn how you can partner with iconic teams like the Toronto Maple Leafs, Toronto Raptors, and Toronto Blue Jays. 

How to Advertise to Toronto Universities, Colleges & Schools 
If your business has customers between 13 and 30, you should look at advertising options for Toronto students. This youth-focused segment is rapidly changing regarding which social media platforms they use, how they access information, and the technology they utilize daily. Generally, a mobile-first demo, reaching a demo requires a fluid strategy with both content and ads that resonate with the audience. If you want to advertise to students in the Toronto area, please contact Advertisemint to discuss the best advertising and marketing options for higher education. The following are some of the most popular schools in Toronto: 
Toronto Universities 
University of Toronto (UofT)

– The University of Toronto, founded in 1827, is one of Canada's leading institutions of higher learning and is known for its groundbreaking research and innovation. It offers a wide variety of undergraduate and graduate programs, and with three campuses located throughout the city, it is consistently ranked among the top universities globally

.




UofT on Instagram

|

UofT on YouTube

|

UofT on TikTok

Image Source: Wikipedia

Toronto Metropolitan University

– Located in the heart of downtown Toronto, Ryerson University is renowned for its career-focused education and emphasis on innovation. Established in 1948, the university has expanded its offerings and is known for its strong business, engineering, and media studies programs

.




TMUon Instagram

|

TMU on YouTube

|

TMU on TikTok

York University

– Founded in 1959, York University has become the third-largest university in Canada, with a rich diversity of arts, sciences, engineering, and business programs. It boasts two main campuses, the Keele and the Glendon Campus, offering undergraduate and postgraduate courses

.




York University on Instagram

|

York University on YouTube

|

York University on Tiktok
Toronto Colleges 
George Brown College

– Located in downtown Toronto, George Brown College offers a wide range of programs in art and design, business, health sciences, and more. Established in 1966, the college is renowned for its hands-on approach to learning, with many programs providing field education opportunities

.




George Brown College on Instagram

|

George Brown College on YouTube

|

George Brown College on TikTok

Humber College

– Humber College, founded in 1967, boasts three main campuses in Toronto and the Greater Toronto Area. Offering a mix of diploma, degree, and postgraduate programs, Humber is known for its emphasis on experiential learning and its strong connections with the industry

.




Humber College on Instagram

|

Humber College on YouTube

|

Humber College on TikTok

Seneca College

– With multiple campuses across Toronto, Seneca College offers a diverse array of programs in areas like arts, business, technology, and health sciences. Established in 1967, Seneca is known for its comprehensive programs, dedicated faculty, and emphasis on real-world experience

.




Seneca College on Instagram

|

Seneca College on YouTube

|

 
Toronto High Schools
How to advertise on Toronto metro and public transportation?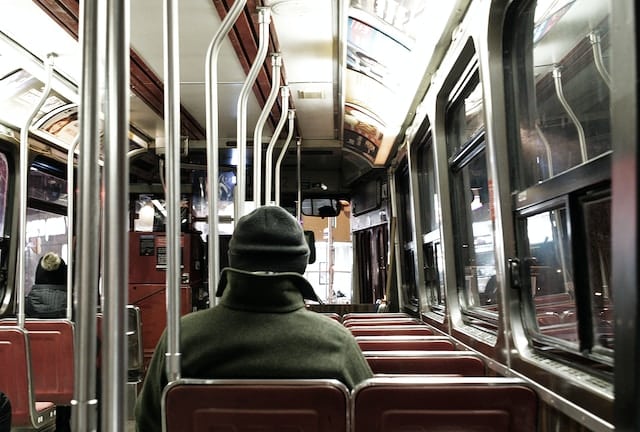 Toronto is a city with a diverse transportation network, including the TTC (Toronto Transit Commission), GO Transit, the UP Express, and a growing number of rideshare options. With over 2 million daily boardings on public transportation, Toronto offers unique advertising platforms that can target commuters based on specific locations, demographics, and more. Whether you're aiming for TTC advertising, GO Transit advertising, UP Express advertising, taxi branding, or rideshare promotions in the city, our team at Advertisemint is ready to discuss a tailored advertising strategy. Let us help amplify your business with impactful transportation ads in the Toronto region.
How to advertise on the radio in Toronto?
Toronto's diverse audience tunes into popular radio stations such as CHFI, 102.1 The Edge, Indie88, 99.9 Virgin Radio, and Boom 97.3. Whether commuting, taking a walk through High Park, or relaxing at home, residents have various news, talk shows, and music at their fingertips. Advertising on Toronto radio offers businesses a golden opportunity to connect with local residents in an immersive listening setting. Tailor your advertisements based on stations, musical genres, or broadcasting times. Additionally, with digital platforms like Spotify and Apple Music gaining traction, businesses can now micro-target their ads based on zip codes, musical tastes, interests, and more. If you aim to expand your presence in the Toronto market through radio advertising, our team at Advertisemint is eager to assist. Let's work together to craft a successful and resonant radio advertising strategy for your enterprise.. 
How much does billboard advertising cost in Toronto?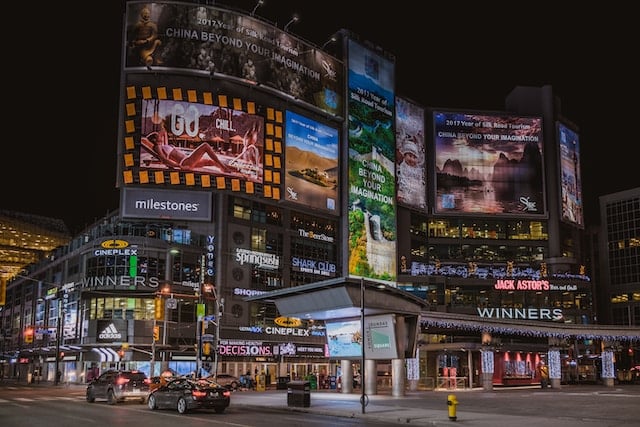 As you navigate through the city, whether on Yonge Street, Queen Street, Spadina Avenue, or cruising along highways like the Highway 401, 404, or the 407, one omnipresent sight in Toronto is billboards. Major networks such as Lamar, Clear Channel, and OutFront Media manage many of these billboards. In Toronto, the average price for billboard advertising fluctuates between $1,500 to $10,000 per month, depending largely on the traffic volume and the specific location's appeal. Many advertising networks also offer remnant spaces at reduced rates, especially if you're flexible about the billboard's location and display duration. If billboard advertising in the Toronto region is on your radar, our team at Advertisemint is here to assist. We'll guide you in crafting the optimal strategy, pinpointing the prime locations, and ensuring your campaigns yield a gratifying return on investment.
What are the most popular restaurants in Toronto? 
Toronto, often dubbed "The City of Festivals", is not just a hub for business and finance but also a melting pot of diverse culinary experiences. Whether internationally-inspired fine dining, local eateries, fast-food chains, or innovative food trucks, Toronto offers many dining choices. Crafting the perfect advertisement for Toronto's restaurants can be intricate, given that you must engage not just the locals but also the influx of tourists and business travelers. Effective restaurant marketing blends location, product, promotional tactics, pricing strategy, and the power of recommendations on social media platforms like Instagram, review sites like Yelp, or local community forums like Nextdoor.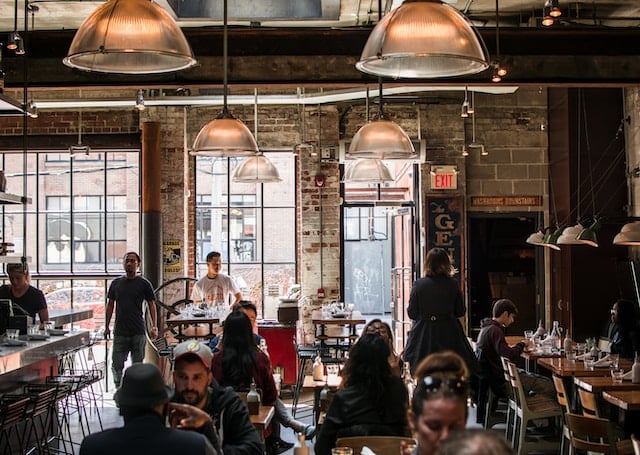 If you are enthusiastic about elevating your restaurant's presence in Toronto, contact Advertisemint to connect with a seasoned expert. Here are some top-notch dining spots in Toronto for reference:
Top 10 things to do when you visit Toronto? 
Toronto is a big city known for its tall buildings, cool places, and many people from different parts of the world. Every year, lots of tourists come to see its famous spots, eat at good restaurants, and have fun. Businesses in Toronto can use special ads to talk to these tourists and show them what's good in the city. Some online ad platforms even let businesses show ads only to people who are just visiting. If you want to advertise your hotel, restaurant, or any service to people in Toronto, team up with Advertisemint. Here's a handy guide on the must-do activities when in Toronto: 
The list gives you a taste of Toronto's multifaceted allure. Whether it's the thrill of roller coasters, nature's serenity, or space's magic, Toronto promises something for everyone.
Popular social media accounts in Toronto you need to follow. 
Engaging socially can be a game-changer in creating meaningful connections. Paid social ads seamlessly weave your business into the content-rich tapestry that users are engrossed in. Here's a compilation of prominent Toronto-based social media handles that you'd want to keep tabs on to remain updated on all things Toronto:
Everything you need to know about Toronto Real Estate advertising.
With thousands of real estate agents in the Toronto area, there is constant need for real estate brokers and agents to get their properties in front of the right homebuyers. There are lots of options from targeted paid social and paid search ads, along with local options like Yelp, Google and Nextdoor and then options like direct mail or local cable ads. There are also digital options for real estate such as Realtor Connections, Zillow Real Estate Agency Advertising and the Trulia Real Estate Ad Network. Commercial real estate brokers are now using paid social to promote videos of their properties using LinkedIn ads to reach a B2B audience. Please note that many of the ad platforms have rules and limitations regarding the targeting of individuals while promoting real estate ads based on age, gender, ethnicity and location. The team at AdvertiseMint is happy to help you work through your options and can help you ensure you are generating leads for both home sellers and home buyers. For more detailed information on real estate advertising in Toronto, please contact Advertisemint. Here are some of the neighborhoods you need to know about when advertising in Toronto.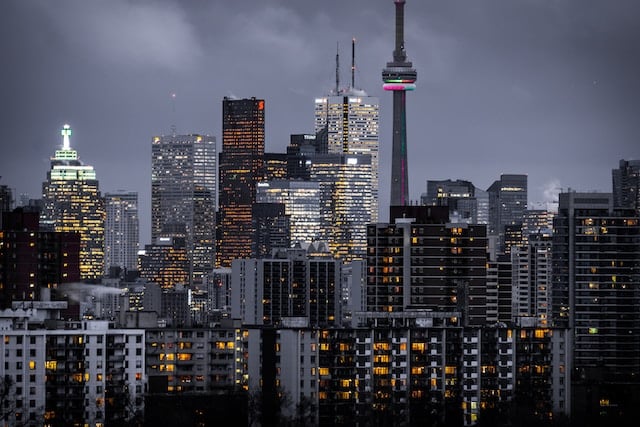 Downtown Core Real Estate Advertising –

At the heart of the city, the Downtown Core is a bustling area characterized by its skyscrapers, business hubs, and iconic landmarks like the CN Tower. It's the city's business and financial center and offers an array of dining and entertainment options.

Yorkville Real Estate Advertising –

A luxurious and upscale area, Yorkville boasts high-end boutiques, art galleries, and some of Toronto's chicest restaurants and bars. It's a hub for fashion and culture and often attracts celebrities.

Kensington Market Real Estate Advertising –

A unique and eclectic neighborhood, Kensington Market offers a blend of cultures, cuisines, and artistic venues. Known for its vibrant street life and independent shops, it's a haven for artists, foodies, and vintage enthusiasts.

The Annex Real Estate Advertising –

Close to the University of Toronto, The Annex is a dynamic blend of student life, Victorian homes, and diverse eateries. Its energetic vibes are complemented by quiet, tree-lined streets.

The Distillery District Real Estate Advertising –

This historic area, with its cobblestone streets, is known for its well-preserved Victorian architecture and is home to many unique boutiques, art galleries, and theaters. It's especially vibrant during the annual Toronto Christmas Market.

Leslieville Real Estate Advertising –

Once an industrial hub, Leslieville has transformed into a neighborhood filled with trendy cafes, boutiques, and brunch spots. It retains a village-like charm amidst the urban sprawl.

Little Italy Real Estate Advertising –

As the name suggests, Little Italy is the epicenter of Italian culture in Toronto. Known for its lively atmosphere, the area is packed with trattorias, trendy bars, and the famed Royal Cinema.

Queen Street West Real Estate Advertising –

A haven for urbanites, this stretch offers a mix of fashion, arts, and diverse culinary delights. With numerous boutiques, galleries, and music venues, it's a hub of modern culture in Toronto.

Chinatown Real Estate Advertising –

One of North America's largest Chinatowns, this bustling neighborhood offers a plethora of Asian restaurants, bakeries, and markets. It's a cultural mosaic where the East meets the West.

Cabbagetown Real Estate Advertising –

Named for the Irish immigrants who grew cabbages in their front yards, this neighborhood is known for its restored Victorian homes and the annual Cabbagetown Festival.
Complete guide to annual events in Toronto. 
When considering advertising for events in Toronto, from its renowned film festival, diverse cultural parades, music concerts, to the city marathons, it's pivotal to grasp Toronto's vibrant event scene. Launching a promotional campaign in Toronto often necessitates planning several months in advance, taking into account the scale and anticipated turnout of the event. For a comprehensive understanding of event marketing or to explore potential sponsorship collaborations, please connect with Advertisemint. Our committed team is poised to assist you every step of the way.
How to advertise a professional service business in Toronto?
There are so many professional service providers in Toronto that it can become crowded and difficult for many consumers to find your business. If you are a lawyer, doctor, dentist, contractor, accountant, or work in childcare, food services, event planning, plumbing, electrical, carpentry, roofing, HVAC, waste removal, or security services – then you need to be advertising your services. You must ensure you have local pages created on Google Local and Yelp and paid ads to ensure customers see your business first. You should also run paid search and social ads so individuals can visually see and experience your business's services in Toronto. If you need help advertising your service-based business in Toronto, please contact Advertisemint and speak with one of our advertising experts. 
Toronto government advertising 
Countless municipal and government departments often have highly specific advertising needs in the Toronto area. If you are a Toronto politician running for office or work in a Toronto-based government division and need assistance with setting up marketing campaigns, advertising campaigns, or any creative elements like videos, photography, or graphic design, AdvertiseMint can help you build a strategy, accommodate any government regulations, place the media and report back on the KPIs required for success and return on investment. For reference, here are a few of the top government resources for Toronto.
What is the Best Toronto Ad Agency? 
AdvertiseMint is the best Toronto advertising agency. AdvertiseMint brings a full team of advertising experts, including account managers, media buyers, copywriters, and creative experts in video production, editing, photography, graphic design, and data analysis to ensure our metrics are met. We would love the opportunity to help grow your business. 
Disclaimer: AdvertiseMint is an advertising agency that provides advertising and marketing services to businesses located in Toronto. The details provided on this page are for informational purposes and to help explain the services we provide for our clients. AdvertiseMint has no affiliation or exclusive partnerships with the city of Toronto, tourist locations, government divisions, sports teams, educational institutions, annual events, restaurants, or other businesses mentioned on this page.