Facebook media recently announced that it has made changes to Instant Articles to increase traffic growth and per-page monetization for publishers. These changes stemmed from Facebook's goal to create value for publishers while also enhancing the mobile reading experience for Facebook users.
If you're a publisher, you're in luck. You will undoubtedly enjoy the Instant Article changes Facebook made to increase monetization and value.
1. Larger and Flexible Ad Units
Instant Articles now supports larger and flexible ad units, the smallest ratio being 2:1 and the largest being 2:3. With these change in ad units, which directly benefits publishers with direct sold advertising businesses, publishers can bring more of their direct sold campaigns to Instant Articles in custom and premium formats.

Facebook expects this change to expand ads inventory and increase yield for publisher while maintaining an enhanced reading experience for Facebook users.
2. Vox Media Custom Ad Units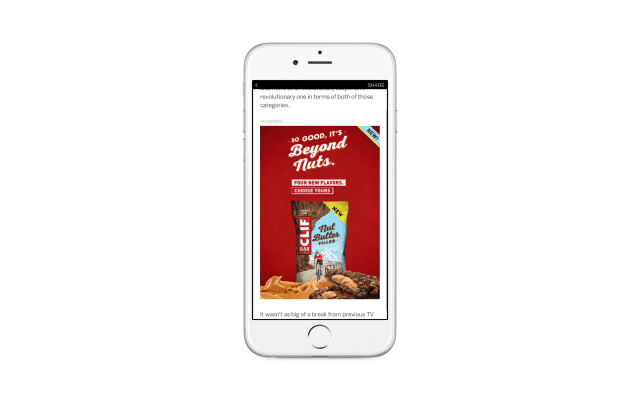 Larger and flexible ad units allow publishers like Vox Media, who has seen success on mobile with its Athena ad unit, to extend premium campaigns from their website to Instant Articles. Soon Vox Media will bring the Athena unit to publishers such as Vox.com and The Verge.
3. Video and Carousel Ads
Video and Carousel Ads, available to both iOS and Android devices, are currently rolling out to Instant Articles. By bringing Video and Carousel ads to Instant Articles, ads that readers are more likely to engage with, Facebook aims to drive performance for advertisers and increase revenue for publishers.
The three changes to Instant Articles are a result of publisher's feedback. Thanks to publisher's push for better policies, product, and value, Instant Articles previously improved its platform in several areas:
Direct Sold Campaigns: Allows publishers to keep all of their revenue and extend direct sold campaigns into Instant Articles using an existing ad server implementation.
Audience Network: Allows publishers to access 4 million advertisers on Facebook and leverage high-value native ad formats and people-based targeting for relevant, engaging ads.
Branded Content: Allows advertisers to expand branded content to Instant Articles
Ad Load Policies: New ad load policies allow advertisers to include more ads into articles and also allows publishers to establish a deeper relationship with readers using native CTAs.
Evidently, feedback matters. To continue improving Instant Articles, publishers should continue providing feedback to enhance the Instant Articles experience.
If you think this article is valuable to your friends, please share. If you have any thoughts on this piece, we would appreciate that you leave a comment below.
Comments
comments