August 20, 2018
How L'Oreal's Partnership with Facebook Tempts My Beauty Budget. #ar #virtualrealilty #artechnology
Click To Tweet
We're no strangers to the Facebook and beauty market dynamic. In fact, I have purchased beauty products through the platform. Major beauty company L'Oreal is revolutionizing the way we shop for beauty products in its latest partnership with Facebook. The company will market products using augmented reality ads (AR), allowing shoppers to virtually sample makeup through the Facebook camera.
According to Mobile Marketer, the L'Oreal-Facebook partnership came shortly after L'Oreal adopted Modiface, an AR beauty tech startup. Modiface's software allows shoppers to view a 3D image of their face in real time so they can see how products will look on them. For example, I could try different shades of lipstick or eyeshadow to help me decide what would look best with my complexion.
Previously, Modiface worked with 84 beauty brands to deliver AR experiences for showcasing cosmetics, says Mobile Marketer. This allowed numerous brands to offer virtual tutorials for their products. Now, Modiface will provide its technology exclusively to L'Oreal, which will propel the beauty company ahead of its competitors.
Although the use of AR to promote makeup isn't new, the joint effort with Facebook can significantly boost L'Oreal's engagement with shoppers. The social network has over two billion potential users the beauty company can reach. Additionally, Facebook offers customizable AR experiences through its boundless archives of user data reflecting interests, preferences, and spending habits. The social network's advanced computer vision technology even makes it possible to analyze users' photos to determine the best audiences to target.
L'Oreal's NYX Professional Makeup line will debut on Facebook's camera by the end of August, according to Mobile Marketer.
Why AR Makes Me Buy More
Online ads for cosmetics lack one major thing: the ability to try the products before buying. Oftentimes when I shop for beauty products, I experience buyer's remorse before reaching checkout because there's no guarantee that I'll like how the product looks on me. But with AR technology, I'm able to model different color blushes, eyeshadows, and lipsticks, so when I get to checkout, I know exactly what I'm getting and how I'll like it when it arrives.
When I shop at a clothing retail store like Kohl's or JC Penny, one of the most exciting thrills for me is trying on different outfits in the dressing room. Just because something looks good on the hanger doesn't mean it will look good on the live model. Coloring and shape need to be taken into account, which is why trying on the outfit is so helpful. With L'Oreal's new AR partnership, you get the virtual dressing room for your face. You also don't have to go anywhere. You can see what looks good while cleaning your room, taking a walk, or lying in bed.
AR makeup sampling will increase shoppers' confidence and satisfaction with their purchases. The more satisfied I am with a makeup purchase, the more likely I am to return to the same brand for future beauty purchases. Therefore, AR also helps build brand loyalty. The more loyal customers a brand has, the better its reputation, which will help attract entirely new customers.
Advertising with AR
Last month, we learned that Facebook is testing AR ads for all kinds of products in News Feed. If the testing delivers successful results, brands beyond just the beauty industry will be advertising using AR. Facebook will become a virtual dressing and makeup room, a digital mirror. Advertisers will be able to convert more users into customers because there will be more confidence in purchase satisfaction.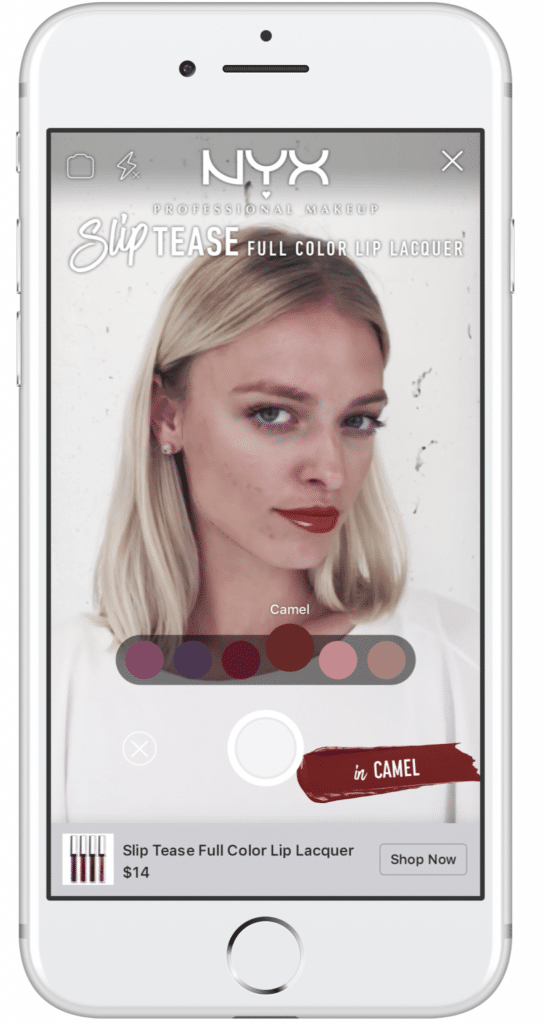 Advertising is breaking new ground with technology like AR. AR gives shoppers like me more engaging shopping experiences from wherever we are so we can make purchases without any regret. When we invest in our appearance, we want to be sure we're going to look good, and being able to do so from the convenience of our phones is a bonus. L'Oreal's partnership with Facebook suggests a lot more to look forward to in terms of mobilized shopping.
I for one am excited to expand my eyeshadow color palette. But beauty is only the beginning.
Written by Anna Hubbel, staff writer at AdvertiseMint, Facebook advertising agency
Comments
comments