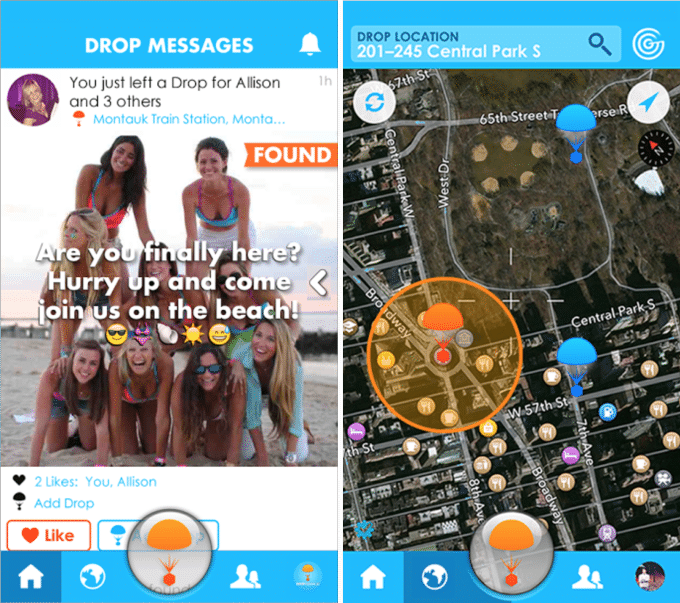 The next big thing for Snapchat could be location-based messaging. TechCrunch recently learned that Snap Inc. acquired AR (augmented reality) location startup Drop's intellectual property in 2015. Specifically, it acquired Drop's location-based messaging patent.
The basic functionality of Drop was that users could pin photos or messages to a location on the Drop map. Followers would then be notified when they are near the user's post location. Google works similarly in that it allows users to "check in" when at a business or restaurant, as well as prods users to share photos of their location. It's a functionality that promotes the merging of our personal lives with marketers into one community.
TechCrunch foresees Snapchat adopting a similar functionality through Snap Map or Snapchat AR Lenses. Users could share location-based messages that followers can see on a map if they are nearby.
Can You See Me Now?
It seems Snapchat has been focusing more and more on location-based features. Snap's CEO Evan Spiegel filed a patent in 2014 for viewing other users' photos taken from a certain location and unlocking geofenced photos. Snapchat has also acquired a $7.7 million geofilter patent from startup Mobli, 245 patents from IBM, and has mrecently acquired Placed, a location-based startup specializing in analytics and ad measurement.
But it's no surprise that social networks are gravitating towards location-based messaging and geofilters. Perhaps the racing popularity of Pokémon Go was the first foreshadowing that location and the blending of digital with reality are what users want. The concept takes social media sharing to a whole new level of meaning.
In terms of advertising, should Snapchat incorporate location-based messaging into its platform, businesses will be able to engage with users even further. Additionally, a business could see where messages are populating nearby and develop a marketing strategy to target that population.
Who knew "Where's Waldo" would be the next driving trend of social media?
Comments
comments