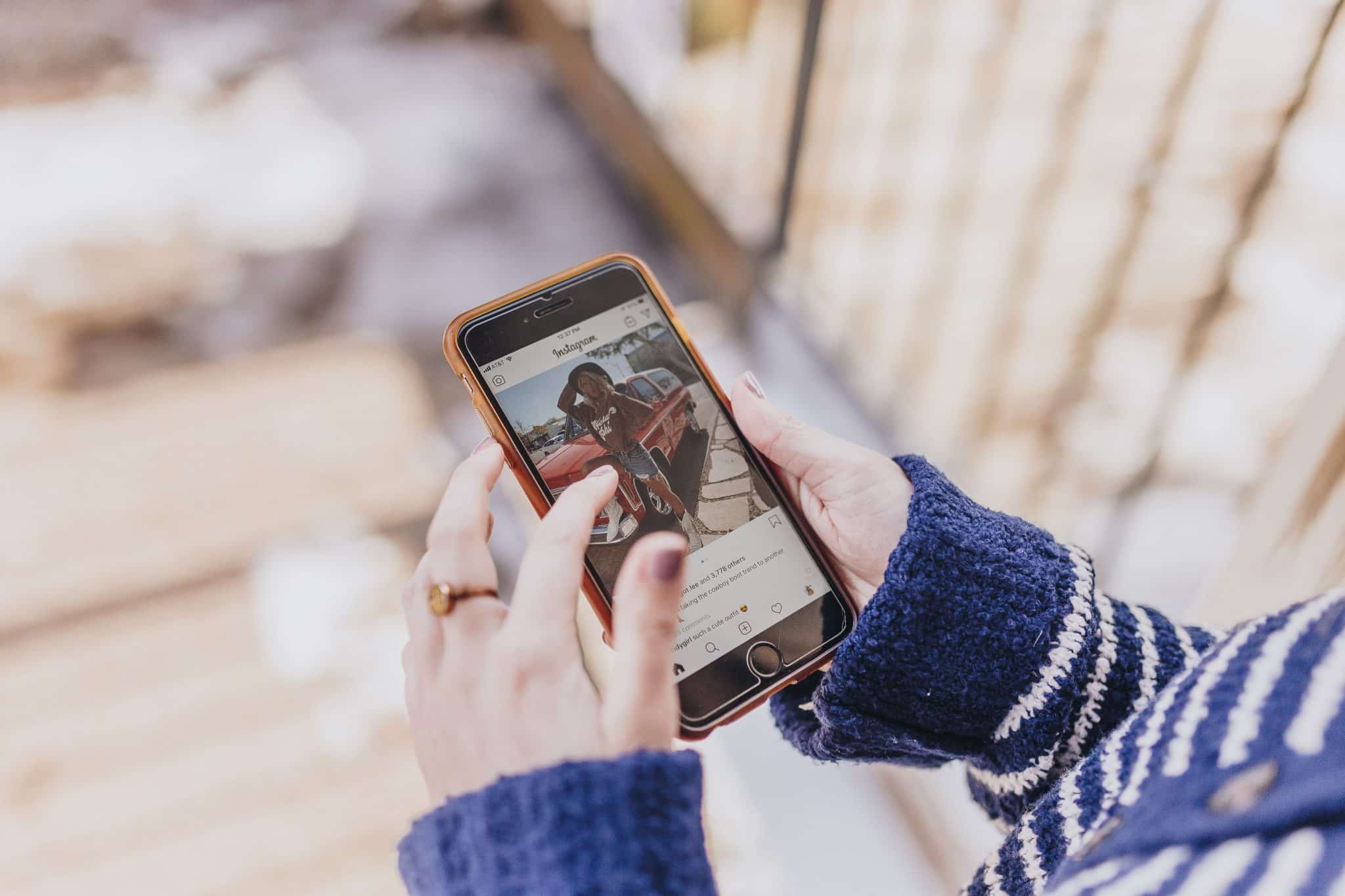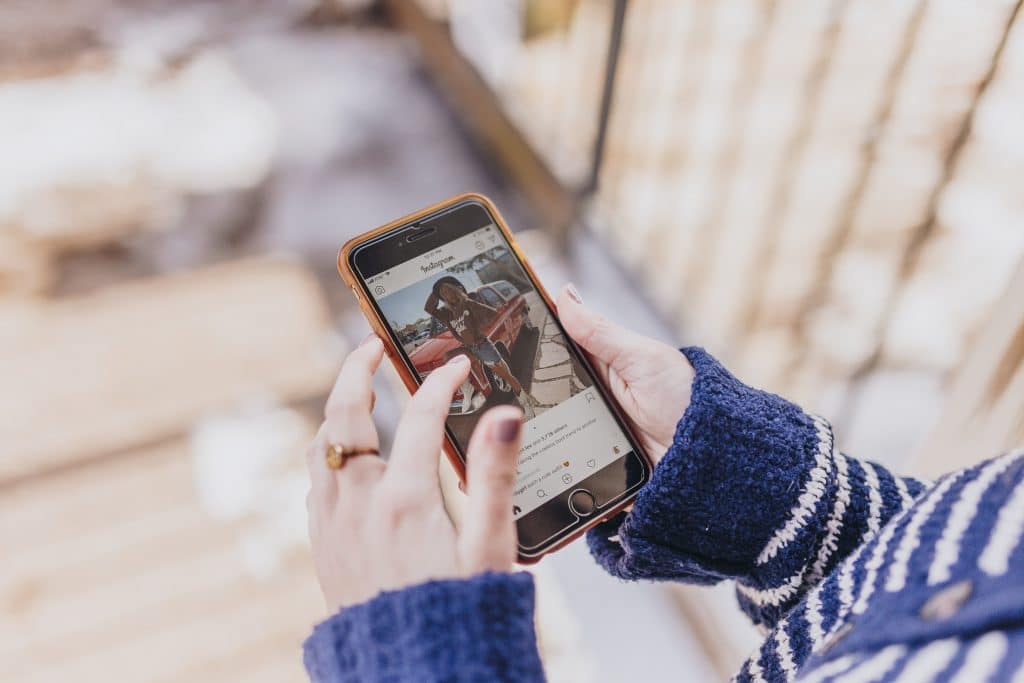 According to the Global Web Index, on average, most people spend over two hours every day on social media platforms. Of these, Instagram has over 1 billion monthly active users. With this amount of active users, you must identify ways to promote your brand, and marketing tools can help simplify that process.
Choosing the right Instagram marketing tool, to a large extent, influences how fast your brand gains a following. Thankfully, most of the great marketing tools for Instagram are either free or affordable. In this post, you'll learn about great Instagram marketing tools and their importance to building a brand following.
Why are Instagram Marketing Tools Important for Brand Following?
Instagram is a popular social network capable of driving business and brand growth. Gone are the  days when it was only for scrolling through pictures, memes, and food content. 
Instagram marketing tools provide additional features and functionalities, such as scheduling posts, suggesting hashtags, and providing performance analytics. These features help you market your brand on Instagram effortlessly, increase your following, and engage your audience. Some of these features include automated publishing, smart scheduling, and insightful analytics.
What Are the Best Instagram Marketing Tools?
According to a survey done by Facebook, 78% of the users believe that Instagram brands are popular, and 74% believe that brands are relevant. Evidently, Instagram users are very open to brands marketing themselves on the platform. Here are some great Instagram marketing tools that will help build your following. 
1. Sendible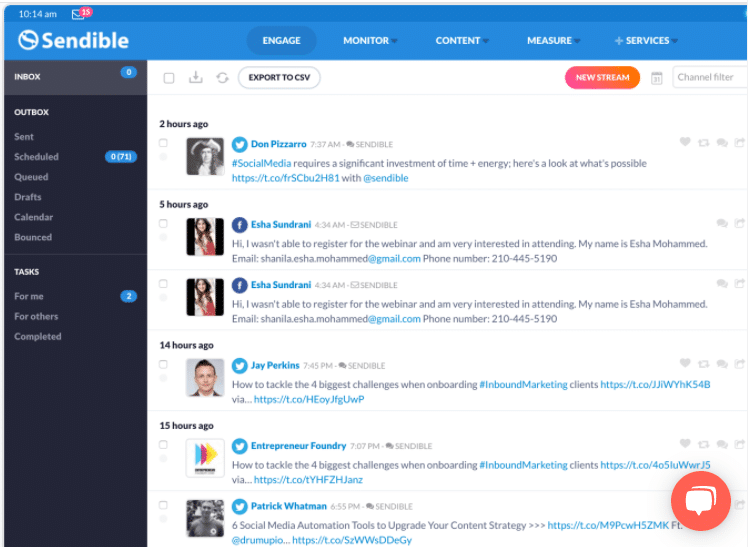 Sendible is a well-known social media management tool that allows users to schedule images and videos to directly post on Instagram. With this tool, you can fix a schedule for your posts for certain times or add them to the queues. For just $29 per month, you can enjoy this app and its benefits. All the content you scheduled previously on Instagram and other social media platforms are displayed on a calendar. This allows you to tweak your schedule quickly. Other features of sensible include
A report builder for building client reports

A built-in social media inbox for managing mentions and comments

A built-in CRM with team management
2. Combin Growth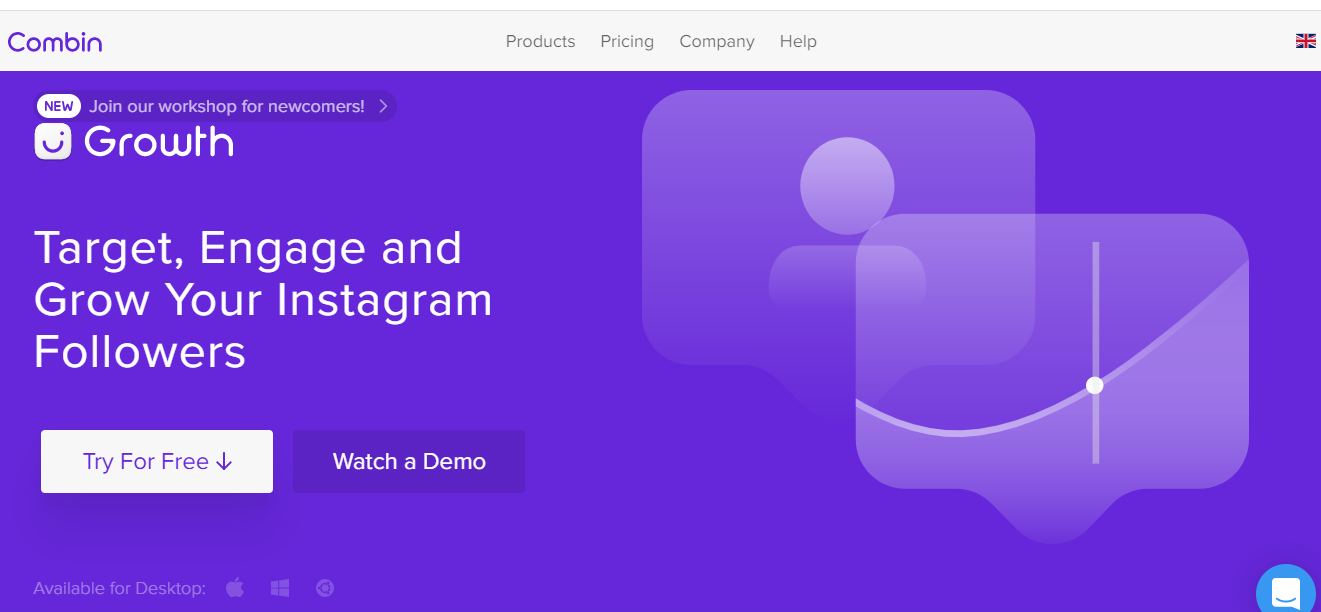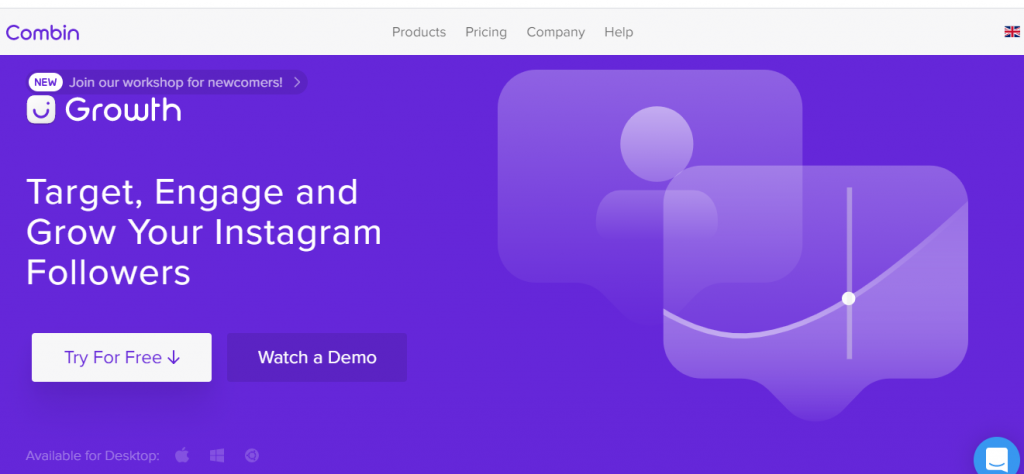 Combin growth is an Instagram marketing tool that helps you increase your brand's number of followers. It has tools such as following analysis and interaction features. All of these features help you gain genuine Instagram followers while interacting with your current Instagram audience. With enhanced machine learning, this tool helps you analyze and identify the accounts and posts that are not performing well. With the Combin growth tool, you can 
Find people who aren't following you back.

Identify your target audience on Instagram.

Identify Instagram influencers for your account.

Monitor audience activity and growth.

Style your Instagram grid layout.

Manage multiple accounts.
3. Tailwind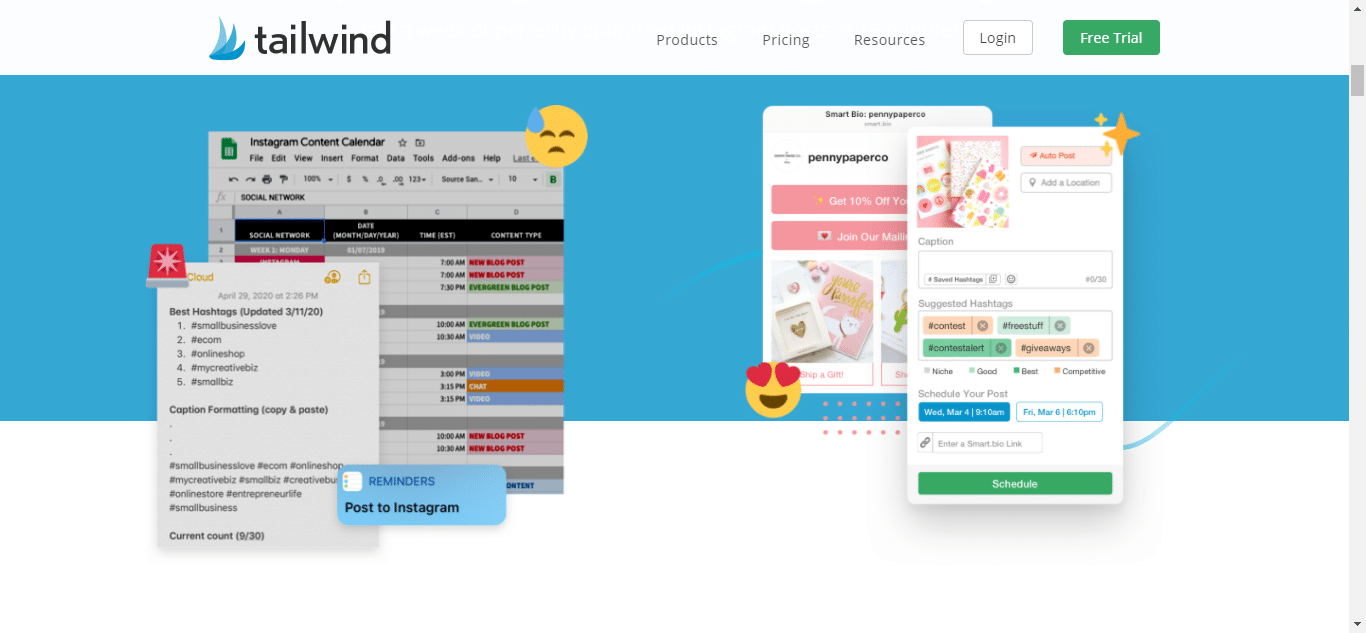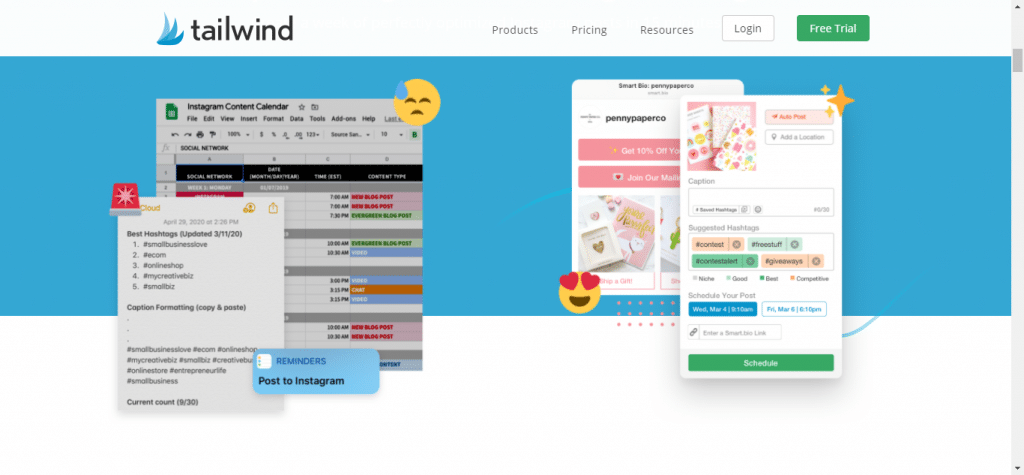 Tailwind is a powerful social media scheduling tool that focuses on visual social networks, such as  Instagram and Pinterest. It offers brands scheduling functions and powerful analytics features, including trend reporting, profile metrics, and benchmarks of virality and engagements. Additionally, Tailwind offers these capabilities and tools:
Direct posting to Instagram

Hashtag recommendations and hashtag lists

The chrome browser extension for regramming

SmartSchedule features that will pick the best time for you to post your content

Create a branded landing page for free                              

Easy analytics for profile performance, posts, and summary reports
4. Onlypult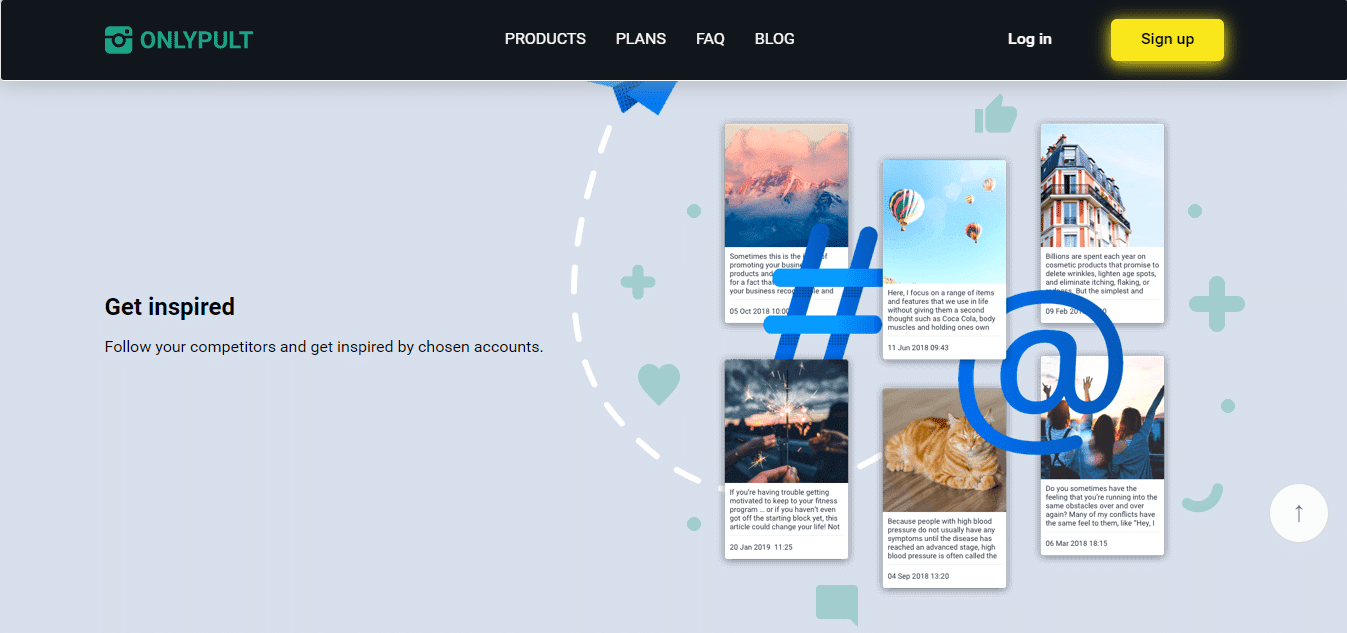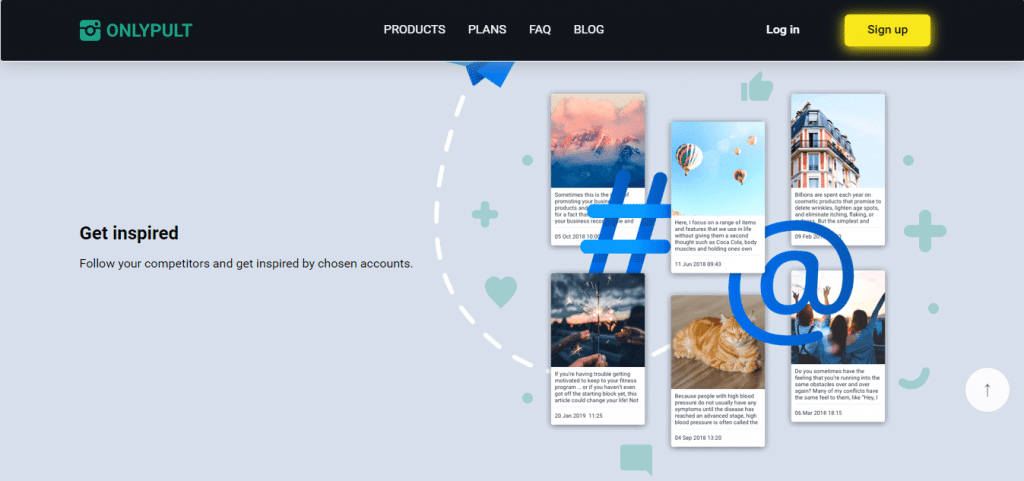 Onlypult is a social media management tool with varied functions such as teamwork, image- and  video-editing. This tool can be used to post content to blogs, social media, and messengers. It enhances your functionality; allows you to create multiple links, micro landing pages, and boost sales. With Onlypult, you can manage multiple accounts from only one window at a time, without having to switch.
Here are some of Onlypult's features:
Onlypult provides cool features such as calendar, analytics, hashtags, image and video editor, and planner.

It lets you work with multiple accounts simultaneously.

It helps you analyze volume, growth of followers, and the best time to publish.

It has features for automatic post deletion.

This tool allows you to schedule posts and publishes them in real-time.

Gives your social media manager access to publish content without sharing a password.

Allows you to analyze  trending hashtags.

It also provides features such as scheduling posting, analytics, and hashtag suggestions, to help you market your brand.
5. Unbox Social
Unbox Social is a social media marketing tool that helps you with Instagram analytics and competition tracking. Its dedicated features provide you with insights into your brand's Instagram following. With this tool, you can track just how well your posts and stories are performing.
It also helps you discover vital insights on your engagement, post reach, and metrics on your audience. It does this using an all-encompassing dashboard. This tool helps you track everything concerning your social media followership, from content to video posts, to all your stories while you track important metrics.
You can also get detailed insights into every marketing metric. Here's what this platform can do for you:
Provides you with an assessment of your competitors performance.

Analytics feature provides you with highly detailed information devoid of audience sentiments.

The data obtained can be used to make insightful decisions on brand growth.

Helps you identify important Instagram influencers for your brand. These influencers can help expand the reach of your brand campaigns.
6. Buffer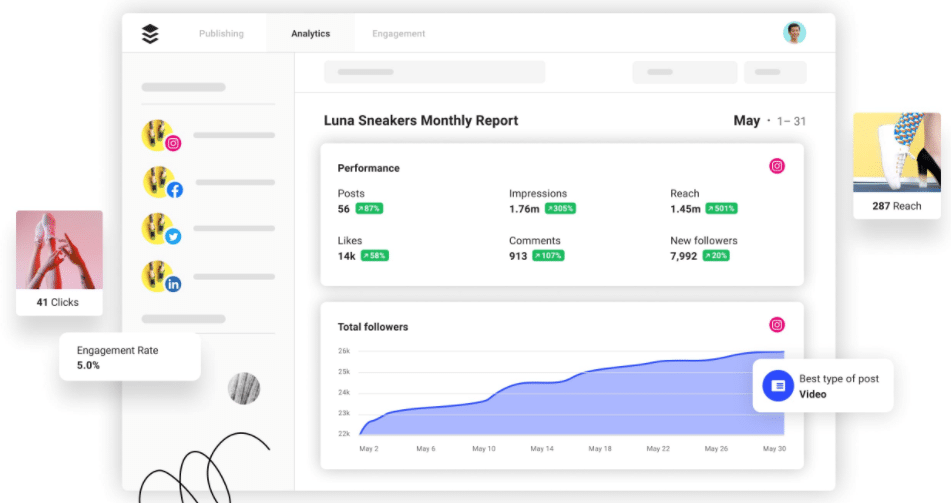 Buffer is a known go-to Instagram marketing tool for scheduling posts. It ensures that the marketing of your brand and products are stress-free and as streamlined as possible. With Buffer, you can schedule posts automatically for Instagram. All you need to do is attach pre-written copies of your video and photo content to the queue.
Other features of Buffer include
Scheduling your Instagram posts and freeing up time for you to focus on other important aspects of your business

Scheduling posts using the social media calendar tht will automatically be posted on Instagram on the allotted date

Increasing the efficiency of your brand's Instagram marketing efforts
7. LeeTags

Leetag is an amazing Instagram marketing tool that analyzes hashtag trends and generates several hashtags for analysis. The hashtags generated are relevant, special, and dedicated to improving your brand's visibility. 
With this tool, you can track every comment related to your brand or hashtag and analyze how your audience interacts with the tags. Other features of Leetags include
Reports relating to brand followership, reposts, audience statistics, and more

A fully integrated cloud service

Tools for organizating and maintenaning your Instagram account
8. Hashtagify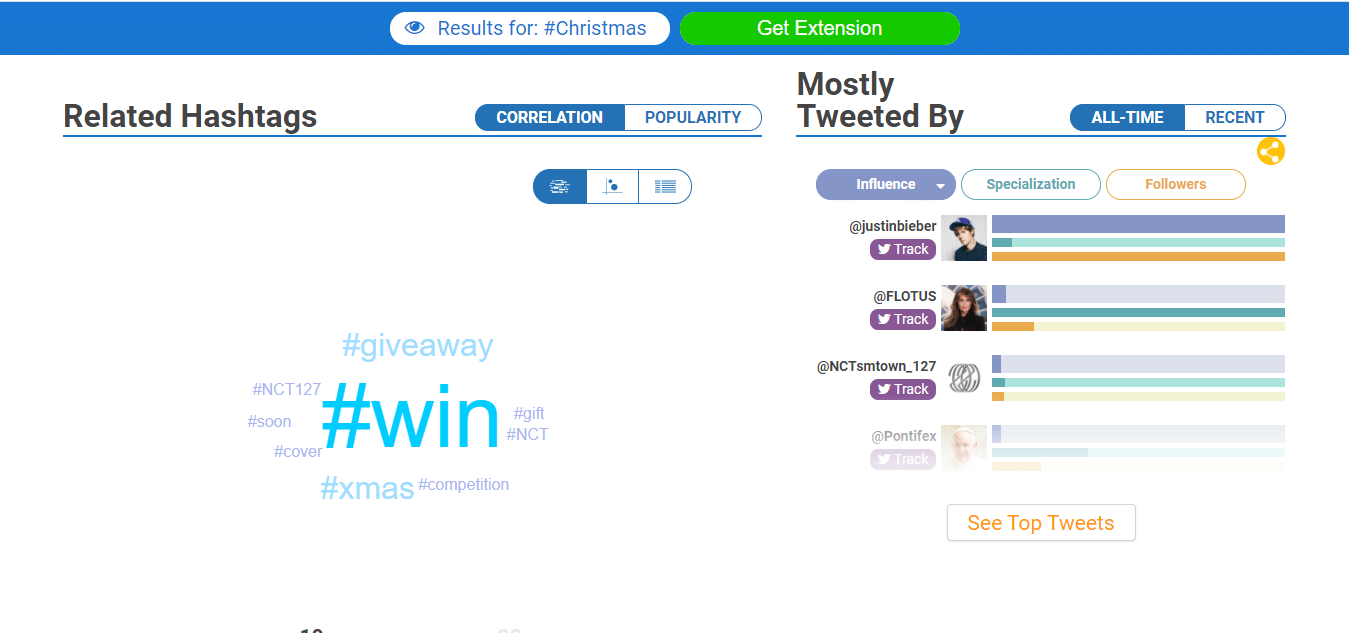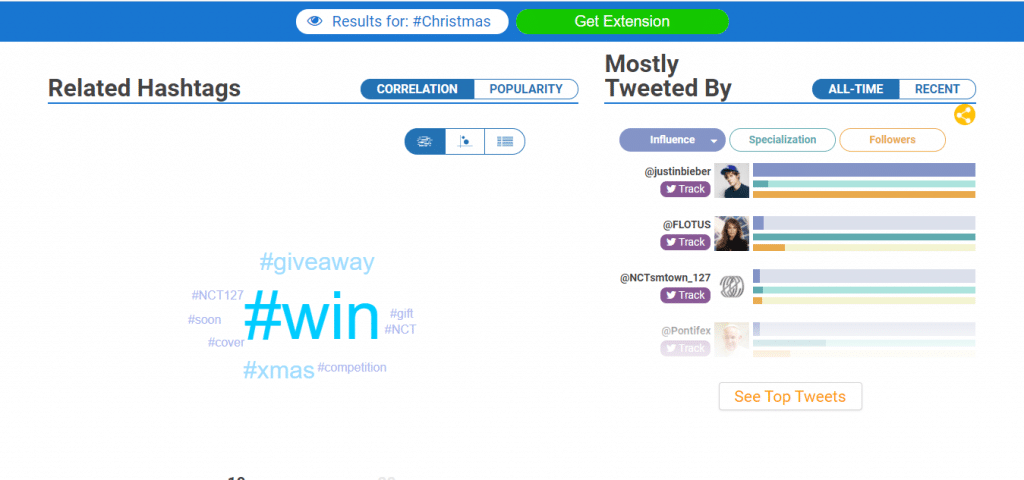 Hashtags are important tools that improve your visibility and ability to be discovered on Instagram. Since hashtags are important for your brand's visibility, you will need a reliable tool to create the best hashtag strategy. Hashtagify helps you do exactly that.
Due to the ever-increasing content pool on Instagram, hashtagify helps you automate the creation of relevant hashtags. This promotes brand followership.
Some great features of Hashtagify include
The ease of finding hashtags relevant to your content

A search tool for finding different hashtags and exploring their popularity, trends, and correlations.

Instant hashtag suggestions for Instagram
9. Later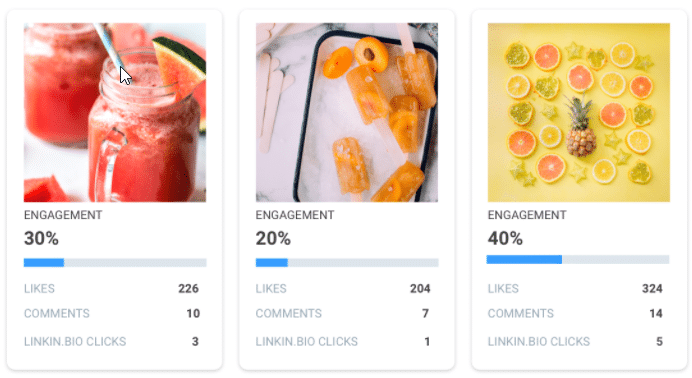 Later is one of the few marketing tools that started as an Instagram scheduling tool. It has since evolved from merely scheduling to other functions that are necessary for effective marketing. Later allows you to schedule Instagram posts and content to be published later (hence the name) and keep track of events via the platform's calendar.
Some cool features of later are
The ease of scheduling Instagram content

The ease of content organization

Affordable paid plans

Unlimited data download
10. InstaGrowth Ninja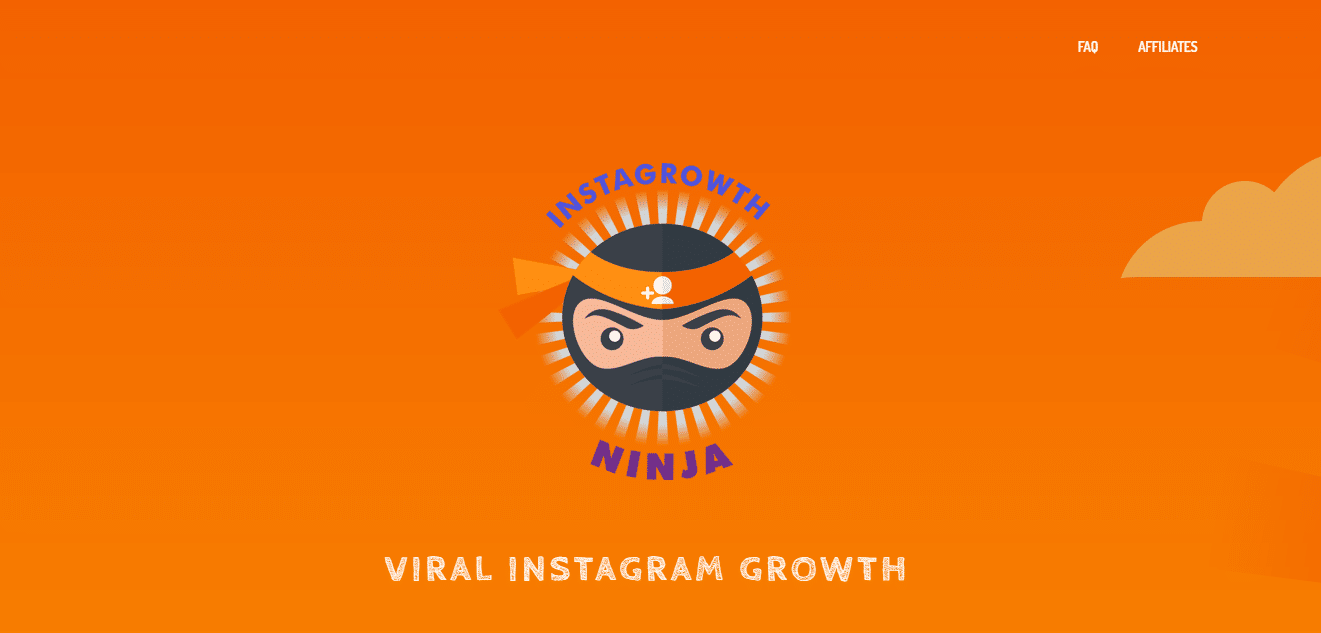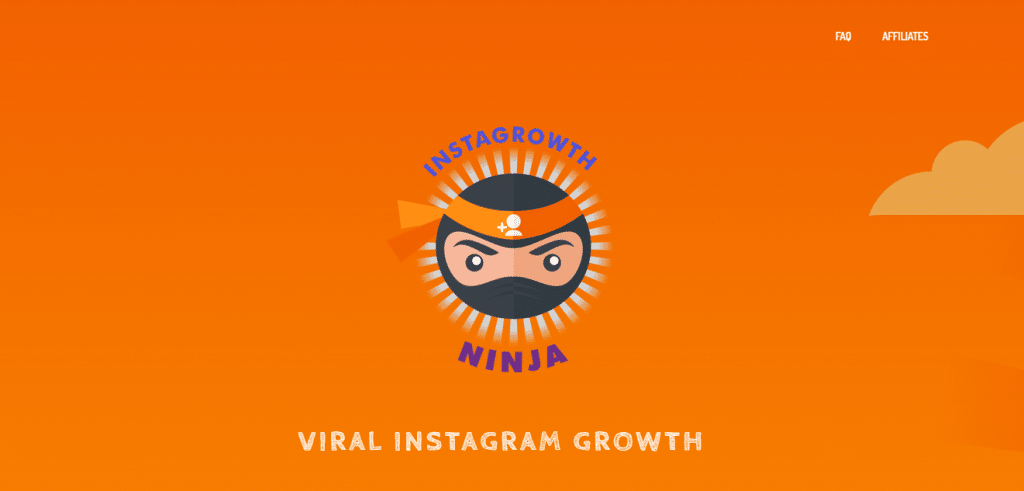 This tool is best suited to small- and medium-sized businesses. InstaGrowth Ninja plays the role of a social media marketing manager. It analyses your current trends and brainstorms innovative ways to achieve a higher following. The app alsos analyses what people are talking and hashtagging about.
Here are other things InstaGrowth Ninja can do:
It is capable of sending out over 30 DMs.

It interacts with users round the clock.

It is capable of following close to 400 people every day.
11. Hootsuite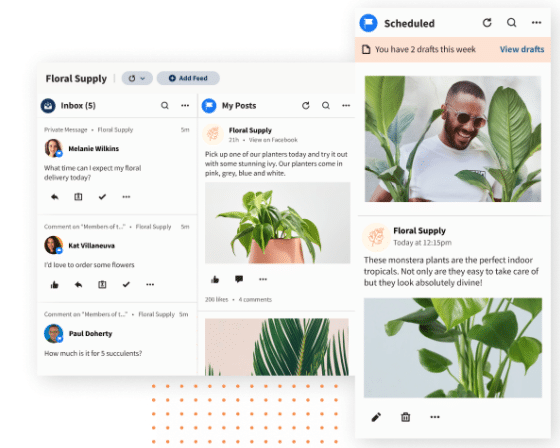 Hootsuite is a scheduling tool that helps simplify the task of posting on Instagram. Your content (images, videos, text, and Stories) can be posted directly without fuss from your Hootsuite dashboard. Once the post has been published online, the tool allows you to respond to comments directly and check the post from the dashboard.
The features of Hootsuite include
Creating high-quality stories using images and videos provided

Scheduling posts and publishing them at the agreed time

Monitoring customers, trending hashtags, competitors, etc., effortlessly.

Measuring the performance of your posts and analyzing your strategy
12. Iconosquare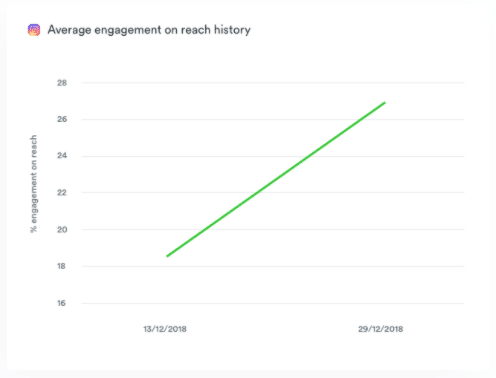 Iconosquare is a social media analysis tool that can be utilized for Instagram. It helps with the analysis of your Instagram posts and overall brand followership. The information obtained from the analysis provides you with insights on the best time to post, the posts with the most engagement, and more.
Aside from aiding with analysis, you can also schedule posts to publish, monitor mentions, track high-performance tags, and keep an eye on comments. Other features include
Real-time performance update

Hashtag tracking

Measurement of brand followership

Tracking of influential posts and profile spotting
Conclusion
Instagram is a well-known social media platform with an average of one billion active followers a month. To take advantage of this audience, you must select the appropriate marketing tool. Some Instagram marketing tools that help improve brand following are Combin growth, Sensible, Hootsuite, Later, and Hashtagify. These tools provide you with various features to make your marketing easier and more efficient.