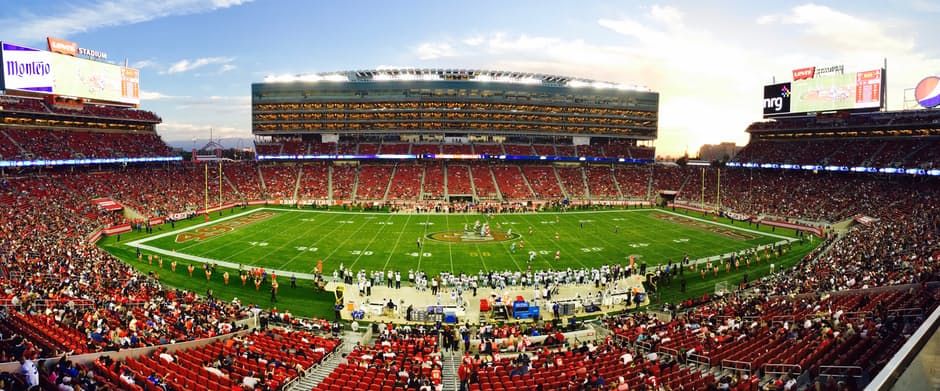 Some people watch the Super Bowl for the game, some for the halftime shows, and the others for the commercials.
With Super Bowl's immense viewership (this year it was over 111 million), it's no wonder advertisers are spending thousands to create the perfect Super Bowl commercial. These commercials, however, were not limited to TV. Brands also flocked to Facebook and Instagram to release their ads, knowing that Super Bowl viewers check their Instagram and Facebook feeds during the game to participate in Super Bowl related conversations.
Below are a list of strategies every Facebook advertiser should learn from these six Super Bowl ads.
1. Partner with Content Producers
People are more receptive to publishers' posts than to advertisers' posts. While publishers provide valuable content that people read or watch to pass the time, the reason why users visit Facebook in the first place, advertisers sell—and many hate being advertised to. The resistance against digital advertising is especially evident with the rise of ad blockers. According to a study HubSpot conducted, people installed ad blockers because ads like pop-up and banner ads disrupt their user experience.
However, when you partner with a content producer, your ad will appear more like web content and less like an ad. Take Mr. Clean's ad, for example. Rather than the company advertising its product, it chose to partner with Ad Age. Rather than coaxing viewers to make a purchase, watch a video, or click a link, Ad Age evokes intrigue by alluding to a new version of Mr. Clean: a modern, sexy cleaning machine.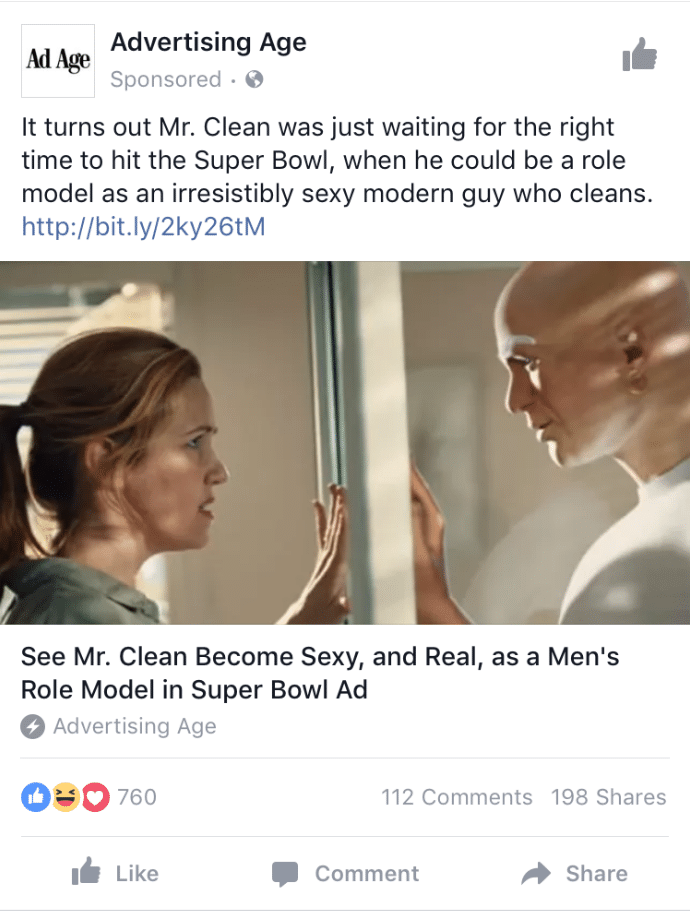 Upon clicking this ad, users get exactly what they came to Facebook for: intriguing, entertaining content to pass the time.
2. Advertise on Both Facebook and Instagram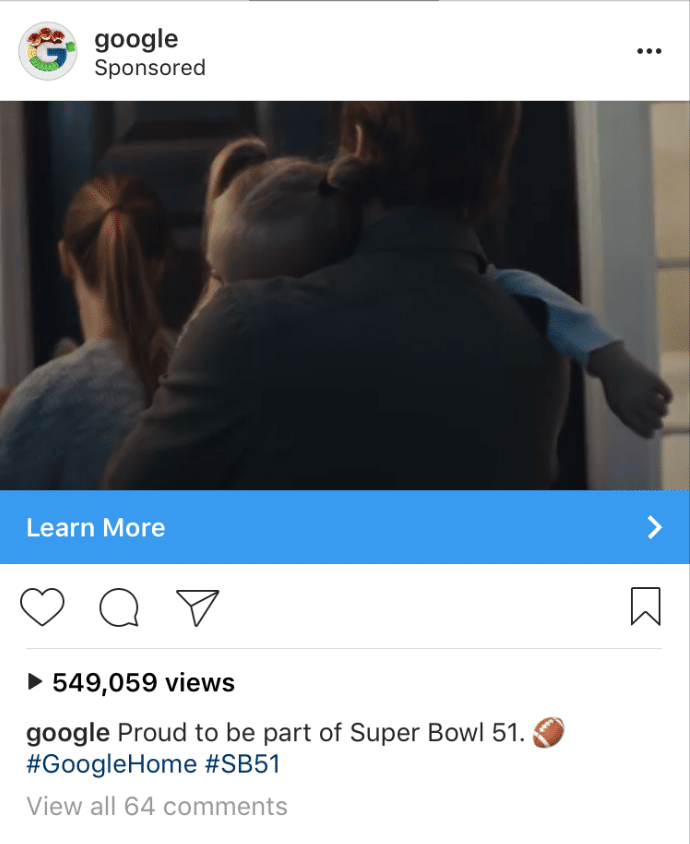 During the Super Bowl, Google had the foresight to advertise on both Facebook and Instagram. It's important to do this because Super Bowl viewers visit Facebook and Instagram during the show to comment on key moments. During the game, Super Bowl fans talked about the following topics:
The amount of people who participated in these conversations were 64 million for Facebook and 44 million for Instagram. Clearly, advertising on Facebook and Instagram during the Super Bowl game is a great way to reach a larger audience.
3. Advertise Early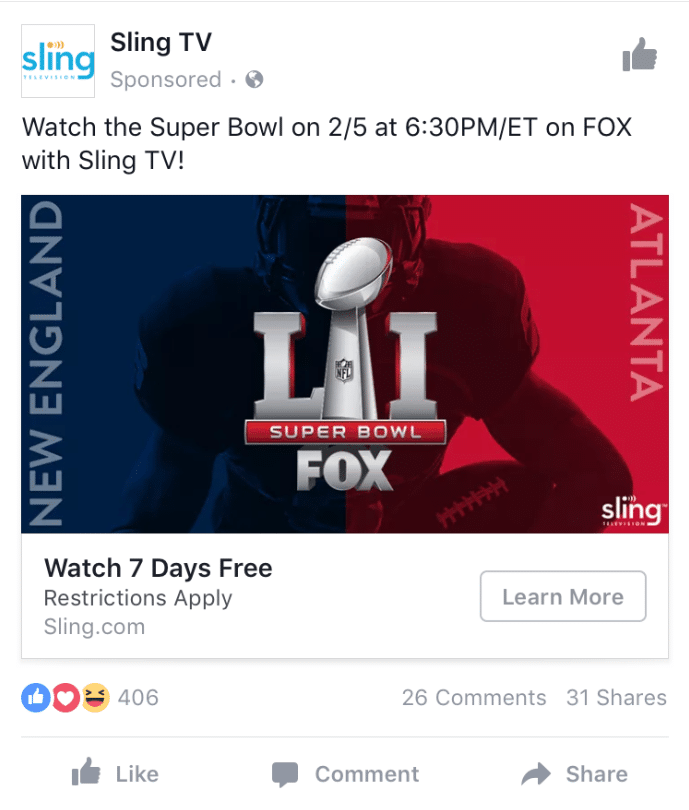 If you're planning to advertise for a specific event (Valentine's Day, Easter, 4th of July, etc.), it's best to advertise early. Sling TV did exactly that. Anticipating the Super Bowl's immense viewership, more than 111 million to be exact, Sling TV advertised early to accrue as many subscribers as possible before game day.
4. Go Live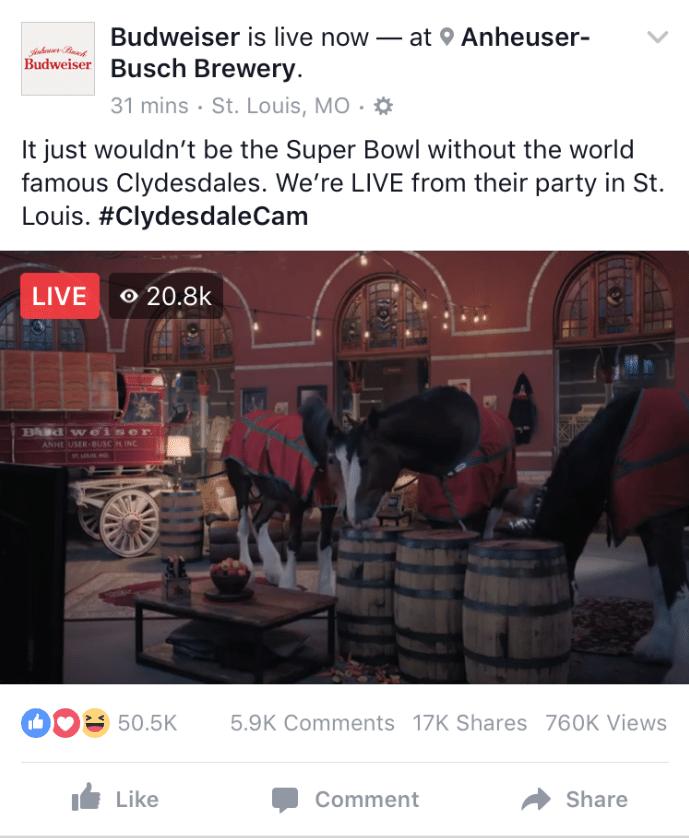 Unlike ads, Facebook Live videos can reach users even when they're not using their phones. Every time you go live, your Facebook friends and followers will receive a notification of your live broadcast. Budweiser knew the value of Facebook Live and broadcasted a video of Clydesdales from St. Louis.
Budweiser's live video appropriately reminded Super Bowl viewers of its brand during a time when alcohol was heavily consumed.
5. Go Vertical
The other video ads in this list were formatted as square video. Life's ad, on the other hand, was formatted as vertical video. Unlike square videos, vertical videos are better designed for mobile phones: the video fits the shape of a phone screen, filling in all the empty space without forcing viewers to enable screen rotation.
Going vertical not only enhances your viewer's video watching experience, but it also avoids the inconvenience of rotating your screen to get a full-screen view of the video.
6. Incorporate Current Events and Emotional Appeal
84 Lumbar's ad boldly tackles a controversial topic prominent in American politics: building a border wall. Although tackling a controversial topic like this one may be risky (imagine all the backlash and heated conversations), it's a great way to attract people's attention. Nearly everyone on social media participates in the border-wall conversation. It is such a hot topic, in fact, that any meme, video, or ad that talks about it will accrue an enviable amount of engagement.
84 Lumbar's ad received 11 million views across Facebook, Youtube, and Twitter. Additionally, the ad was so sought after that 84 Lumbar's website, from which you can see the rest of the ad, crashed from the overwhelming amount of web traffic.
84 Lumbar's ad proved that adopting a hot topic, as well as incorporating emotional appeal, when creating an ad garners results.
What do you think of these six super bowl ads? Leave your comments below or share story to friends.