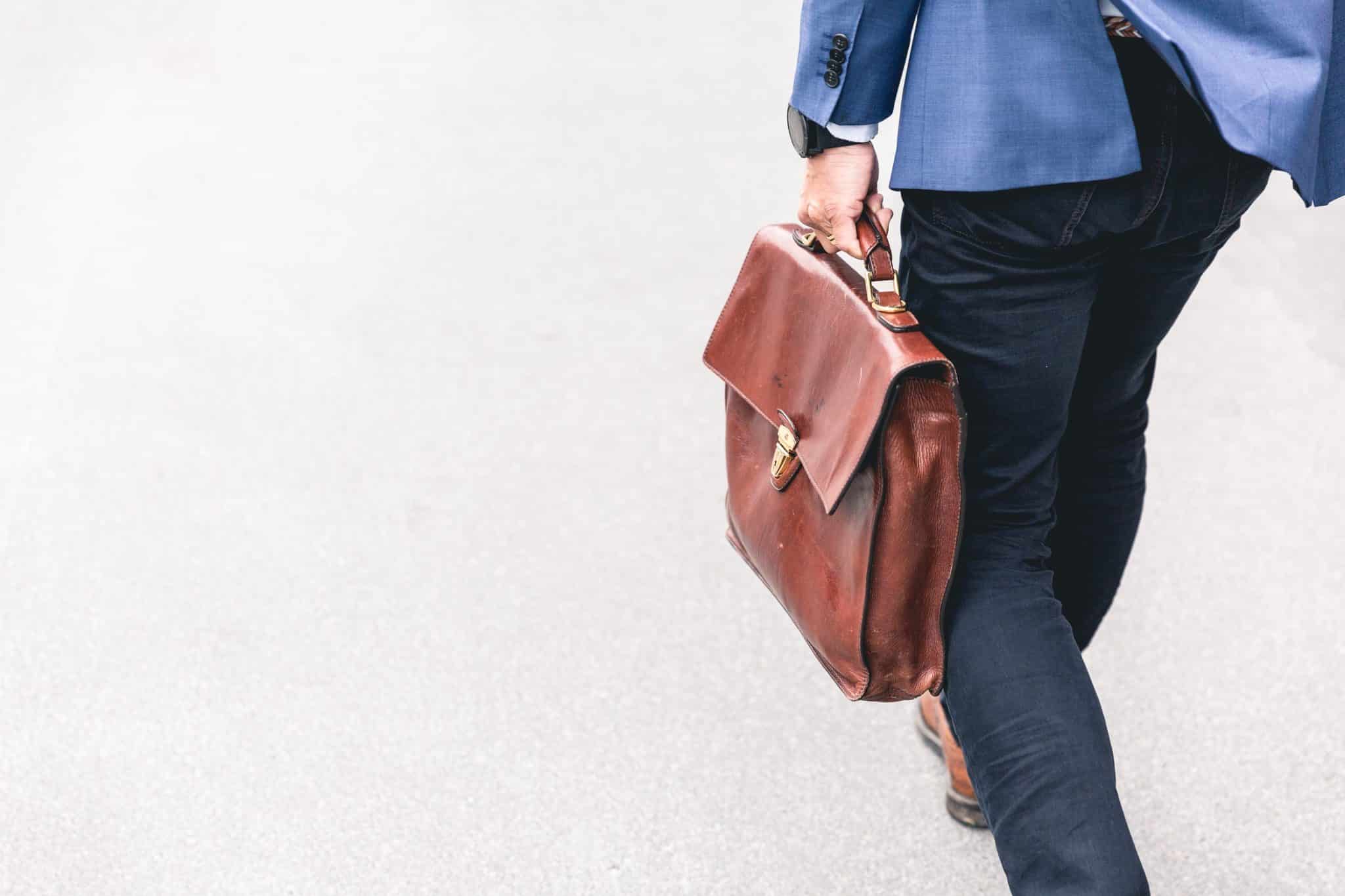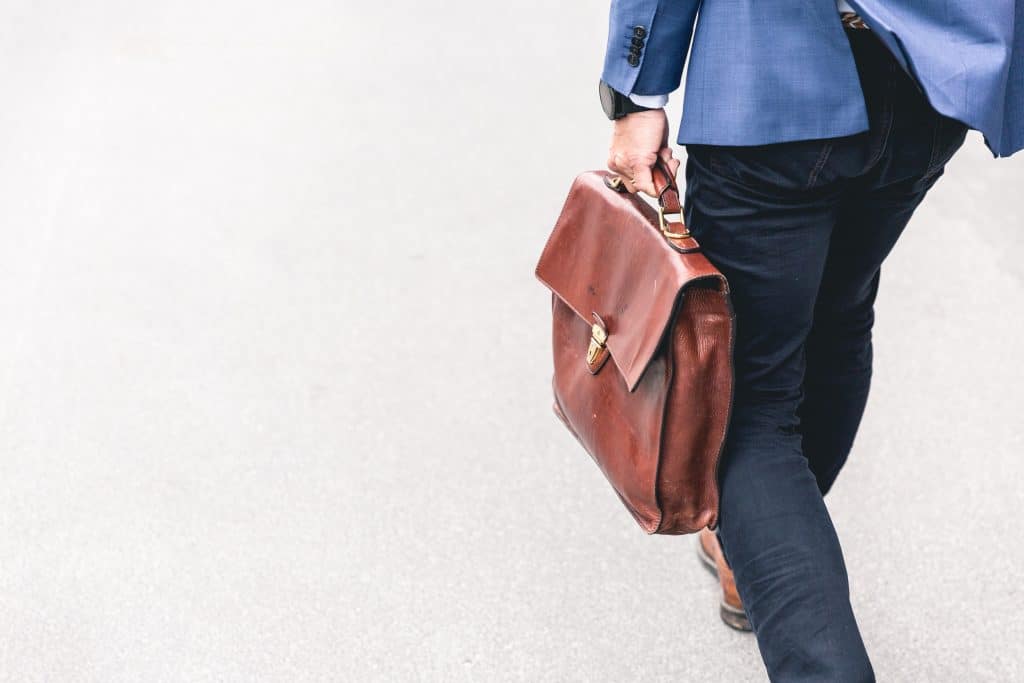 Marten Bjork /  Unsplash
Maintaining a professional social media account, such as an account with LinkedIn, is important in today's modern hiring process. In fact, hiring managers continue to check applicants' online presence. Moreover, there are organizations that require candidates in marketing, sales, or social media niches to have a concrete professional network base on LinkedIn.
In today's market, a LinkedIn profile can put you miles ahead of the competition and significantly improve your job application. This guide shows you how to make your LinkedIn profile stand out in six easy tips. 
1. Go Beyond Your Job Title
By default, LinkedIn chooses your job title as your headline; for example, "sales manager," "software engineer," or "marketing director." But there are instances where candidates use headlines like "looking for work" or "a great worker." 
Even though there's nothing wrong with choosing your job title as your headline, it does little to display your skills. Making your LinkedIn headline stand out is important, especially since it's the first thing recruiters notice. To optimize your headline, add details regarding your expertise within 120 characters — that will get them to click on your profile. 
If you're a marketing director, add details about your expertise. Here's an example:


Here, Elon tells recruiters exactly the value he can bring: using social media to improve brands' online presence.
2. Rethink Your Connection Strategy
Professionals often make the mistake of improving their LinkedIn networks by indiscriminately sending numerous connection requests without further thought or planning. This isn't an ideal practice. Before you send connection requests, do the following:
Sync your email address with LinkedIn to connect with people you already know. 

Make sure your industry is updated. For instance, if you work in advertising,  your listed industry must be marketing or advertising.

Add a personalized note to your connection request to improve response rate. 
You can also use LinkedIn's premium feature called InMail to send messages to people you are not connected with. It paved the way for a new sort of cold outreach, which is three times more effective than traditional email marketing. 
Finding the right audience and improving your connections is integral to each other. Keep these best practices in mind before sending requests to users on LinkedIn. 
3. Include Action-Oriented Experience and Achievements
You can optimize this part of your profile by treating it as the work experience section of your resume. Here you need to add action-oriented bullet points and work-related achievements. It's important to note that if you're adding a resume to your profile, make sure the content in the "Professional Experience" section is not a word-for-word copy-paste of your resume.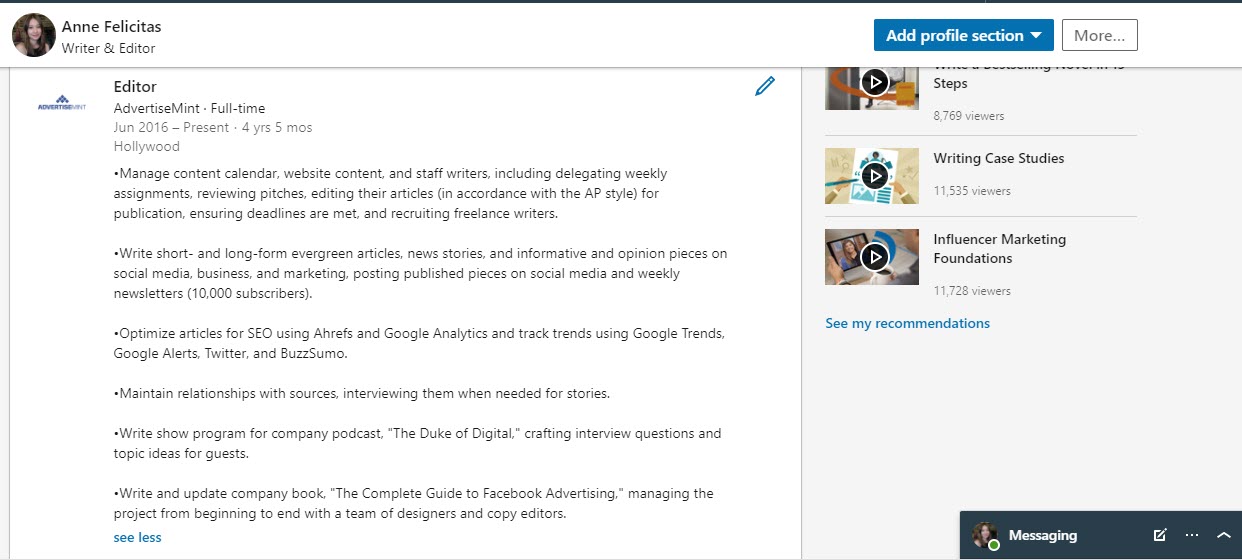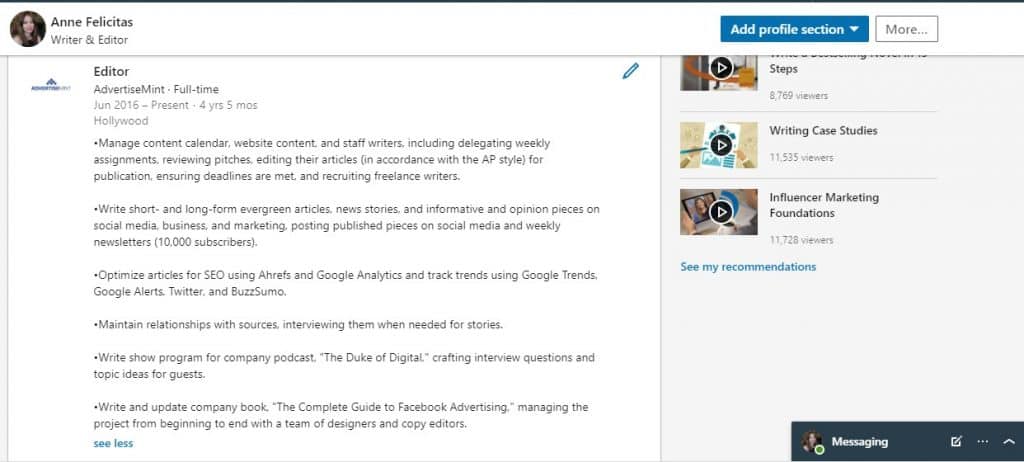 LinkedIn allows you to showcase your work achievements in three ways: professional experience, projects, and awards. Here's how you can make the most out of each section:
Experience

: Add a few points under each profile that display your expertise. Try to compose bulleted statements and quantify them. The idea is to keep these points restricted to a line or two to improve readability. 

Projects

: In a separate section, you can add all your projects, work-related or otherwise. Avoid providing too much project details and focus on the results you were able to achieve. 

Awards

: This section allows you to add all of your awards and achievements, such as your Salesman of the Year Award or Best Ad of the Year nomination. Make sure to fill this section, if applicable.  
Additionally, add all the certifications you possess. This will showcase the advanced skills you have acquired in your field.
4. Remain an Active User
Staying active on LinkedIn can be immensely beneficial because liking or commenting on the posts you come across bolsters your visibility. It will make your profile appear on the feeds of your connections. For example, check the notification below:

The idea is to keep your profile relevant among your connections. There is no shortcut for staying active, so you will have to invest the time to improve your user activity. 
LinkedIn works like any other social network, where you can post status updates, write articles, and engage with content. Since this is a professional networking platform, make sure your content is grammatically correct. You can utilize grammar checker tools to make sure your articles and posts are clean and error-free. 
5. Incorporate Keywords into Your Profile
If you wish to add value to your profile, don't use buzzwords like "constructive thinking" or "hard working." Instead, use keywords that are relevant to your industry and target audience. Let's say you work in advertising. The idea is to add details that showcase your knowledge, like content marketing, content management system, lead generation, or brand presence. You can think of this as search engine optimization, where you add keywords to improve your online presence. If someone searches for the keyword "lead nurturing," and added this to your profile, then your profile will be shown in search results. 
You can start by going through the important keywords in your target industry or job. Make sure that you add the keywords you can validate through your work experience, projects, certification, skills, or recommendations. 
6. Leverage Endorsements and Recommendations
Anyone can lie on LinkedIn and add any keywords, skills, or boastful statements. However, you can validate your information by providing job details in the professional experience field or through your projects. Make sure your profile looks extra credible by leveraging endorsements and recommendations. Endorsements are for your proficiencies where people advocate the skills you have added to your profile.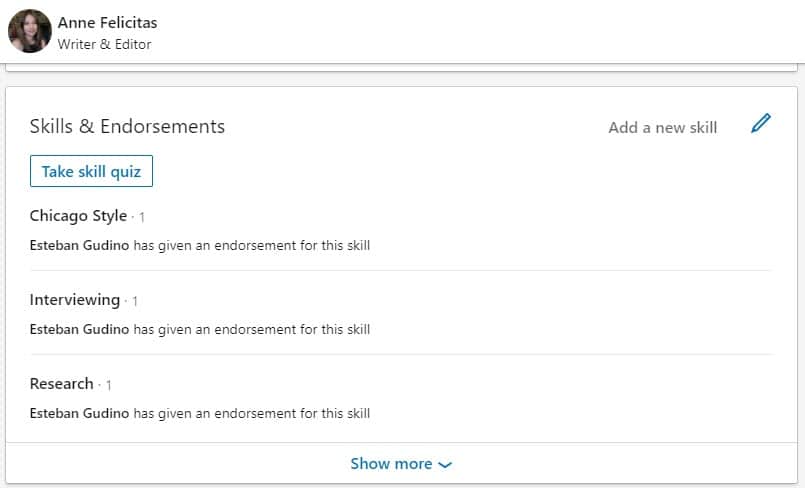 A Recommendation is a brief description of your professional feats, the kind of individual you are, or the kind of experience people have had by working with you.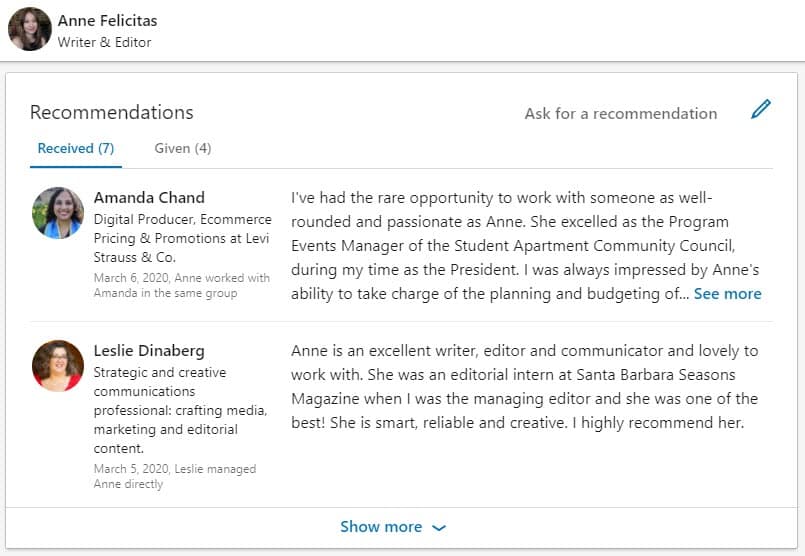 To ask for endorsements and recommendations, do not post or announce an update to your connections. Instead, ask your mentor and colleagues. Also, make sure you do not participate in mutual recommendations (giving a recommendation to receive one in return). It does not look legitimate. 
Conclusion 
Although this article covers all the pointers to revamp your LinkedIn profile, you need to make sure that you add information that you can substantiate. Even if you have a stellar profile, you need to invest time in engaging with professionals on LinkedIn to improve your visibility.