Anna Hubbel, writer at AdvertiseMint, Facebook ad agency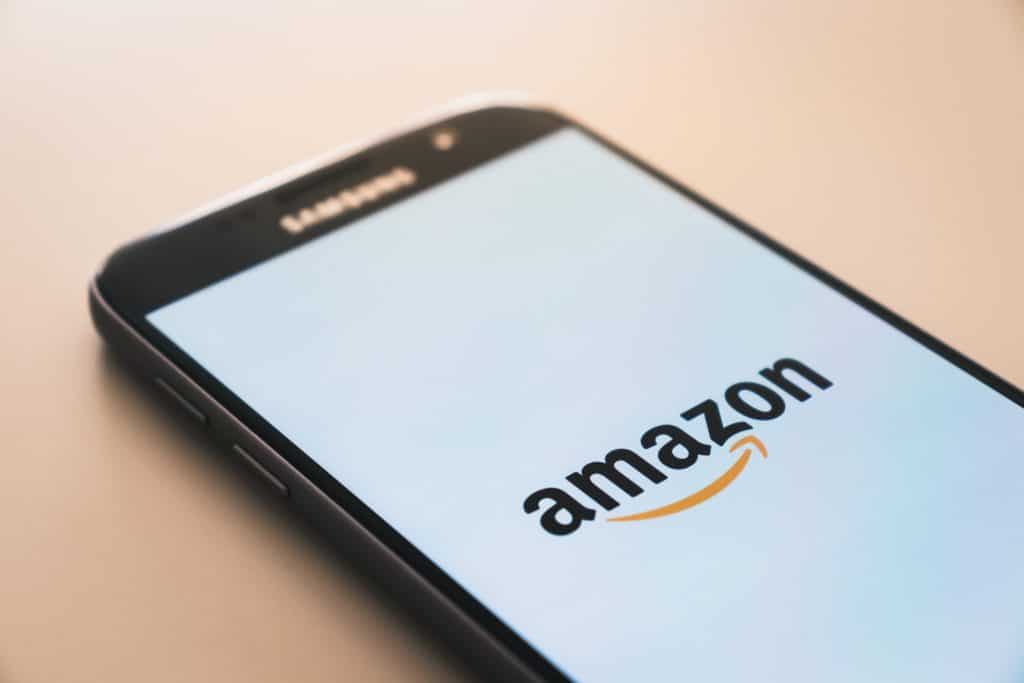 Amazon is inching its way closer and closer to the number one spot. The company's US digital ad revenues projected for this year will surpass Oath and Microsoft's, trailing behind Facebook and Google's, according to Emarketer. The platform is being recognized for its advertising potential and its benefits as an e-commerce platform.
The numbers forecast Amazon will gain a significant boost in the digital advertising sector this year. Emarketer predicts advertisers in the United States will spend $4.61 billion on Amazon, making up 4.1 percent of total digital ad spending. Emarketer describes Amazon's organic digital advertising growth as "stronger than expected," increasing the marketing analyst's projected ad revenues for the company by 10 to 12 percent. Even further, the analyst predicts growth increases of more than 50 percent per year through at least 2020, at which point Amazon's 4.1 percent of total US digital ad spending will bump up to seven percent. Looking at these predictions and estimates, the future looks bright and promising for Amazon.
Amazon, evidently, is going to be a big player in digital advertising, maybe even becoming as big as Facebook or Google. If you want to reach more potential customers, you should explore the booming potential of digital advertising with Amazon for your business.
Like digital advertising on Facebook or Google, if you want to create successful Amazon ads for your business, you must follow a few best practices. In this article, you'll learn seven essential tips for creating successful Amazon ads. But first, you should know the types of ad formats Amazon offers.
Types of Amazon Ad Formats
There are three main types of Amazon ad formats:
Sponsored Product Ads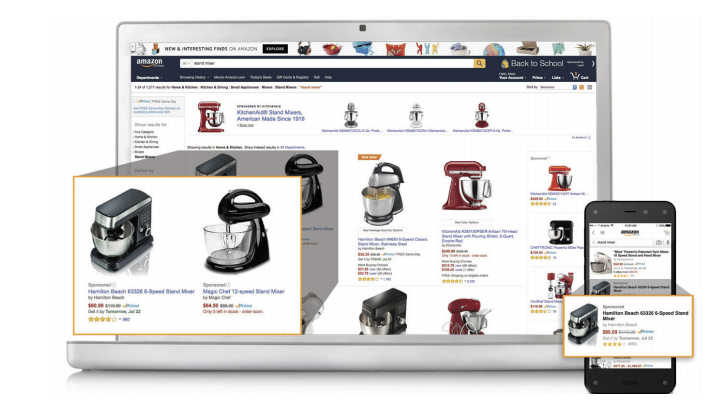 These keyword-driven ads appear either above or below search results. If someone searches for "vacuums," and you included detailed keywords related to "vacuums" when setting up your Sponsored Product Ad, the ad for your specific product will appear above or below the generated search results. When shoppers click on your ad, they will be taken to your product page.
Headline Search Ads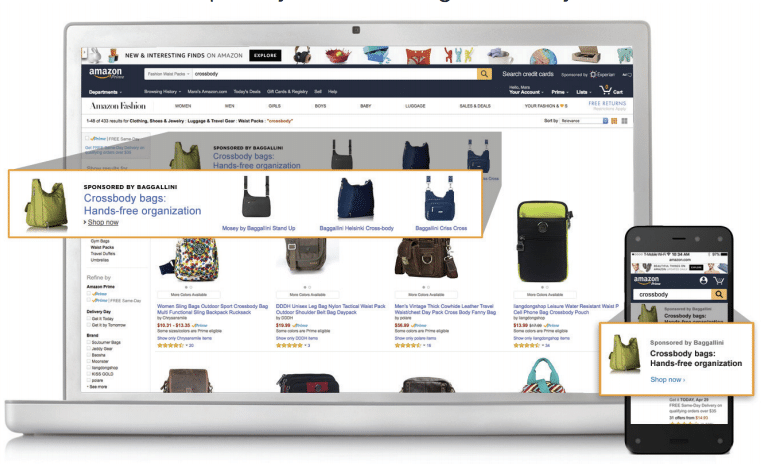 These cost-per-click, keyword-driven ads appear as a banner at the top of search results. When clicked, the ad takes the shopper to a customized landing page.
Product Display Ads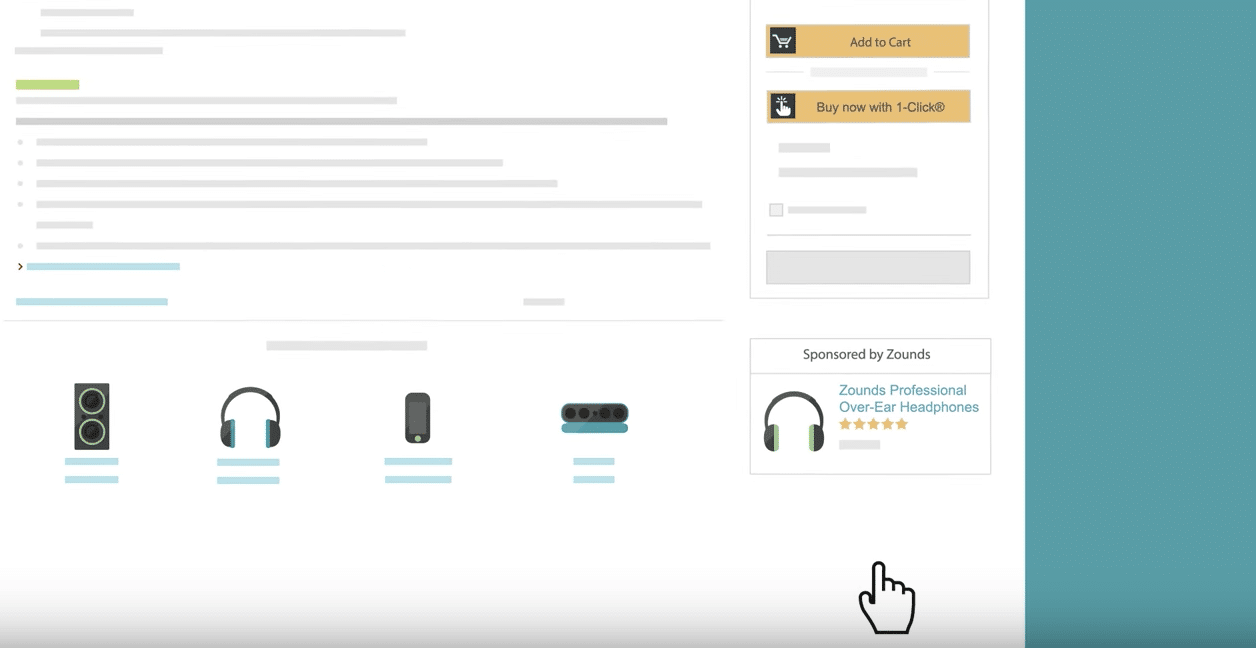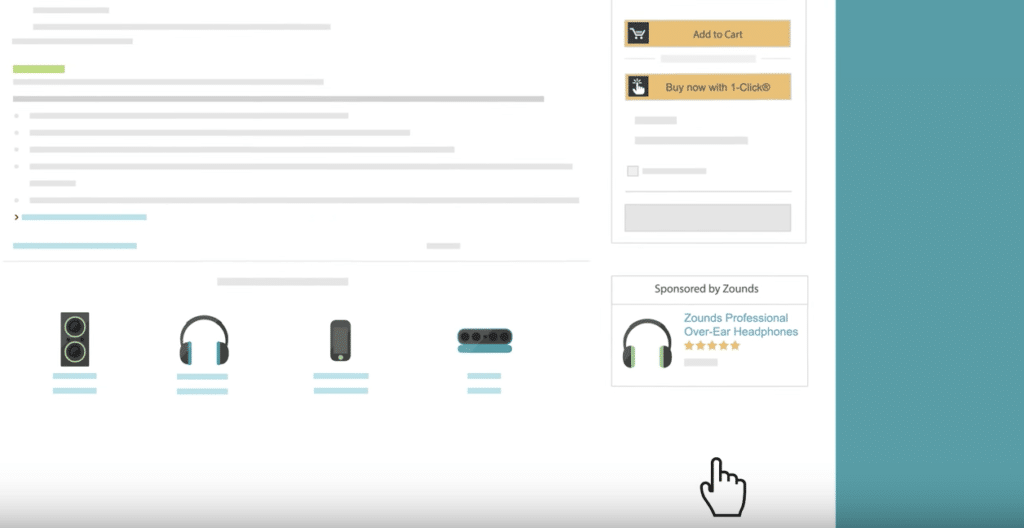 These ads target by interest or product rather than keyword. When creating this type of ad, you specify products similar to yours or interests related to your product that you want to target. For example, if your ad is promoting your brand's running shoes, you may target interests like "running," which will tell Amazon to show your ad to shoppers interested in running.
Now that you know the types of ads you can use on Amazon, you can employ the following tips to make them successful for your business.
Tip #1: Be Very Specific
Your ad copy should be as specific as possible when describing the product you are advertising. For example, instead of writing "Camera Case" as your headline, you'd want to write a more descriptive headline like this one: "Blummy PU Leather Instax Mini 9 Camera Case for Fujifilm Instax Mini 8/Mini 8+/Mini 9 Instant Camera with Adjustable Strap and Pocket (Brown)." Shoppers should have a clear idea of what they're looking at before even clicking on your ad. When your ad is cost-per-click, specific and detailed copy will improve the chances that shoppers who click on your ad will buy your product.
Tip #2: Include Rival Brands in Your Keywords
To better reach interested customers, include your competitors' names in your keyword list. For example, if you're selling vacuums, you should include "Dyson vacuums" and "Black + Decker vacuums" in your list. When shoppers search for either one of those popular brands, your product will appear in the search results.
Tip #3: Use Negative Keywords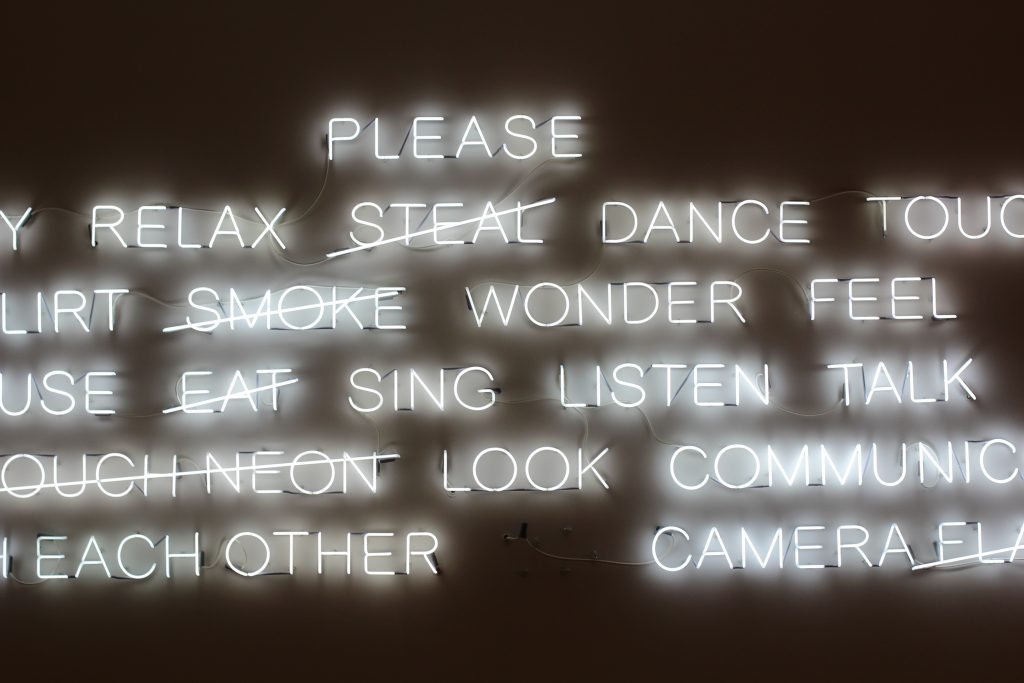 Offered by most search engines, negative keywords is a pay-per-click advertising match type option that delegates which searches can trigger the appearance of your ads. Negative keywords helps prevent irrelevant clicks, which can happen when, for example, you bid for the keyword "glasses" for an ad promoting your customized drinking glasses, and someone searching for eyeglasses types "glasses" into search and inadvertently clicks on your ad. In that case, you would have paid for a click that didn't generate a sale. Negative keywords help you increase sales by showing your products only to related searches.
If you want to prevent irrelevant clicks, try WordStream, which offers a free negative keywords search tool that identifies search queries for modifiers unrelated to your product. The tool then generates a list you can refer to when creating your Amazon ad.
Tip #4: Use High-Quality Images
Images are everything in digital advertising. A low-quality image in your ad will not perform well. Comply with Amazon's standards for ad images: use real photos, use professional lighting, and do not include inappropriate content (i.e. pornographic or offensive). Also, make sure your images accurately represent the product you're selling.
Tip #5: Create a Sense of Urgency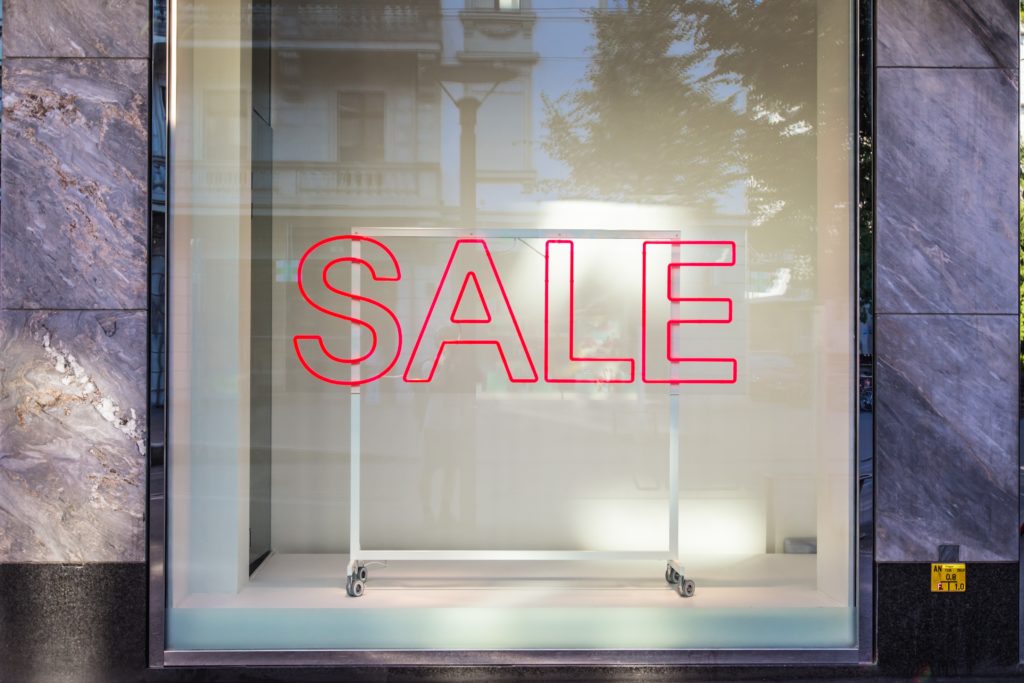 When writing your ad copy, it can be a challenge to make it stand out above other ads in Amazon's incredibly popular search results. In addition to using humor or unique, creative angles in your copy, it helps to create a sense of urgency. To do this, highlight a sale or promotion in your copy. Phrases such as "save now" and "buy now" will compel shoppers to get a piece of the pie before it's all gone.
Tip #6: Show Important Product Information in Your Images
Show as much useful information as possible in the product images for your ad. Product dimensions, features, uses, and material are examples of information you can provide in your images. The information on your image will compel shoppers to click and learn more about the product.
Tip #7: Use Google to Research Relevant Keywords
If you're struggling to identify relevant and high-performing keywords to bid on for your ad, you can Google it. Search for keywords or keyword phrases relevant to what you're selling on Google and see what pops up at the bottom of the results under related searches. For example, if you search for "vacuum cleaners," under "Searches related to vacuum cleaners," you may see these keyword options:
vacuum cleaners at Walmart
vacuum cleaners on sale
best vacuum cleaners
vacuum cleaner ratings
shark vacuum cleaners
vacuum cleaners amazon
vacuum cleaner target
You can include these phrases in your list of keywords for your Amazon ad.
In or out?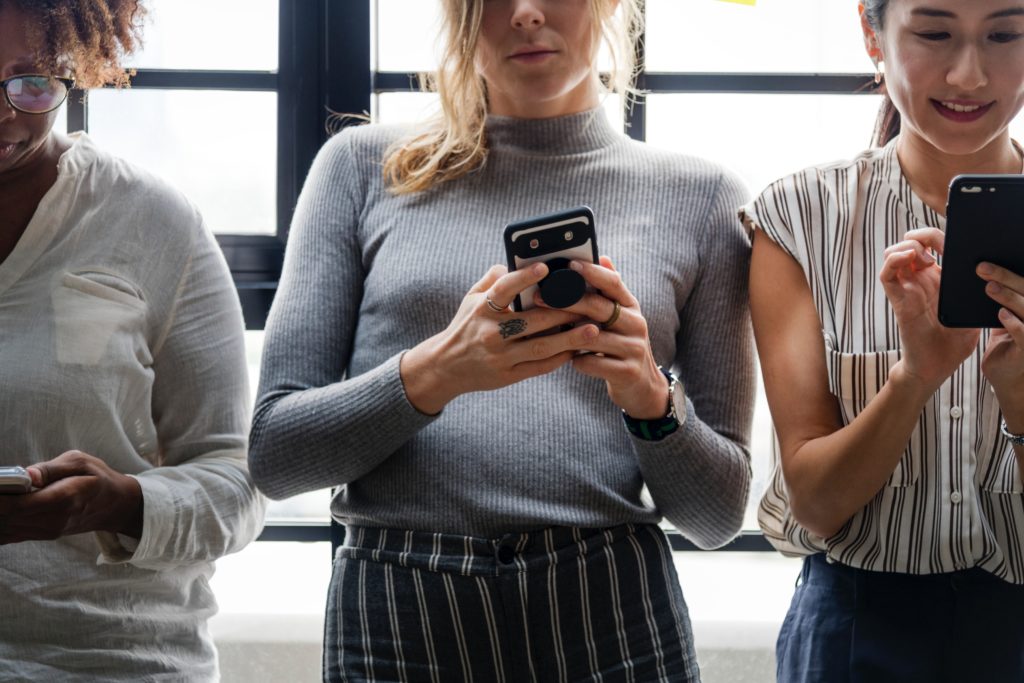 There are many ins and outs in Amazon advertising. If you want to succeed as an Amazon advertiser, you need to become familiar with its complex platform and algorithms.
Regardless of its complexity, Amazon is moving to the top of the food chain. It still has a ways to go before it can beat out the top duopoly of Facebook and Google, but the projections are very promising. So the one "in" that matters the most in Amazon advertising is this: are you in or out?