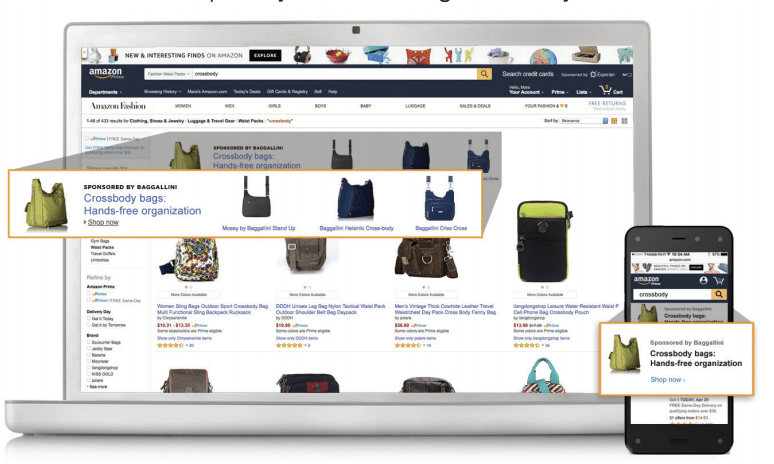 Soon Amazon sellers may be able to promote their products to other websites. Currently, Amazon is testing Sponsored Products placement to external sites. The company has been dedicating a new focus to advertising, and this latest test expands that focus beyond Amazon's own properties.
According to Ad Age, Amazon is speaking with top agencies and brands about testing the placement of product ads on third-party websites, made possible by retargeting capabilities that use information about customers' visits to Amazon. When customers click an ad from a third-party website, the ad will redirect them to the brand's storefront on Amazon. The test has the potential to boost the reach of Amazon's Sponsored Products ad.
What Is Sponsored Products?
On the Amazon site, Sponsored Products is an advertisement that appears at the top of the search results page when a shopper looks for a specific item. Advertisers pay for these ads to appear on top of the page. Amazon uses keyword targeting to promote these ads so they are given priority in search results. This format is one of the most popular on the Amazon platform.
With the new test, however, this format will extend to websites within Amazon's advertising marketplace, according to Ad Age.
Look Out, Google
Google has a similar ad format to Amazon's Sponsored Products when shoppers search for a specific item. However, when shoppers click on Google's ads, they're directed to the website that sells the product, not the Google store. With Amazon's Sponsored Products taking on the rest of the Internet, they'll give Google a run for its money because unlike Google ads, they'll take shoppers back to Amazon to make the purchase.
According to Ad Age, Sponsored Products are responsible for 88 percent of the ad revenue Amazon generates from search-based advertising. Additionally, Amazon reported over $2 billion in ad revenue for its first quarter in 2018. Evidently, this format is already successful. Broadening its scope will only add to that success, making Amazon an even more formidable foe.
In the coming weeks, Sponsored Products will appear on sites outside of Amazon.
Written by Anna Hubbel, staff writer at AdvertiseMint, Facebook advertising company 
Comments
comments