If you're perplexed by the sudden reduction of LA traffic as you quickly breeze through the unusually unclogged 101 freeway, you'll be delighted to hear that I have the answer to this bizarre phenomenon: Coachella weekend.

Each year thousands of festivalgoers donning bandanas over their mouths, faces glittered and painted, migrate to one speck of the US map, Indio, California, to enjoy a three-day event filled with music, food, and dance. Coachella, which spans two weekends, just finished its first round of festivities, entering the second round this upcoming Saturday and Sunday.

As festivalgoers pack their bags to prepare for Coachella Part II, you have a small, three-day window to provide relevant, helpful content related to this hot and trending event, content like fashion inspiration, travel advice, and beauty tips. YouTube, Pinterest, and Instagram, where most people post their festival experiences, are among the best platforms to share Coachella-related content.

On Instagram Food, Fashion, and Fun Reign
If your followers consist of young twenty-something millennials like mine, you'll find (whether to your dismay, envy, or delight) a slew of posts related to Coachella: fan-girling crowds before a performing artist in Stories, trendy- and expensive-looking food on Discover, and sexy glamour shots on the feed.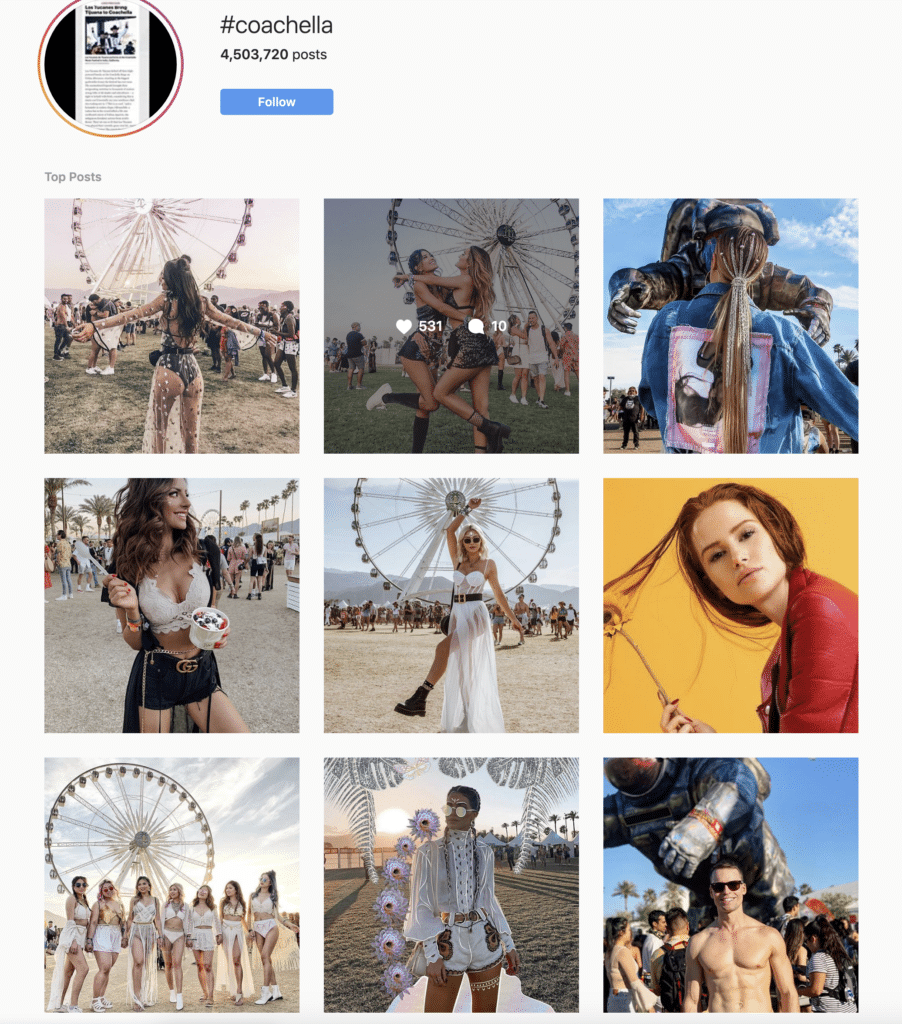 As you scroll through Coachella posts, you'll quickly find that the event isn't merely a music festival. It's also a fashion show where people peacock and flaunt their best desert outfits. In fact, most of the posts published on Instagram with the hashtag "coachella" contains images of festival goers showcasing their attires. Unsurprisingly, the third most popular coachella hashtag that appears in search is #coachellaoutfit.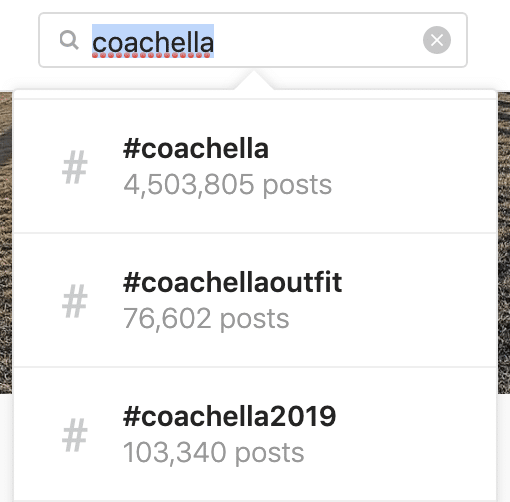 As people prepare for the upcoming festival weekend, post your glamorous fashion shots to Instagram, adding the hashtags "coachella," "coachellaoutfit," and "coachella2019" to increase your visibility to users seeking fashion inspiration. You can also publish a live video on Stories, detailing your advice to festivalgoers about the styles they could wear to the event, once again using those three relevant hashtags.

If fashion is not your niche, you can also post images of food to your feed. Like fashion and music, food is also an integral part of the Coachella experience. In fact, there's an Instagram account dedicated to "bringing you the best Coachella eats," according to the profile's bio.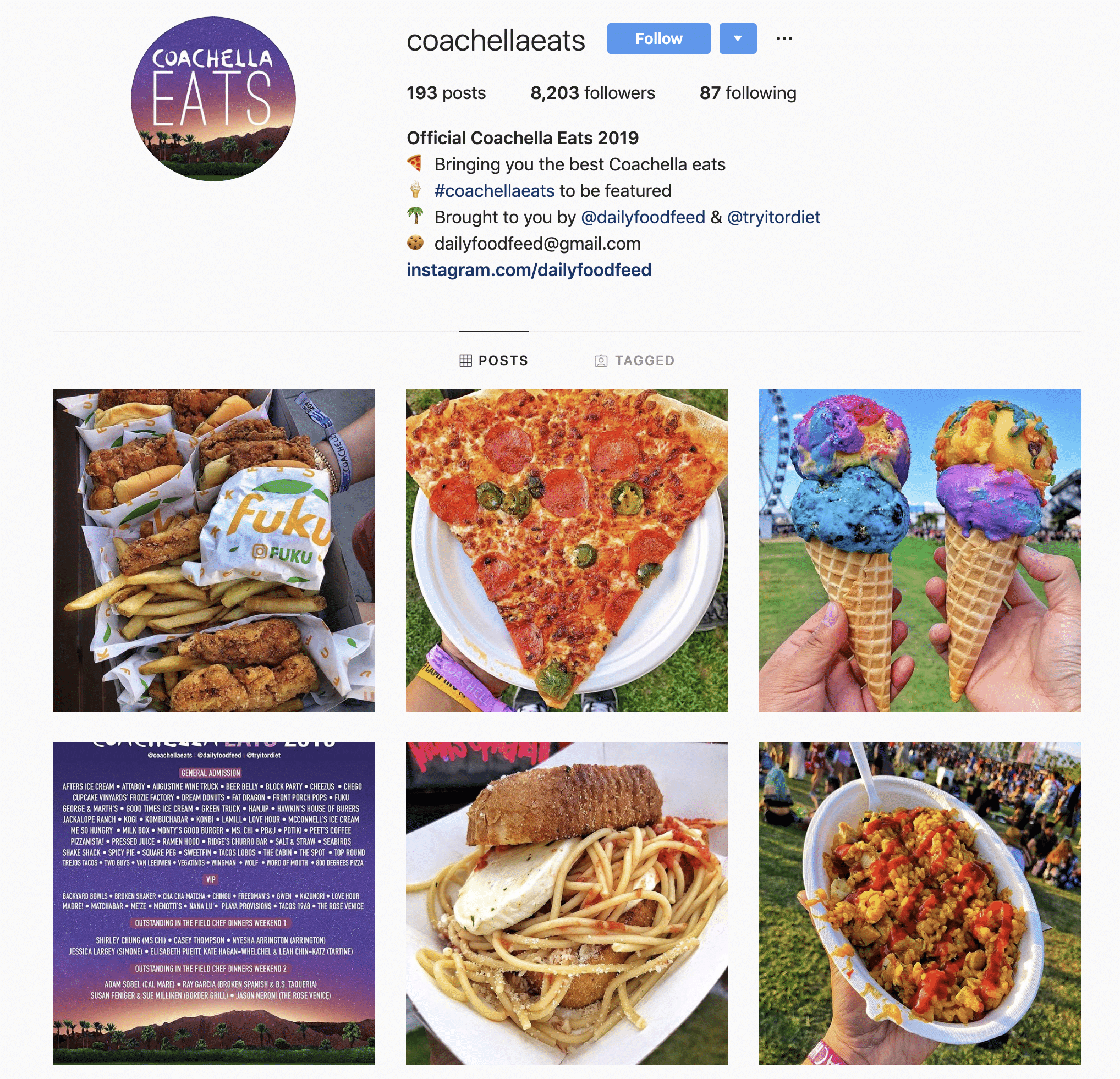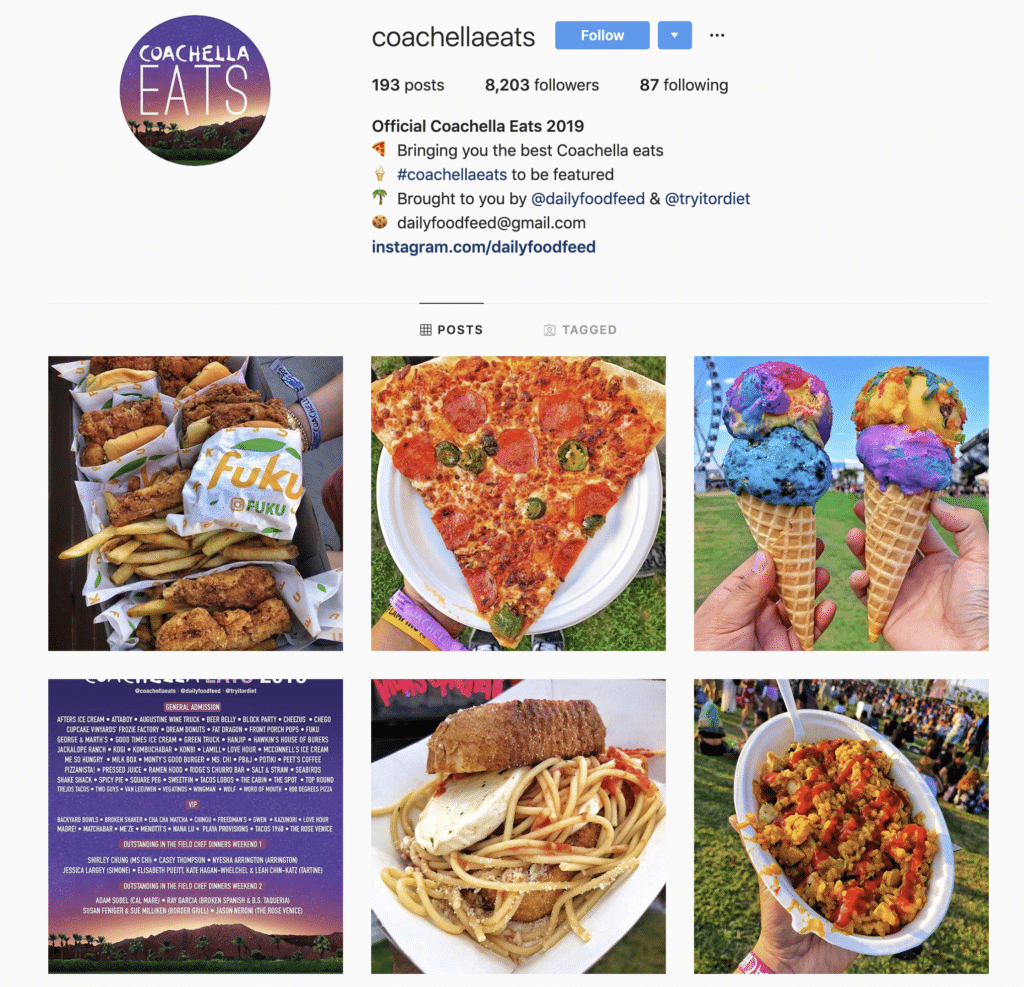 Whether you attended the event this past weekend or you're one of the vendors providing delicious snacks to attendees, post vibrant close-up images of your meals to your feed and Stories.
Pinterest Is for Planners
While Instagram users visit the app to passively look at images and videos for pure entertainment, Pinterest users visit the website for informative content that helps them prepare for projects they may have on their lists, whether that's redecorating a room, planning a wedding, or arranging a long road trip. Rather than posting merely pretty images on the website, post useful content that contains actionable advice.

Michelle (also known as Mash Elle) is a fashion blogger based in Orlando, Florida, who used Pinterest to promote her blog post. In "15 Coachella Tips: Things You Need to Know Before Going," Michelle advised readers to bring portable chargers, dress appropriately for the drastic temperature changes, and wear comfortable shoes. Her article is entertaining while informative, helping readers prepare for the three-day extravaganza.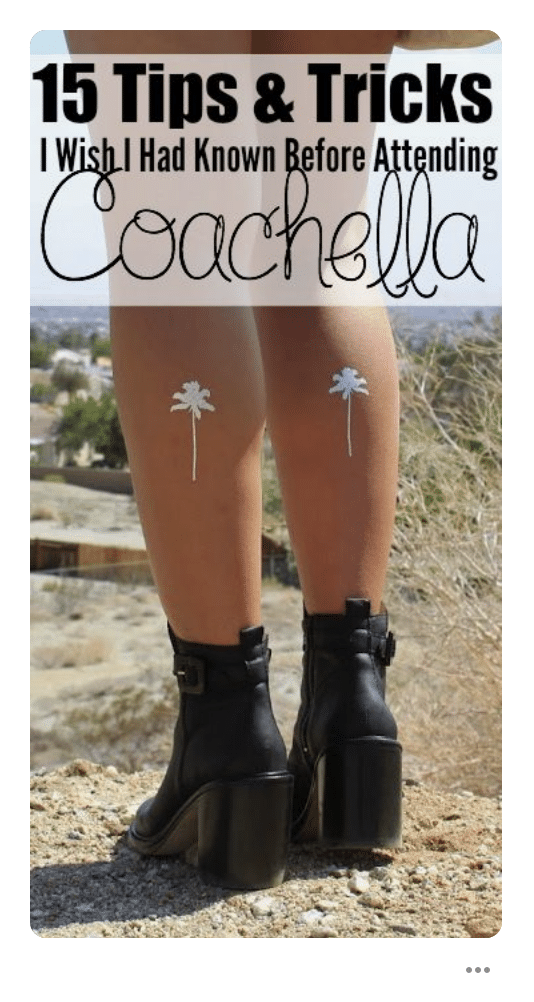 Because travel is a hot topic on the platform, it would also be wise to post content that provides travel advice. For example, you can design an infographic illustrating the ways Coachella goers can optimize the space in their luggage. If you don't possess any graphic design skills, you can instead write an article that lists the most inexpensive flights to Indio or the best scenic places to visit on the road trip to Coachella's venue.

On YouTube, It's Not Only About Tutorials
While Instagram can be credited for the rise of influencers, YouTube can be credited for the rise of video tutorials. When you need more than visual or literary help, whether that's to assemble IKEA furniture you recently bought or to perfect your nose contour, YouTube is likely the platform you visit for instructional videos.

As Coachella goers visit Pinterest for tips on surviving the three-day rager or Instagram for fashion inspiration, they will also likely visit YouTube in search of hair and makeup tutorials. In fact, a quick search for "coachella hairstyles" reaps results as early as two days ago. The average number of views for those videos are within the thousands. If you want to post Coachella-related content to your YouTube account, post hair and makeup tutorials.
Of course, hair and makeup may not be of interest to you. If that's the case, you can also publish a series about your experience before, during, and after the event. You can create an unboxing video when you first received your Coachella passes and document your time purchasing outfits, packing, and traveling. At Coachella, you can record a live video of the artists' performances, review the food sold by vendors, and feature fellow festivalgoers you meet. After the event, you can film your bittersweet journey back to your hometown.

The last weekend of Coachella is merely three days away. As attendees prepare for Coachella Part II, they'll likely turn to Instagram, Pinterest, or YouTube for travel tips, fashion and beauty inspiration, or a glimpse of what to expect at the event. When they do turn to social media for information, you have to make sure it's you that they find.