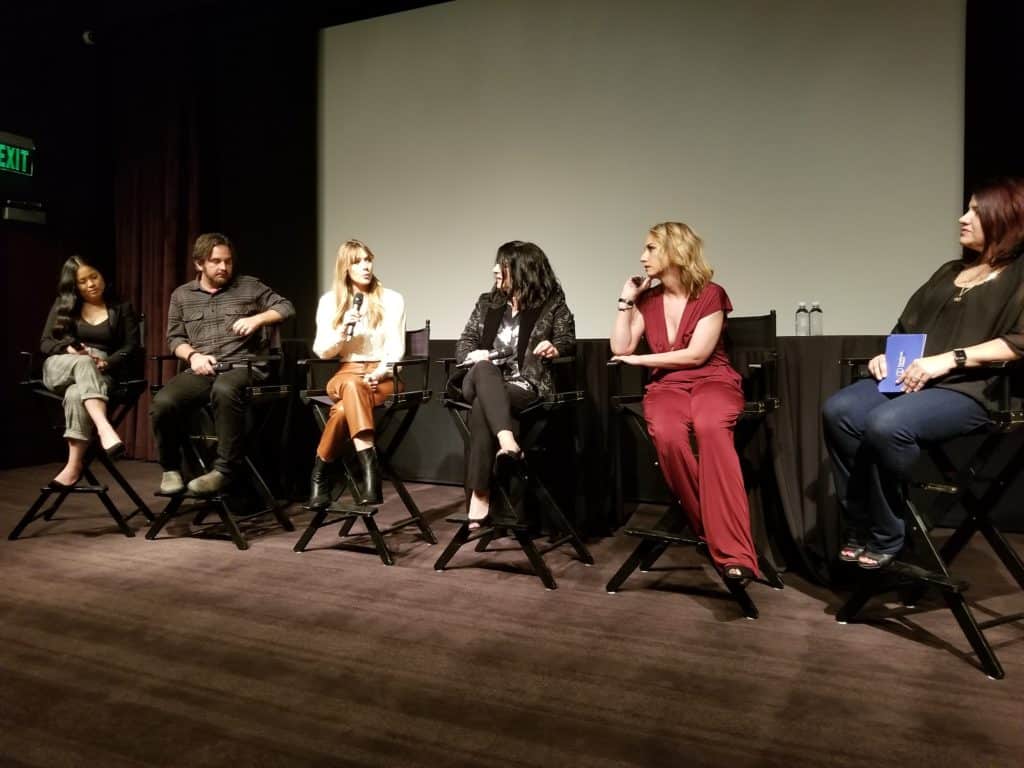 Ask me about my favorite Facebook Watch show, and I will stare back blankly. I don't have a favorite Watch show. In fact, I didn't know of any until I attended last night's Sorry for Your Loss screening, the first time I've ever seen a Facebook original series.

The invite-only event, which attracted a small group of media buyers to the London West Hollywood at Beverly Hills, delivered as promised: hors d'oeuvres (chicken satay in peanut sauce, crab cakes topped with lemon), cocktails (featuring "feeling blue," consistent with the event's theme), a 30-minute screening of the show's pilot episode, and a panel of special guests, including female lead The Scarlet Witch—sorry—Elizabeth Olsen.

Tackling the theme of death and bereavement, Sorry for Your Loss has been well received by critics. Forbes contributor Jesse Damiani lists it in The Best New TV Shows of 2018. The Atlantic writer Sophie Gilbert calls it a "gorgeous and poignant new drama" that is "remarkably realistic when portraying grief." Even Facebook viewers share their praises on social media, citing the show's authenticity and ability to capture the grief that they, too, have experienced from losing a loved one.

Clearly, Watch is more than a place for viral cat videos if it can create a show as highly praised as Sorry for Your Loss. Yet, not many view Watch as a legitimate streaming service on par with Netflix or Hulu, likely because those streaming services have an extensive inventory with prominent titles: Netflix has Stranger Things while Hulu has The Handmaid's Tale. No other Watch original, save Sorry for Your Loss, has critics raving, and its collection is miniscule compared to other streaming services.

It's no secret that Watch is almost as dead as Facebook Stories. Four-hundred million monthly active users may sound impressive but appears measly compared to YouTube's more than one billion users. If you ask people if they use Watch, you'll quickly find that most of them don't. (Out of the 15 people I asked, only one claimed to use it.)

Two problems hinder the growth of Facebook's video streaming hub: one, not enough people use it, and two, its inventory is lackluster. Mark Zuckerberg said in Facebook's fourth quarter 2018 earnings report that the company is limiting the number of videos that appear on News Feeds to move users to Watch for video viewing. But if Watch's content doesn't spark interest, there's no reason for users to migrate from a familiar years-long-acquainted feed to a tab meekly tucked away to one side of the app.

If Watch wants to compete, Facebook must invest in better content, must bring in high-profile celebrities to attract users' interest. Bringing out the big bucks is especially important now that it also has to contend with Apple TV+, which has an inventory that includes Amazing Stories by Steven Spielberg and a morning show featuring Jennifer Aniston and Reese Witherspoon.

Facebook better shell out more money to develop its catalogue; otherwise, it will be sorry for its loss.