Facebook's Events Manager page recently launched.Facebook announced the launch of a new feature in Business Manager, a unified interface that allows advertisers to manage all online and offline customer data sources in one place. The feature is called Events Manager. This is going to be an incredibly useful tool for any Facebook ad management agency.
Events Manager, which holds online and offline customer data sources taken from websites, apps, CRM, POS, and email, among others, can be accessed under the tab Measure & Report.
Events Manager, designed to simplify customer data discovery, set up, management, and troubleshooting, has five main parts.
1. App events: Allows advertisers to manage app customer data with Facebook. It includes a diagnostic tool that standardizes the custom events received from apps to events that can be used for ad optimization, audience creation, and reporting.
2. Partner integrations: Allows advertisers to connect to platforms used for customer purchases, interaction, and management to pull the data into Events Manager. Platforms integrated into the system include Big Commerce, Magento, Shopify, and Wix.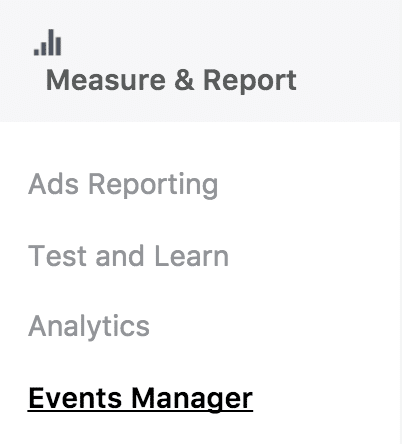 3. Custom conversions enhancements: Improves the rule creation process, gives advertisers the ability to share custom conversions between ad accounts, and includes an increase to the number of custom conversions allowed per ad account to 100.
4. Facebook Pixel enhancements: Includes a new diagnostics tab that provides diagnostics about common event errors, links to the location of the errors, and recommended troubleshooting steps.
5. Offline events enhancements: Includes a redesign of the upload functionality. The redesign features automatic data mapping and error messages for invalid data.
Why Facebook Events Manager?
Facebook Events Manager is an essential tool for businesses and advertisers looking to harness the power of data-driven marketing and optimize their advertising efforts on the platform. Here's why Facebook Events Manager is a crucial asset for your digital marketing strategy:
1. Precise Event Tracking
Facebook Events Manager allows you to track a wide range of user interactions, known as events, on your website or app.
These events can include actions such as page views, sign-ups, purchases, and more. You gain insights into user behavior and engagement by accurately tracking these events.
2. Data-Driven Insights
The data collected through Events Manager provides valuable insights into how users interact with your digital assets.
This information empowers you to make informed decisions, tailor your marketing strategies, and optimize ad campaigns based on real-time user actions.
3. Campaign Optimization
With Events Manager, you can optimize your Facebook ad campaigns for specific events. This means you can target users who have taken certain actions, such as adding items to a cart or completing a registration form. You increase the chances of driving conversions by reaching users who have shown intent.
4. Custom Conversions
Events Manager allows you to create custom conversions and track unique actions that align with your business goals.
This flexibility allows you to measure conversions that are specific to your products, services, or objectives.
5. Cross-Platform Insights
Facebook Events Manager isn't limited to tracking events on your website alone. It can also be used to track events within your mobile app.
This cross-platform capability provides a comprehensive view of user interactions across various touchpoints.
6. User-Centric Approach
By understanding user preferences and actions, you can tailor your offerings and experiences to serve your audience better. This user-centric approach fosters stronger customer relationships and brand loyalty.
Setting up Facebook Events Manager
Setting up Facebook Events Manager involves several steps to ensure accurate event tracking and data collection for your website or app. Here's a detailed guide on how to set up Facebook Events Manager:
Access Facebook Business Manager:

 Log in to your Facebook Business Manager account. If you don't have one, create an account.

Navigate to Events Manager:

 In the Business Manager dashboard, click on the "Business Tools" menu (represented by a grid icon) located in the top left corner. Select "Events Manager" from the dropdown.

Add a New Data Source:

 In the Events Manager dashboard, click on the "Connect Data Sources" button and choose "Web."

Set Up Facebook Pixel:

 Select "Facebook Pixel" as the data source type. Give your pixel a name that represents your business or website.

Install Pixel Code:

 After creating the pixel, you'll receive a pixel code snippet. Copy the code and paste it into the header section of your website's HTML. Make sure to place the code just before the closing </head> tag.

Verify Pixel Installation:

 Once the pixel code is added, click "Continue." Facebook will automatically check if the pixel is installed correctly. This may take a few minutes. If the pixel is successfully installed, you'll see a confirmation message.

Set Up Events:

 With the pixel installed, you can define the specific events you want to track. Click on the "Events" tab within your pixel settings. You can choose from a list of standard events or create custom events.

Customize Event Parameters (Optional):

To collect additional information for each event, you can customize event parameters. For example, for a "Purchase" event, you can include parameters like currency and value.

Test Event Tracking (Optional):

 To ensure your pixel tracks events correctly, you can use the "Facebook Pixel Helper" browser extension. Install the extension, navigate to your website, and check if the pixel fires for the events you set up.

Publish Changes:

 Once satisfied with your event setup, click "Publish" to save your configurations. Your pixel is now active, and the Events Manager is ready to track events on your website.

Explore Insights:

 As events are tracked, you can explore insights in Events Manager. Analyze data related to user interactions, conversions, and more to optimize your ad campaigns and marketing strategies.
Data sources are a vital part of Facebook advertising. They make digital ad targeting so revolutionary, allowing advertisers to target any customers anytime, anywhere, by demographics, interests, behaviors, devices, and more.
This new Events Manager system will undoubtedly make data management easier. Our CEO, Brian Meert, is optimistic about the new system.
"Tracking events on Facebook is essential for advertisers' success. By creating the new Events Manager system, Facebook is taking the steps to make this area easier to navigate. Its features, online and offline events and partner integrations, make it easier for retailers to determine the value of Facebook advertising to in-store sales."
Events Manager is available now.
FAQs
What is Facebook Events Manager?
Facebook Events Manager is a tool that allows businesses to track and measure the performance of their Facebook ads. It collects data about how people interact with businesses' Facebook pages, websites, and apps.
What types of events can I track using Facebook Events Manager?
Facebook Events Manager offers a range of standard events, including page views, purchases, sign-ups, and more. You can also create custom events tailored to your business objectives. This flexibility allows you to track specific actions that align with your marketing goals.
How does Facebook Events Manager help in optimizing ad campaigns?
Events Manager data empowers you to optimize your ad campaigns by targeting users who have taken specific actions, such as adding products to their carts or completing registrations. This targeted approach increases the likelihood of conversions and improves the efficiency of your budget allocation.
Is Facebook Events Manager suitable for both websites and mobile apps?
Yes, Facebook Events Manager offers cross-platform tracking capabilities. You can use it to track events not only on your website but also within your mobile app. This holistic view of user interactions across various platforms provides a comprehensive understanding of user behavior.