Facebook's Events Manager page recently launched.Facebook announced the launch of a new feature in Business Manager, a unified interface that allows advertisers to manage all online and offline customer data sources in one place. The feature is called Events Manager. This is going to be an incredibly useful tool for any Facebook ad management agency.
Events Manager, which holds online and offline customer data sources taken from websites, apps, CRM, POS, and email, among others, can be accessed under the tab Measure & Report.
Events Manager, designed to simplify customer data discovery, set up, management, and troubleshooting, has five main parts.
1. App events: Allows advertisers to manage app customer data with Facebook. It includes a diagnostic tool that standardizes the custom events received from apps to events that can be used for ad optimization, audience creation, and reporting.
2. Partner integrations: Allows advertisers to connect to platforms used for customer purchases, interaction, and management to pull the data into Events Manager. Platforms integrated into the system include Big Commerce, Magento, Shopify, and Wix.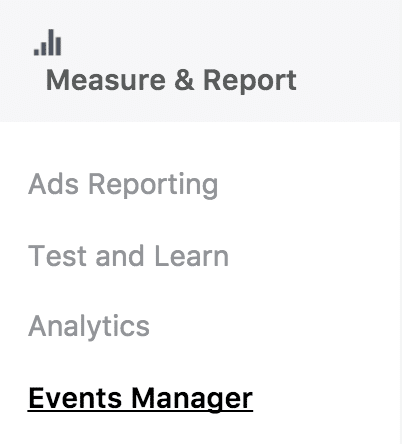 3. Custom conversions enhancements: Improves the rule creation process, gives advertisers the ability to share custom conversions between ad accounts, and includes an increase to the number of custom conversions allowed per ad account to 100.
4. Facebook Pixel enhancements: Includes a new diagnostics tab that provides diagnostics about common event errors, links to the location of the errors, and recommended troubleshooting steps.
5. Offline events enhancements: Includes a redesign of the upload functionality. The redesign features automatic data mapping and error messages for invalid data.
Data sources are a vital part of Facebook advertising. They make digital ad targeting so revolutionary, allowing advertisers to target any customers anytime, anywhere, by demographics, interests, behaviors, devices, and more.
This new Events Manager system will undoubtedly make data management easier. Our CEO, Brian Meert, is optimistic about the new system.
"Tracking events on Facebook is essential for advertisers' success. By creating the new Events Manager system, Facebook is taking the steps to make this area easier to navigate. Its features, online and offline events and partner integrations, make it easier for retailers to determine the value of Facebook advertising to in-store sales."
Events Manager is available now.
Comments
comments