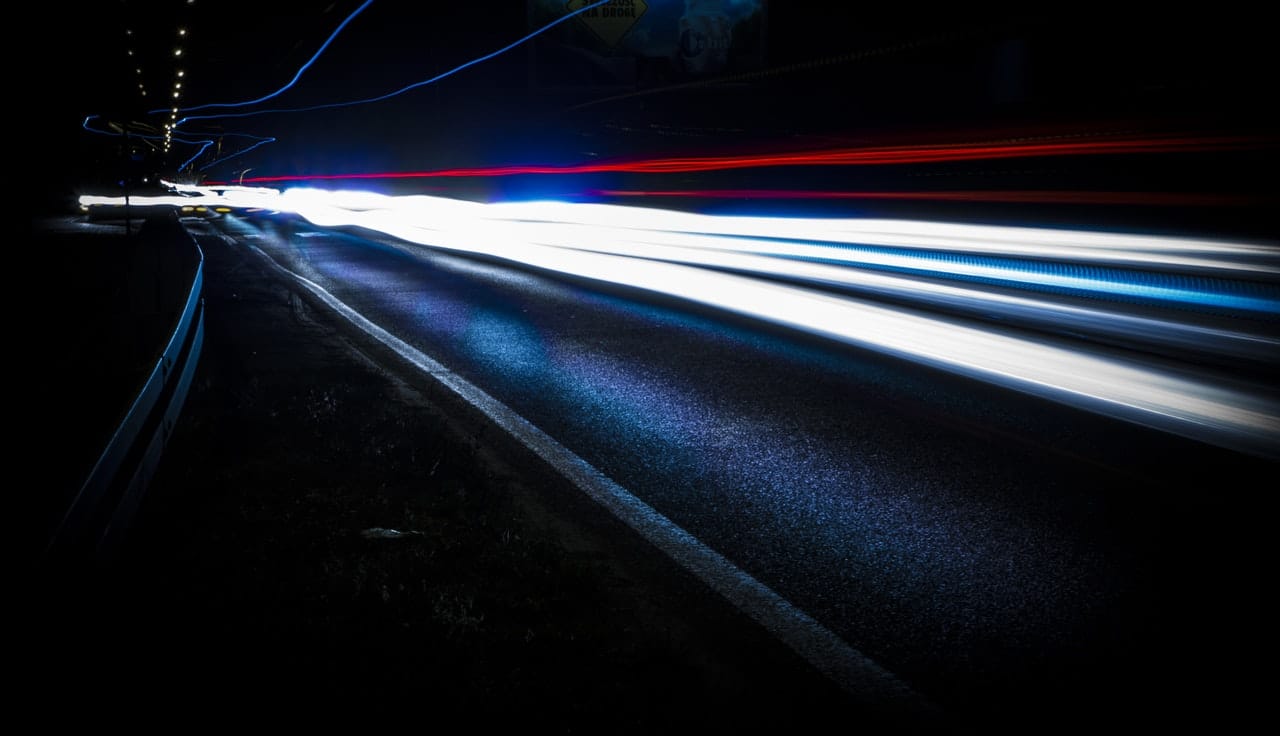 Another Snapchat copycat comes in the form of message streaks in Facebook Messenger. According to The Verge, Facebook is testing the streaks feature on select accounts.
Originated by Snapchat, the streak feature displays an emoji identifying the friends that have continuous back-and-forth Snaps. The streak emoji encourages friends to continue the streak for as long as possible. The streak emoji only becomes visible after at least three days of back and forth messaging.  There will also be a button with an emoji with it that includes how many days the streak has been existent.
As several users observed, Messenger, too, has an emoji status that indicates which friends have a message streak. The emoji status playfully provokes users to keep the streak alive for as many consecutive days as possible.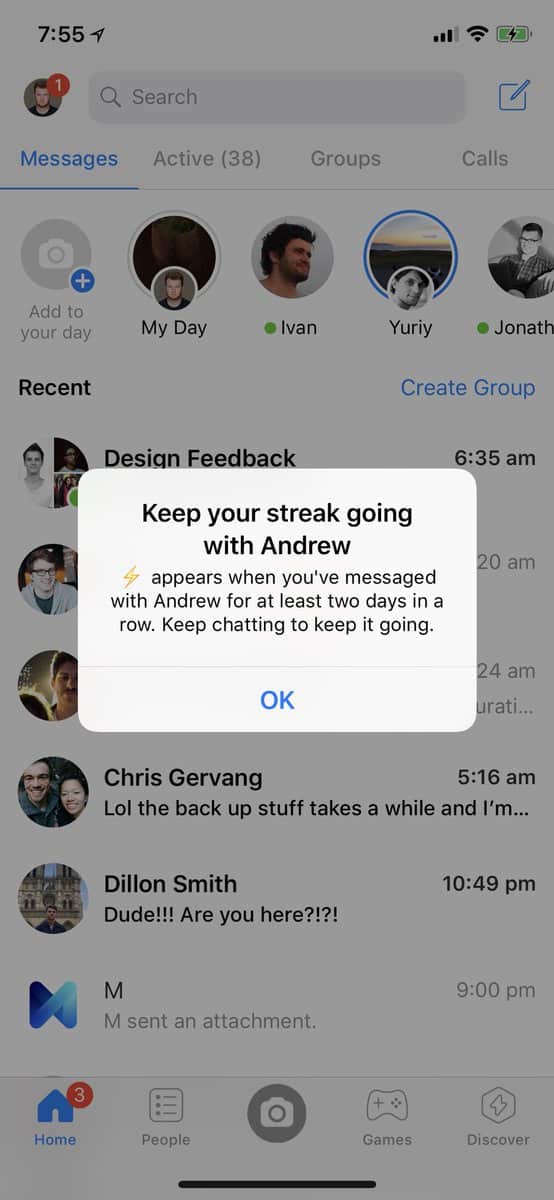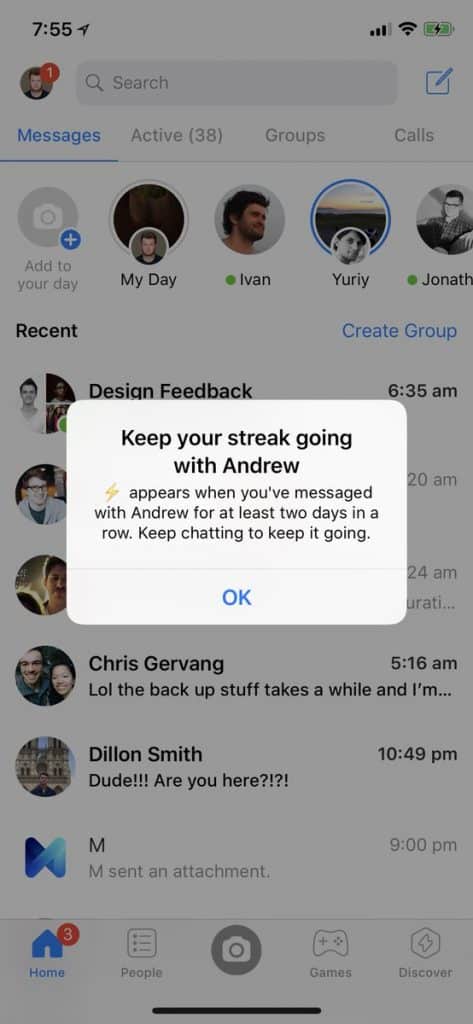 The Verge expects that the streak feature, should it generate successful results during testing, will also likely appear on Instagram and WhatsApp.
Facebook Keeps Copying Snapchat
Facebook has a history of generating products and features that mimic its rival, Snapchat. For instance, the company produced similar face filters and video features across its platforms, as well as the idea of Stories in the very successful Instagram Stories platform, a direct copy of Snapchat Stories.
Facebook seems to be targeting Snapchat in particular due to its popularity, and consequently, its retention with younger users on the app. Plus, the use of the streak feature has been a tried and true method to encourage and excite people to log on to the app.
Making a more addictive interaction with Facebook Messenger means that as more and more advertisements are being rolled out through that platform, more users are likely to view and interact with these ads potentially flagging to advertisers to ramp up their bids for Facebook Messenger advertising placements.
However, as Facebook continues to copy Snapchat's playful features, Snapchat, in turn, has been copying Facebook's advertising offerings. For example, the Self-Serve Ad Manager is Snapchat's copy of Facebook's Business Manager.
What this means for Facebook Messenger Marketing: 2021
Nowadays in 2021, we know Facebook streaks are here to stay after being first rolled out in 2017. This means that it held promise for Facebook Messenger marketing and this means that even the most up-to-date digital advertiser should double-check their social media advertising plan.
What is Facebook Messenger Marketing?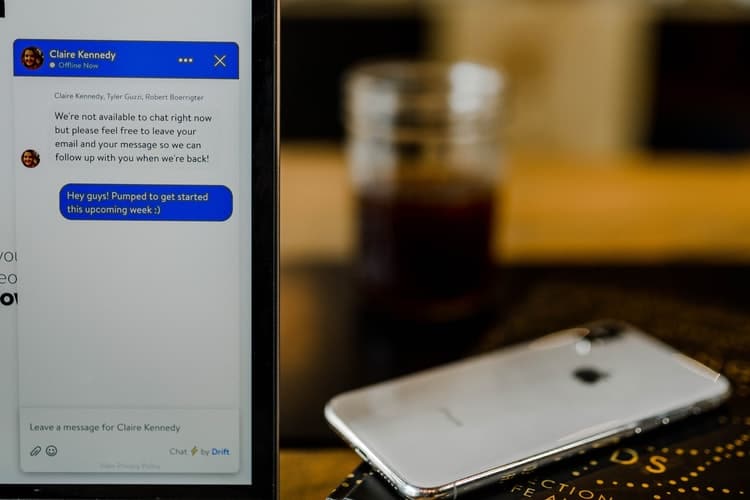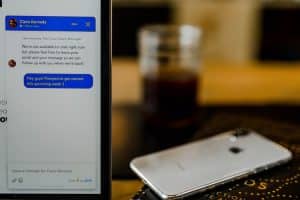 Unsplash/Austin Distel
To use the best tactic for Facebook Messenger marketing, we want to make sure that we understand the point of this marketing strategy in the first place. To start, let's think of an example. Have you ever noticed that when you click on a Facebook business page sometimes a little messenger tab will pop up saying something along the lines of "Hi, can we help you with something?" or "Would you like to schedule an appointment?"
That is exactly what Facebook Messenger marketing is: chatbots prompting further action on the page. That's the main difference between Messenger marketing and email marketing– the automation of it all. It often has a higher click rate than its email marketing partner because it's short and straight to the point. We're talking about usually double or triple the click rate of your standard email campaign. Not to mention, it's hard to get buried in an inbox like an email.
And then you get the number of businesses who aren't taking advantage of Facebook Messenger marketing giving you the higher opportunity to gain some more customers. Here's two ways to do it:
Two Facebook Messenger Marketing Tactics
Before you begin on your grand journey for your Messenger marketing success, make sure you get a chatbot builder on your side. Like I mentioned earlier, Facebook Messenger marketing is all about those chatbots.
Perfect your welcome chat: What is the most important information that you are hoping to get from your customer and vice versa? Sit on it and think it over because this is the first step for lead retention.
Send event reminders via messenger: This is a great way to double up on your outreach. Not only will it ensure you did everything you could to get people at your event, but if they open your message you could also get their Facebook information that you can later use for remarketing and audience segmentation for future messenger marketing tactics.
Interested in more messenger marketing tactics? Reach out to us, the #1 Facebook Advertisement Agency.