Last week, Facebook announced that it's opening brand lift studies to advertisers, a study that uses polls to help advertisers understand how well their brand campaign resonates with people.
Interested in how this whole Facebook advertise thing works? Reach out!
How Does Brand Lift Study Work?
Those interested in conducting a brand lift study must first request a brand lift study from his or her Facebook sales representative. Afterward, your Facebook sales representative will run the study for you in this three-step process:
Once the study is created, the campaign's target audience will be separated into a test group and a control group. The test group contains participants who are eligible to see your ads, and the control group contains participants who will not see your ads. The participants within the test group that see your ads become part of the exposed group.
The exposed group and control group will be polled and their different responses will be analyzed. Note that during the study, your Facebook sales representative will receive updates about the ongoing poll.
When the poll concludes, you will be able to view the results within 48 hours. Your Facebook sales representative will notify you when your report is ready and will share the report with you.
What Kind of Questions Will the Poll Ask?
The questions the poll will ask depends on your marketing needs. For example, the poll can ask questions about brand and campaign awareness and ad recall. Before your poll is published, however, the questions you want your poll to ask must be approved by Facebook.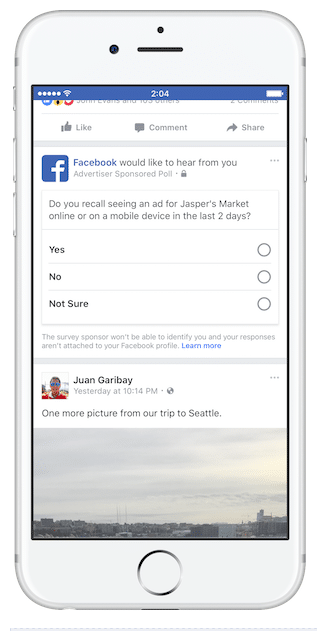 Here are some of the sample questions Facebook provided:
Do you recall seeing an ad for this brand or product online or on a mobile device in the last 2 days?
Which of the following comes to mind first when you think of this brand or product?
Will you recommend this brand or product to a friend?
Have you heard of this brand or product?
Will you buy or consider this brand or product the next time you shop for this particular category?
Your poll will appear on Facebook and Instagram's feed.
Why Should I Conduct a Brand Lift Study?
By conducting a Facebook brand lift study, you will understand how your ads impact and affect your audience in areas such as ad recall, brand awareness, and message association. You will gain insights into how your audience feels about your brand, whether or not it is aware of your brand, whether or not it remembers your brand, and whether or not it will buy from you.
Based on the results, you can improve your ad campaigns to reach maximum performance and to increase your ROIs.
Do I Qualify for a Brand Lift Study?
Facebook advises that advertisers that meet these criteria join a brand lift study:
Advertisers who are running one campaign for one brand or product.
Advertisers who are planning to keep the creative and budget the same throughout the campaign.
If you're an advertiser that meets the description below, Facebook advises that you don't join a brand lift study
You are running other ad campaigns for the same brand or product on Facebook or Instagram.
Facebook advises against joining a brand lift study to those who meet the description above because running more than one campaign may result in people in the control group seeing ads from one of the other campaigns, contaminating the results.
It's also important to know that not all advertising campaigns qualify for a brand lift study. To qualify, your campaign must meet minimum requirements for your market.
If you want to know more about eligibility and requirements for brand lift studies, contact your Facebook sales representative.
How Do I Conduct My Own Brand Lift Study?
You must contact your Facebook sales representative if you're interested in a brand lift study.
Would you conduct a brand lift study if you were eligible? Leave your comments below or share this story to friends.
Related Articles: