Facebook recently announced the release of a new feature that allows friends' recommendations to directly lead customers to businesses. As an ad agency, we're excited about this new development to drive traffic.
When you post a status requesting recommendation for new restaurants, for example, that person can choose to turn on Recommendations, which tracks your location and includes a map of your location on the post. When friends respond with recommendations, the recommended business will appear on the post's map. This is great organic publicity, take it from this Facebook advertising agency.
What is Facebook's recommendation feature?
At its core, the Recommendation feature empowers users to share their experiences with business firms, products, and services they have encountered.
By offering authentic feedback and ratings, users play an essential role in influencing the choices of their peers. This user-generated content forms a digital word-of-mouth ecosystem, wherein recommendations carry the weight of trust.
When a user recommends your business, it becomes a nod of approval that resonates far beyond a mere thumbs-up.
How does Facebook's recommendation feature work?
Facebook's Recommendation feature operates as a digital conduit for authentic user experiences.
When a user engages with your business or visits your page, they have the option to leave a recommendation, detailing their interactions, opinions, and impressions. These recommendations appear as user-generated content, creating a valuable repository of feedback for others to see.
Potential customers can access these recommendations on your business page, giving them insights into the quality of your products, services, and customer interactions. Moreover, the Recommendation feature facilitates real-time engagement – users can ask questions directly on your page, and businesses can respond promptly, fostering meaningful interactions.
This dynamic exchange of information and feedback not only enhances visibility but also builds trust and credibility, ultimately driving direct customer engagement and influencing purchasing decisions.
Steps to enable the Recommendation feature.
If you want to learn how to enable the Recommendations feature, follow the steps below.
Step 1: Ask for recommendations
Write a Facebook post asking for recommendations. Then click "Post."

Step 2: Turn on recommendations
Turn on recommendation by clicking "Turn On."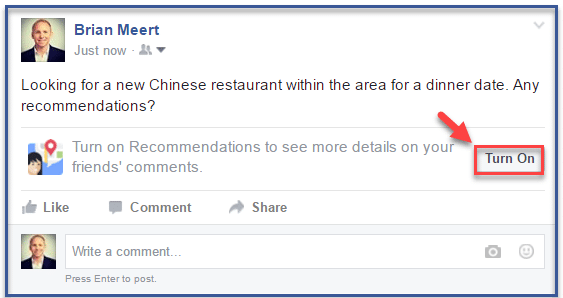 Step 3: Confirm to turn on recommendations
Confirm your decision by clicking "Turn on Recommendations."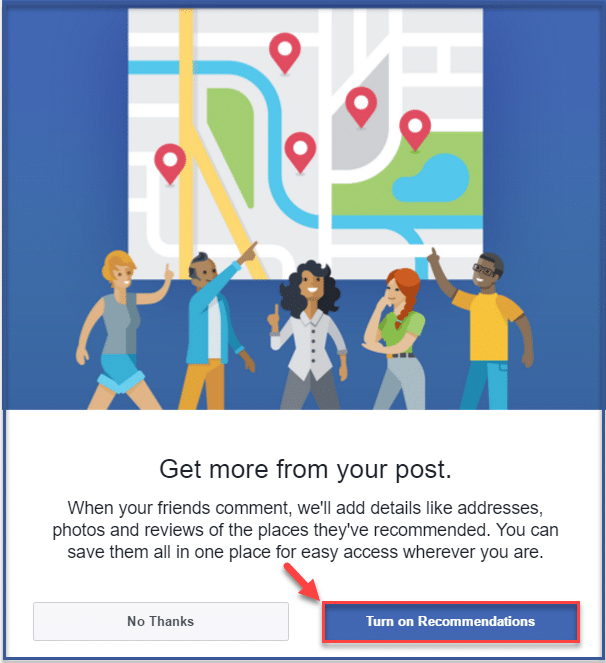 Step 4: Confirm your location
To confirm your location, click "Yes, Confirm Location."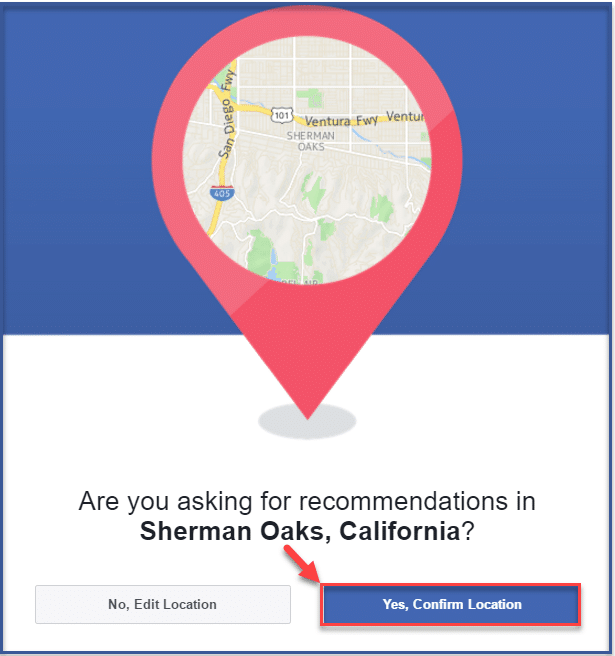 Step 5: Wait for recommendations
You're done! Recommendations should appear with links and additional information to the recommended business.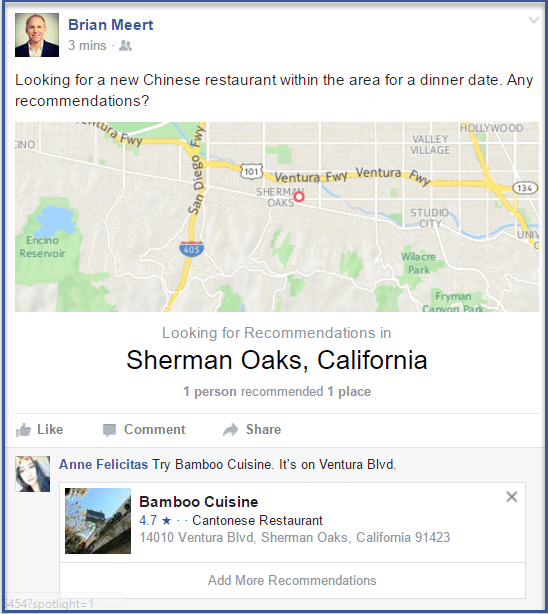 Edit: After this article was posted, readers asked for ways to disable the recommendations feature. Unfortunately, users can't disable the feature. They can, however, delete the "asking for recommendations" status from their post. Here's how to do it. 
Step 1: Click the three dots >> Edit Post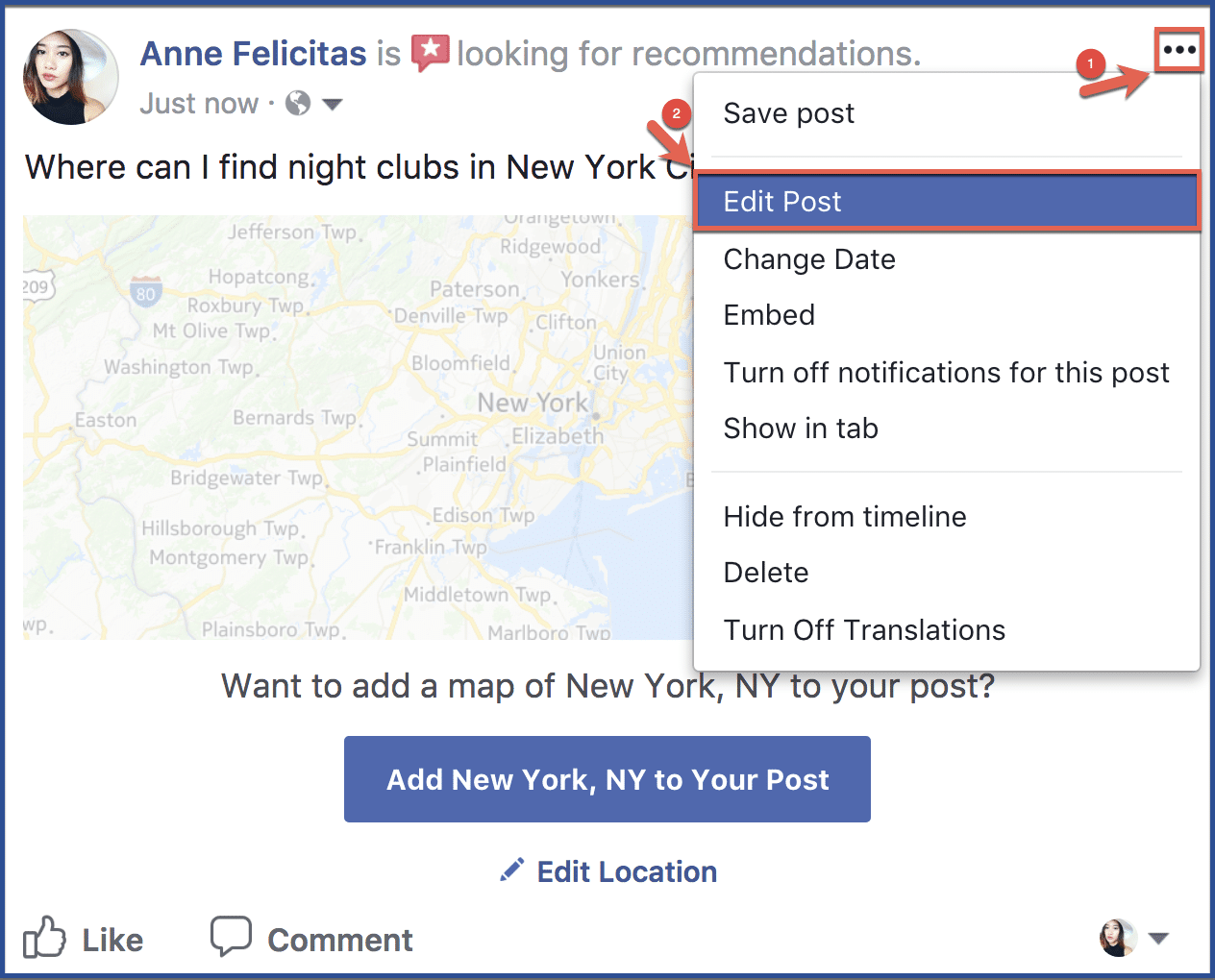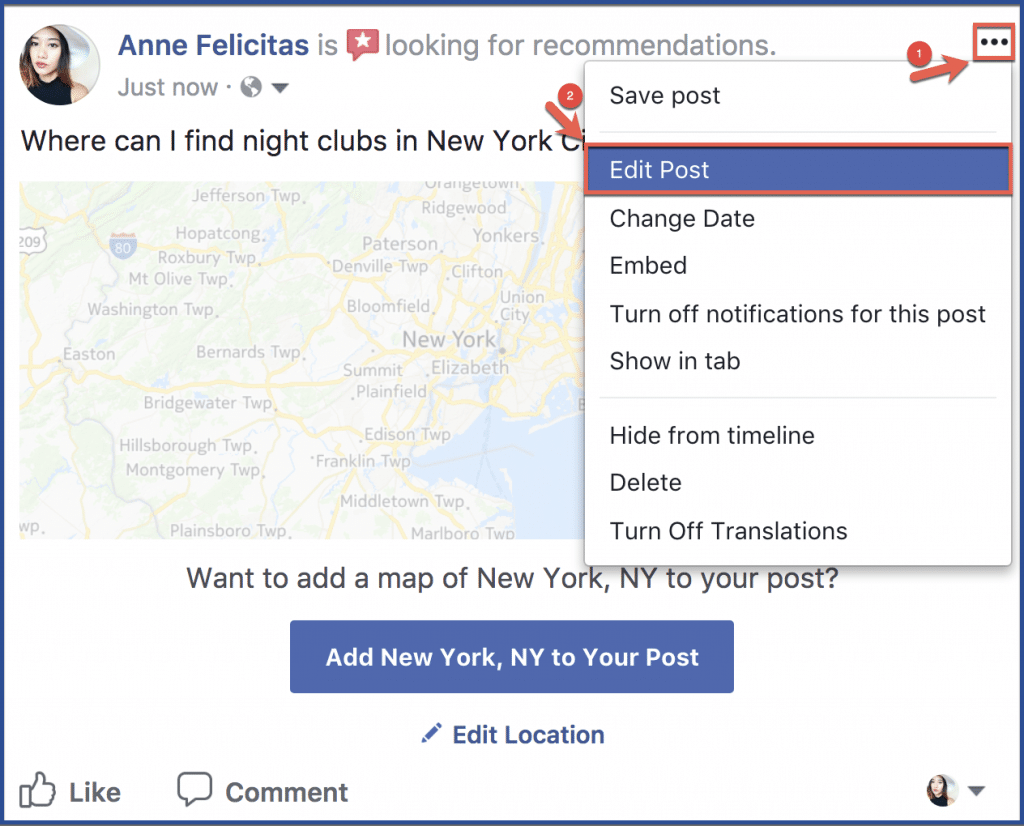 Step 2: Click on the "recommendations" tag >> delete (x) button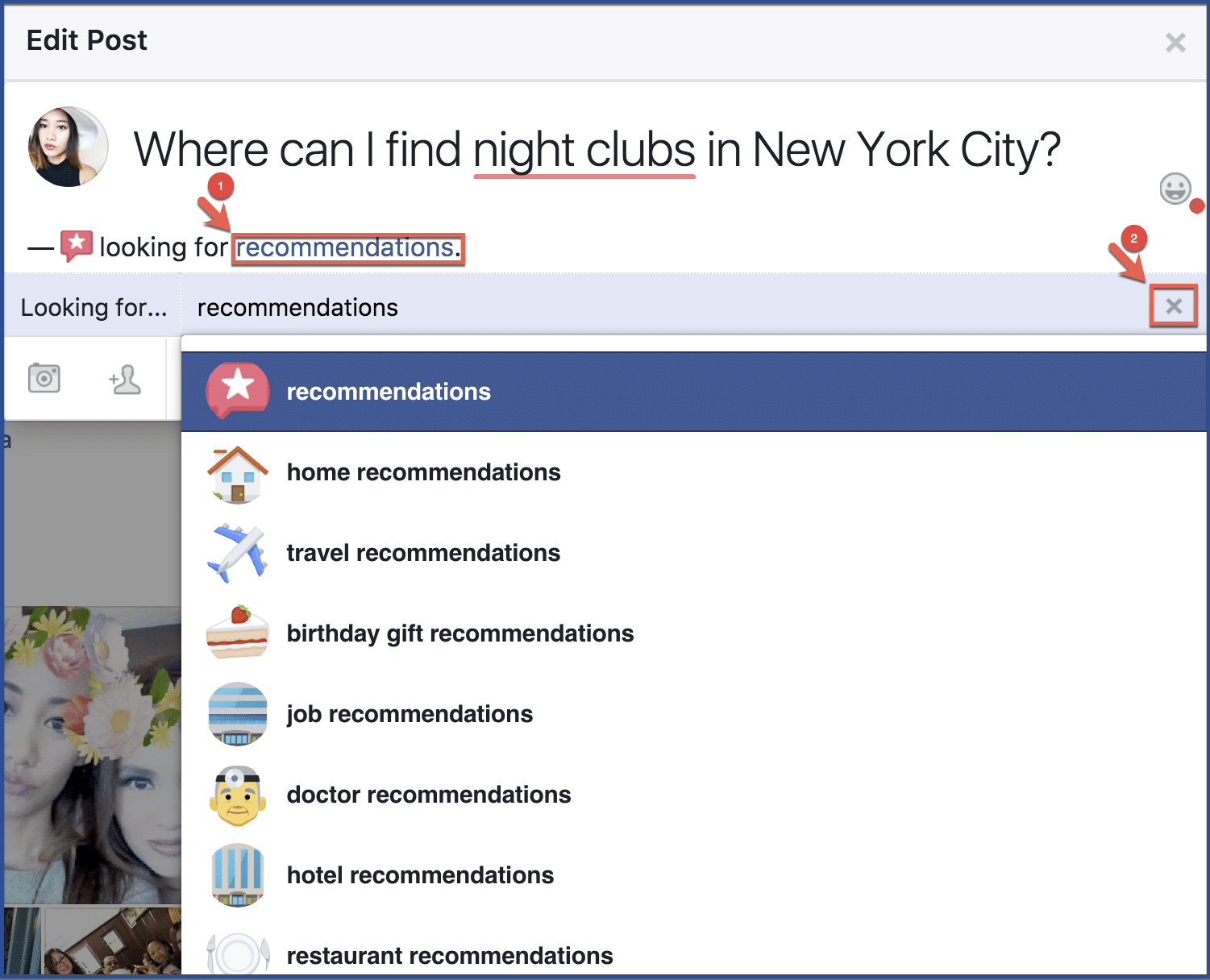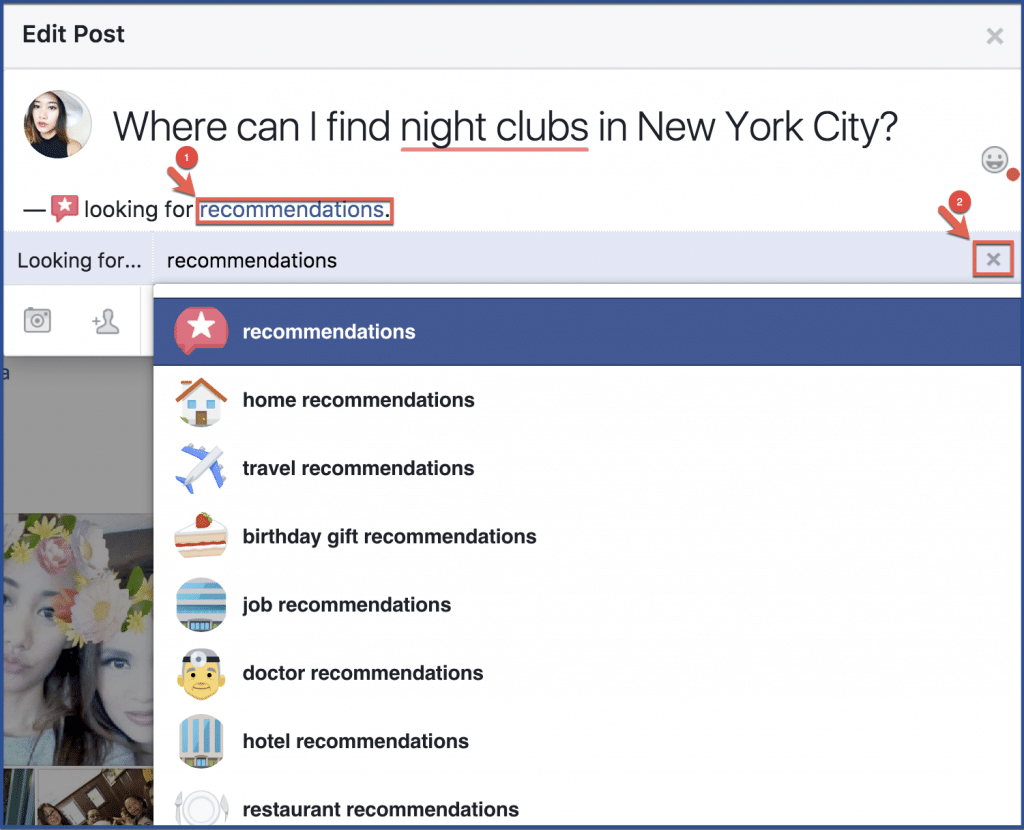 Step 3: Save post


Step 4: Delete map on post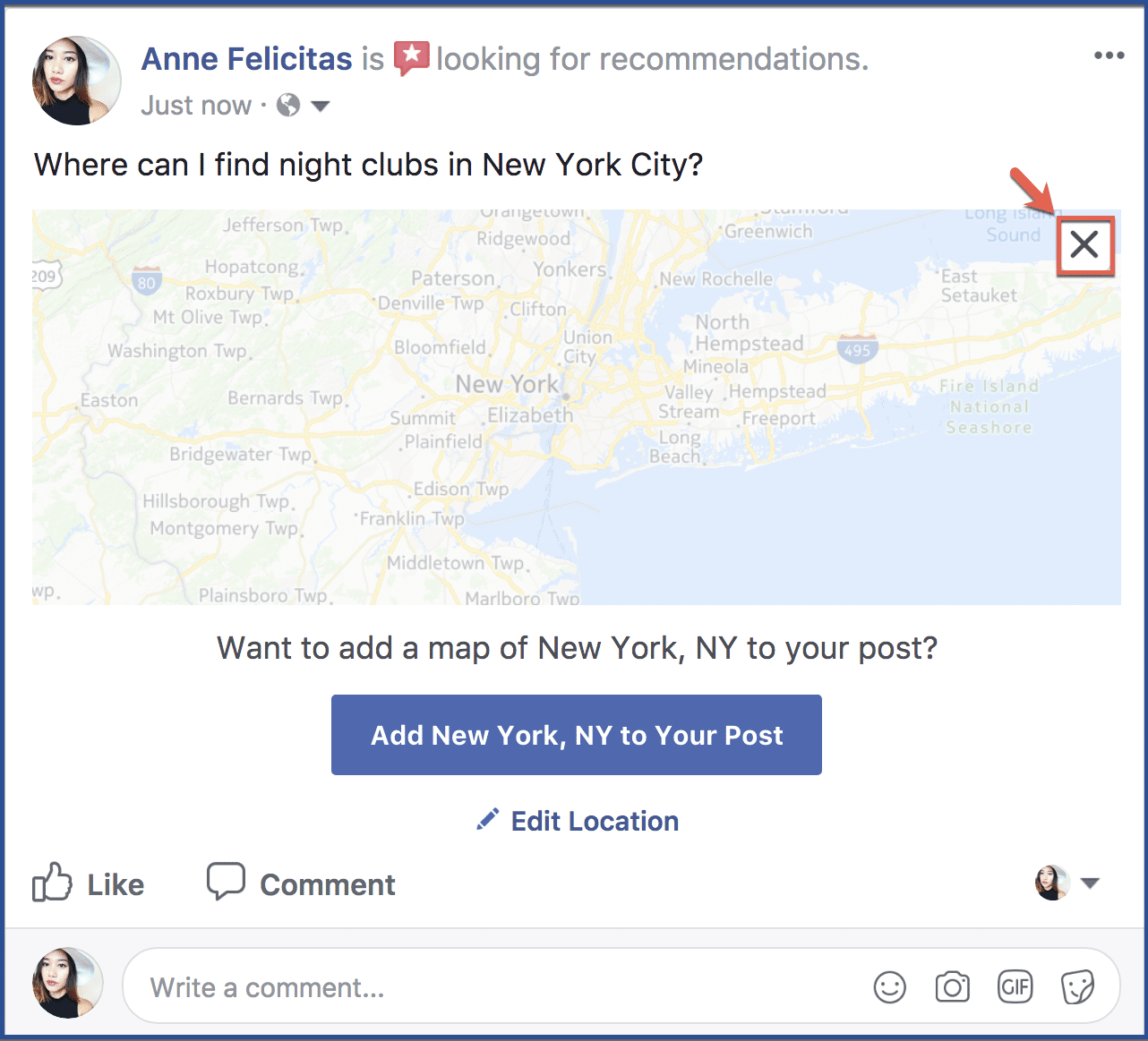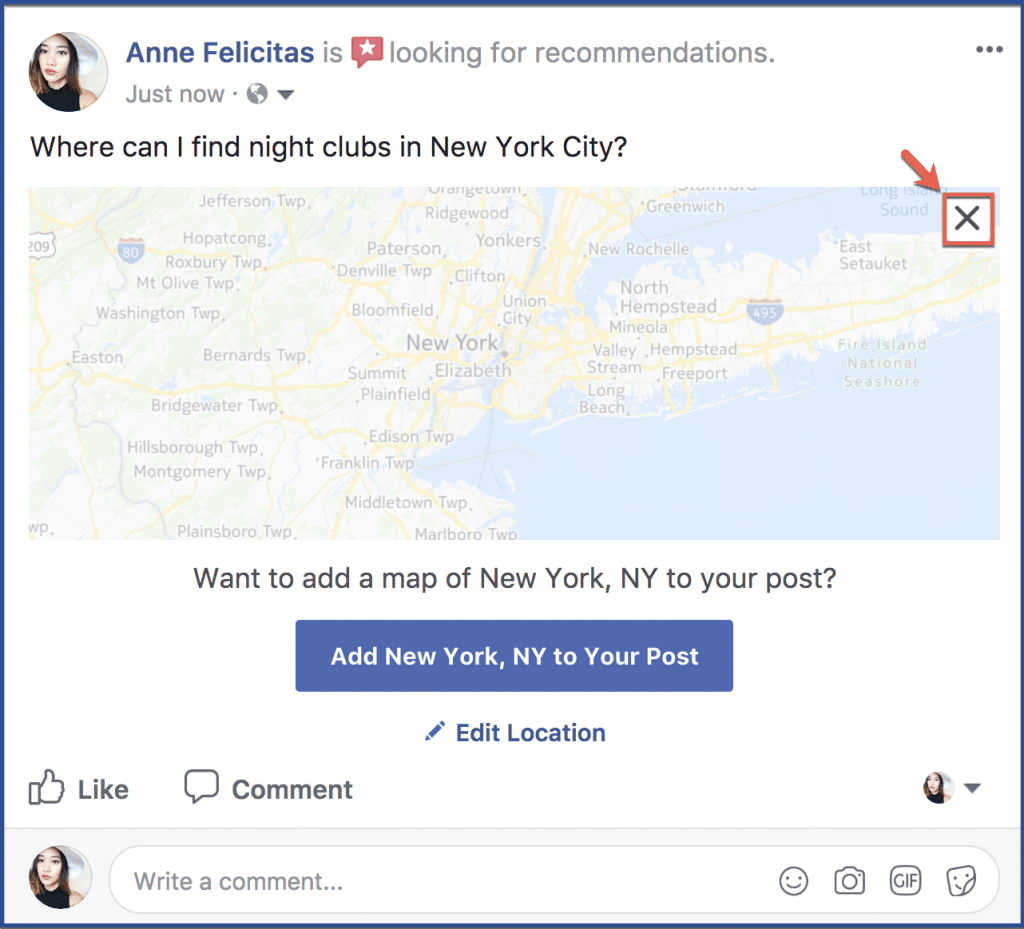 Step 5: You're done


What are the benefits of using Facebook's recommendation feature?
Using Facebook's Recommendation feature offers a range of compelling benefits for businesses:
Authentic Social Proof:

 Recommendations are user-generated testimonials that provide authentic social proof of your business's quality, products, and services. Positive recommendations from satisfied customers can significantly enhance your credibility and influence potential customers.

Enhanced Visibility:

 Recommendations increase your business's visibility on Facebook. When users leave recommendations, they create user-generated content that is visible to their friends and followers, expanding the reach of your business's positive experiences.

Direct Customer Engagement:

 The Recommendation feature allows potential customers to ask questions directly on your business page. Responding promptly showcases your commitment to customer service, builds trust, and encourages meaningful interactions.

Improved Trust and Reliability:

 Positive recommendations from customers instill trust and reliability in your business. Potential customers are more likely to engage with and purchase from a business that has received favorable feedback from their peers.

Influencing Purchase Decisions:

 Recommendations play a pivotal role in shaping purchase decisions. When customers see positive experiences from others, it reduces uncertainty and increases their confidence in choosing your business.

User-Generated Marketing Assets:

 Recommendations can be repurposed as user-generated marketing assets. Testimonials and positive feedback can be incorporated into your marketing campaigns, social media content, and advertising materials.

Community Building:

 Recommendations foster a sense of community around your business. When customers engage in conversations and share their experiences, it creates a space where loyal customers can connect and advocate for your brand.
Transforming Recommendations into Conversions
While engagement is crucial, the ultimate goal remains conversion. Positive recommendations act as trust signals that influence purchasing decisions. When potential clients see that others have had good experiences with your business, it instills confidence and reduces hesitation.
To take it a step further, user-generated content from recommendations can be repurposed into marketing assets. From testimonials to social proof in ad campaigns, these endorsements become the cornerstone of a persuasive marketing strategy.
Conclusion
In a landscape driven by technology, the human element remains invaluable. The Recommendation feature seamlessly marries the two, offering a bridge between businesses and customers.
Remember that recommendations are not just about numbers – they symbolize trust, connection, and shared experiences. Adopt the recommendation feature and lead customers directly to your business, fostering a future where engagement isn't just a click but a conversation, and where customers don't just buy products but invest in experiences.
Did you find this article helpful and informative? Leave your thoughts below on the comment's section or share to friends.
To find more information about advertising on social media, check out our Facebook advertising agency, Instagram advertising agency, and Snapchat advertising agency services on our website Advertisemint.com.
FAQs
What is Facebook's recommendation feature?
Facebook's recommendation feature is a tool that businesses can use to ask their customers to recommend them to their friends on Facebook. When a customer recommends a business, their friends will see a notification on their Facebook feed. If the friends are interested in the business, they can click on the notification to learn more about it.
How does Facebook's recommendation feature work?
To use Facebook's recommendation feature, business entities first need to create a Facebook page for their business. Once they have created a page, they can add a call to action to their page that encourages customers to recommend them to their friends. When customers click on the call to action, they will be prompted to write a short review of the business. Once the review is submitted, it will be displayed on the business's Facebook page and it will also be sent to the customer's friends.
Can I engage directly with customers using the Recommendation feature?
Yes, absolutely! Facebook's Recommendation feature facilitates real-time customer engagement. Users can ask questions directly on your business page, and you can respond promptly to provide information, address concerns, and offer personalized assistance. This direct interaction builds trust, fosters meaningful connections, and enhances the overall customer experience.
How do Facebook's Recommendations influence potential customers' decisions?
Facebook's Recommendations carry substantial influence over potential customers' decisions. When users see positive experiences and glowing reviews from their peers, it reduces uncertainty and builds confidence in your business. These recommendations play a pivotal role in shaping purchasing decisions, as customers are more likely to choose a business with a track record of positive interactions.
What are some practical steps to optimize my business for Facebook's Recommendation feature?
To optimize your business for Facebook's Recommendation feature, start by ensuring your Facebook business page is complete and up-to-date with accurate information. Encourage customers to leave recommendations after positive interactions. Engage with customers who provide recommendations by responding thoughtfully and showing appreciation.
Leverage the insights gained from recommendations to make improvements to your products, services, and customer experience. By actively participating and fostering a positive environment, you can harness the full potential of this feature for your business's growth.