As we all know, Facebook has a propensity for imitating other social media platforms' features. We've seen this with its imitation of LinkedIn, Snapchat (especially Snapchat), and now Yelp. A meek and inconspicuous search discovery feature is currently being tested on the social media giant's platform. The feature, yet to be named, mimics Yelp.
Much like Yelp, this discovery feature leads you to local businesses. For instance, if you had a sudden feverish craving for Italian food, you can simply click on the search engine on top of your feed and type "Italian food near me" (or something of that nature). The search will then take you to the search results, which includes local businesses you can go to, as well as posts that include the keyword terms in your search.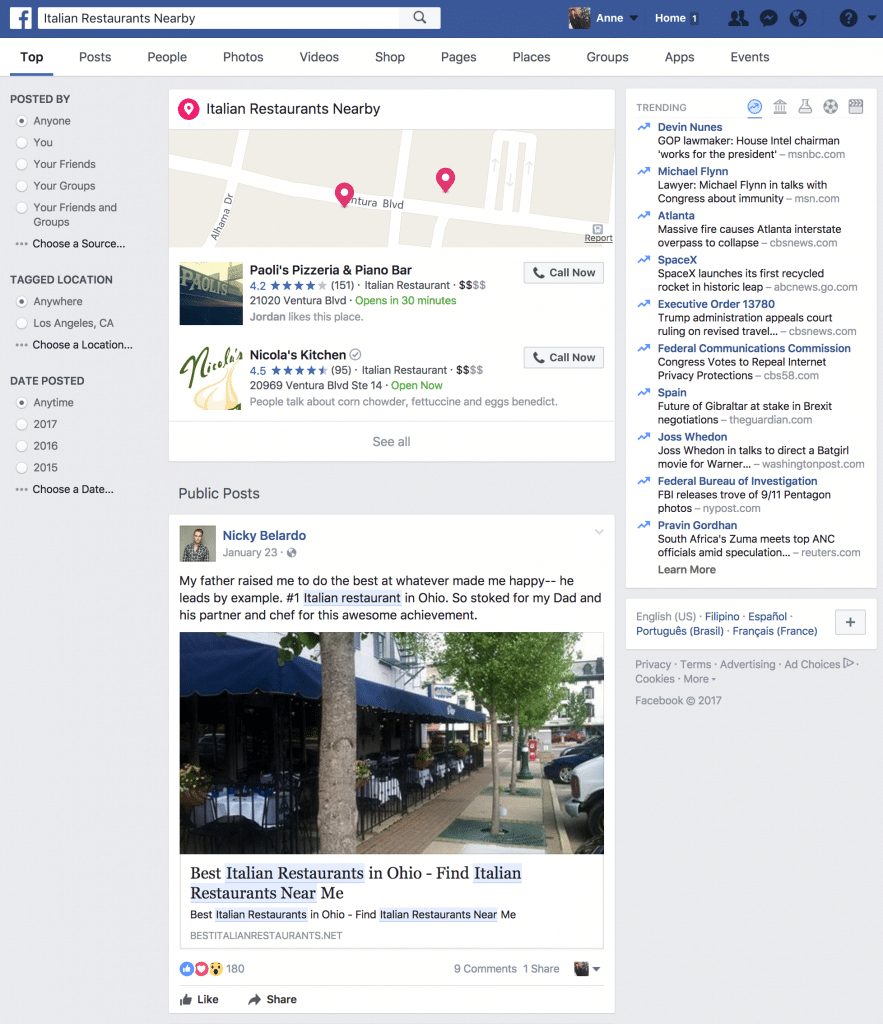 On the left side of the screen, you will see filter options. You can filter by who posted, the tagged location, and the date posted. You can narrow your search using these filters tools.
If you want the results to only show local businesses, then you can go to "Places" instead.
On the right side of that page, you'll see filter options that will remind you of Yelp. You can filter by categories, social (unique to Facebook), hours, prices, and features. On the right you'll see a map of the local businesses surrounding your area with more categories offered underneath.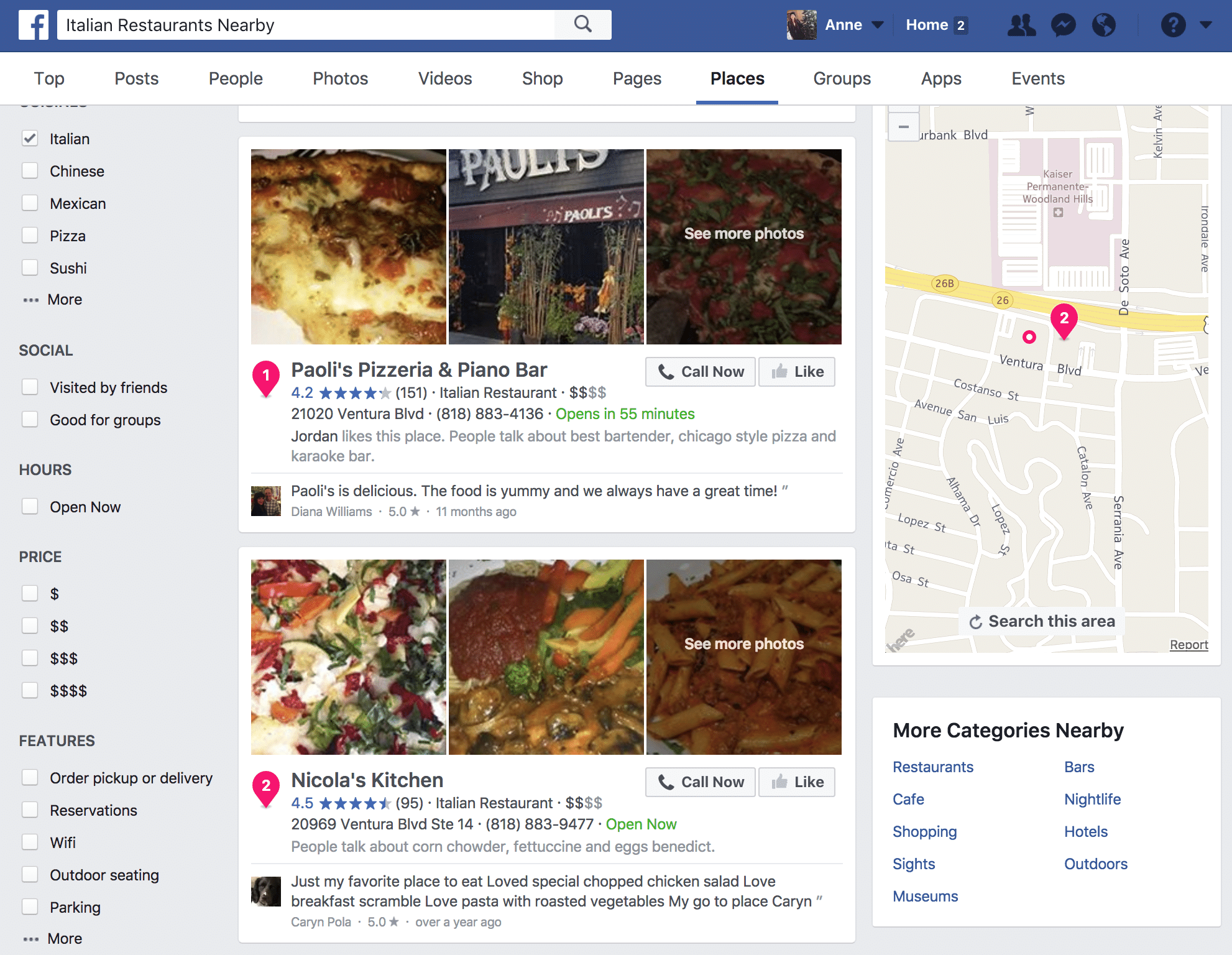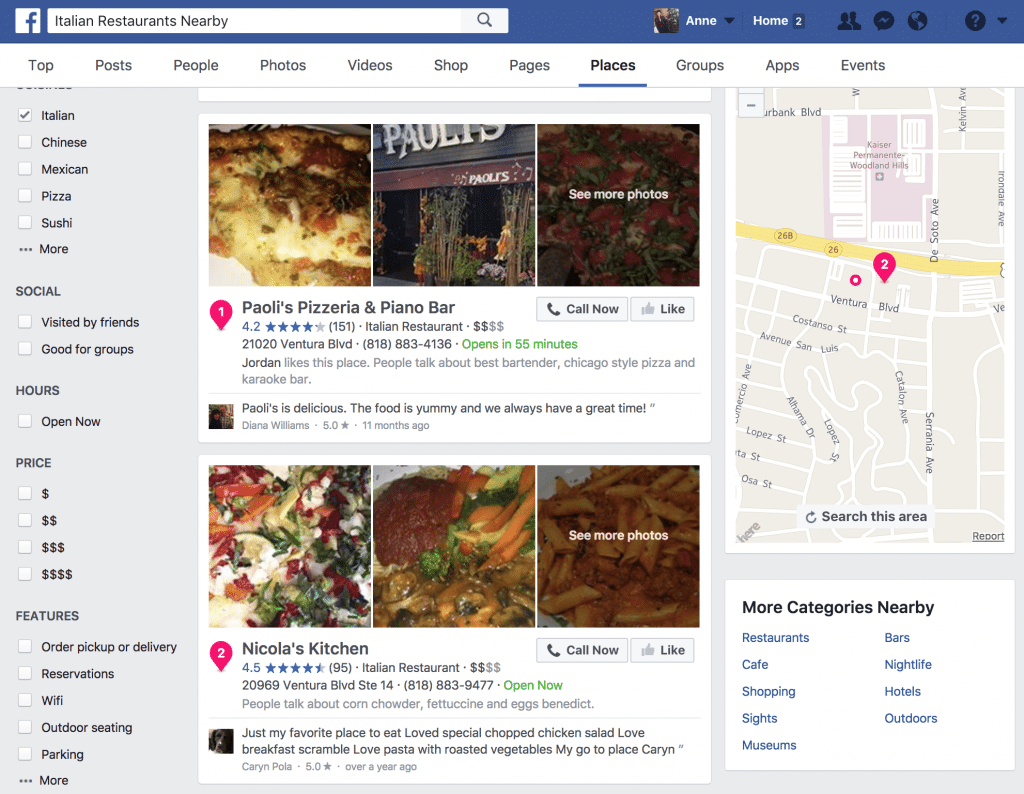 The results also show you vital information about the businesses that will likely influence your choice: ratings, dollar amounts, likes, reviews, and distance.
As you likely have noticed, the search didn't yield a lot of results. That's because only businesses with Facebook pages appear on the search results, a major disadvantage not only to users but also to businesses. Granted, this feature is still in its testing stages. However, if not enough local businesses have Facebook pages by the time this feature officially rolls out, the search results won't be as sizeable as the ones you'll see on Yelp. Thus, if you're a local business planning to take advantage of this new feature to promote your business, it's recommended that you create a Facebook page.
What do you think of this search discovery feature? Let us know on the comments section below.
Comments
comments