Owning a Facebook profile with very little Facebook friends can be a little lonesome. This means less activity on your news feed. Without any posts to peruse, people to observe, content to engage with, you quickly become bored enough to search for different avenues of entertainment.
Boredom isn't the only problem that arises with the lack of Facebook friends. To whom will you share your brand new, well-thought-out, fan page? Whom will you encourage to share your fan page on their news feed?
Perhaps you've met someone in the office, on the subway, or at a business convention who you'd like to add to your list of Facebook friends. How do you find them? Follow the steps below to find friends on Facebook.
Step 1: Type name into search engine
Type the name of the person you want to add in Facebook's search engine.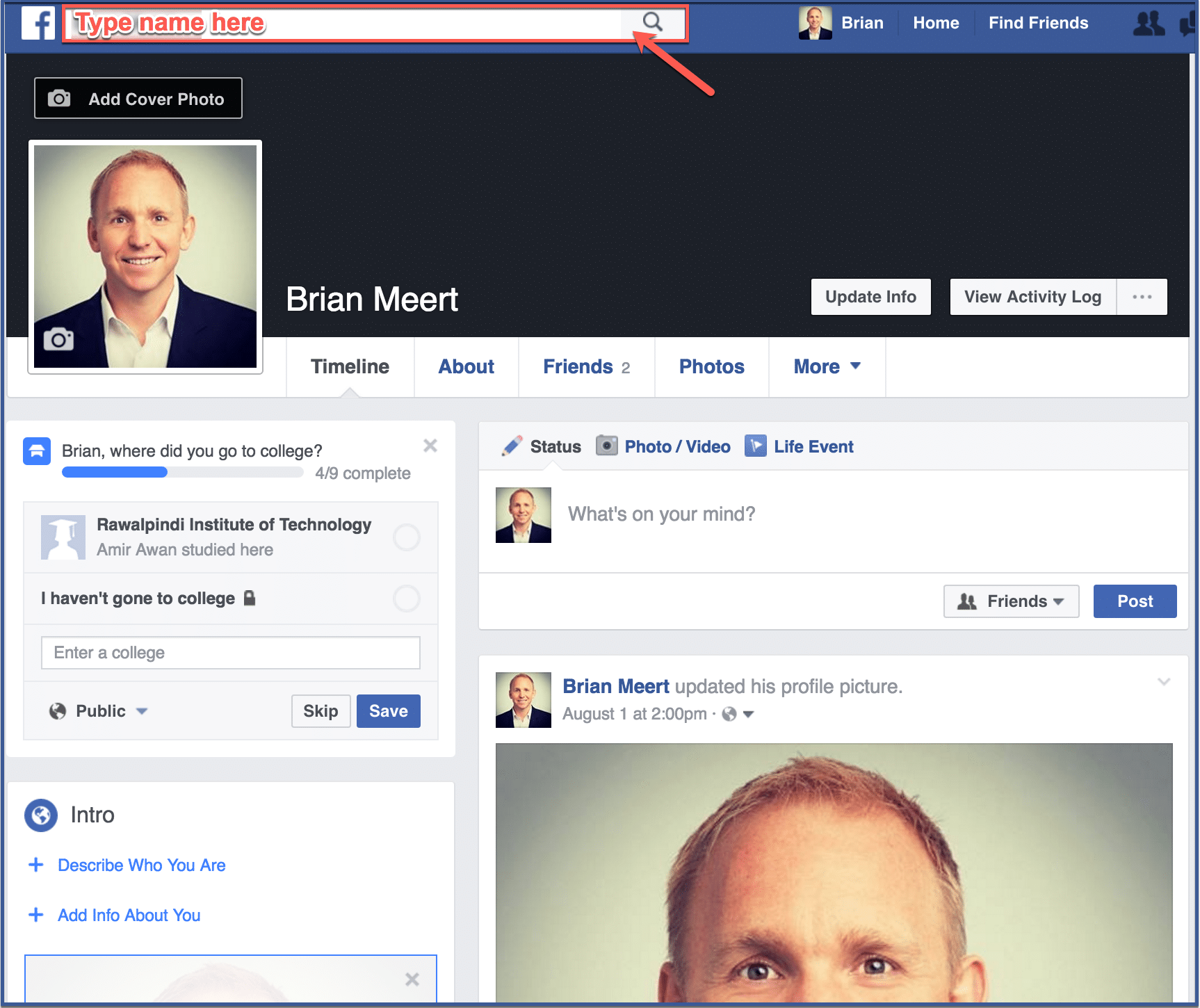 Step 2: Choose from search results
As you type, Facebook will give you suggestions. If the person you are seeking appears in the suggestion, click to go to their profile.
Step 3: Click "Add Friend"
Click "Add Friend" located below the cover photo.

Step 4: Wait
After you've sent your request, your friend will receive a notification. All you can do now is wait for them to accept.

8 ways to find Friends on Facebook
1. Search by Name: Rediscovering the Familiar
Finding friends begins with the search bar at the top of your Facebook page.
Simply type in the name of the friend you're seeking, and watch as the magic of algorithms presents you with a list of profiles that match your search. Scrolling through these results can lead you back to the profiles of friends you have been longing to reconnect with.
2. Import Contacts: Syncing Real-Life Connections
Facebook offers a convenient feature that syncs real-life contacts with your online network.
You can uncover friends who have already joined the platform by importing your contacts from sources like your email address book.
This feature acts as a digital compass, helping you navigate the sea of profiles and identify those who are already part of your circle.
3. Suggested Friends: The World of Mutual Connections
The virtual world thrives on the power of mutual connections and shared interests. Facebook's "Suggested Friends" feature taps into this energy, offering you potential friends based on your existing connections.
This curated list presents you with individuals who might just be waiting to become an integral part of your social tapestry.
4. Facebook Groups: Bonds Beyond Borders
Facebook Groups are digital sanctuaries where kindred spirits gather to discuss shared interests. Joining groups relevant to your passions, hobbies, or affiliations is a gateway to meeting individuals who resonate with your values.
Engaging in group discussions sets the stage for authentic connections extending beyond the digital realm's confines.
5. Mutual Friends: Connecting the Dots
Unearthing connections within connections is a unique strength of Facebook.
By exploring the friends lists of your own friends, you can stumble upon individuals who share mutual acquaintances. This serves as a bridge to forming new connections, turning familiar faces into your own friends.
6. People You May Know: Serendipitous Connections
The "People You May Know" section transforms the art of discovery into a serendipitous adventure. Based on mutual connections and shared interests, this feature suggests potential friends who might have otherwise flown under your radar.
It's an opportunity to foster connections that transcend the virtual landscape.
7. Search by School or Workplace: Nostalgia Meets Networking
Facebook not only connects you with the present but also takes you back to the past.
By searching for friends based on your educational or professional history, you can rekindle friendships that were formed in different chapters of your life.
Entering the name of your school or workplace unlocks a treasure trove of memories and the chance to reconnect.
8. Location-Based Search: Building Local Bonds
In a world that spans continents, sometimes the most meaningful connections are those made in your own backyard.
Facebook's location-based search feature allows you to find friends within a specific geographical area. Whether it's networking with fellow locals or making connections while traveling, this tool broadens your horizons.
Conclusion
Finding friends is an exciting journey of exploring, reconnecting, and making new bonds. Facebook provides various tools and options that help you connect with people.
So, start exploring the social platform, let your curiosity lead the way, and see your list of Facebook friends grow with meaningful connections, conversations, and shared moments."
FAQs
How do I search for friends on Facebook?
You can search for friends on Facebook by using the search bar at the top of the web page. Simply type in the name of the person you're looking for, and Facebook will show you matching profiles.
Can I find friends from my email contacts on Facebook?
Yes, you can import your email contacts to Facebook. Go to the "Find Friends" section, and there you'll find an option to import contacts from your email address book. Facebook will then suggest people you might know based on your contacts.
How does Facebook suggest friends for me?
Facebook suggests friends based on mutual connections, shared interests, and other factors. The "Suggested Friends" section provides a list of people you might want to add to your network.
What are Facebook Groups, and how can they help me find friends?
Facebook Groups are communities centered around specific interests or affiliations. Joining relevant Groups can introduce you to like-minded individuals and provide opportunities to make new friends who share your passions.
How can I use mutual friends to expand my network on Facebook?
By exploring the friends lists of your existing connections, you can discover potential friends who have mutual acquaintances. This can help you expand your network and establish new connections.
What is the "People You May Know" feature on Facebook?
The "People You May Know" feature suggests potential friends based on mutual connections and shared interests. It's a way to discover new connections within your extended social circle.