If you want to advertise your products on Facebook without a product catalog, you can forget it. Product catalogs are lists that contain a description of each product you're selling, including I.D., name, category, availability, product URL, and image URL, among other product attributes. You will need product catalogs for several types of Facebook ads such as dynamic ads or for certain types of objectives such as the send-people-to-my-website objective.
What is a product Catalog?
A product catalog is a digital inventory that showcases a collection of your products or services in an organized and accessible format.
It serves as a comprehensive repository of essential information about each item, including images, descriptions, prices, and other relevant details. This structured compilation enables businesses to effectively manage and present their offerings to potential customers.
By centralizing product information, a catalog streamlines marketing efforts, allowing businesses to create targeted and dynamic advertising campaigns across various platforms.
Whether it's an e-commerce website, social media ads, or other digital channels, a well-maintained product catalog forms the foundation for engaging and persuasive marketing strategies, ultimately driving customer engagement and conversions.
Often, when working with a Facebook ads management service agency or an Instagram advertising agency, you must grant your agency access to your catalogs. Because this process can be confusing to new Business Manager account holders, I've outlined the steps to how you can give a Facebook advertising agency access to your product catalog.
Step 1: Go to Settings
Once you're logged in to your Business Manager account, click the main menu then click "Business Manager Settings" on the dropdown menu.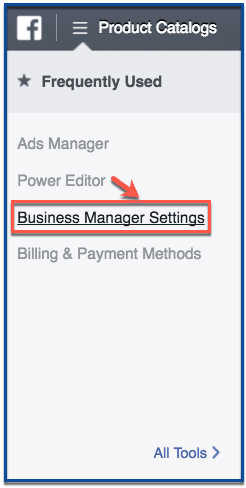 Step 2: Click "Product Catalogs"
On the left side of your screen under "People and Assets," click "Product Catalogs."

Step 3: Create a New Product Catalog
To create a new product catalog, click "Add New Product Catalogs" on the upper right side of your screen. Then click "Create a New Product Catalog."


Step 4: Create Product Catalog Name
Here, you must create your product catalog's name and set the type to "Products."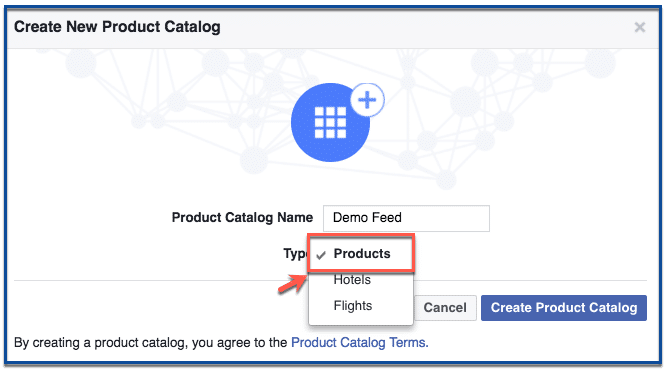 Step 5: Add People to Your Product Catalog (Optional)
After step four, you will see this pop-up dialogue box that asks you to add people to your product catalog. Adding people to your catalog gives them access to view or edit the catalog. Because this step is optional, you can skip ahead if you choose.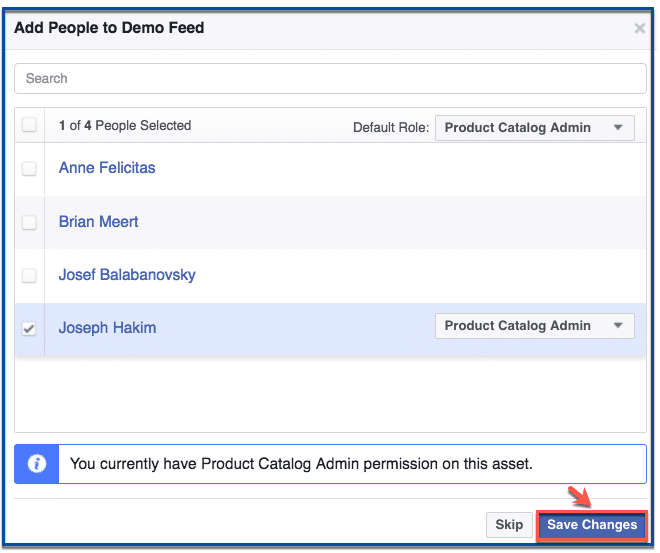 Step 6: Associate a Pixel to Product Catalog
Next you need to associate a pixel to your product catalog. Doing this allows the Facebook pixel to track people who are visiting your catalog.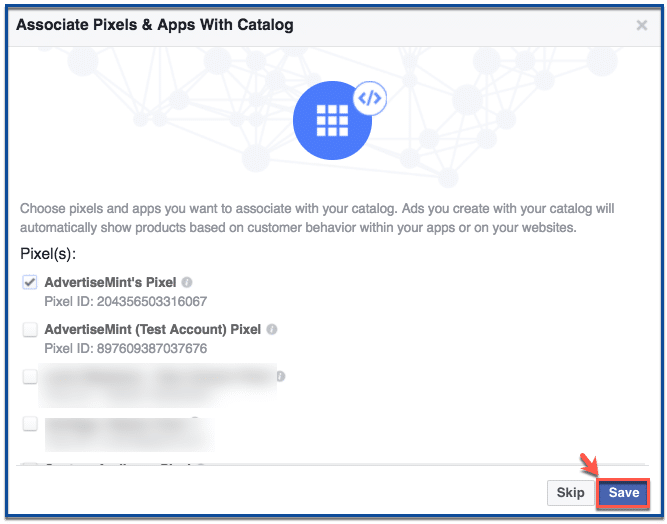 Step 7: Assign Partner
In this step, you will need to assign a partner (the agency you work with) to your product catalog, giving the partner access. To do this, click "Assign Partner."


Step 8: Connect Product Catalog Using Partner's Business I.D.
After you click "Assign Partner," this dialogue box will pop up. On the bottom of the box, click "Connect your product catalog using your partner's business ID instead."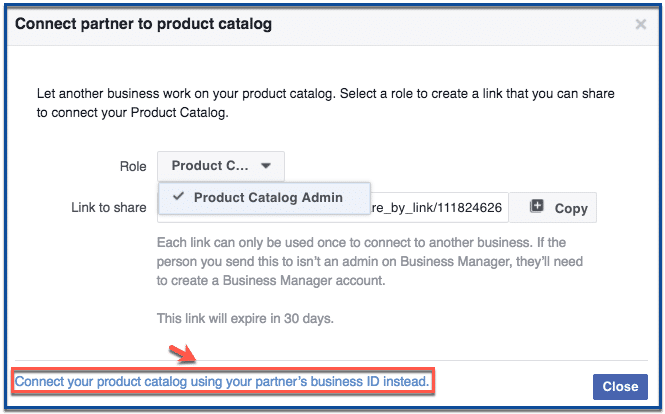 Step 9: Enter Partner's Business I.D.
Enter your partner's business I.D. Make sure the role is set to "Product Catalog Admin" otherwise your agency will be unable to use your catalog for Facebook ads.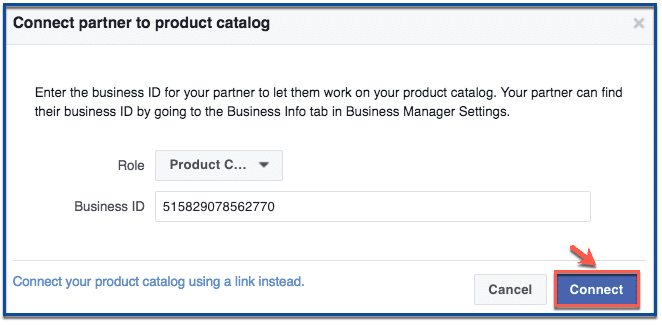 Benefits of giving a Facebook agency access to your product catalog
There are several benefits to giving a Facebook agency access to your product catalog. Here are a few:
Precise Targeting

: The agency can create highly targeted ad campaigns, reaching specific demographics and interests for better engagement.

Dynamic Ads

: Catalog access allows for dynamic ads that update automatically as your inventory changes, keeping your advertising current.

Personalized Content

: The agency can tailor ad content based on your product offerings, enhancing relevance and resonance.

Expert Optimization

: Utilizing catalog data, the agency can analyze performance, make informed adjustments, and optimize campaigns for better results.

Accurate Information

: Ads reflect accurate product details, prices, and availability, reducing customer frustration and improving trust.

Collaborative Insights

: The agency can provide valuable insights, fostering a collaborative partnership that supports your marketing objectives.

Maximized ROI

: With tailored campaigns and expert guidance, you're more likely to see an improved return on investment (ROI) from your advertising efforts.
Security considerations
When considering the security implications of granting a Facebook agency access to your product catalog, a few key factors should be kept in mind.
Foremost, it is vital to exercise caution by extending access solely to agencies you have complete trust in. Thoroughly evaluating the permissions you allocate to the agency is essential; be meticulous in assigning only the permissions necessary for the creation and management of your Facebook ads.
Equally important is the practice of promptly revoking access from the agency once their role in accessing your product catalog is no longer required.
By adhering to these recommendations, you can ensure the security of your sensitive data while benefiting from the collaborative advantages that granting access brings.
Conclusion
Giving a Facebook agency access to your product catalog can be a great way to save time and money, and get help with ad creation and management.
However, it's important to do your research and carefully weigh the pros and cons before deciding.
If the process looks different for you, let me know on the comments section below. Also, share this link to anyone who will find this helpful.
FAQs
What is a product catalog?
A product catalog is a collection of products or services that you sell on Facebook. It can be used to create and manage Facebook ads, as well as to track the performance of your ads.
Why should I give a Facebook agency access to my product catalog? Granting a Facebook agency access to your product catalog enables them to create targeted and dynamic ad campaigns, optimizing engagement and conversions. It streamlines collaboration and leverages their expertise to achieve better advertising results.
How do I determine which permissions to grant the agency? 
When assigning permissions, carefully evaluate the roles and responsibilities of the agency. Assign only the permissions necessary for them to effectively create and manage your Facebook ads while safeguarding sensitive information.
What steps should I take if I no longer require the agency's access? 
If the agency's role changes or you no longer need them to access your product catalog, it's important to promptly revoke their access. This ensures data security and prevents unnecessary permissions.
Can I collaborate with multiple agencies and grant them different levels of access?
Yes, you can collaborate with multiple agencies and give different levels of access based on their roles. This flexibility allows you to work with various experts while maintaining control over who can access and manage your product catalog.