On your Facebook Fan Page, the CTA button acts as a digital signpost, directing visitors to take specific actions that align with your business objectives.
In this guide, we'll walk you through the steps of adding a CTA button to your Facebook Fan Page, enabling you to enhance user engagement, drive conversions, and amplify your online presence.
What is a call to action?
A call-to-action (CTA) button is a feature on your Facebook fan page that motivates people to take a specific action. This could be anything from visiting your website, signing up for your email list, or making a purchase. 
By including a CTA button on your fan page, you can boost engagement with your fans and attract more traffic to your website or landing page.
The Variety of Call-to-Action Options
Facebook understands that businesses have diverse goals, which is why they offer a range of CTA options. Are you looking to drive online sales? The "Shop Now" button can guide users directly to your e-commerce platform.
Need to promote an event? The "Get Tickets" button can help attendees secure their spot. From "Sign Up" to "Watch Video" to "Send Message," these CTA options empower you to tailor your Fan Page's interactions to your unique needs.
How to add Call-to-Action Button?
Call-to-action buttons are a great way to draw fans to your website. Examples of call-to-actions are "shop now," "book now," "learn more," "sign up," "download," "shop more," "contact us," "apply now," or "donate now." To add a call-to-action button on your Facebook fan page, follow the steps below.
Step 1: Go to you Facebook fan page
To go to your Facebook fan page at facebook.com, click your page on the right side of your news feed under "Favorites".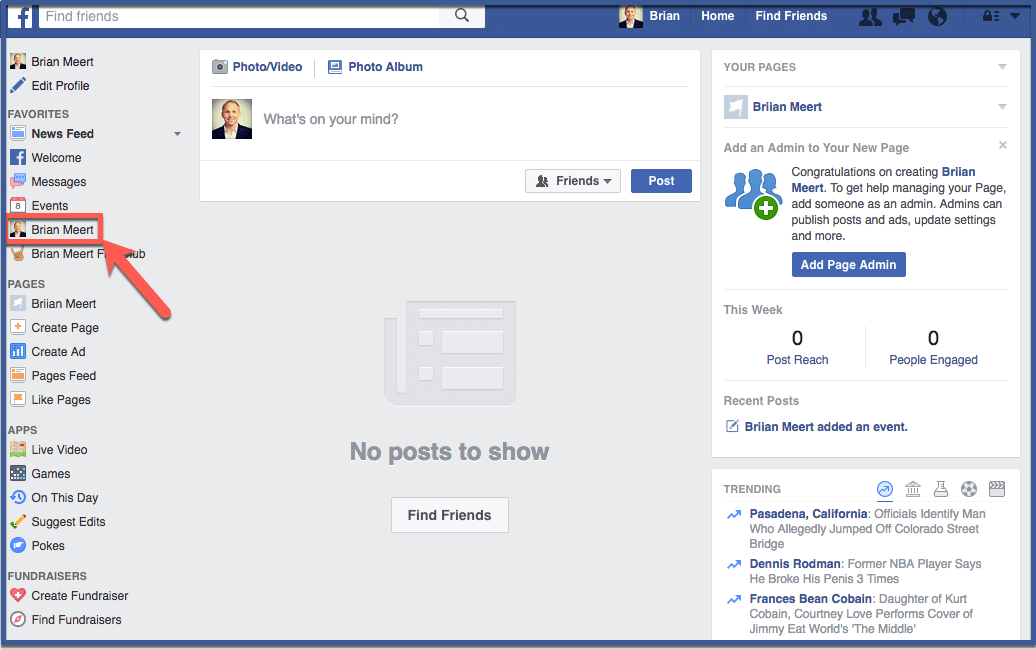 Step 2: Add a button
Click "Add a Button" under the right side of your cover photo. Your call-to-action button should replace this button.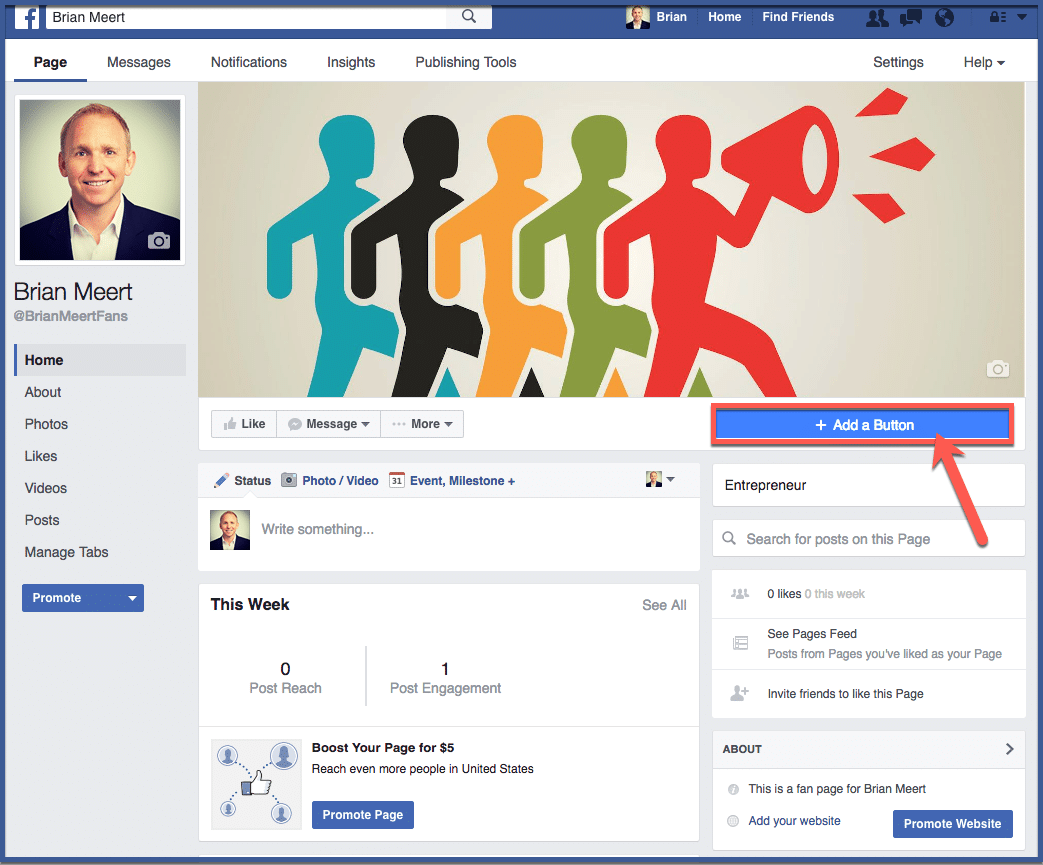 Step 3: Fill in information
Fill in the required information. You can choose the call-to-action button you want on your page under "Choose a Button". Next, type in the website URL where you want your fans to be redirected when they click your call-to-action under "Website" and "Choose Where to Send People on iOS". Then click "Create".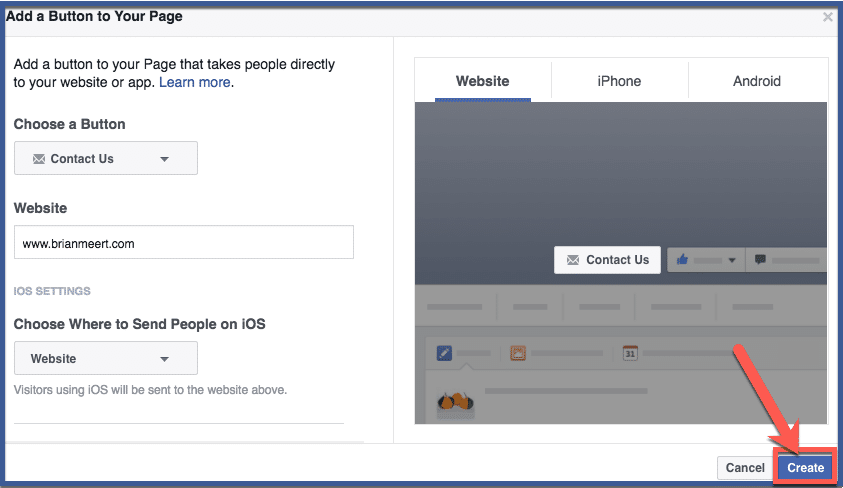 Step 4: Promote your button
Promote your button to notify followers about your new button. This will expose your button to your followers and increase the possibility of user engagement.

Step 5: You're done!
Congratulations, you've created your first call-to-action button!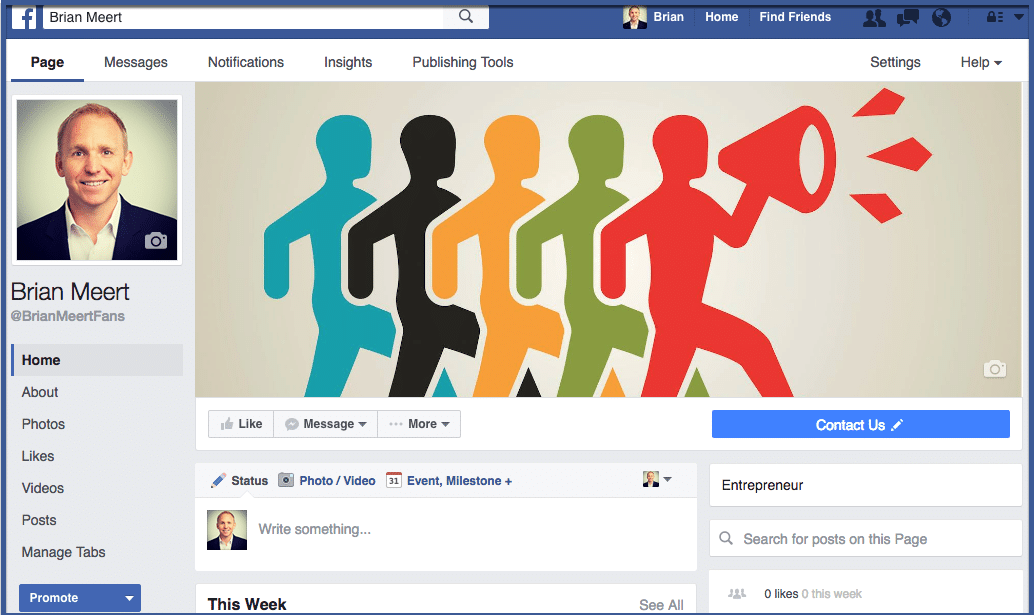 Importance of Call to Action Button
Adding a call to action (CTA) button to your Facebook Fan Page can significantly enhance your online presence and drive valuable actions from your audience.
1. Guided User Interaction
A CTA button serves as a clear guide for your visitors, directing them toward specific actions you want them to take. It simplifies the user experience by providing a straightforward path to engage with your business.
2. Enhanced Engagement
CTAs encourage users to interact with your Fan Page beyond just scrolling. Whether it's visiting your website, booking an appointment, or contacting you, CTAs prompt users to engage in ways that matter to your business.
3. Higher Conversions
By offering a direct link to conversions, such as purchasing a product or signing up for a service, CTAs can boost your conversion rates. Users are more likely to take action when it's easily accessible.
4. Focused Campaigns
A CTA button can be tailored to align with your ongoing campaigns or promotions. This ensures that visitors are immediately directed to the most relevant content, increasing the chances of conversion.
5. Increased Website Traffic
CTAs like "Learn More" or "Shop Now" can drive traffic to your website, helping you showcase your products, services, or content to a broader audience.
6. Effective Marketing
A CTA button enables you to strategically position your business in front of potential customers. It's an efficient way to promote special offers, events, or new product launches.
Best Practices for Effective Call-to-Action Buttons
Alignment with Goals:

 Choose a CTA that aligns with your immediate goals, whether it's driving sales, gathering leads, or increasing website visits.

Clear Language:

 Craft concise and action-oriented text that leaves no room for confusion.

Mobile-Friendly:

 Ensure your CTA button is easily clickable on mobile devices, as a significant portion of users access Facebook from their smartphones.

Regular Updates:

 Periodically review and update your CTA to reflect new campaigns or offers.
Avoiding Common Pitfalls
While adding a CTA button is straightforward, there are common pitfalls to avoid:
Irrelevant CTAs:

 Ensure your CTA aligns with your campaign's focus. For example, don't use a "Shop Now" CTA if your goal is to encourage newsletter sign-ups.

Broken Links:

 Double-check your destination URL to avoid frustrating users with broken links.

Lack of Testing:

 Don't assume your first CTA choice is the best. Test different options to see which resonates most with your audience.
Wrapping Up
By simplifying the user journey and encouraging specific actions, you are creating an opportunity for meaningful connections and interactions. So, go ahead and elevate your Fan Page's impact by adding a CTA button that guides your audience toward your desired outcomes.
With this simple yet powerful addition, you'll be well on your way to expanding your brand's online presence and achieving your business goals.
FAQs
What is a call to action button?
A call to action (CTA) button is a button placed on your Facebook fan page that prompts individuals to take a particular action, such as visiting your website, subscribing to your email list, or making a purchase.
What are the different types of call-to-action buttons?
There are different types of CTA buttons available, such as "Book Now," "Shop Now," "Learn More," and "Sign Up." 
Can I track the performance of my CTA button?
Yes, Facebook provides insights on the performance of your CTA button. You can monitor the number of clicks, interactions, and conversions driven by the button. These insights help you measure the effectiveness of your call to action and make informed decisions.
Can I add multiple CTA buttons to my Facebook Fan Page?
Unfortunately, each Facebook Fan Page is allowed only one primary CTA button. However, you can change this button as often as you had like to align with different campaigns or objectives.
Are there any specific guidelines for creating the CTA button text?
The CTA button text should be concise, action-oriented, and relevant to the action you want users to take. Avoid using jargon or ambiguous terms. Focus on clear and direct language that encourages users to engage.