In the ever-evolving world of social media, Instagram has established itself as a powerful platform for both personal expression and business growth.
Converting your personal Instagram account to a business account is a strategic move that can elevate your brand, increase visibility, and provide valuable insights into your audience.
In this comprehensive guide, we will walk you through the process of making this transition and harnessing the full potential of a business account on Instagram.
Understanding the Importance of a Business Account.
Before diving into the step-by-step guide, it's crucial to grasp the significance of switching to a business account.
While a personal account serves as a means of connecting with friends and sharing personal moments, a business account unlocks a world of opportunities tailored to your brand's growth.
With a business account, you gain access to a suite of features designed to enhance your online presence and engage with your target audience.
Step-by-Step Guide to Converting to a Business Account.
With an Instagram account, you can unlock certain features that are not available to personal accounts. For example, you can promote your posts. To turn your personal Instagram account to a business account, follow the steps below.
1. Switch to Business Profile
To switch to your business profile, go to your Instagram options. Scroll to the bottom of the screen and click "switch to your business profile."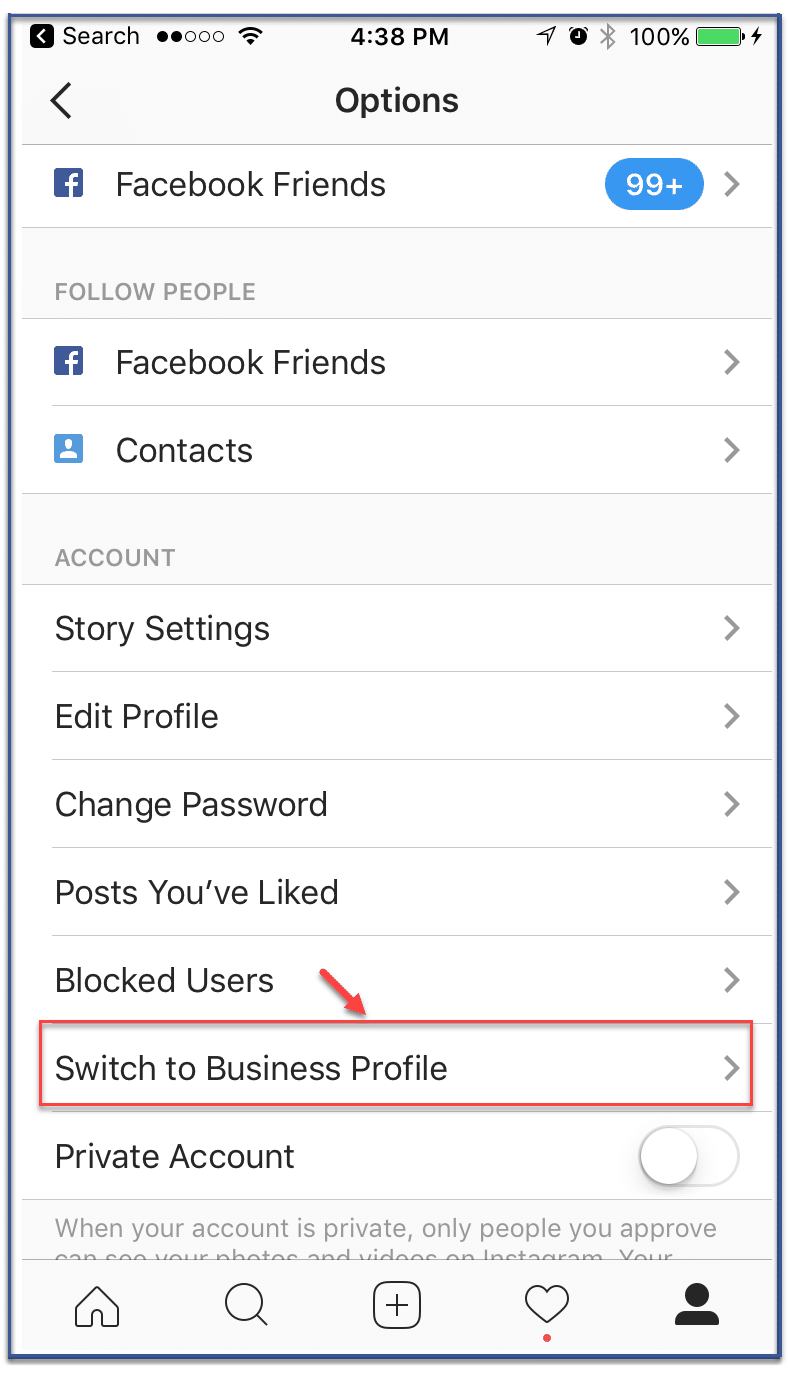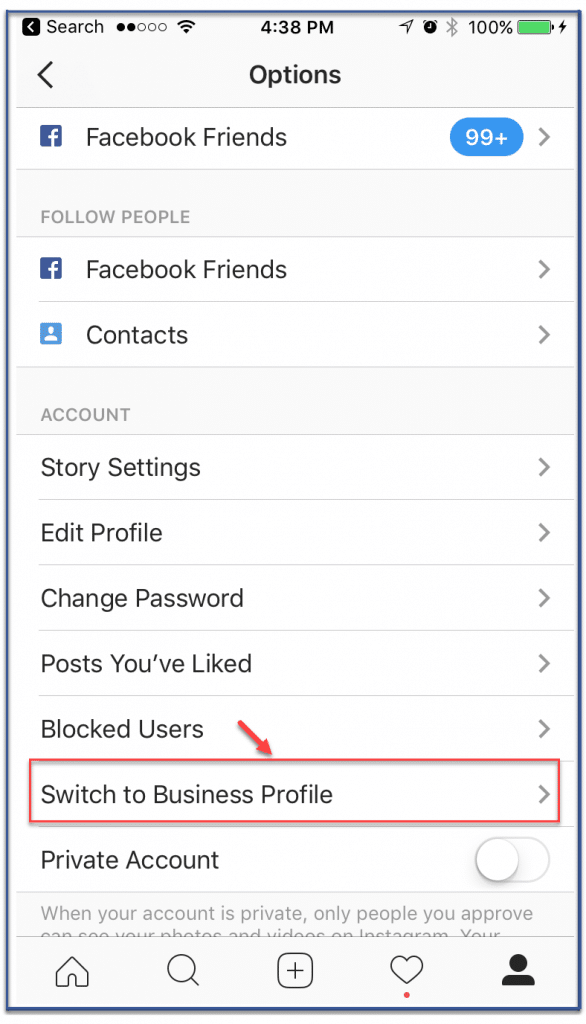 2. Connect Your Instagram Account to Your Facebook Business Page
Click the blue button that says "Continue."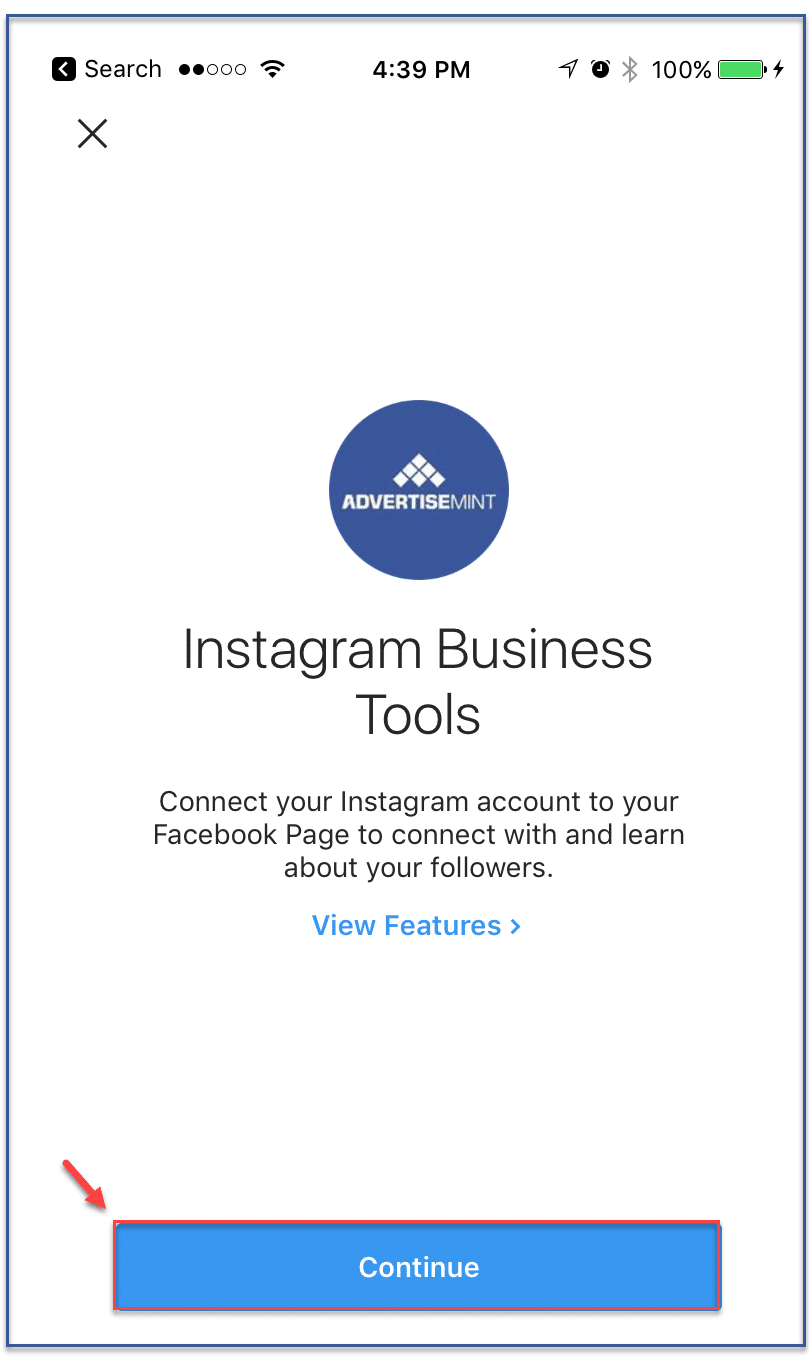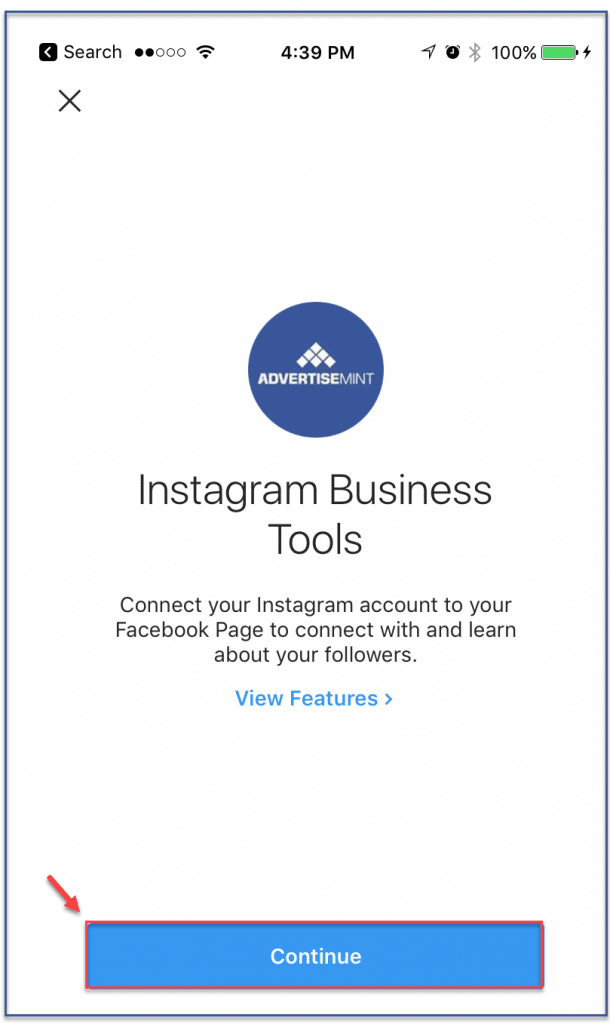 3. Log In With Your Facebook Account
Click "Log in with Facebook."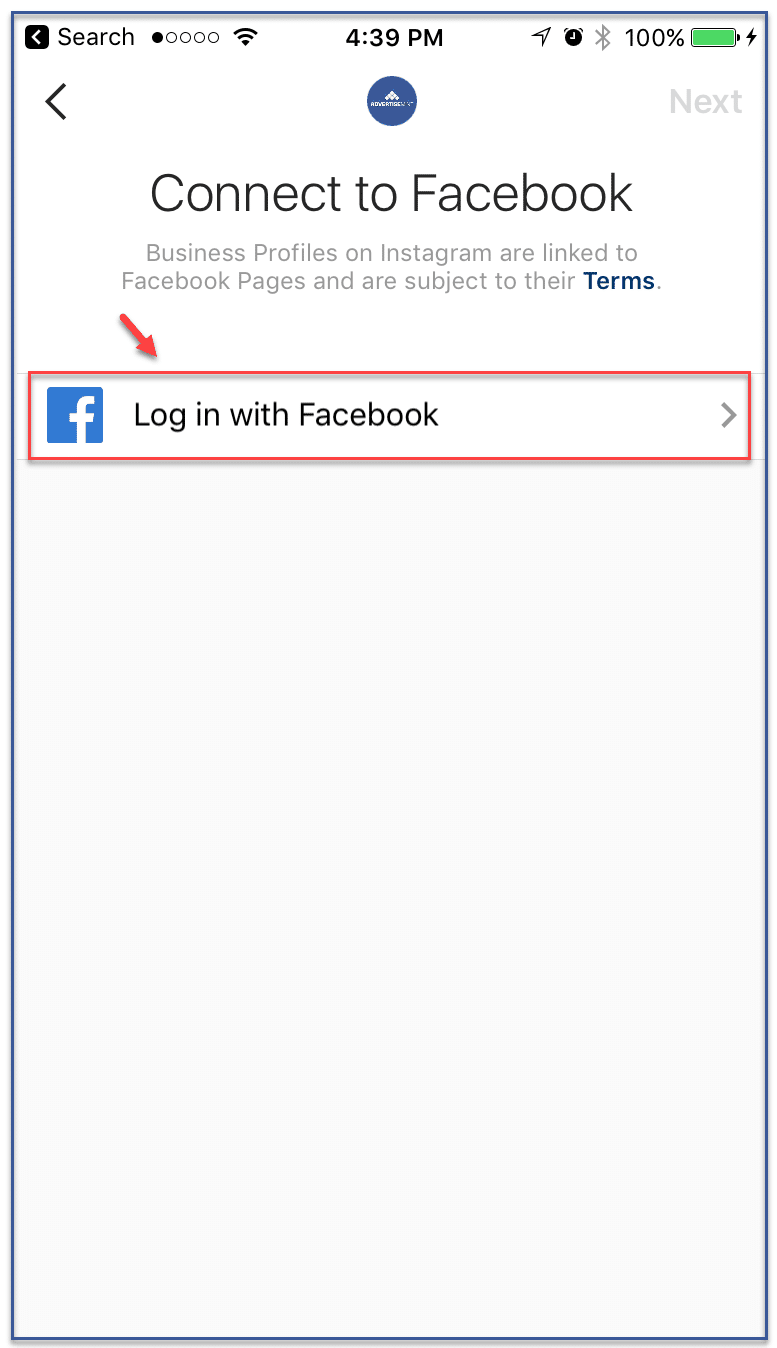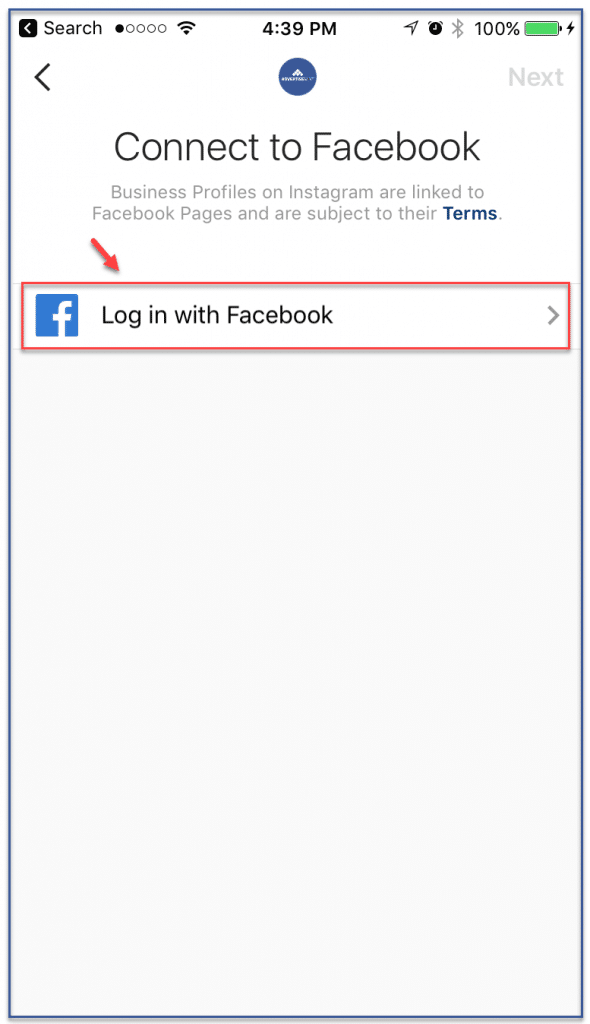 4. Connect your Instagram account to your Facebook account
Click "Log In With The Facebook App."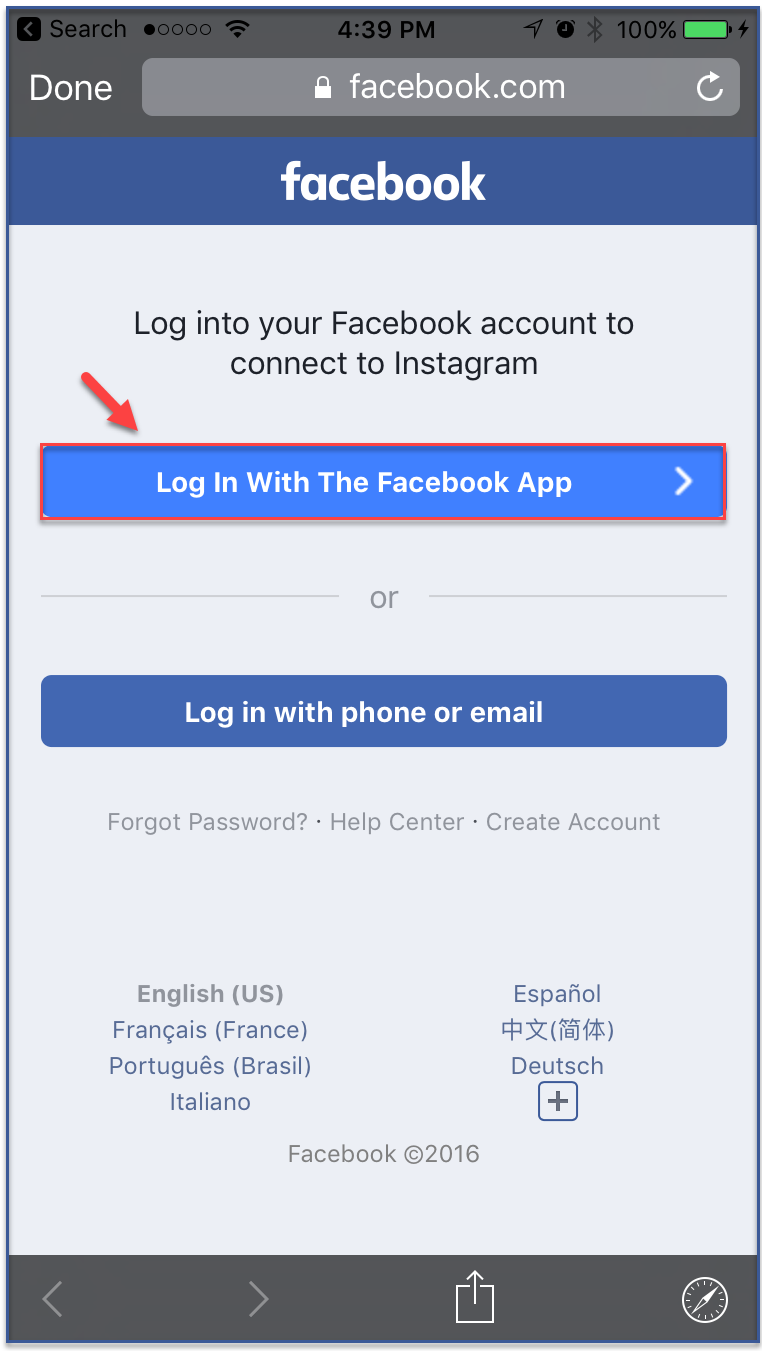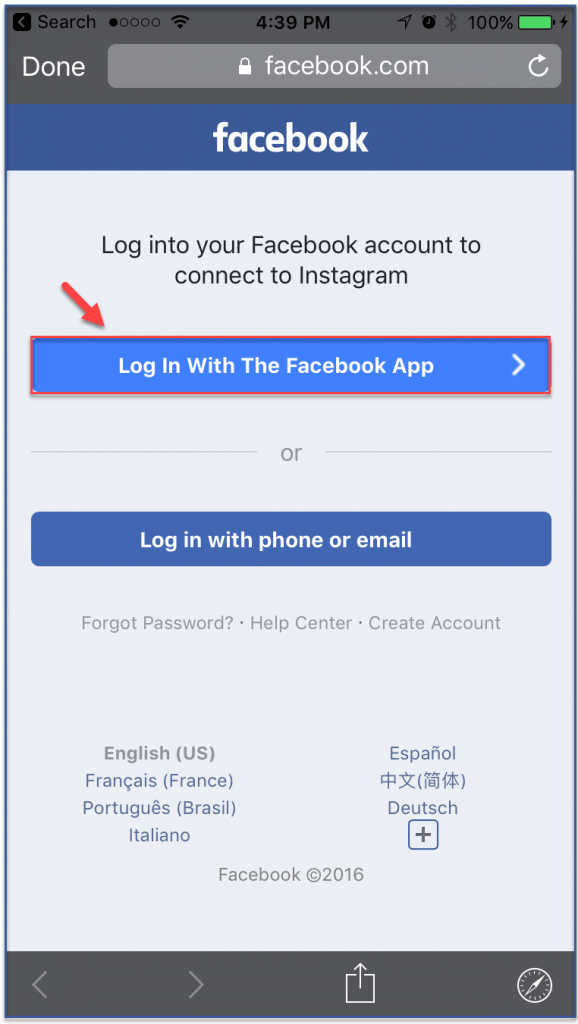 5. Allow Instagram to manage your pages
Click "OK" to allow Instagram to manage your pages.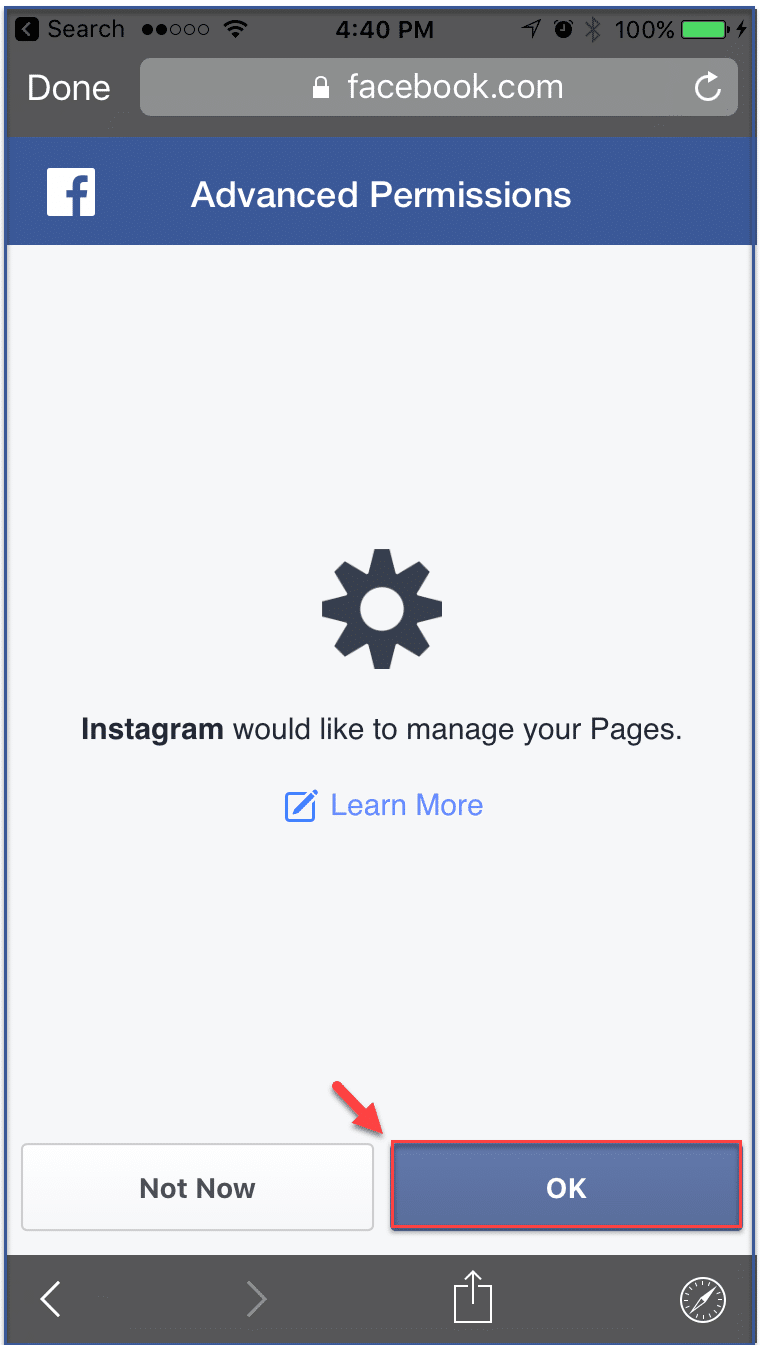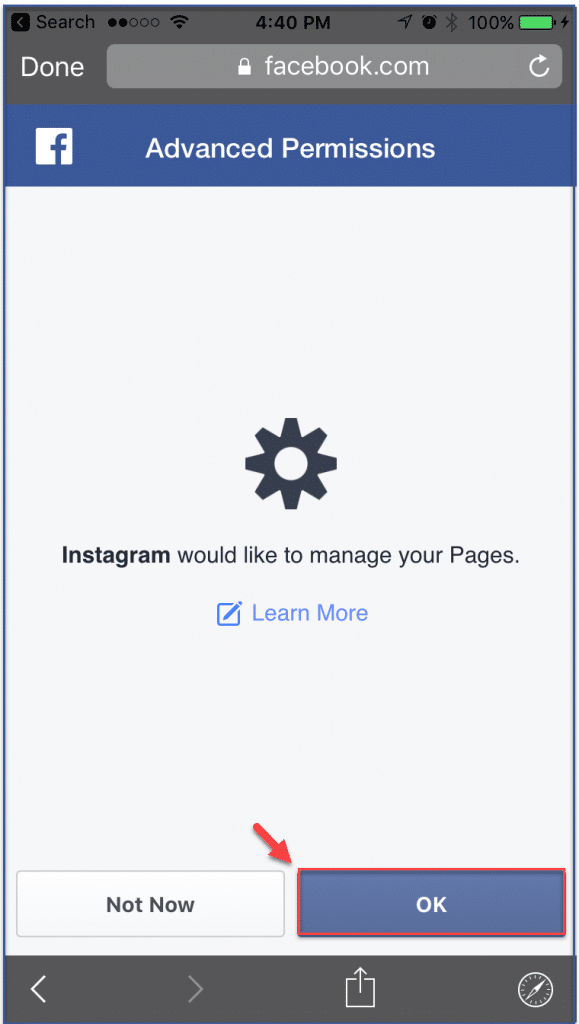 6. Connect your Facebook page
Select your Facebook business account from the options below. Then click "Next."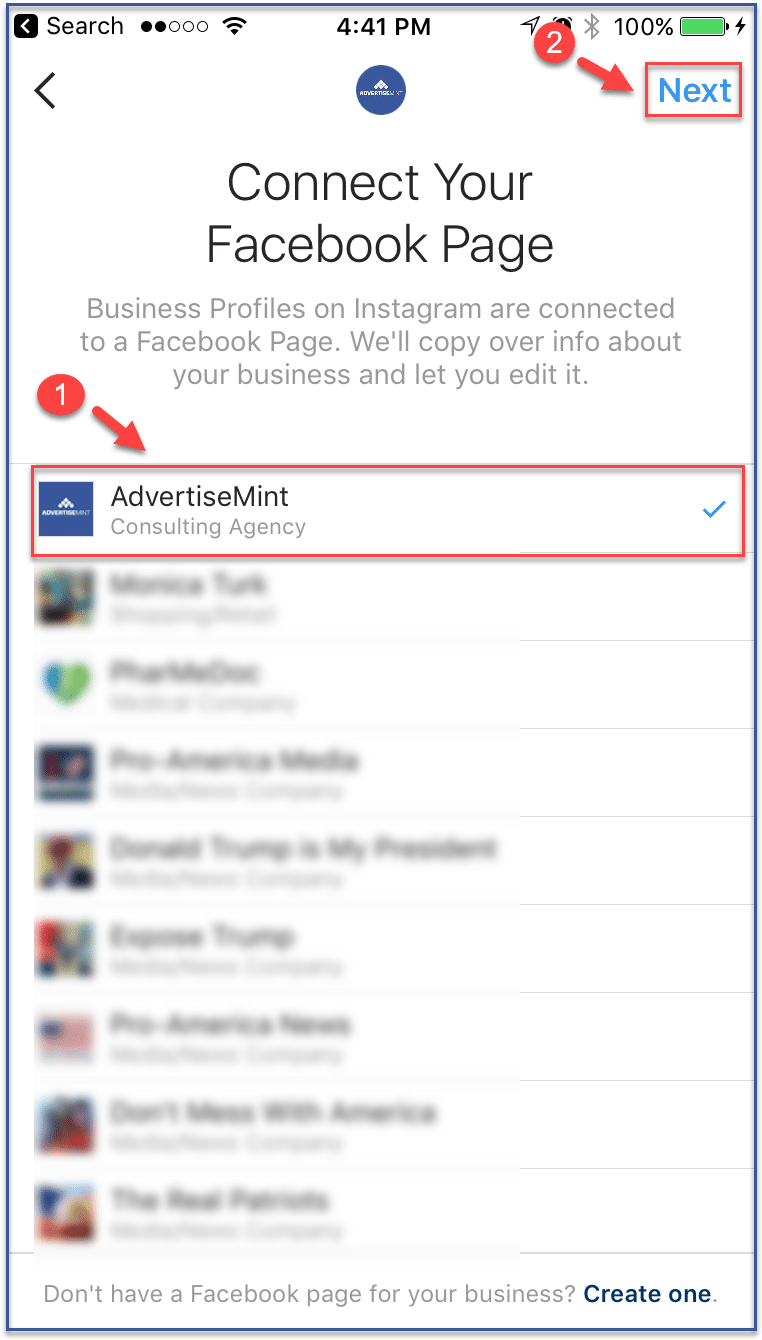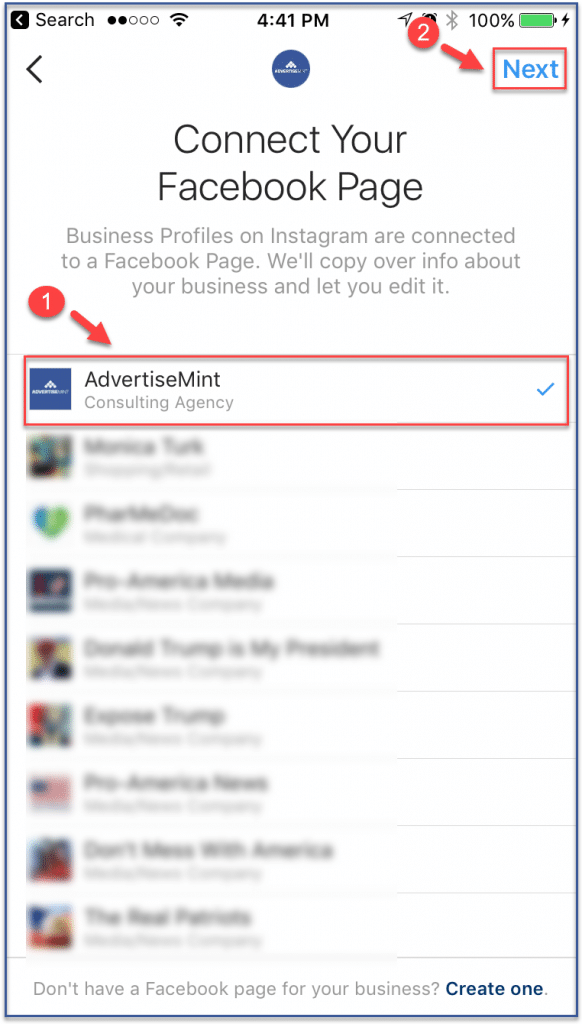 7. Confirm or edit imported information
Instagram will import your business information from your Facebook business page into your Instagram account. You can edit the information or, if the information is correct, continue to the next step by clicking "Done."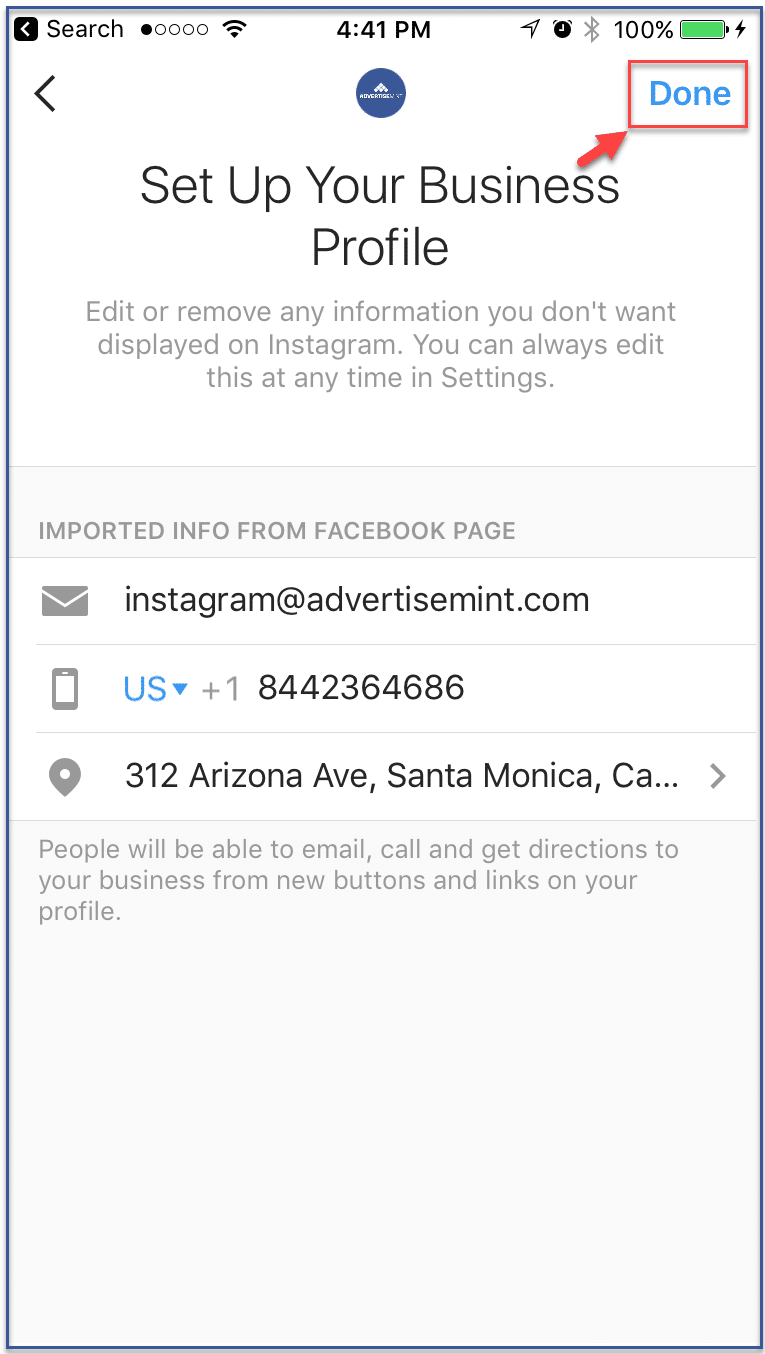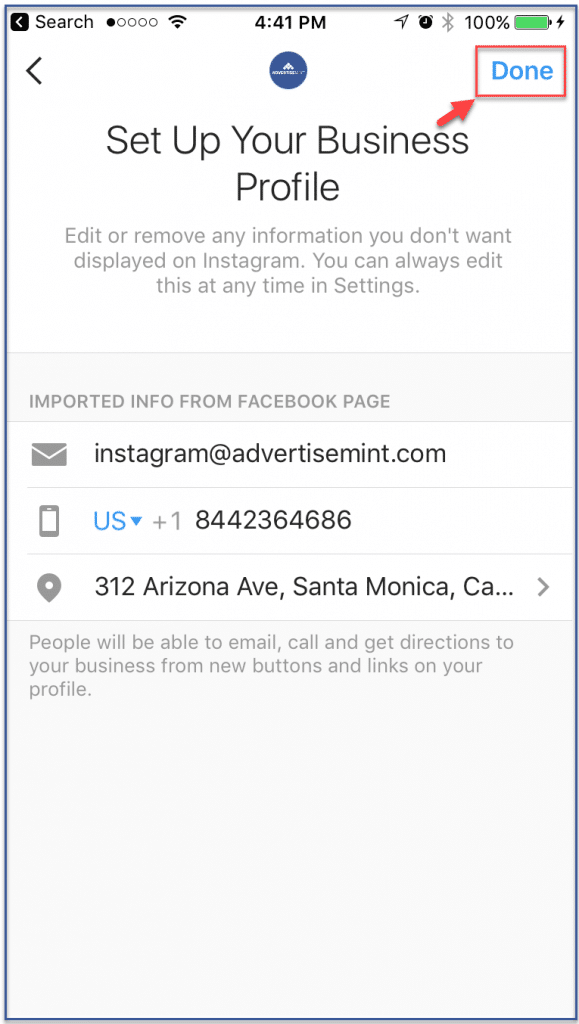 8. You're done!
To finish and return to your Instagram account, click "Continue."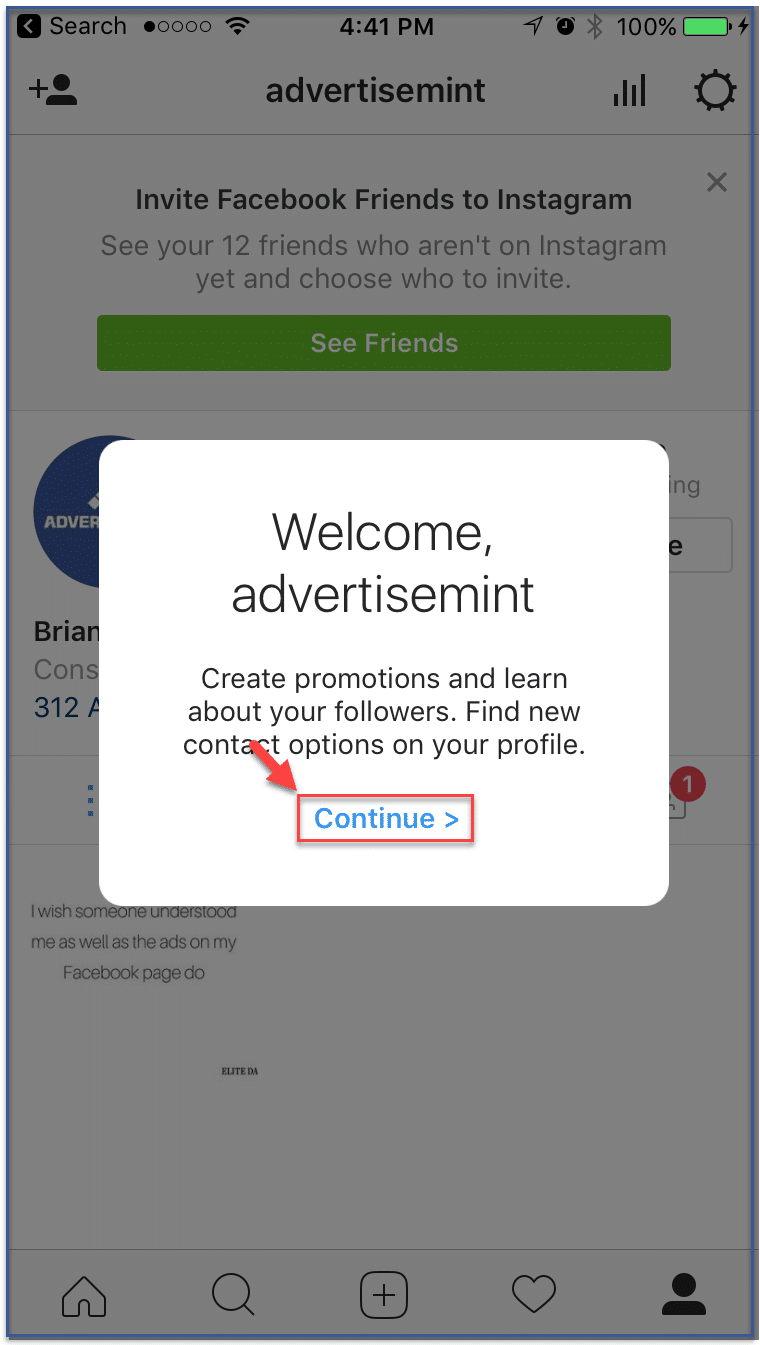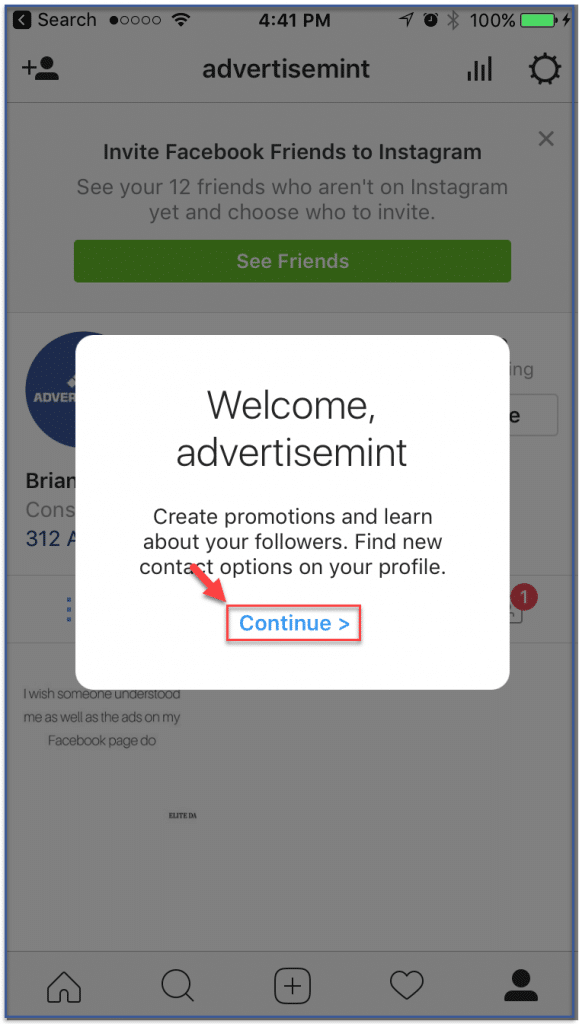 Advantages of converting an Instagram account into a Business account.
Converting an Instagram account into a business account is a strategic move that offers many advantages, enabling you to harness the full potential of this popular platform for brand growth and engagement. Let's explore the compelling benefits that come with making this transition:
1. Access to Insights and Analytics: Converting to a business account grants you access to Instagram Insights, a powerful analytics tool that provides valuable data about your audience's demographics, behaviors, and preferences. These insights allow you to tailor your content strategy, posting schedule, and engagement approach to effectively resonate with your target audience.
2. Contact Information Visibility: With a business account, you can prominently display essential contact information, including phone numbers, email, and addresses making it easier for the targeted audience to reach out and inquire about your products or services. This seamless communication enhances your brand's accessibility and fosters trust.
3. Instagram Shopping: For e-commerce businesses, the Instagram Shopping feature becomes accessible, allowing you to tag products directly in your posts and stories. This feature streamlines the purchase process for your audience, driving direct sales and enhancing the overall user experience.
4. Promote Posts and Advertisements: Converting to a business account unlocks the ability to promote your posts and create targeted advertisements. You can target potential customers based on factors like location, interests, and behaviors, ensuring that your ads reach those most likely to engage with your brand.
5. Enhanced Visibility and Discoverability: Business accounts have the advantage of a more professional appearance, which can enhance your brand's credibility and attract a wider audience. Moreover, business accounts are eligible to appear in the Instagram Explore section, increasing your chances of being discovered by consumers interested in your niche.
6. Actionable Insights for Content Strategy: Instagram Insights provide detailed data on how your posts perform, including reach, engagement, and interactions. This information empowers you to refine your content strategy, focusing on the types of posts and topics that resonate most with your followers.
7. Call-to-Action Buttons: Business accounts feature customizable call-to-action buttons, such as "Contact," "Book Now," or "Shop Now," allowing you to guide your audience toward specific actions that align with your business goals.
8. Story Links and Swipe-Up Feature: Once you reach 10,000 followers, you unlock the coveted swipe-up feature in Instagram Stories. This enables you to link directly to external websites, blog posts, or landing pages, driving traffic and conversions.
9. Ad Tracking and Conversion Measurement: Business accounts offer advanced tracking and conversion measurement tools for advertisers. You can monitor the performance of your ads, track click-through rates, and measure the ROI of your advertising campaigns.
10. Credibility and Professionalism: A business account lends an air of professionalism to your profile, signaling to potential customers that you are a legitimate entity focused on providing value. This credibility can determine whether a user chooses to engage with your content and explore your offerings.
Statistical facts for business account.
There are over 200 million business accounts on Instagram.

Business accounts generate 90% of engagement on Instagram.

71% of Instagram users follow at least one business account.

40% of Instagram users have made a purchase after seeing an ad on the platform.
Conclusion
Moving to an Instagram business account is a strategic move that opens doors to enhanced visibility, engagement, and growth. Armed with this step-by-step guide, you can seamlessly transition and unlock a business account's full potential.
By understanding the importance of a business account, preparing your profile for conversion, following the step-by-step process, utilizing business account features, and optimizing your content and engagement, you're poised to thrive in the ever-expanding digital landscape. Make the shift today and embark on a journey of expanded opportunities and brand excellence.
FAQs
Why should I consider converting my personal Instagram account into a business account?
Converting to a business account offers several advantages, including access to Instagram Insights, contact information visibility, and the ability to run ads and promotions. These features empower you to enhance your brand's visibility, engage with your audience more effectively, and gather valuable data for informed marketing decisions.
Will converting to a business account change the way I use Instagram?
Converting to a business account won't drastically alter your Instagram experience. You'll still be able to post photos, engage with your followers, and use Instagram Stories. The main difference lies in a business account's added features and insights.
Can I switch back to a personal account if I don't find the business account features beneficial?
Yes, you can switch between a business account and a personal account anytime. If you find that the business account features aren't meeting your needs, you can easily revert to a personal account.
What kind of information will I need to provide when converting to a business account?
When converting to a business account, you must choose a relevant business category, provide contact information such as email and phone number, and possibly link your account to a Facebook page. This information helps users connect with your brand and enhances your profile's professionalism.
Will my existing followers be notified when I convert to a business account?
No, your existing followers will not be notified when converting your account to a business one. The process is seamless and doesn't generate notifications to your followers. They will continue to see your posts as usual.
Was this How-To article helpful? Leave your comments below or share to friends!