Did you know that Facebook has a Business Manager account which allows businesses to manage, control, and share their add accounts, pages, and other assets in one page? Business Manager makes running a business organized and easy.
What is Facebook Business Manager?
Facebook Business Manager is a sophisticated platform that serves as a central control hub for managing various aspects of your business's presence on the social media giant.
By seamlessly connecting Pages, ad accounts, and other assets, Business Manager empowers you to orchestrate your digital strategies with precision. Through a user-friendly interface, it facilitates collaboration among team members by assigning distinct roles and permissions.
Moreover, Business Manager enhances security by separating personal and business activities. In essence, Business Manager is the essential toolkit that transforms Facebook management into a seamless, organized, and results-driven experience.
Why use Business Manager?
Utilizing Facebook Business Manager is a strategic imperative for businesses aiming to harness the full potential of their digital marketing endeavors.
By centralizing various aspects – from Pages and ad accounts to team collaborations – Business Manager fosters an environment of streamlined efficiency. Through its intuitive interface, businesses can seamlessly manage permissions, allocate responsibilities, and gain insights into campaign performance.
Furthermore, the platform's robust security measures ensure that sensitive data remains safeguarded. In addition, Business Manager facilitates seamless coordination among team members, promoting enhanced collaboration and data-driven decision-making.
With its versatile tools, businesses can tailor their ad campaigns, optimize targeting, and refine strategies with precision.
In a digital landscape where organization, security, and collaboration are paramount, Facebook Business Manager stands as the definitive solution that empowers businesses to navigate the complexities of social media marketing with confidence and success.
How to Create a Facebook Business Manager Account
Creating an account is fast and simple. Follow the steps below to start a Business Manager account.
Step 1: Create account
Go to business.facebook.com. Click "Create Account"

Step 2: Add business name
Type in your business name then click "Continue"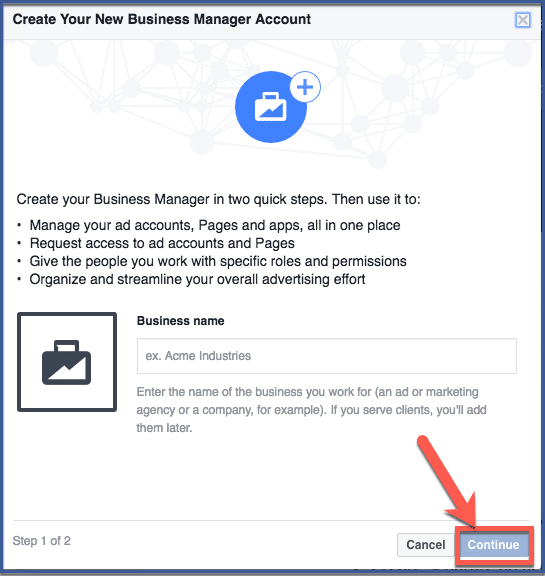 Step 3: Create your profile
Fill in the required information to create your profile. Put in your first name, last name, then your business email. Afterward, click "Finish"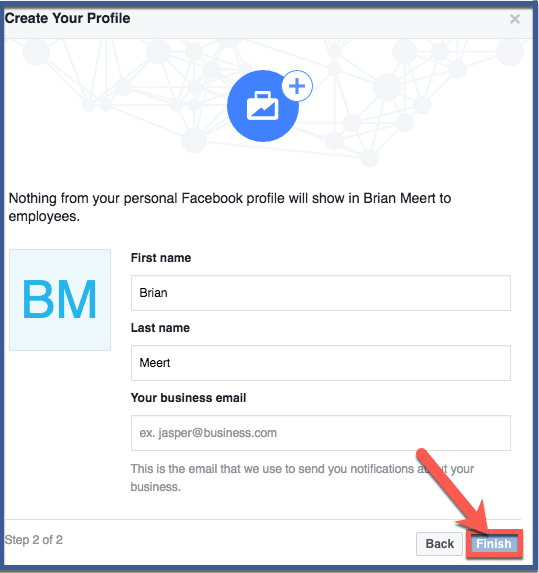 Step 4: You're done!
Congratulations! You've started your own Business Manager account!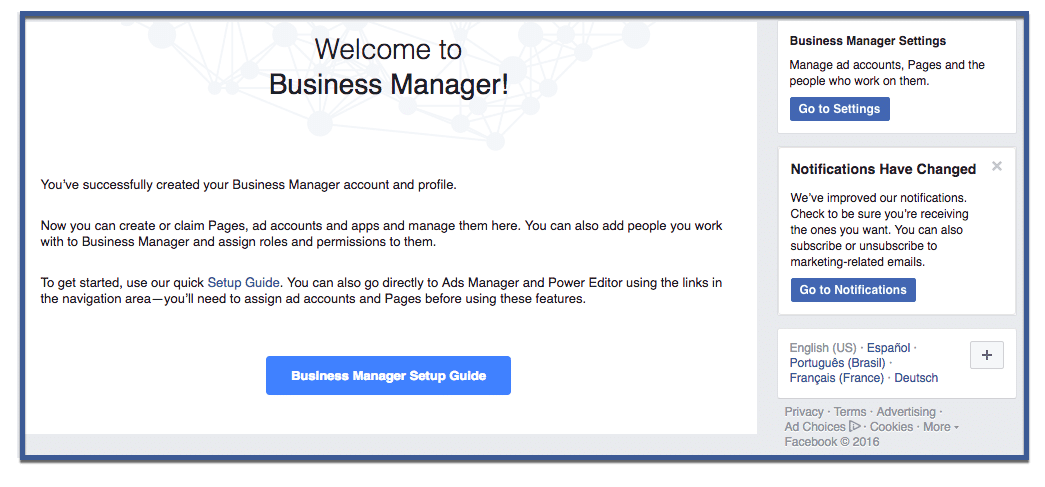 What to Do After Creating a Facebook Business Manager Account?
Here's a comprehensive guide on what to do next to make the most out of your new Business Manager account:
Add Your Facebook Page:

 The heart of your online presence, your Facebook Page, is a vital asset. Navigate to Business Settings > Pages and click on the "+ Add" button to link your existing Page. This allows you to manage your Page's content, engage with your audience, and access valuable insights within Business Manager.

Integrate Ad Accounts:

 To unlock the full potential of Facebook advertising, integrate your ad accounts. Head to Business Settings > Ad Accounts and select "Add an Ad Account." You can either enter the ad account ID or request access to an existing account. This integration streamlines ad creation, monitoring, and reporting.

Invite Team Members:

 Collaboration is key, and Business Manager facilitates seamless teamwork. Go to Business Settings > People and invite team members using their email addresses. Assign specific roles based on responsibilities, whether it's admin, editor, analyst, or employee. This ensures controlled access and efficient collaboration.

Explore Analytics and Insights:

 Leverage Business Manager's analytics tools to gain valuable insights into your campaigns' performance. Navigate to the "Analytics" section to access data on ad engagement, audience demographics, and more. These insights empower data-driven decision-making for future campaigns.

Organize with Projects:

 For larger organizations or multiple brands, Projects within Business Manager provide an organized framework. Create Projects to group related Pages, ad accounts, and team members together, simplifying management and enhancing clarity.

Set Up Billing and Payments:

 If you plan to run paid ads, navigate to the "Billing" section within Business Manager. Here, you can set up payment methods, manage budgets, and ensure a smooth financial workflow for your campaigns.

Utilize Business Tools:

 Business Manager offers a range of additional tools to enhance your marketing efforts. Explore features like Events Manager, which allows you to track and measure conversions from your ads, and Catalog Manager, which is crucial for e-commerce businesses.

Stay Updated with Notifications:

 Regularly check the Notifications Center within Business Manager to stay informed about important updates, changes in permissions, or requests from team members.

Familiarize Yourself with Resources:

 Facebook provides comprehensive resources, guides, and support for Business Manager users. Explore the Help Center and Blueprint e-learning platform to deepen your understanding and make the most of the platform.

Monitor and Adjust:

 Business Manager is a dynamic tool that should evolve alongside your business goals. Regularly monitor campaign performance, review access permissions, and adjust strategies based on insights to ensure optimal results.
Tips for Creating a Facebook Business Manager Account
Here are some tips for creating a Facebook Business Manager Account:
Use a professional email address:

 This will help to legitimize your account and make it easier to work with other businesses.

Use a strong password:

 Your Business Manager account is a valuable resource, so it's important to protect it with a strong password.

Add trusted users to your Business Manager account:

 You can add other people to your Business Manager account so that they can help you manage your ads.

Keep your Business Manager account up to date:

 Make sure to update your contact information and billing information regularly.

Use the right tools:

 There are a number of tools that can help you manage your Facebook Business Manager account more effectively. These tools can help you track your results, manage your budget, and collaborate with others.
Some facts about Business Manager
There are over 100 million active Facebook Business Manager accounts.

Businesses that use Facebook Business Manager generate 2X more leads than businesses that don't.

Facebook Business Manager users spend an average of 90 minutes per month on the platform.

The most popular features of Facebook Business Manager are the Ads Manager, the Business Manager Insights page, and the Page Insights page.

Facebook Business Manager is available in over 100 language
Conclusion
In conclusion, creating a Facebook Business Manager account is an essential step towards optimizing your digital marketing efforts. This centralized platform empowers you to efficiently manage Pages, ad accounts, and collaborations while maintaining a secure and organized workflow.
By following the step-by-step process outlined here and leveraging the tips provided, you'll be equipped to harness the full potential of Business Manager. Business Manager is your gateway to a strategic and effective online presence, from enhancing team collaboration to gaining valuable insights and streamlining ad campaigns.
Take charge of your marketing endeavors confidently, and unlock opportunities for your business's growth and success.
FAQs
What is a Business Manager Account?
A Business Manager Account is a tool that helps businesses manage their Facebook presence and advertising. It allows businesses to create and manage multiple Facebook Pages, ad accounts, and events in one place.
Why do I need a Business Manager Account?
There are many benefits to using a Business Manager Account, including:
Centralized management:

 Businesses can add all of their Facebook assets to a single Business Manager Account, making it easy to manage all of their Facebook activity in one place.

Security:

 Business Manager Accounts require two-factor authentication, which helps to keep businesses' Facebook assets secure. Businesses can also control who has access to their Business Manager Account, which helps to prevent unauthorized access.

Collaboration:

 Business Manager makes it easy for businesses to collaborate with others on their Facebook marketing campaigns. Businesses can invite other people to their Business Manager Account, and they can give those people different levels of access, such as the ability to create and manage ads, or simply view reports.
How to create a Business Manager Account?
To create a Business Manager Account, you can follow these steps:
Go to the Facebook 

Business Manager

 website.

Click on the "Create Account" button.

Enter your name, email address, and password.

Select the country where your business is located.

5. Click on the "Create Account" button.
What information do I need to create a Business Manager Account?
To create a Business Manager Account, you will need to provide the following information:
Your name

Your email address

Your password

The country where your business is located

The name of your business

The type of business you have
Can I create a Business Manager Account for free?
Yes, you can create a Business Manager Account for free. There are no monthly fees or hidden costs.