Creating a Facebook event is an easy and convenient way for businesses to organize a private or public event, from birthday parties to fundraisers to workshops. On Facebook you can easily track attendance, create polls, and update guests. Starting your own Facebook event is fast and easy. Simply follow the instructions below.
Start Your Facebook Event
Go to your news feed at facebook.com and click "Create Event".
Choose to create a public or private event.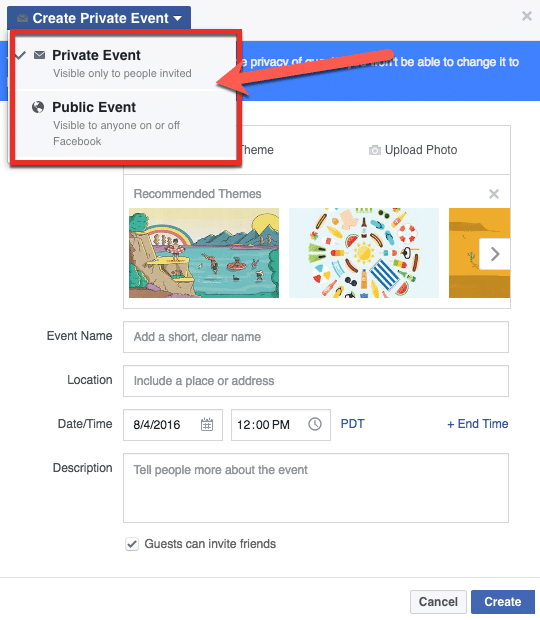 Fill in required information then click "Create".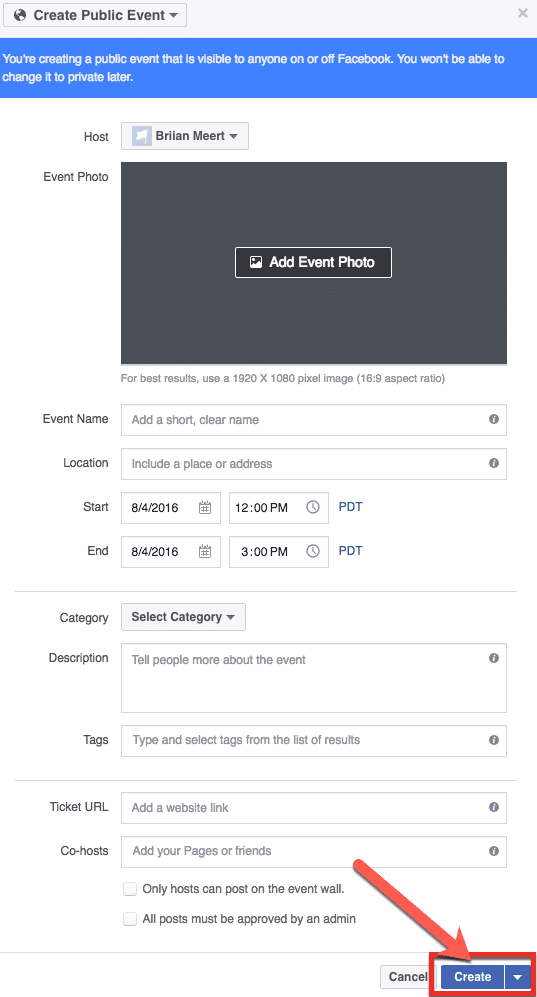 Congratulations! You have created your own Facebook event.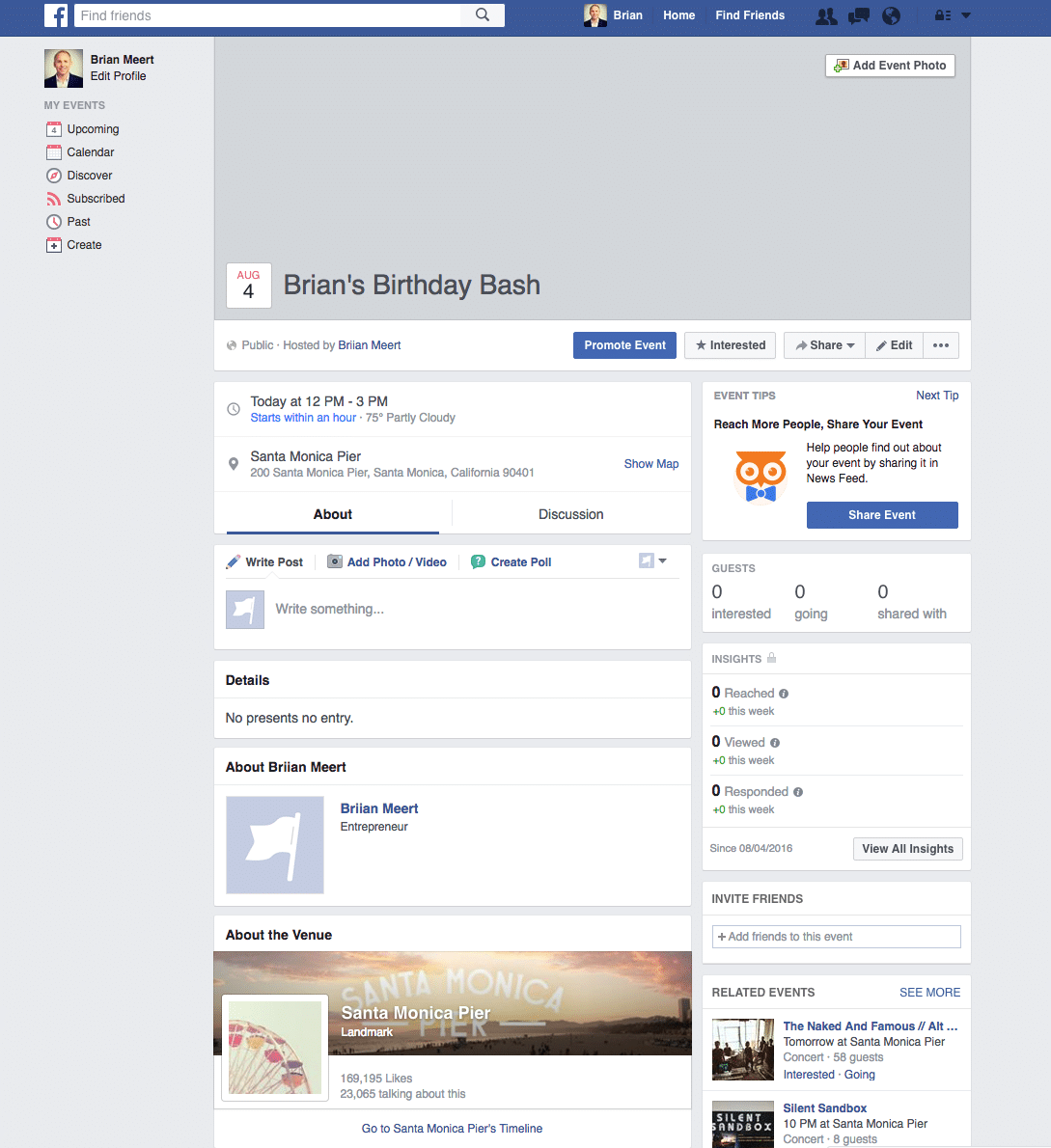 Why create a Facebook event?
Creating a Facebook event offers a multitude of benefits that can significantly enhance your event's reach and impact.
Reach a large audience.

 Facebook has over 2.95 billion active users, so your event can potentially reach a large audience.

Get people excited about your event.

 A well-promoted Facebook event can generate excitement and anticipation among your audience. This will make them more likely to attend your event. According to a study by Social Media Examiner, 83% of event marketers said that Facebook was their most effective social media platform for event promotion. 

Build relationships with your audience.

 Facebook events are a great way to connect with your audience personally. This can help you build relationships and trust with your audience.

Generate leads.

 Facebook events can be a great way to generate leads for your business. You can collect contact information from attendees at your event, which you can then use to follow up with them and nurture them into customers. Events with a Facebook page generated 2.8 times more leads than events without a Facebook page.
Best practices for creating successful Facebook Events
Choose a catchy event name and description.
Your event name should be clear and concise, and it should accurately reflect the purpose of the event. Your event description should be more detailed and should provide all the necessary information, such as the date, time, location, and what attendees can expect.
Set a specific date and time for the event.
When choosing a date and time for your event, ensure it is convenient for your target audience. You should also avoid scheduling your event during major holidays or other events that may compete for your audience's attention.
Choose a relevant location for the event. 
The location of your event should be convenient for your target audience and appropriate for the event's purpose. For example, if you are hosting a business networking event, you would want to choose a business-friendly location.
Promote the event on your Facebook Page and other social media channels.
Once you have created your event, you need to promote it to your target audience. You can do this by sharing the event on your Facebook Page, as well as on other social media channels, such as Instagram, LinkedIn and Twitter. You can also encourage your friends and colleagues to share the event with their networks.
Encourage people to RSVP to the event. 
RSVPs will help you gauge how many people are interested in attending your event and help you plan accordingly. You can encourage people to RSVP by adding a "RSVP" button to your event page.
Follow up with people who RSVP to the event. 
After people RSVP to your event, you should follow up with them to confirm their attendance and to provide any additional information they may need. You can also use this opportunity to answer any questions they may have about the event.
Types of Facebook Events
Facebook offers several types of events to cater to various purposes and gatherings:
1. Public Event: This event is visible to anyone on or off Facebook. Anyone can see the event details, invite friends, and RSVP. It's a great choice for large gatherings, concerts, and community events.
2. Private Event: A private event is visible only to the invited people. It's ideal for smaller gatherings, such as private parties or family gatherings, where you want to maintain a degree of exclusivity.
3. Online Event: This event is designed for virtual gatherings, such as webinars, live streams, or online workshops. Attendees can participate from anywhere, and the event can be promoted to a global audience.
4. Only Invited: With this option, only invited guests can see the event details and join. It's useful for events where you want to restrict access to a specific group of people, like closed workshops or training sessions.
5. Recurring Event: If you're hosting an event that happens regularly, such as weekly classes or monthly meetups, you can create a recurring event. This saves you time by automatically creating new instances of the event based on your chosen frequency.
6. Celebration: This event celebrates personal milestones such as birthdays, anniversaries, or achievements. It enables friends to share well wishes by posting on the event page.
7. Fundraiser: If you're organizing a charitable event or fundraiser, you can choose the fundraiser event type. It allows you to set a fundraising goal, share information about the cause, and collect donations directly on the event page.
8. Festival: Festival events are suitable for multi-day events with multiple activities and stages, like music festivals or cultural events. You can include schedules, lineup information, and more.
Final Words
Creating a Facebook Event opens opportunities for effectively promoting and managing your gatherings. Whether it's a personal celebration or a professional conference, Facebook's event creation feature empowers you to connect with your audience, build excitement, and ensure the success of your event.
So, don't hesitate – dive into the world of event creation on Facebook and make your upcoming gathering a resounding success.
FAQs
What is a Facebook event?
A Facebook event is a way to create and promote an event on Facebook. Events can be used to promote a business, product, service, or even just a social gathering. They can also be used to connect with your audience, build relationships, and generate leads.
Can I invite friends to my Facebook event?
Yes, you can invite friends to your Facebook event by clicking the "Invite" button on the event page. You can select specific friends or invite your entire friends list. You can also invite friends of friends, groups, and pages. Invited guests will receive notifications and can RSVP to the event.
How do I promote my Facebook event?
To promote your Facebook event, share it on your timeline, groups you're a part of, and relevant pages you manage. You can also share the event link on other social media platforms, email newsletters, and websites. Regularly post updates, teasers, and reminders on the event page to keep the audience engaged.
Can I track RSVPs and engagement for my event?
Yes, Facebook provides insights for your event through the "Insights" tab on the event page. You can track the number of people who have seen the event, marked themselves as "Interested" or "Going," and engaged with your event posts. This data helps you gauge the event's success and tailor your promotion efforts accordingly.
Can I edit or update my Facebook event after creating it?
Yes, you can edit your Facebook event even after it's created. Simply go to the event page and click the three dots (ellipsis) button. From there, select "Edit Event" to make changes to event details, cover photo, description, and more. Keep in mind that updates may trigger notifications to attendees, so it's best to make major changes well in advance.