Workplace is the business-oriented version of Facebook that companies like our Facebook ads agency can use to connect and communicate with employees. Like Facebook, it contains Live Video, News Feed, Groups, Messenger, Reactions, Search, and Trending Posts. However, unlike Facebook, Workplace has:
Analytics and Integrations: a dashboard with analytics, integration, single sign-on, and identity providers that companies use to integrate Workplace with their existing IT systems.
Multi-Company Groups: shared spaces in which employees from different organizations can work together and collaborate.
With Facebook's release of Workplace to the public, co-workers even here at Advertisemint can easily connect, collaborate, and work with one another no matter the space and distance. This is great news for any Facebook marketing company.
Note: to join Workplace, your company must have an account with Workplace. Account access must be granted by Workplace after submitting an application to workplace.fb.com.
If you're an employee of a company that has a Workplace account and you want access to Workplace, follow the steps below.
Step 1: Click "Join Your Team"
If you received an email from your employer inviting you to join Workplace, click the button that says "Join Your Team." If you haven't received an email invite from your employer, make sure to ask for one.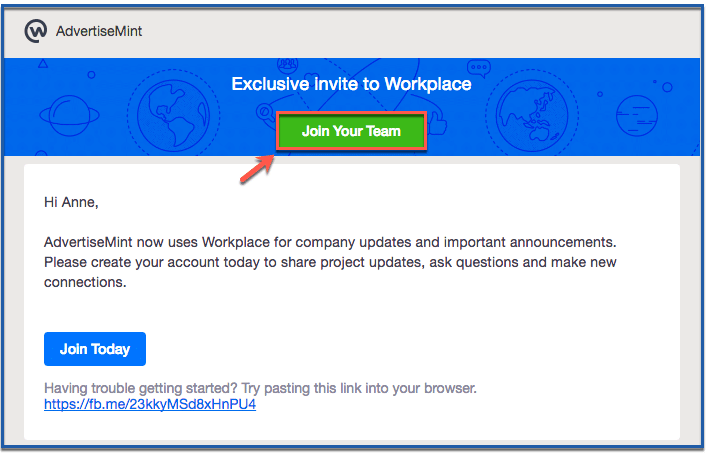 Step 2: Click "Get Started"
Click "Get Started."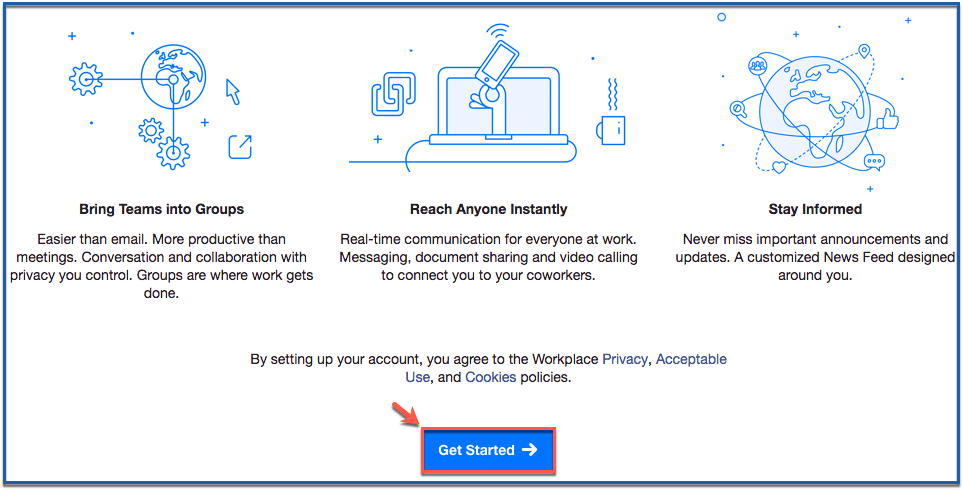 Step 3: Fill in form and click "Preview Profile"
Fill in the form with your information and click "Preview Profile" to see what your profile looks like.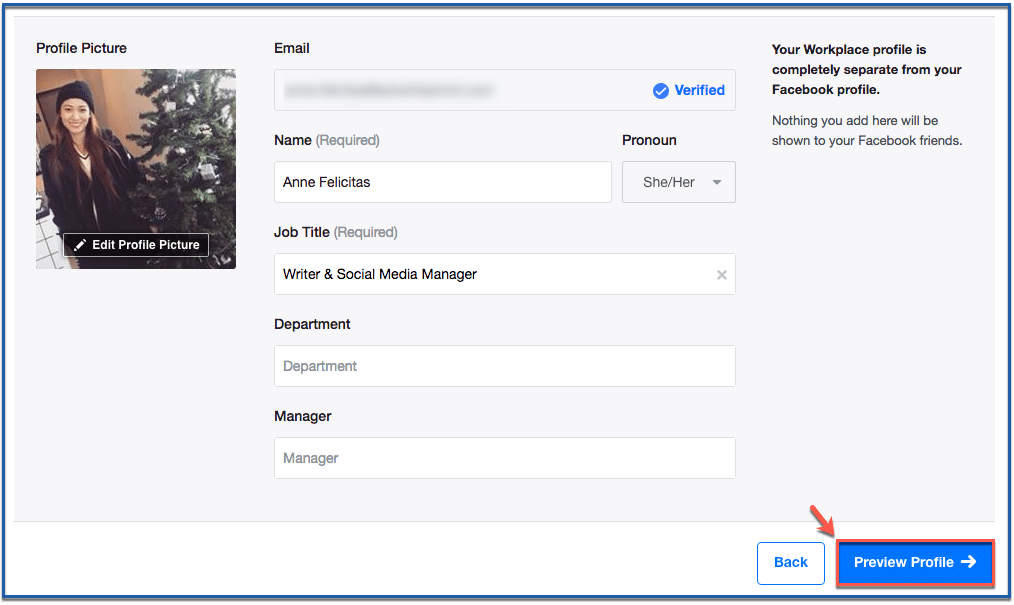 Step 4: Create Password and click "Find Your Team"
Create a password then click "Find Your Team" to continue.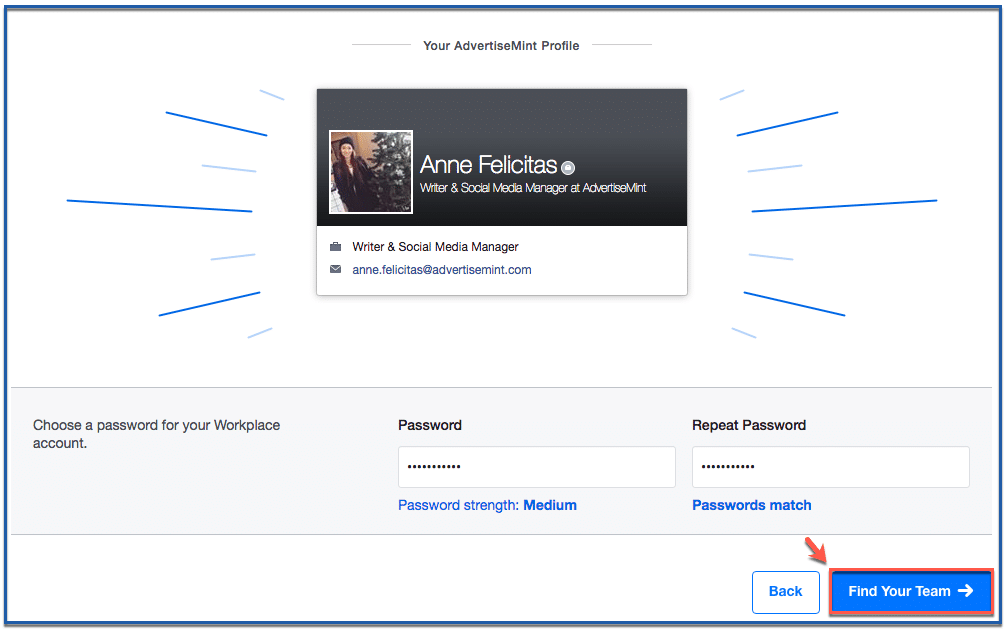 Step 5: Join group and go to news feed
Pick a group you want to join then click "Go to News Feed."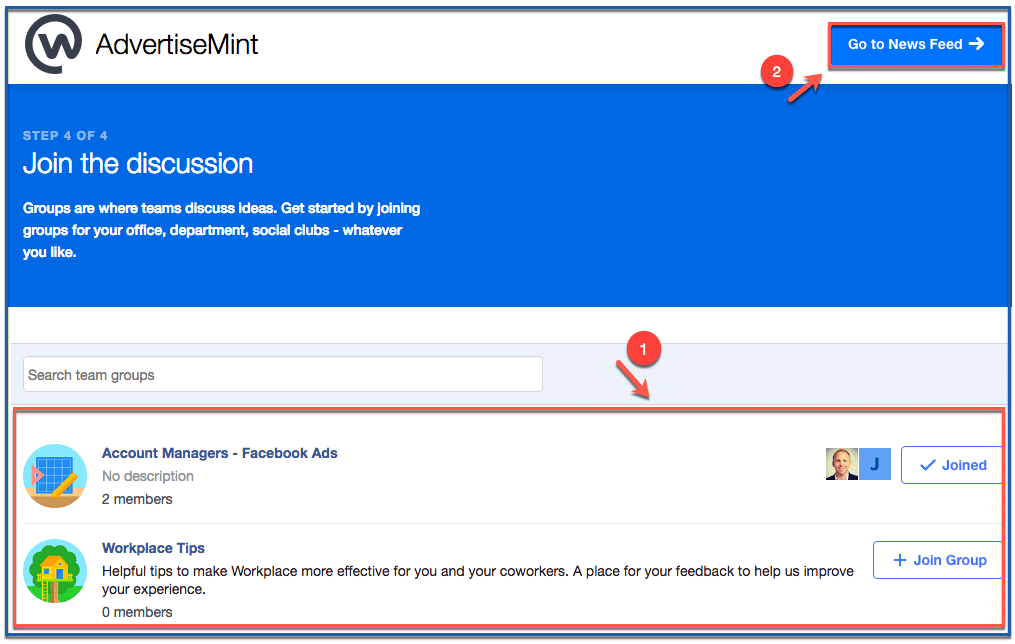 Step 6: You're done!
Congrats! You're now a member of Workplace. Remember that Workplace looks and functions like Facebook. If you know how to navigate Facebook, you know how to navigate Workplace.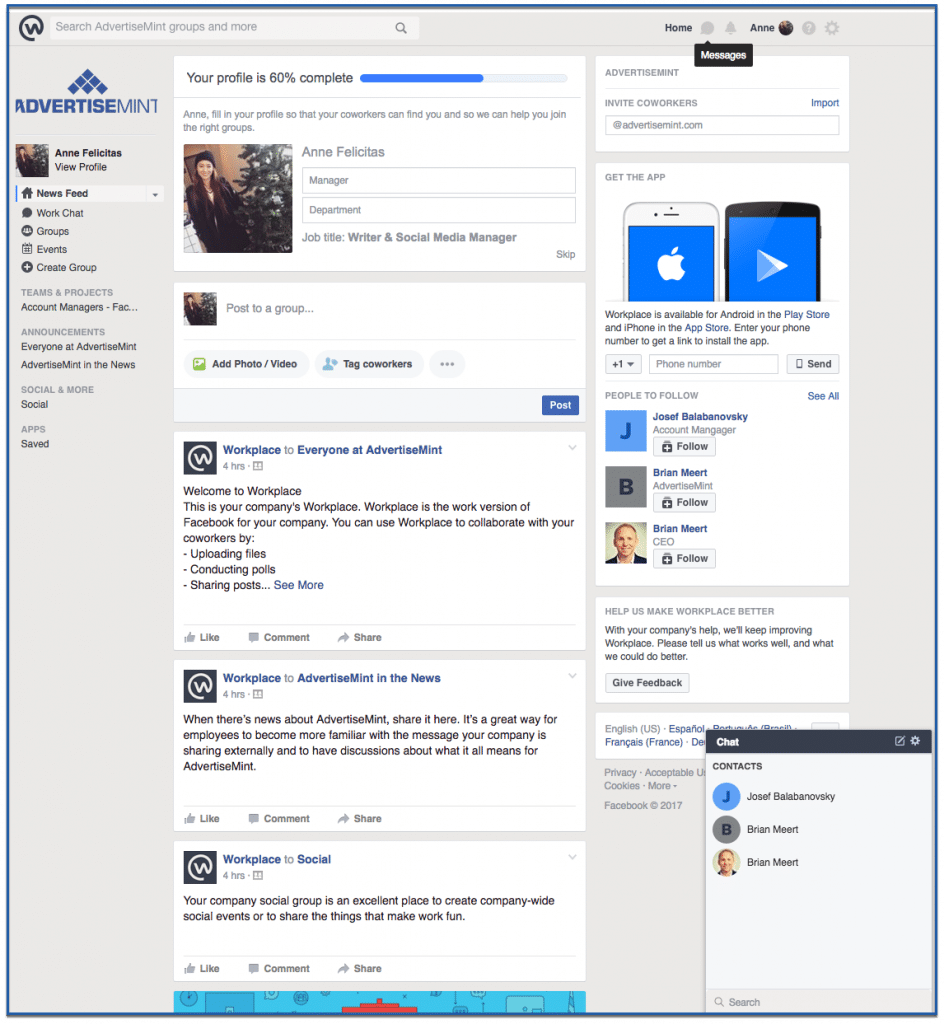 Navigating the Workplace Dashboard
Once you've successfully registered, you will explore the Workplace dashboard. Let's take a tour of the key features:
Dashboard Overview:

 The dashboard is your central hub for communication and collaboration. It includes features such as News Feed, Groups, and Chat.

Customizing Preferences:

 Customize your dashboard preferences to suit your needs. Adjust notification settings, language preferences, and privacy settings to ensure a personalized experience.
Exploring Groups and Collaborating
One of the core strengths of Facebook Workplace is its ability to bring teams together through Groups. Here's how you can leverage this feature:
Joining Groups:

 Explore the various Groups available within Workplace and join those that are relevant to your role, projects, or interests.

Group Collaboration:

 Within Groups, you can post updates, share files, and engage in discussions. Collaboration becomes seamless as you contribute to conversations and stay updated on significant developments.
Connecting with Colleagues
Connecting with colleagues on Facebook Workplace enhances networking and information-sharing:
Adding Colleagues:

 Use the search function to find and add colleagues to your network. Building connections enable you to stay in touch and collaborate more effectively.

Direct Messaging:

 Use Workplace's direct messaging feature to initiate private conversations with colleagues. This is particularly useful for one-on-one discussions and quick exchanges.
Participating in Events and Live Broadcasts
Stay engaged and informed by participating in events and live broadcasts organized by your organization:
Event Participation:

 Join events and webinars organized within the Workplace. These sessions provide learning opportunities, asking questions and interacting with experts.

Engaging in Q&A:

 Make the most of live events by actively participating in Q&A sessions. Share your insights, seek clarifications, and contribute to the discussion.
Mobile Access and Notifications
Stay connected even when you're on the move:
Mobile App Installation:

 Download and install the Workplace mobile app on your smartphone. This ensures that you can access Workplace anytime, anywhere.

Managing Notifications:

 Customize your notification settings to receive updates without feeling overwhelmed. You can choose to receive notifications for mentions, messages, and group activity based on your preferences.
Troubleshooting and Support
While Workplace is designed to be user-friendly, you might encounter occasional challenges. Here's how to address them:
Common Issues:

 If you face issues with registration, login, or other functionalities, refer to the Workplace Help Center for solutions to common problems.

Contacting Support:

 If you need personalized assistance, reach out to your organization's IT support or designated Workplace administrators. They can provide guidance and resolve any technical issues you encounter.
Conclusion
Becoming a part of Facebook Workplace as an employee is a straightforward yet powerful journey towards enhanced collaboration and communication within your organization.
By following the steps outlined in this blog, you can seamlessly integrate into the Workplace community, connect with colleagues, join groups, participate in events, and contribute to meaningful discussions.
FAQs
How do I know if I'm invited to join Facebook Workplace?
Your manager will send you an invitation to join Facebook Workplace. This invitation will include a link that you can click on to create your account.
Can I use my personal Facebook account to access Workplace?
No, Facebook Workplace operates separately from personal Facebook accounts. You'll need to create a distinct Workplace account using your work email and follow the registration process outlined in your invitation.
What should I do if I encounter technical issues during registration?
If you experience technical difficulties during the registration process, refer to your organization's IT support for assistance. They can help troubleshoot common issues and ensure a smooth onboarding experience.
Are there any specific requirements for creating a Workplace profile?
When setting up your Workplace profile, ensure you provide accurate personal information, a profile picture, and select your areas of interest or expertise. This information helps colleagues connect with you and understand your role within the organization.
How can I get the most out of my Facebook Workplace experience?
To make the most of your Workplace experience, explore and join relevant groups, engage in discussions, and participate in events. Customize your notification settings to stay informed, and don't hesitate to reach out to colleagues and share your insights to foster a collaborative and productive environment.
What do you think of Workplace? Tell us here at AdvertiseMint, the #1 Facebook marketing company. Leave your comments below or share link to friends.