As a response to accusations of disseminating fake news, Facebook's CEO, Mark Zuckerberg, outlined his plan to combat fake news in a Facebook post last month. This is relevant to all, not just Facebook advertising companies. One of those strategies is currently available on Facebook, a reporting tool that allows users to flag an article as fake news.
To report fake news on Facebook, follow the steps below.
Step 1: Report the post
Click the drop down icon (shaped as an upside down cone) on the upper right corner of the post. Click "Report Post," the last option from the menu.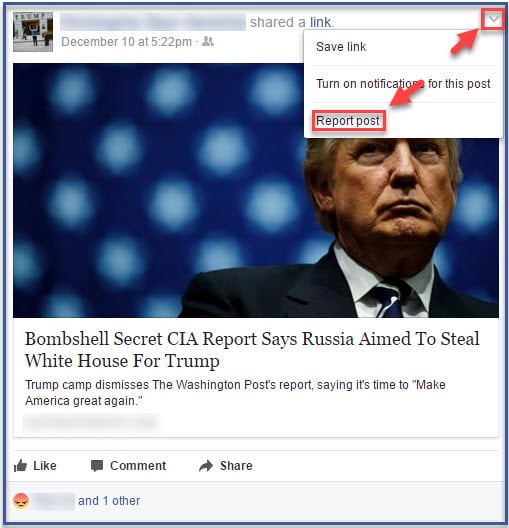 Step 2: Provide your reason to Facebook
Click "I think it shouldn't be on Facebook" then click "Continue."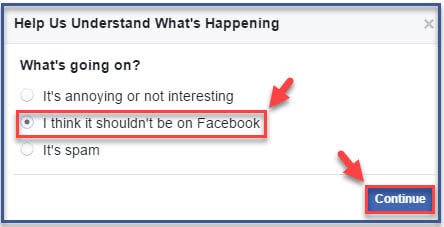 Step 3: Flag article as fake news
Click "It's a false news story" to flag content as fake news. Then click "Continue" to submit your report.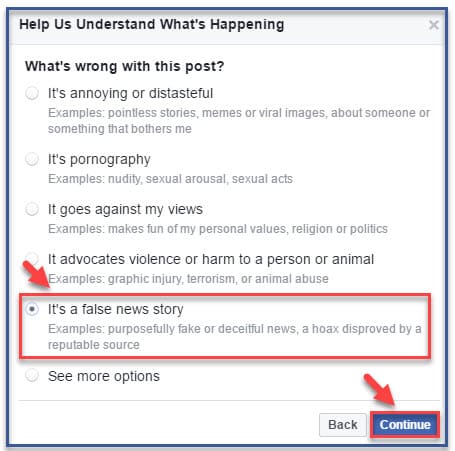 How to identify fake news on Facebook?
Identifying fake news on Facebook requires a critical and discerning approach. Here's a straightforward guide on how to spot fake news:
Check the Source: 

Look at the source of the information. Is it a reputable and well-known news organization? Be cautious of sources you've never heard of or that lack a credible online presence.

Analyze the Headline: 

Sensational or clickbait headlines are often signs of fake news. If the headline seems exaggerated or too shocking to be true, it might be worth investigating further.

Examine the URL: 

Fake news websites might have URLs that mimic well-known news sites. Check the URL for any unusual domain names or misspellings.

Cross-Reference with Reliable Sources: 

Verify the information by checking it against reliable and established news sources. If the story isn't covered by reputable news outlets, it could be fake.

Look for Credible Authors: 

Legitimate news stories are usually written by journalists with expertise in the field. If the author's credentials are unclear or they lack a credible background, be cautious.

Evaluate the Content: 

Does the content have a balanced viewpoint, or does it present a one-sided narrative? Fake news often leans heavily on opinions rather than facts.

Fact-Check Claims: 

Fact-checking websites can help verify claims made in the news. Cross-reference the information with reliable fact-checking sources to confirm its accuracy.
What happens when you report fake news on Facebook?
When you report fake news on Facebook, it is sent to a team of moderators who will review it. If the moderators determine that the news article is fake, it will be removed from Facebook. The moderators may also take other actions, such as banning the person who posted the fake news article.
Types of Fake News on Facebook
Fake news on Facebook can take various forms, each with its own intent and impact. Here are some common types of fake news that you might encounter on the platform.
1. Clickbait
Clickbait headlines lure users in with sensational or intriguing headlines that often misrepresent the content. These articles aim to generate clicks and ad revenue rather than delivering accurate information.
2. Misleading Headlines
This type of fake news presents a story with a headline that twists the facts or exaggerates the information. The headline may not match the actual content of the article.
3. Satire or Parody
Satirical content is meant to be humorous or ironic and is often mistaken for real news. While satire intends to entertain, it can sometimes be taken as factual information.
4. False Information Spread
Fake news can involve spreading false information intentionally or unintentionally. Users might share stories without verifying the accuracy of the content.
5. Manipulated Visuals
Fake news can include images or videos that are doctored or taken out of context to support a false narrative. Manipulated visuals can be highly persuasive.
6. Impersonation of Reliable Sources
Some fake news stories pretend to come from reputable news organizations, using similar logos and formatting to deceive users into believing the information is credible.
7. Conspiracy Theories
Fake news often promotes conspiracy theories that connect unrelated events or entities to create a false narrative. These stories can spread fear and mistrust.
Final Words
Although Facebook makes an effort to combat fake news, Facebook users are equally as responsible to prevent fake news from spreading on its platform. When you stumble on an article that you recognize as fake news, rather than engaging with the article, which helps it go viral, flag it as fake.
FAQs
What is fake news?
Fake news is news that is fabricated or distorted in order to deceive and manipulate readers. It is often created to promote a particular agenda or to damage the reputation of an individual or organization.
How do I identify fake news on Facebook?
Here are some tips for identifying fake news on Facebook:
Check the source:

 Is the news article from a reputable news organization? If you don't recognize the website, do a quick Google search to see if it's been mentioned in other news sources.

Look for typos and grammatical errors: 

Fake news articles often contain typos and grammatical errors. If you see an article that is riddled with errors, it's a good sign that it's not real.

Check the facts:

 Try to verify the information in the article by searching for other sources that corroborate it. If you can't find any other sources that confirm the information, it's probably not true.

Be aware of your biases: 

We all have biases, and we're more likely to believe news that confirms our existing beliefs. If you see 
What are the benefits of reporting fake news on Facebook?
Reporting fake news on Facebook helps to make the platform a more reliable source of information. When people see fake news on Facebook, they may believe it and share it with others. This can spread misinformation and sow discord. By reporting fake news, you can help to stop it from spreading.
Will Facebook notify me of the outcome after I report fake news?
Due to privacy reasons, Facebook might not provide direct updates on the outcome of reported content. However, your reports contribute to their review process, ensuring a safer online community.
5. Can I report an entire Facebook account for sharing fake news?
Yes, you can report an entire account if you believe it consistently shares fake news. Visit the account's profile, click the three dots on the cover photo, select "Find Support or Report," and choose "False News" to report the account for review.
Was this How To article helpful? Leave your comments below or share link to friends.