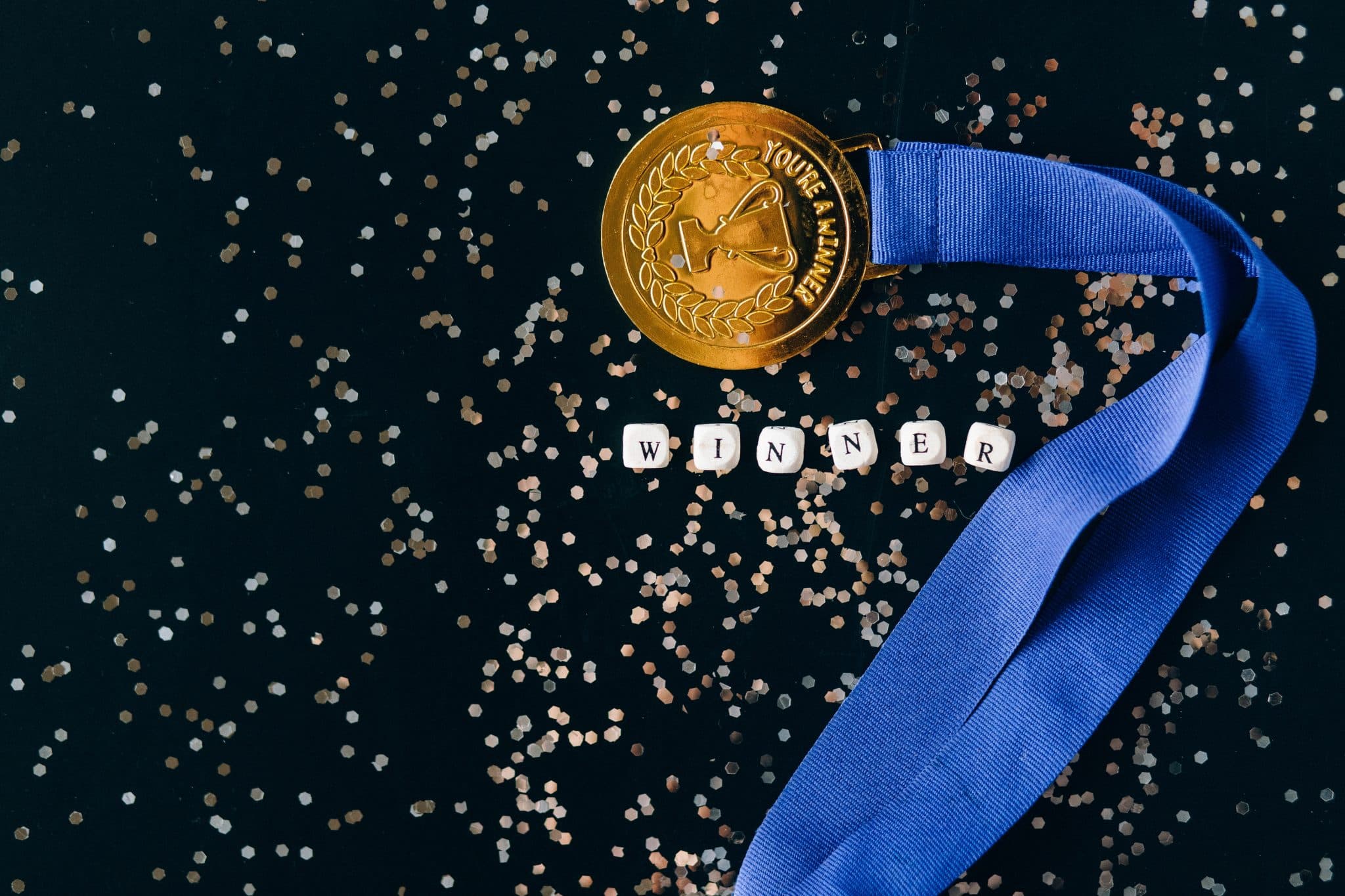 Running Facebook contests is a proven way to get likes, followers, and generate buzz around a product or brand. It's also a budget-friendly social media marketing idea, as you're in charge of choosing the budget and the prize. As an
ad company
ourselves, we love it. In this post, we're going to share nine tips on how to run a Facebook contest to help make yours a success. Keep reading, and you'll find some giveaway examples for inspiration.
1. Set Contest Goals
A Facebook contest must have a well-defined goal to help your business. If your goal is to get more followers, ask yourself  why. Why is that goal important to your business? Every time you ask yourself this question, you'll come up with a better goal. Keep going until you have one that's aligned with your business objectives. You can start with these common Facebook contest goals:
Collect 1,000  email addresses
Increase website traffic by 10%
Important thing: Make goals measurable where possible. This is done by adding a number, for example, "Get 200 new followers" instead of "Get new followers."
One Facebook contest could potentially achieve all goals we've listed above. If you decide to go for them all, try to prioritize the ones you think are the most important. 
2. Choose a Prize 
The prize for winning your Facebook contest should be exciting enough to convince your target customers to participate. Keep these things in mind when choosing a prize:
Prizes shouldn't be expensive but relevant to the target customers

. A pricey and irrelevant product might not be able to attract the right leads.

Offer custom or limited-edition products

.

People love getting unique and special prizes, so you can offer a limited edition prize or allow the winner to choose a design (color, engraving, etc.). 

Offer coaching sessions

.

B22 businesses can give away a one-on-one session with an expert, an excellent idea to building a reputation.

Consider combining several prizes in one

.

A prize package makes the contest more appealing. 
Coming up with a prize that meets these criteria is easy. If you're running a beauty store, give away a top-selling product like nail polish or makeup item. Online retail stores can give away gift cards (so the winner could pick up a prize themselves) or a personalized item like a bag or water bottle. 
3. Pick a Contest Type
A Facebook giveaway is the easiest type of contest, but not the only one. The best choice depends on your goals. For example, a photo contest might be better for increasing engagement while a caption is good for spreading brand awareness. 
Popular contest types:
Sweepstakes.

The winner is chosen by a random draw (usually via services like random.org.

Photo contests

. Ask followers to share a photo with you, either via private messages or on the brand's page. The winner is determined by the community.

Comment-to-win

. Have your followers answer a question in the comments, and the best one wins.

Caption

. The winner is the person who comes up with the funniest or most creative caption for a photo.
4. Write Contest Rules
Let potential participants know your guidelines and requirements. The best way is to write a bullet list with rules.
Keep these in mind while creating Facebook contest rules:
Entry rules

. Describe the action required to enter your contest, i.e. make a purchase, comment on a Facebook post or blog article, etc.

Publicity rights

. Require these rights to be able to announce the winner.

Deadlines

. Specify when the contest will start and end.

Laws

. Every Facebook contest must comply with all applicable federal, state, and local laws – indicate in the rules description.

Process of deciding the winner

. List the judging criteria to explain how you will decide the winner.

Prize

. Describe the contest prizes for the winner, runner-up, and other contestants, if applicable.
Facebook algorithms and policies are important to follow to make sure that your brand's contest is successful. For example, check Facebook contest rules on the Policies page – there are a few specific rules for promotions.  For example, Facebook prohibits having "share contest on your timeline" as a condition to enter. That's why "share to enter" style contests aren't recommended. 

Source: Facebook General Policies for Pages, Groups, and Events
5. Build a Contest Landing Page
A contest landing page is a web page designed to promote a contest and collect the data from participants. Brands design landing pages to collect participants' email addresses, communicate with them, and promote the contest more effectively. The pages could have different designs, from complex ones with videos to simple ones with a sign-up form. 
For example, this simple landing page with a single major element (the sign-up form), achieved a conversion rate of 19%.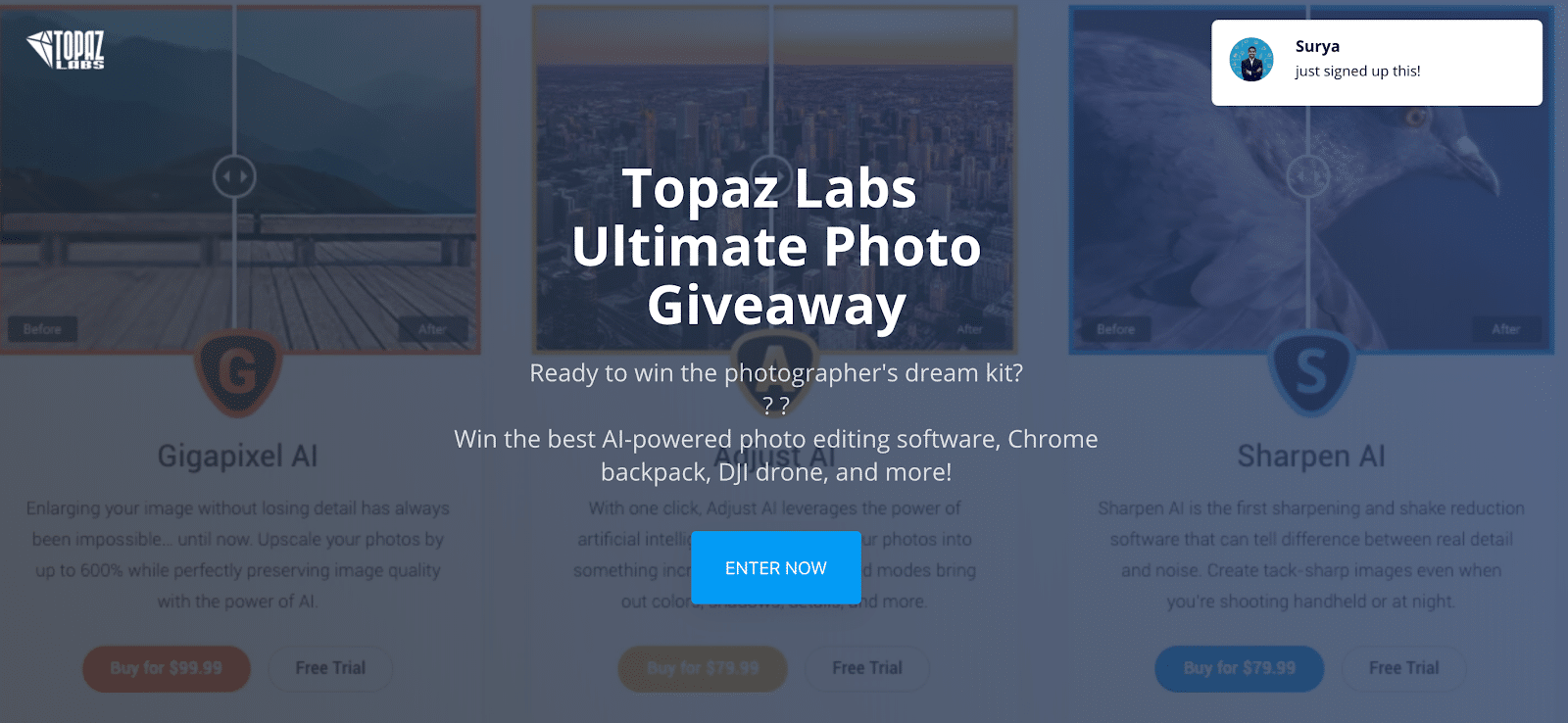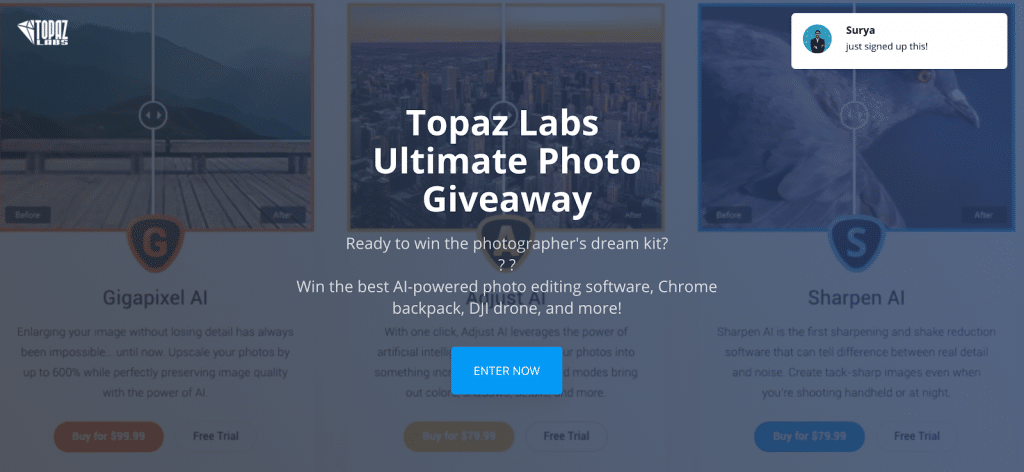 Online businesses also use many landing page techniques to encourage participation. 
One technique is using live chat.
You can answer questions about the contest in seconds, which helps reduce hesitation to enter. Adding a live chat feature to any website is simple and free, so many businesses choose this option for customer engagement. In fact, studies show that 45% of website visitors prefer live chat to other contact channels.
Another way to get valuable customer data is the A/B testing of contest landing pages. 
You might find out that a specific marketing copy generates more engagement than others. A/B testing generates 25% and 40% more leads for B2C and B2B businesses, respectively, so consider creating multiple landing page versions to find more effective marketing tactics. 
6. Publish and Promote Your Contest
The campaign to advertise your contest starts when you hit that "Post" button. Use all the channels available to you – emails, blog articles, website pop-ups, chatbots, Facebook posts, advertisements, etc. 
Write a short message announcing the contest and encourage people to participate. Wandering Bear Coffee, an online coffee store, promotes contests with emails like this one. 
To promote your Facebook contest:
Describe the main prize (or add the photo)

Make sure that promotion emails contain a link to the contest landing page (if applicable)

Encourage sharing the contest with friends –

81% of customers

trust recommendations from friends and family.
7. Communicate with Participants
A positive contest experience for every participant is an essential goal to drive engagement and leave a lasting impression. In fact, 71% of online customers who had a positive experience with brands on social media are likely to recommend them to others. 
To create a positive experience:
Engage with participants in comments

Get in touch via email, i.e,. send a thank you note to everyone who participated.
Your ultimate goal should be to contact every participant to thank them for their interest. Some online businesses even send discount codes for entering. 
8. Announce the Winner Properly
Good ways to celebrate the winner of your Facebook contest:
Write a post to congratulate them

Mention them in an email newsletter

Write a short blog post.
Try to get a "celebration photo" from the winner before announcing the results (ask them via email). It would be a great way to make an excellent announcement. 
Use friendly and positive language to write that announcement – it's a better way to communicate with customers than "legal style" ("We'd like to inform that [winner] has been selected…"). 
9. Evaluate Contest Performance
As many as 48% of marketers measure brand-related metrics – and for a good reason. 
A Facebook giveaway performance metrics, for example, can help provide more customer insights and show where you can experiment with ads and promotions.
That's why you should take a look at contest-related performance. Check audience data to see who's been most active and therefore could be targeted with future marketing campaigns. 
Facebook Giveaway Examples
Let's now check out a few examples of Facebook giveaways to see how other brands are using this tactic.
Breville: Like and Follow Contest
Breville, a company selling kitchen appliances, teamed up with other brands to give away a bunch of products. Facebook users have to like the post and each brand's page to enter. This way, the contest organizers can get more followers and increase brand awareness.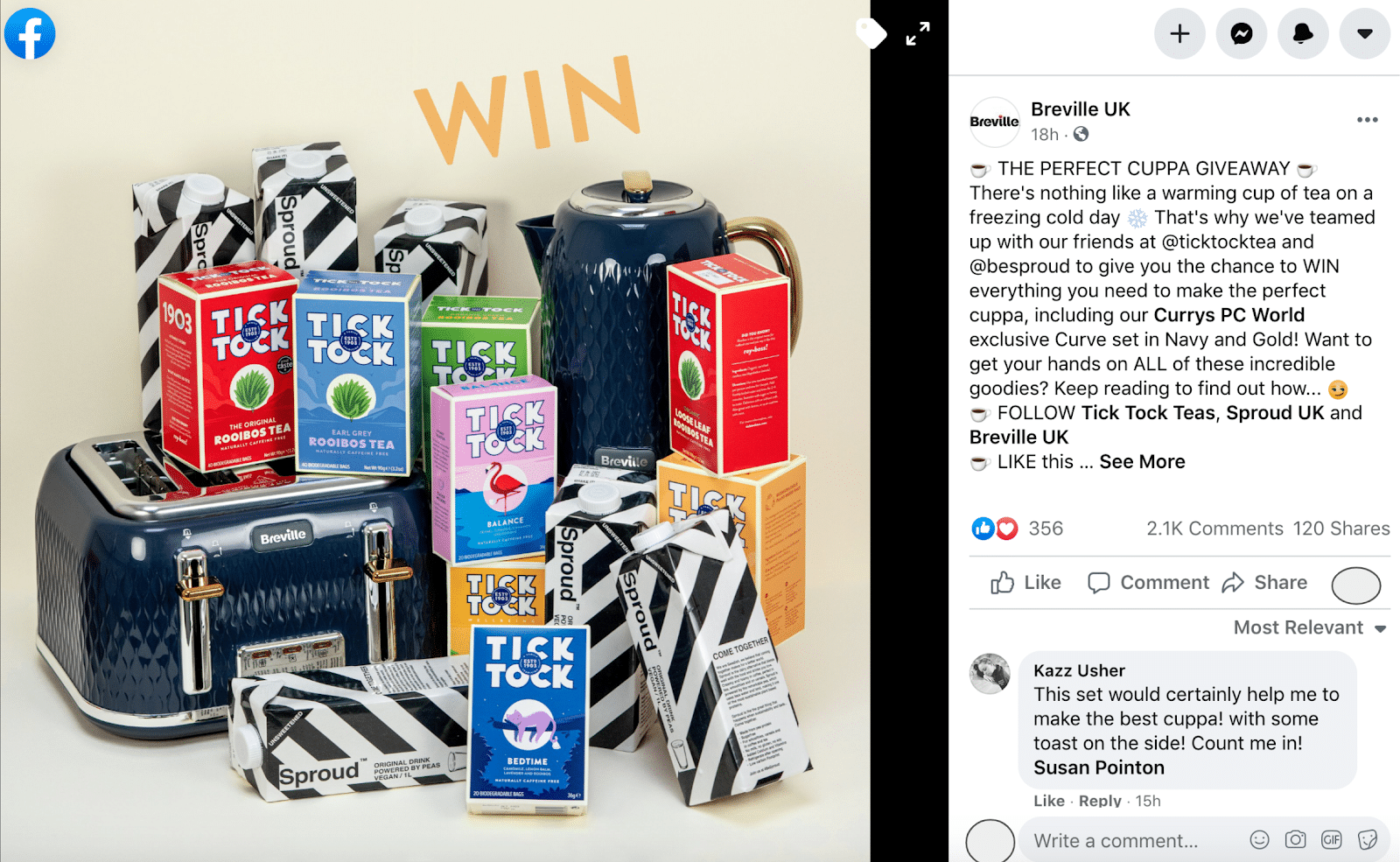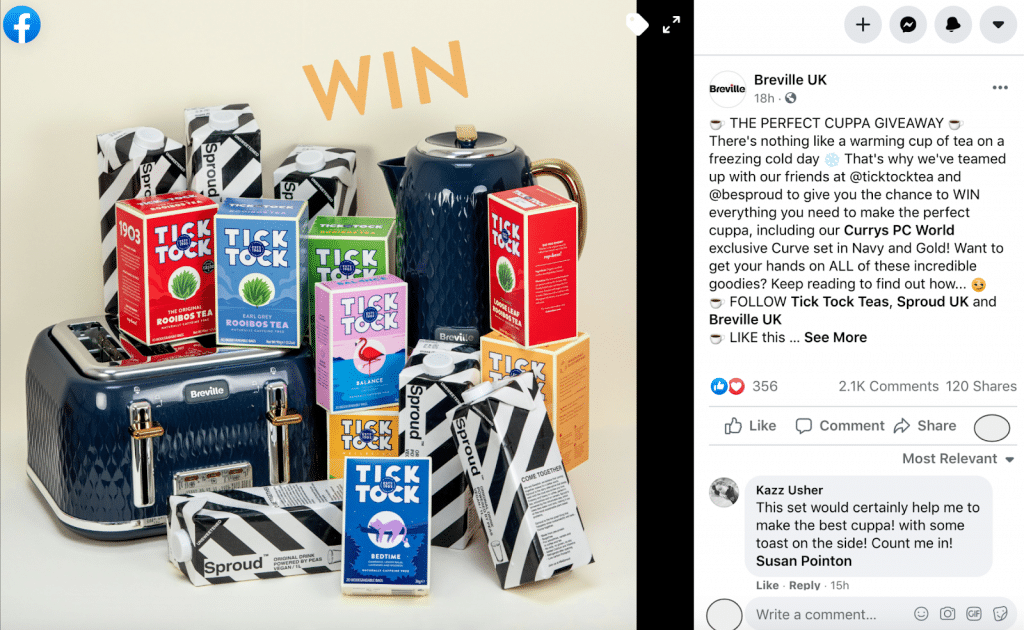 Beauty Bay: Like, Comment and Share
Beauty Bay, an online retailer that sells beauty products, gives away a generous gift: £1000 worth of products. 
There's a special requirement to have a chance to win the gift. Besides common rules such as liking and following the brand's page, Beauty Bay also wanted the participants to comments on three posts.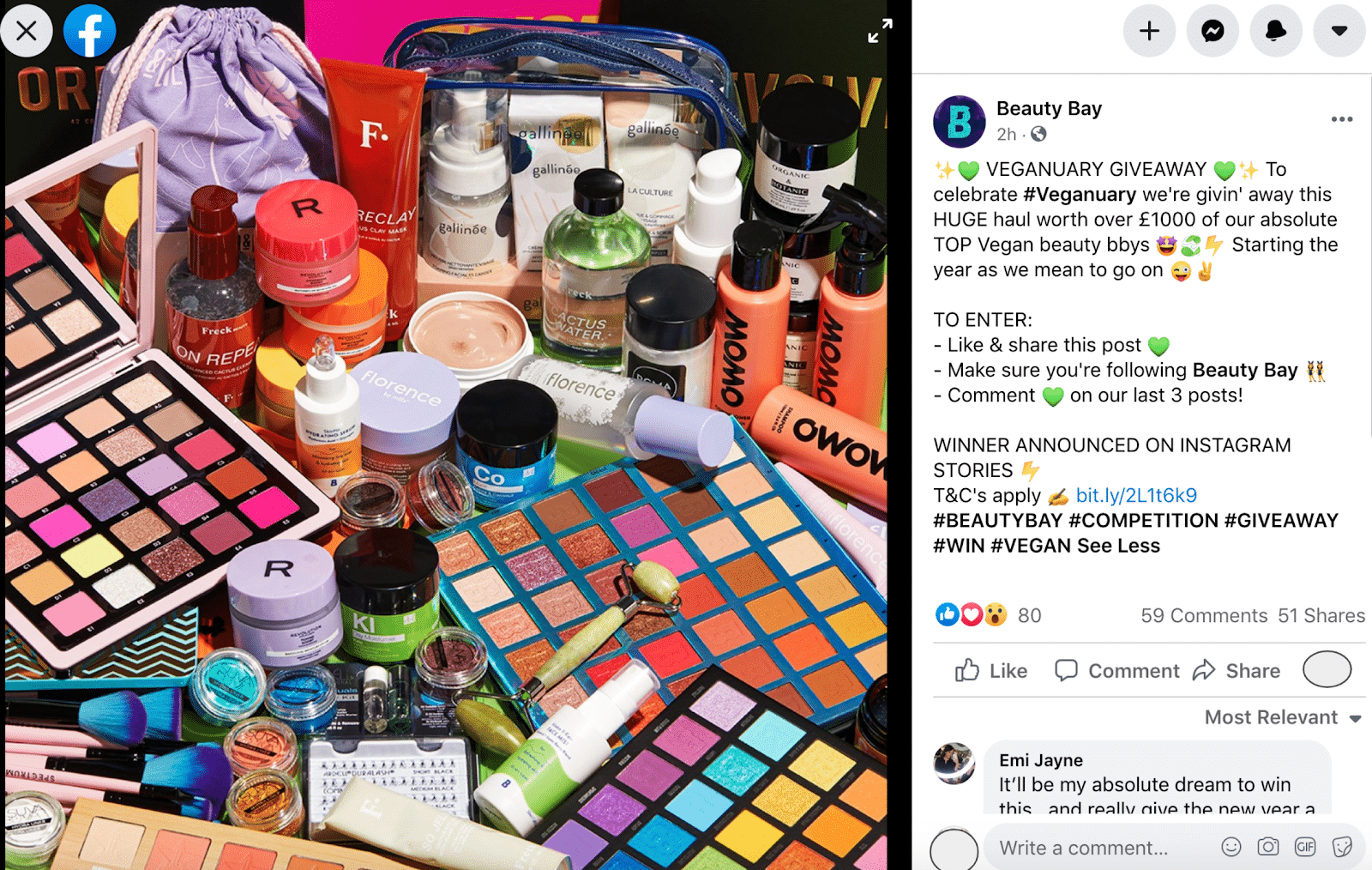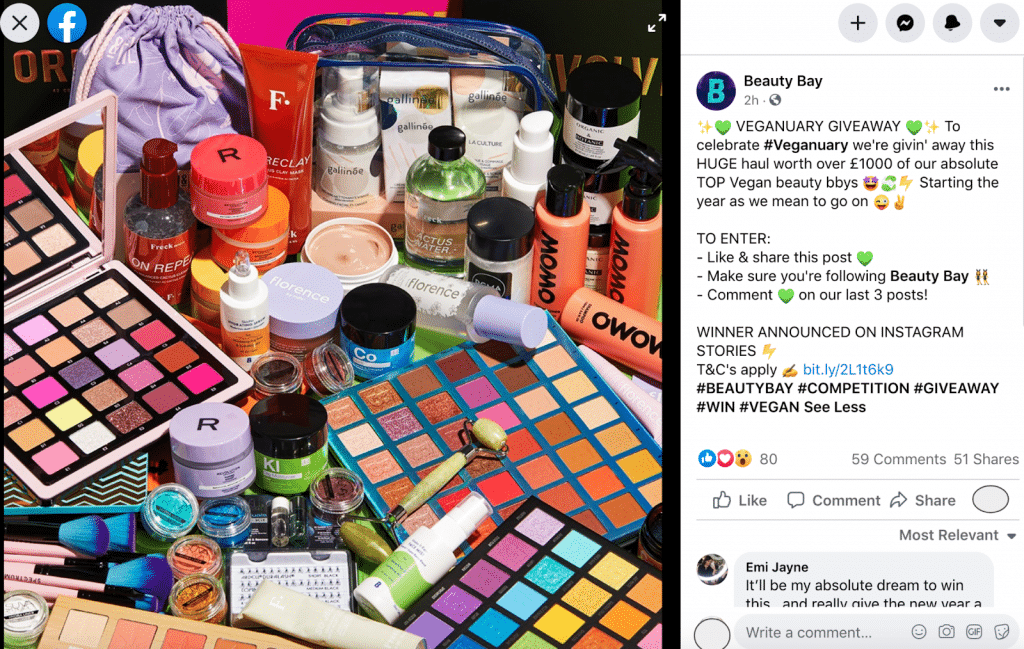 Hotwire: Photo Contest
Hotwire, a travel company, asked its Facebook followers to share vacation photos to engage customers. The reward for the win is truly unique and amazing: the lucky winner will have their photo turned into an art piece by an artist.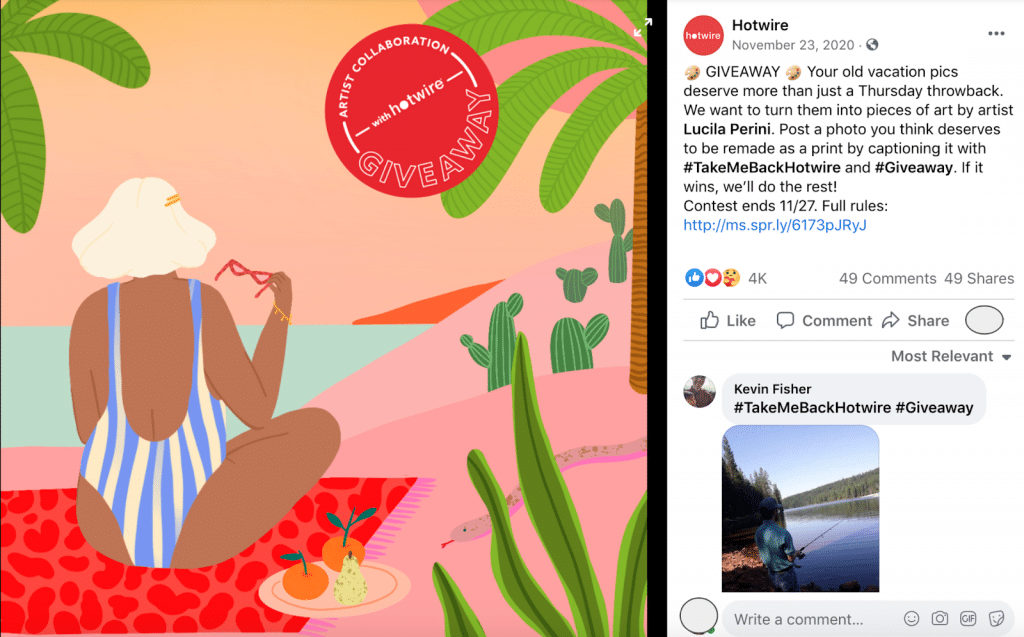 How to Run a Facebook Contest: Final Thoughts
When your Facebook contest is over, you still have some work to do. As we mentioned, check all contest data from Facebook to evaluate performance and find some insights for future campaigns. 
Reflect on the experience and ask yourself if the contest generated the desired results, what worked well, and what could be improved. With answers to these questions, you'll have an excellent start for your next Facebook contest.