Most of us are familiar with Facebook Messenger, a mobile messaging app that conveniently connects to your private Facebook inbox. But what is ManyChat? ManyChat is a Messenger marketing tool that allows you to create a bot for marketing, sales, and support making it a great component of Facebook ad services.
Your ManyChat bot can communicate with customers through Messenger similarly to how Google Assistant works, only you can have your bot market specific things related to your business. For instance, if you own a restaurant, your bot may ask your subscribers (garnered from your Messenger audience) if they'd like a link to your menu. If they message back "yes," the bot would proceed to send them the link.
What is ManyChat?
ManyChat is a powerful chat marketing platform that enables businesses to automate and personalize conversations on messaging apps, particularly Facebook Messenger.
With ManyChat, businesses can create interactive and engaging chatbots that simulate natural interactions, allowing them to connect with customers, answer queries, showcase products, and even facilitate secure transactions directly within the chat.
This innovative tool empowers businesses to harness the potential of conversational commerce, enhancing customer engagement, driving sales, and creating a seamless and personalized user experience.
Why use ManyChat to sell products on Facebook Messenger?
ManyChat offers a compelling solution for selling products on Facebook Messenger due to its ability to revolutionize customer interactions. By leveraging ManyChat's chat marketing platform, businesses can create dynamic and personalized conversations that guide potential customers through the sales journey.
From showcasing products and addressing inquiries to facilitating secure transactions, ManyChat streamlines the entire buying process within the familiar and convenient realm of Messenger. This approach not only enhances user engagement but also enables businesses to nurture leads, overcome objections, and provide timely customer support.
With ManyChat, companies can tap into the growing trend of conversational commerce, offering a seamless, efficient, and user-centric method of selling products that aligns perfectly with modern consumer preferences.
Payments with ManyChat
To take it one step further, ManyChat now allows you to make and accept payments. All you have to do is set up payments in your bot settings and then your ManyChat bot will give your Messenger audience the option to "Shop Now." When your audience selects the link, your bot then displays your pre-set products in a swipeable catalog format. Beneath your products, you can include "Buy it for [PRICE]" call-to-action buttons. When customers select the button, they can enter their credit card information and complete their purchase without ever having to exit the Messenger app.
ManyChat Payments Abilities
According to the ManyChat blog, as an advertiser, you can do the following with the new Payments feature:
Test payments flows with a test credit card (test card number: 4242 4242 4242 4242)
Pre-fill the user's email in the payment details tab
Accept payments from subscribers in Facebook Messenger
Confirm a payment (automatic in-bot confirmation, email)
Receive notifications on successful payments
View a list of successful and failed transactions
Contact subscribers after either failed or successful transactions
Attach specific actions based on the success of a purchase (e.g., add Tags, send content, subscribe to Sequence, etc.)
The Benefits of Using ManyChat's Payments Feature
The ManyChat Payments feature comes with a variety of benefits, such as:
Customers never have to leave Messenger when completing transactions. This means higher conversion rates.
You can sell your products using a more conversational style, asking relevant questions and giving your customers a personalized experience.
Users trust Messenger, so they won't have security concerns when completing purchases and will also perceive your business as trustworthy.
You can sell your products 24/7 to a scalable audience through your bot's automation capabilities.
You don't need third-party or cross-domain tracking because all transactions take place within Messenger.
How to Set Up ManyChat Payments?
Step 1: Go to "Settings."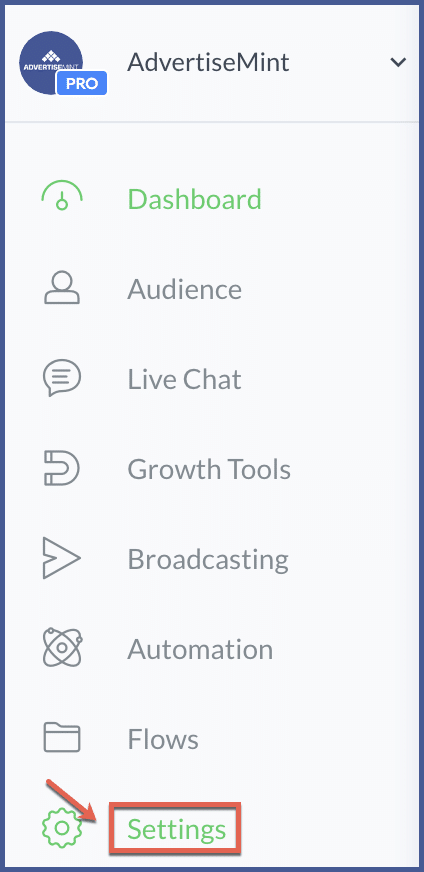 Step 2: Click "Payments."

Step 3: Click "Add or Create Stripe Account."
Step 4: Fill in Required Information and click "Authorize Access to This Account."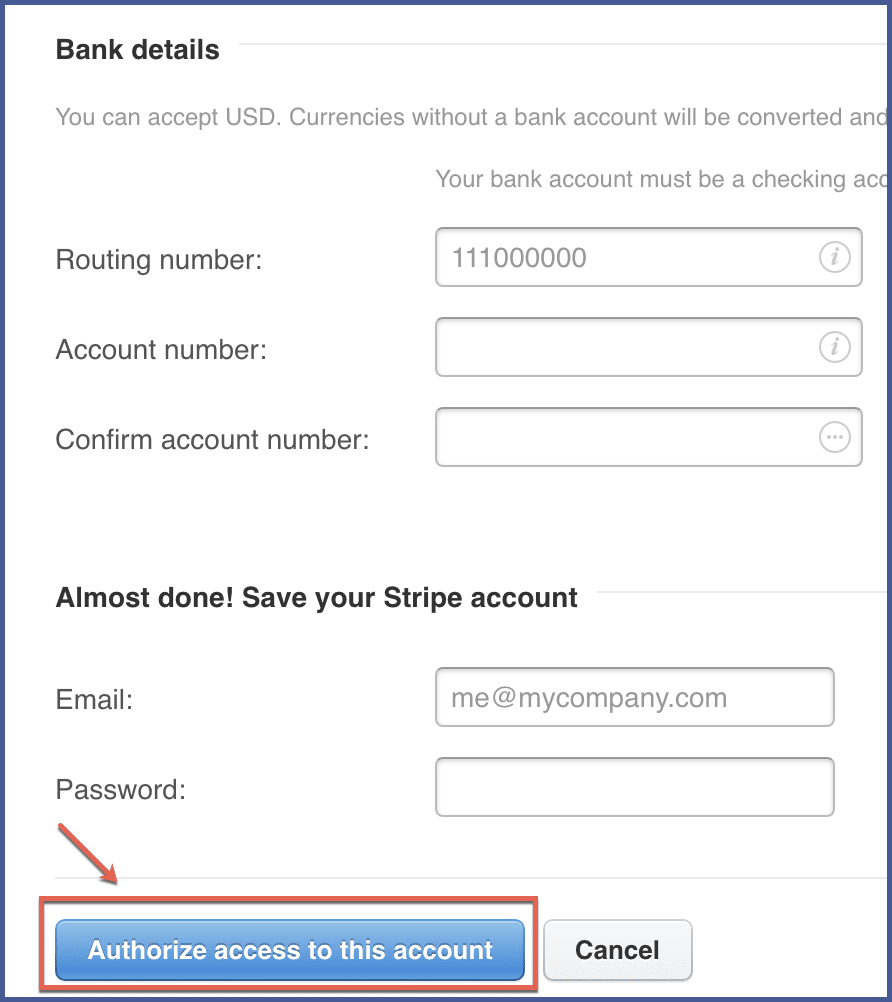 Create a "Buy" Button in ManyChat Payments
Step 1: Click "Broadcasting."
Step 2: Click "New Broadcast."
Step 3: Write your text and click "Add Button."
Step 4: Add information about your product and click "Done."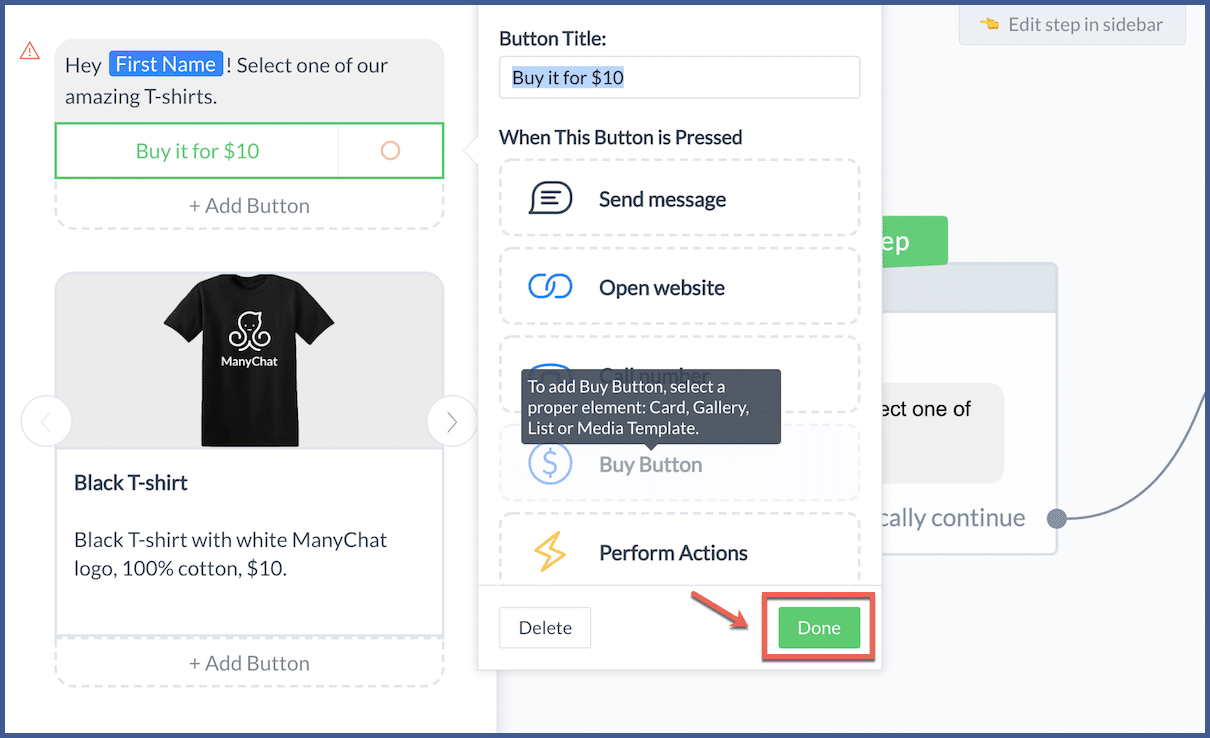 With ManyChat now making buying and selling a convenient and seamless experience, all within the comfort and security of Messenger, online shopping just got a whole lot cooler.
How to measure the success of the ManyChat?
Measuring the success of your ManyChat involves monitoring key metrics and analyzing user interactions to gauge its effectiveness. Here's a concise guide on how to do it:
Engagement Metrics:

 Track metrics like open rates, click-through rates, and response rates to assess how actively users are engaging with your bot. High engagement indicates that your bot's content is resonating with your audience.

Conversion Rates:

 Measure the percentage of users who complete desired actions, such as making a purchase or signing up for a newsletter. This metric directly reflects your bot's ability to guide users towards your goals.

Retention and Session Length:

 Analyze how long users stay engaged with your bot and how frequently they return for more interactions. Longer sessions and high retention rates suggest that your bot is providing valuable content.

Abandonment Rates:

 Monitor the rate at which users exit the bot conversation prematurely. High abandonment rates might indicate that users are dissatisfied with the interaction flow or content.

User Feedback and Sentiment:

 Collect user feedback through surveys or sentiment analysis tools to gauge user satisfaction. Positive sentiment indicates a well-received bot experience.
Conclusion
In a rapidly evolving digital landscape, the art of selling has transcended traditional boundaries, finding new expression through the dynamic platform of Facebook Messenger with ManyChat.
By seamlessly merging personalized conversations with product offerings, businesses can create an engaging and effective sales channel that resonates with modern consumers.
With ManyChat's capabilities, the barriers between customer and seller dissolve, paving the way for meaningful interactions, timely support, and streamlined transactions.
Elevate your sales strategy and accept the limitless possibilities of Facebook Messenger with ManyChat – your gateway to a new era of successful selling.
You can also make things easier for your business by integrating ManyChat with Zapier.
FAQs
What is ManyChat?
ManyChat is a chatbot platform that makes it easy to create bots for Facebook Messenger. Bots are automated conversation systems that can be used to interact with customers. ManyChat offers a variety of features that make it easy to create bots, including:
A drag-and-drop builder

A library of pre-built templates

Integrations with popular CRM and marketing platforms

A variety of analytics tools
Why use ManyChat to sell products on Facebook Messenger?
There are a number of reasons why businesses should use ManyChat to sell products on Facebook Messenger. First, Facebook Messenger is a popular platform with over 2.9 billion active users. This means that businesses have a large potential audience to reach. Second, Facebook Messenger is a direct line to customers. This means that businesses can have personalized conversations with customers and build relationships. Third, ManyChat offers a number of features that are specifically designed for selling products, such as product catalogs and checkout buttons.
How can I measure the success of my selling efforts on Facebook Messenger with ManyChat?
Measuring success involves tracking key metrics such as engagement rates, conversion rates, retention, and customer feedback. ManyChat provides analytics and reporting features that enable you to assess the performance of your chatbot interactions and make data-driven optimizations to enhance your selling strategy.
How does ManyChat work?
ManyChat works by creating a chatbot that is connected to your Facebook page. When a customer messages your page, the chatbot will start a conversation with them. The chatbot can be programmed to ask questions, provide information, and even sell products.
How much does ManyChat cost?
ManyChat offers a variety of pricing plans, starting at $10 per month. The pricing plan you choose will depend on the number of users you have, the number of messages you send, and the features you need.