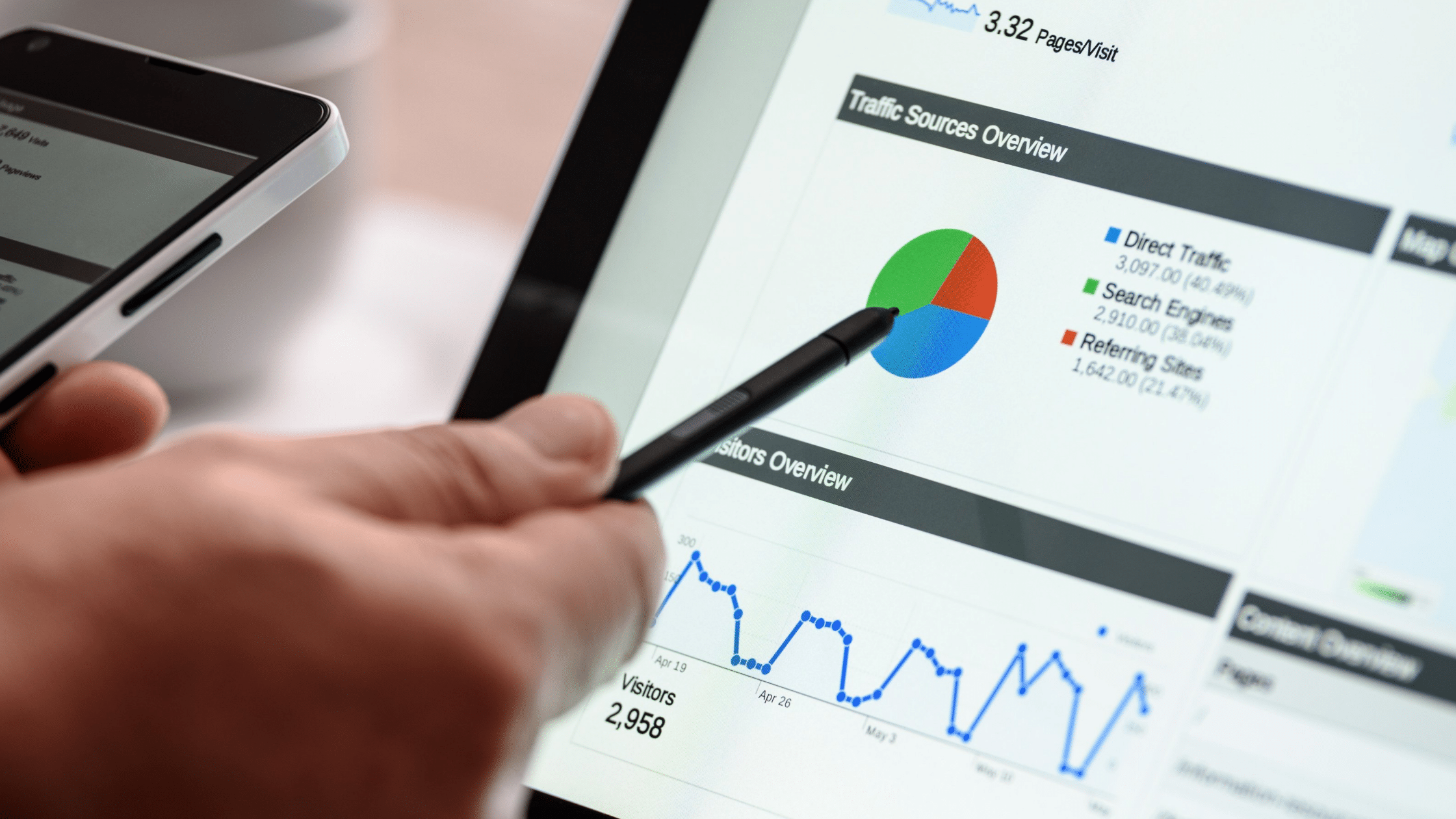 Zapier announced its Customer Match feature is now more widely available for Google Ads to all eligible users. As an expert Google Ads agency that uses Zapier's automation features in our own campaigns, our team knows how useful Customer Match is to reach advertising goals and increase return on investment (ROI), making its expanded capabilities for Google Ads big news.
This article will introduce the Zapier and its Customer Match tool, tell you how to get started using Customer Match for Google Ads with Zapier, and outline its benefits for first-party audience data in ad campaigns.
Introduction to Zapier and Customer Match 
What is Zapier? 
Zapier is a web-based automation tool that allows users to connect different applications together. The company calls these connections "Zaps" and they make automation more widely available without large teams or coding knowledge required. This allows for streamlined workflows between various programs, saving time and improving productivity. 
What is Customer Match and what does it do? 
Zapier's Customer Match feature allows users to automatically import and update customer information from a business' CRM system, website, or marketing tools for advertising purposes. This means you can find and target your Google Ads campaigns to specific customer email addresses, phone numbers, names, and location information like zip codes and countries without having to manually add the data yourself. Most importantly, if the information from your sources changes, Zapier will automatically update this within your custom audience list for your Google Ads. 
Customer Match has four main settings: Targeting, Observation, Similar Audiences, Manual Bid Adjustments, and Exclusions. Both online and offline data can be used to make custom lists for Display, Search, Shopping, YouTube, Discovery, or Gmail Google Ads campaigns.
Who Can Use Customer Match?
Previously, using Customer Match features for Google Ads customer lists was only available to Google Ads users that had account managers and a lifetime ad spend of $50,000 or more. This is no longer the case, but certain features of Customer Match are still limited based on these requirements.
Essentially, to use the main features of Customer Match with Zapier for Google Ads, your account only needs to have a history of following Google's policies and paying on time in previous ad campaigns. If you want to use some of the more advanced features, you can check out the qualification details on Google's Support Page. 
How to use Customer Match for Google Ads
Now that you know what Customer Match is and what Zapier can do with it, let's walk through a quick example of how to set up your custom audience list. 
Preparing your Data
Before you begin, you should take the time to make sure the data you want to use is applicable. Custom lists for Google Ads can only use first-party data from your direct sources, like mailing lists, loyalty programs, and so on. You also need to make sure your data is compliant with Google Ad's policies for ad campaigns. For example, ensure your ad does not target any customers under 13 years old or involve sensitive targeting categories.
Double-check to make sure your data is formatted correctly. It needs to be in a .csv file and have properly labeled headers: "Email" "First Name" "Last Name" "Country" "Zip." Make sure you remove unnecessary spaces, add country codes to phone numbers if they aren't already included, and that all names are lowercase, e.g. john instead of John. To make this process easier, consider starting with lists using only one type of customer information before using combination lists.
How to Add Contacts and Make Customer Lists for Google Ads
First, make sure you have a Zapier account and that you're logged in. Then, go to the "Create New Zap" page on Zapier and select "Google Ads" as your trigger app. You'll be asked to connect your Google Ads account.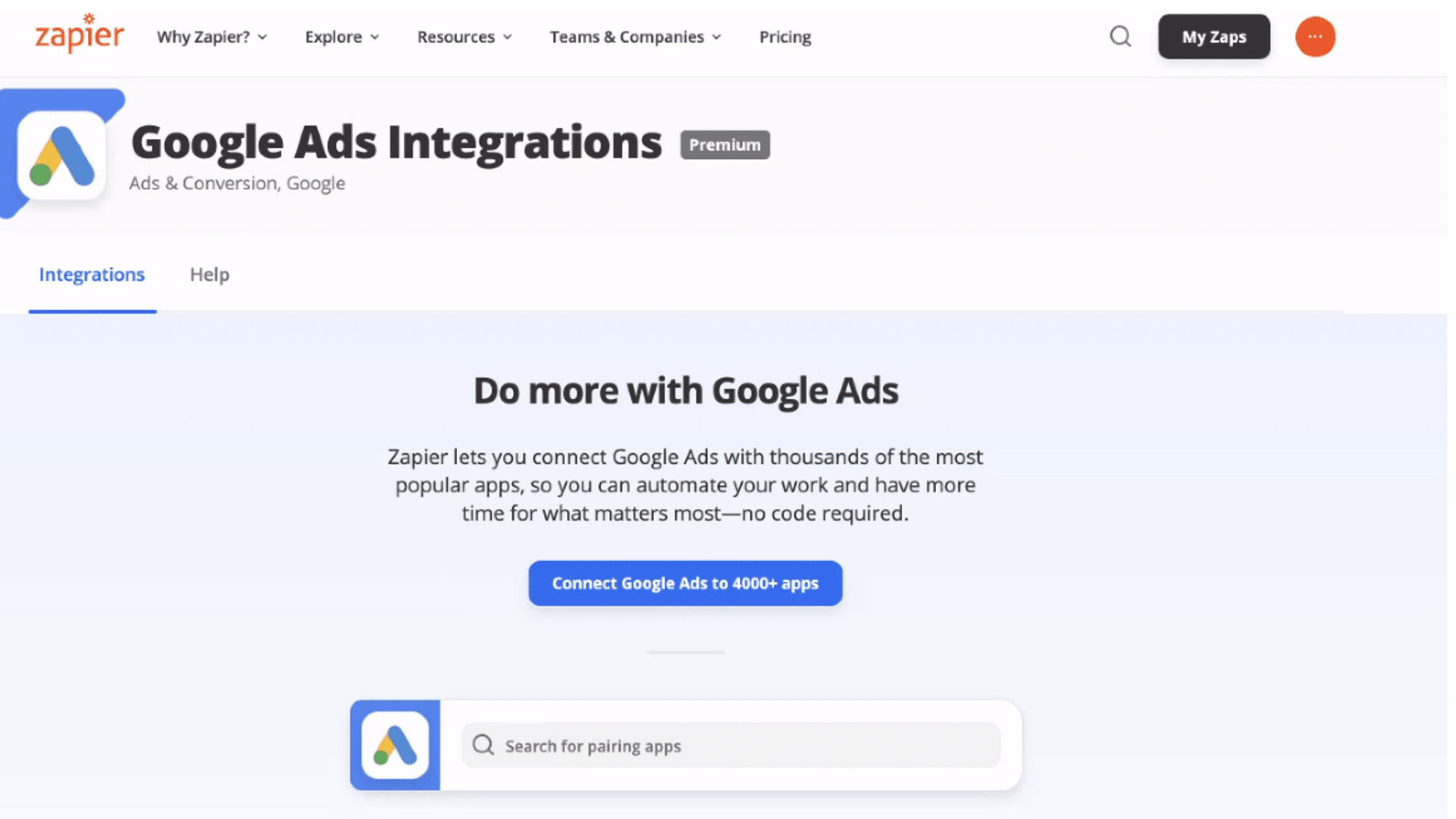 After that's set up, you'll be asked to choose the action app. Select "Customer Match" and then "Add/Update Customer." Zapier will ask you to connect your customer data source.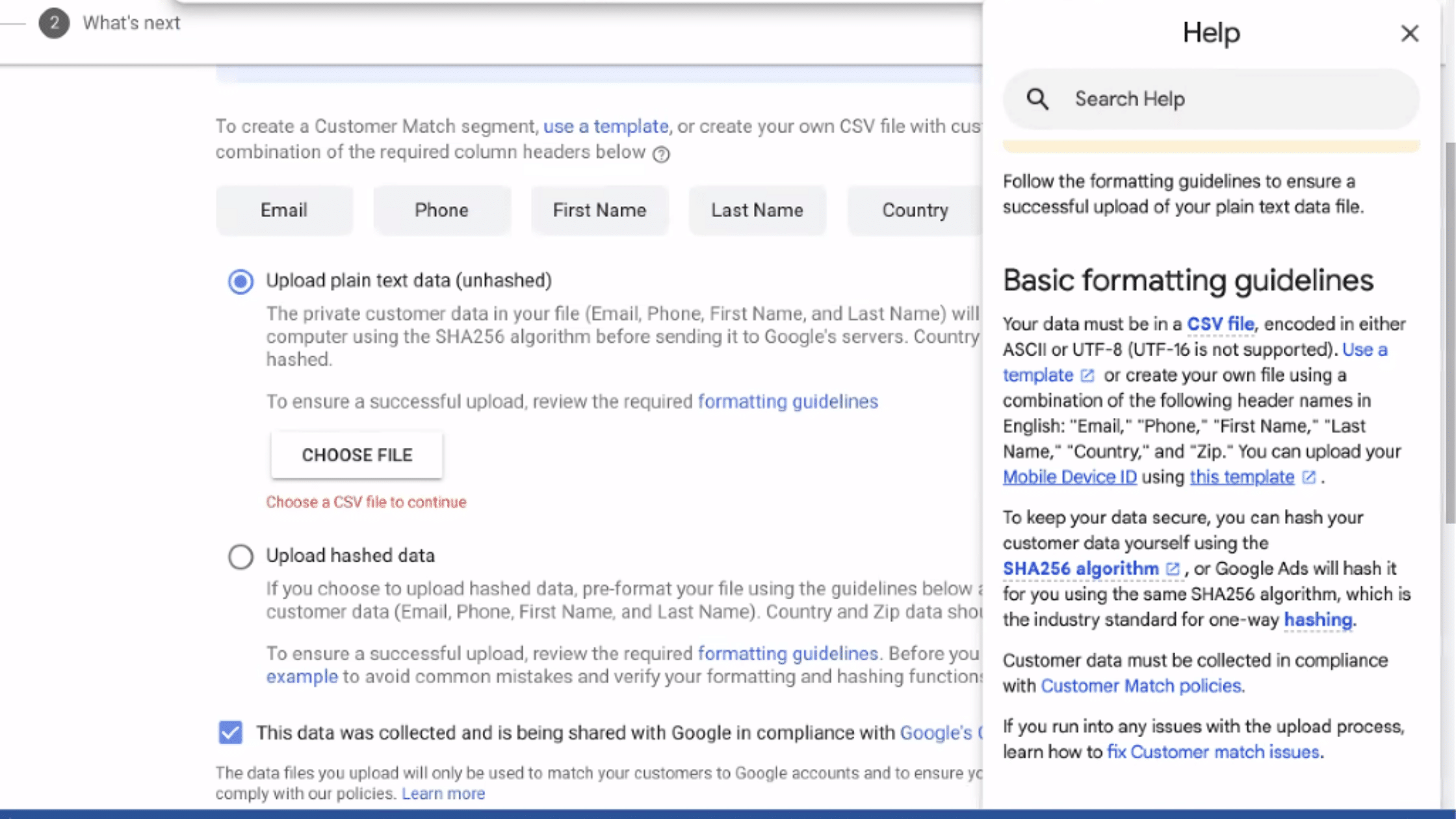 Next, Zapier will ask you to match the required fields between your Google Ads account and your customer data source. This is where you'll select the email address, name, phone number, and other customer information that you want Zapier to import into your Google Ads account.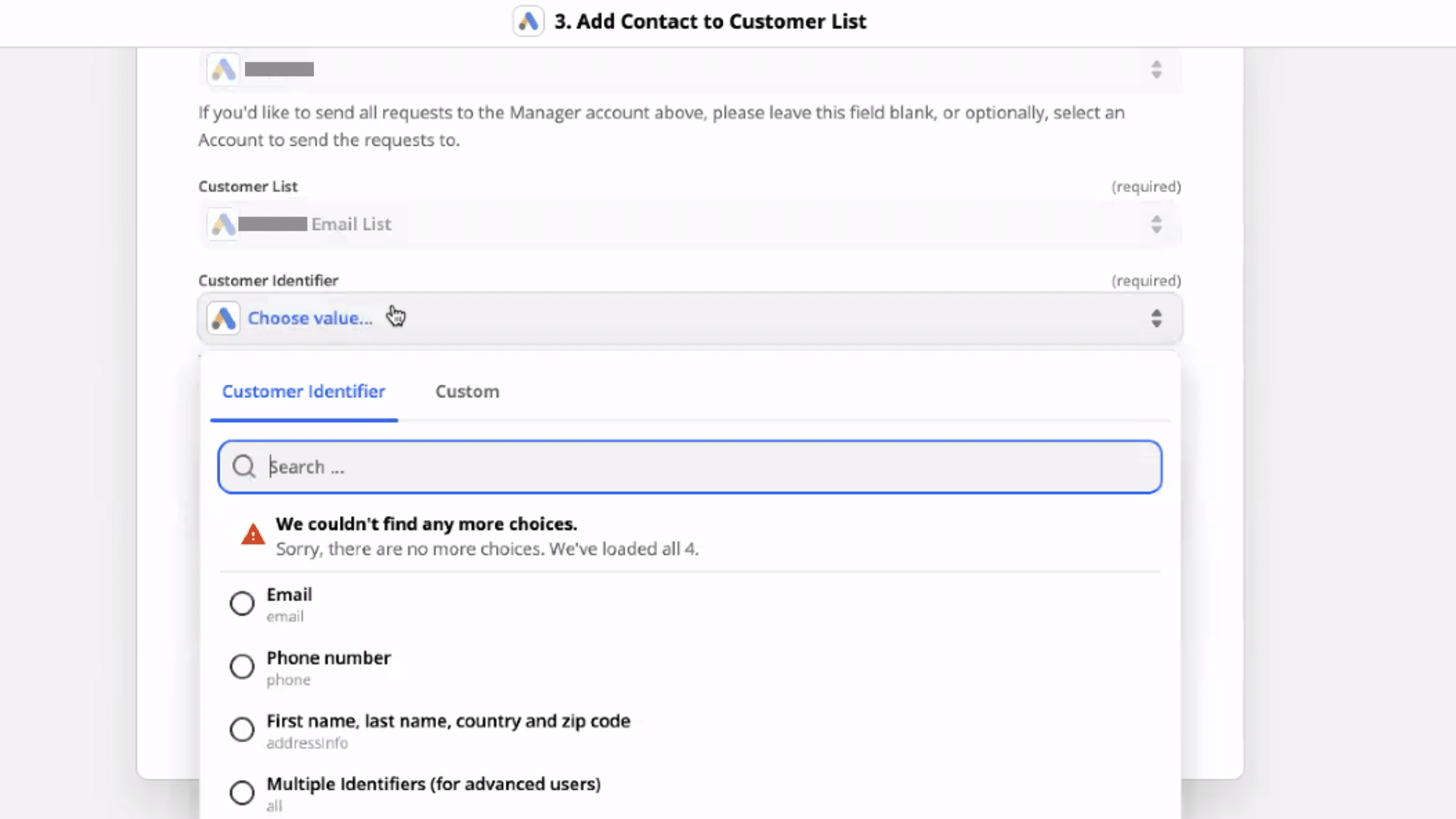 Zapier will ask you to select an Action event. Each action like removing or adding contacts needs to be its own Zap, so you have to create them one at a time if you're setting up multiple. Here we're choosing to add customers automatically to our Google Ads customer list.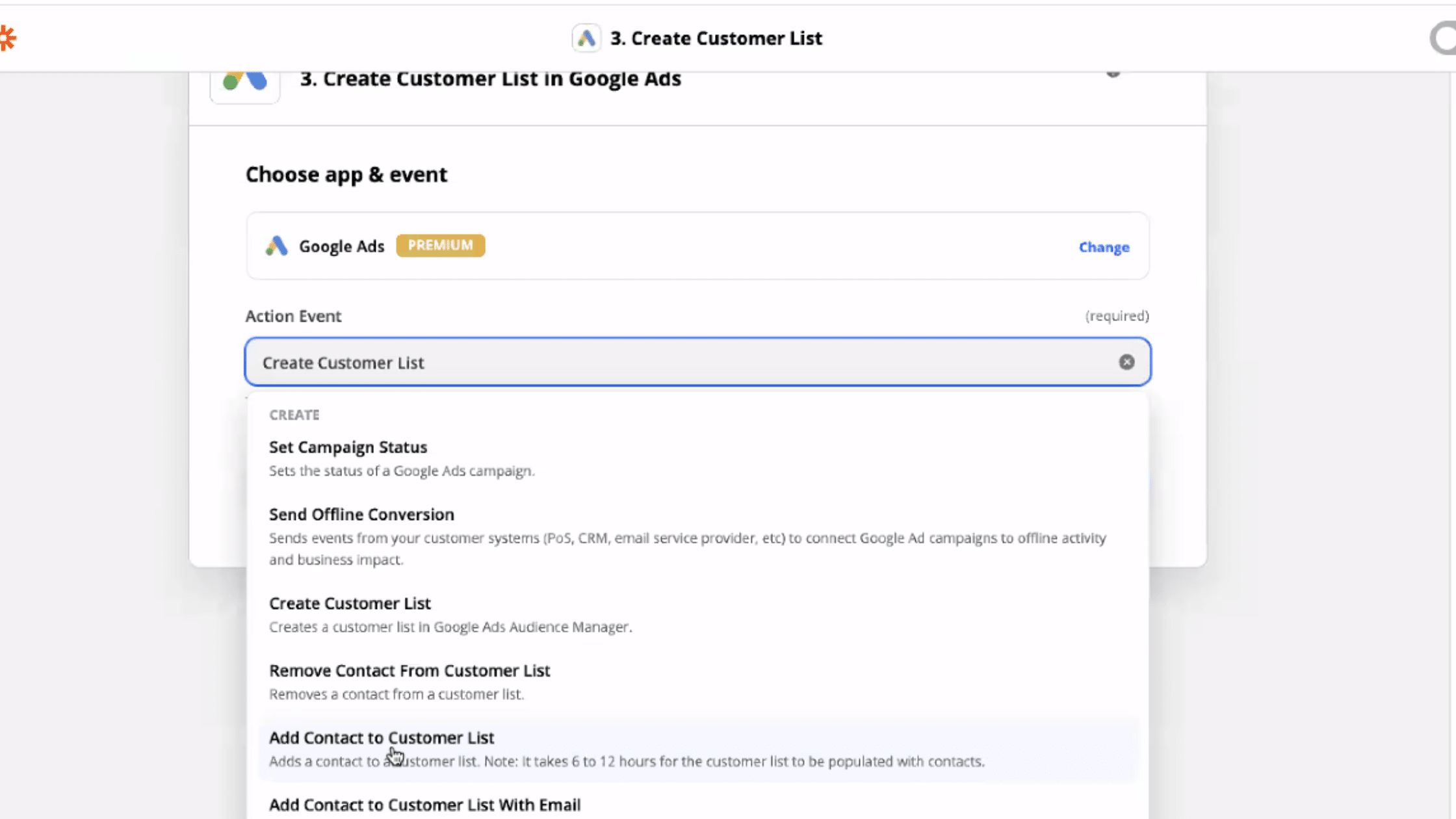 Finally, Zapier will ask you to test your Zap. Once you've verified that everything is working correctly, or chosen to skip the test, turn on your Zap!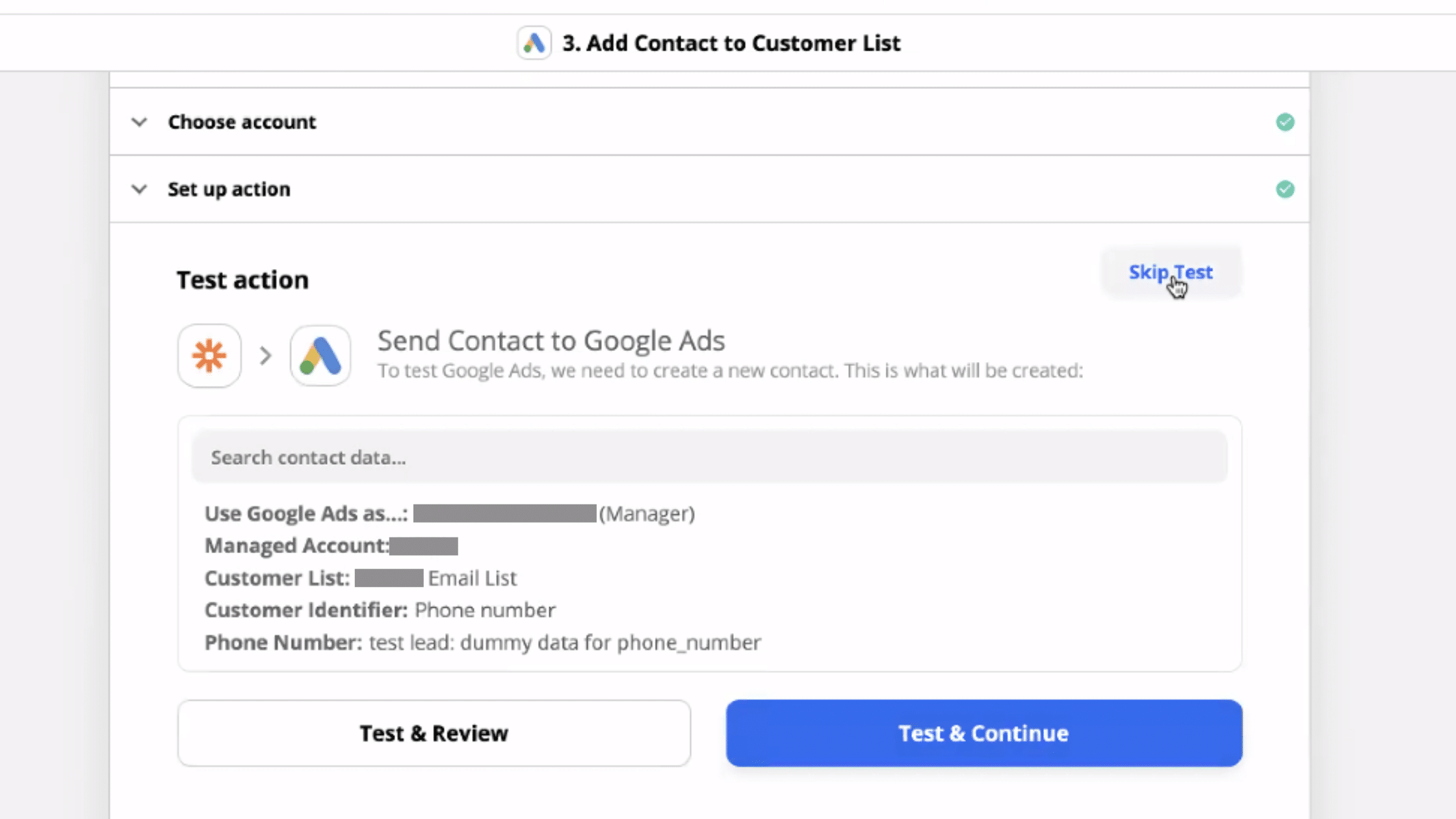 Customer Match Tips for Google Ads
Now that you know how to use Zapier with Customer Match for Google Ads, here are a few things to keep in mind:
Know that not all of your data will be successfully matched. Customer Match can only work if the customer data you have can be matched to a Google Account, so not all of your data can successfully be used.

You should aim for a minimum of 1,000 contacts when uploading for optimal results.

Segment your data to create more specific customer lists. If you want to target a very specific subset of your audience, use Zapier's "Combine Data" feature to group customers by interests, demographics, and other factors. This is especially important when using the "Similar Audiences" setting so your lookalikes are more accurate.
The benefits of using Customer Match for Google Ads
Now that you know how to use Zapier with Customer Match for Google Ads, you can get more out of your ad campaigns in several ways:
Better upselling and cross-selling. Customer Match can help you target customers who have already shown an interest in your products or services on other channels, resulting in quality cross-platform marketing and for brick-and-mortar companies, omnichannel advertising.

Reduce costs by using automated list management. Zapier's features can remove duplicates, add and remove contacts, and keep your customer data clean and up to date, so you don't waste money on ads targeting invalid email addresses or people who have unsubscribed from your list.

Create lookalike audiences that are even more relevant to your target market. Customer Match can help you find potential customers who are similar to your existing customer base, so the audience will likely be those that have a high likelihood of being interested in what you're selling.
Wrapping Up
Customer Matching is a powerful way to target customers using first-party data for Google Ads, and Zapier's new integration makes it easier than ever to use that data for your ad campaigns. By following these simple steps, you can create custom audiences lists that are relevant to your business and help you reach more potential customers. 
If you're not using Zapier with Customer Match for Google Ads yet, now is the time to start! With this powerful combination, you can get more out of your ad campaigns and improve your chances of reaching potential customers. And if you find Zapier's Customer Match tool useful for your Google Ads, consider checking out the other platforms that Zapier can also be integrated with to benefit even more from automation.