Filters, a button located on the upper right side of Ads Manager, is a tool you use to narrow your list of ad campaigns.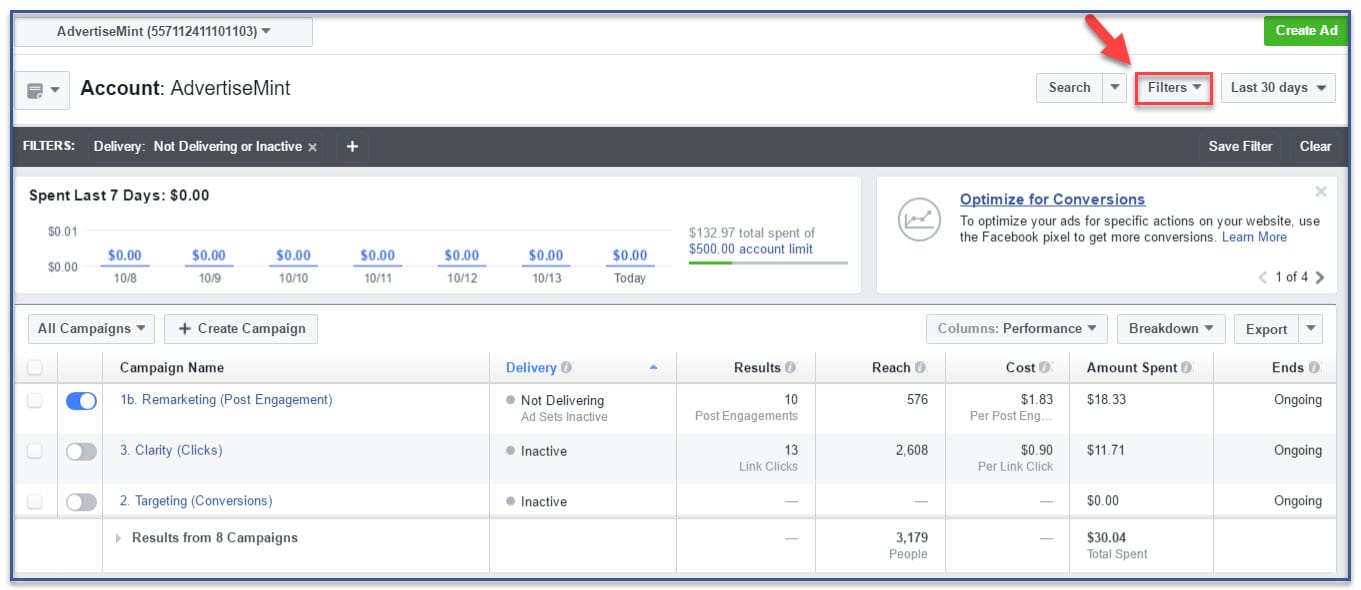 When you go to Ads Manager, you will immediately see a long list of all the campaigns you have ever created, including campaigns that are no longer delivering, campaigns that are active, and campaigns that have ended, among many other types. Facebook advertising services are well acquainted with this window.
If you want to view a specific kind of campaign, for example a campaign that is no longer delivering, you can click the tab "Filters" then click "Not Delivering." Thanks to filters, you can find a specific campaign quickly and easily.
You can also filter by multiple criteria. For example, if you want to see campaigns that are pending review and that are inactive, you can do so by clicking "Pending Review" and "Inactive" on the drop down menu.
If no results appear, it is because you have no campaigns that fit your criteria. If, for example, your filter "Inactive" brought no results, that is because you do not have any ads that are inactive.
Not only can you filter by delivery, but you can also filter according to:
Objective
Buying type
Placement
Metrics
Date Updated
If none of these please you, you can also create your own filter.
The next time you visit Ads Manager, give the Filters tool a try.
Did you find this article helpful and informative? Leave your comments or share to friends.
Comments
comments