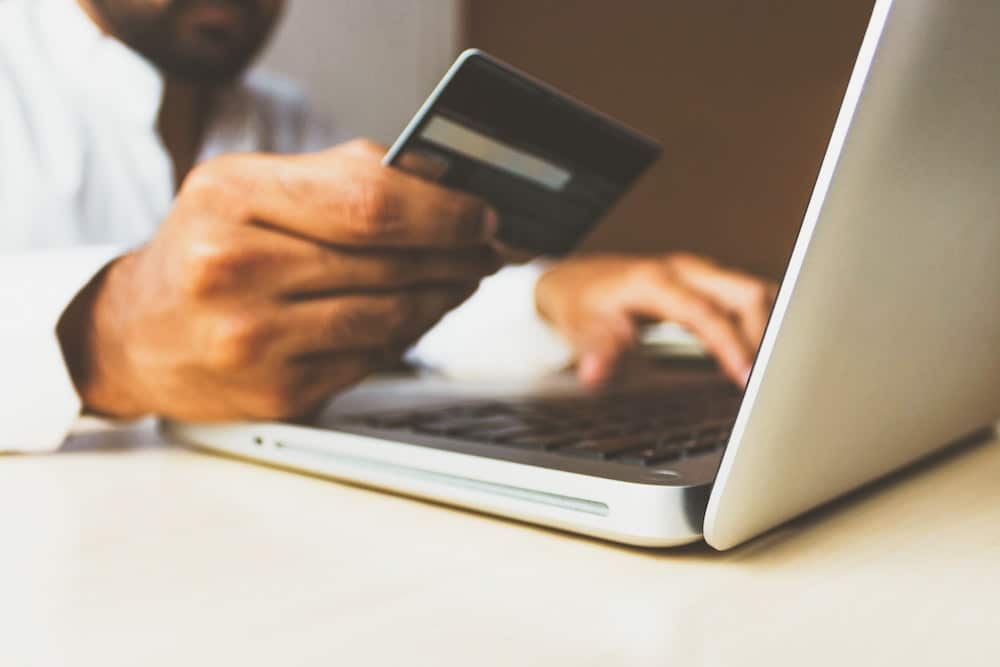 TikTok has much more than lip sync videos and dance challenges. It's also used as a viable social media platform for brands that want to market and sell their products. TikTok advertising is, in fact, one of the quickest growing marketing platforms right now. And if you're an Amazon seller who serves the same audience that TikTok does, you can use the platform to peddle your shop. Here's how Tiktok users stack up compared to Amazon users.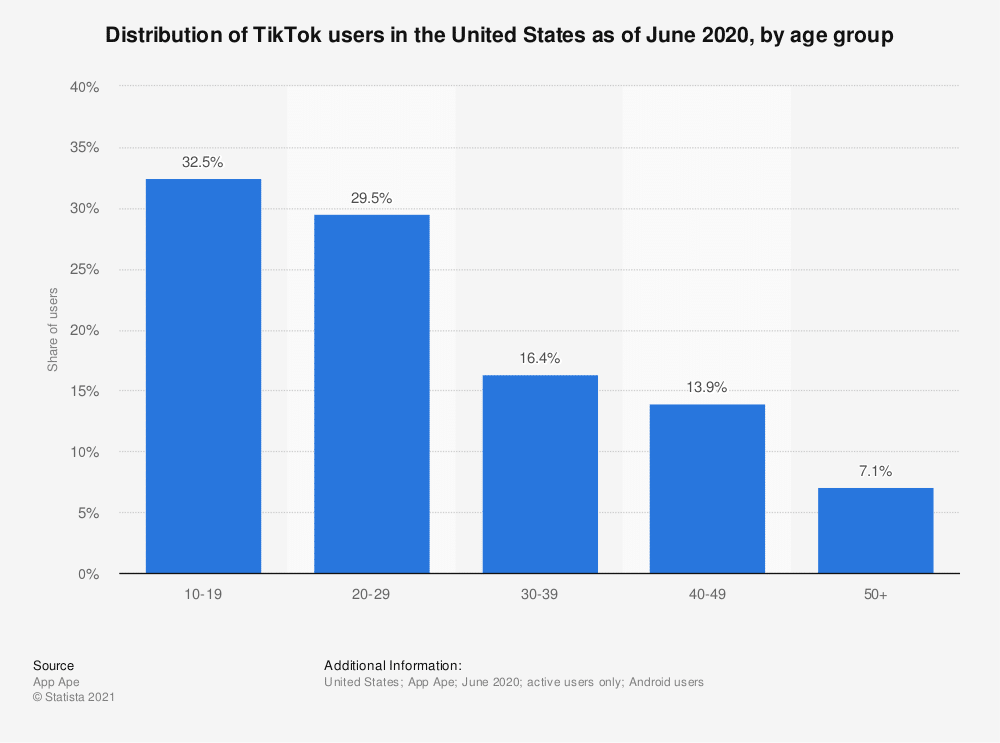 Source / Statista
Here, you can see that a majority of Tiktok users are between 10-40 years old. When you compare that to Amazon users (with a strong emphasis on the 18-34 age bracket) you can see that there is a lot of overlap. Meaning that there is a huge opportunity for your brand to maximize your Tiktok marketing efforts.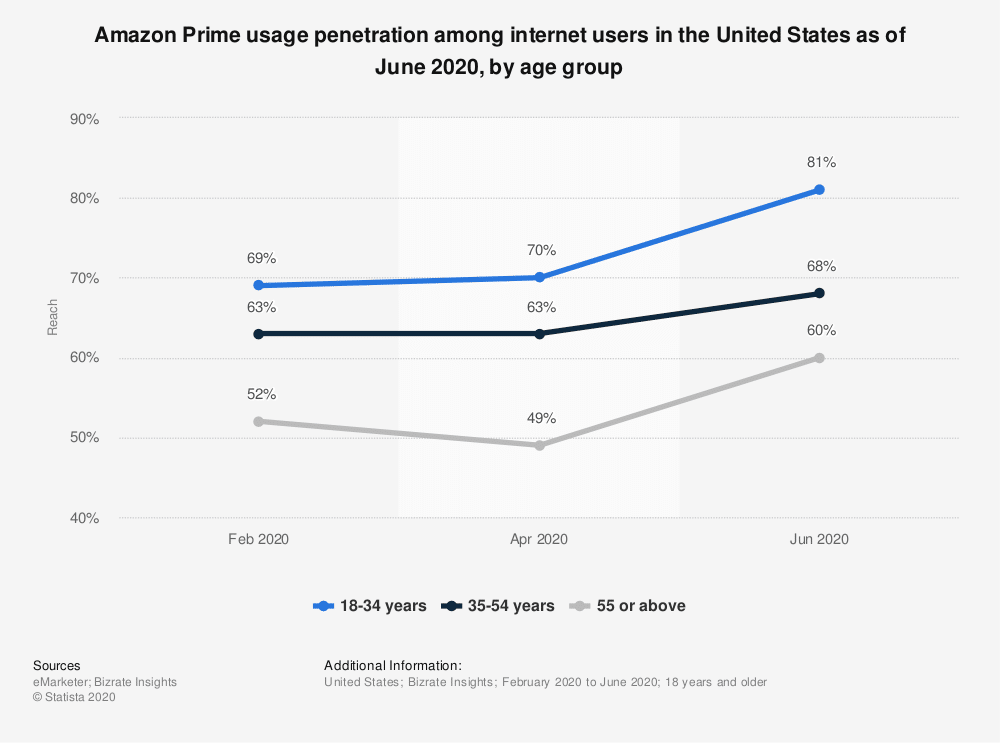 Source / Statista
Use Your Bio to Describe Your Brand
When a TikTok user likes what they see, they'll often click over to the creator's bio to get deeper into their content. It's common for someone to go, "Who is this?" and then fall into an enjoyable TikTok exploration hole as they watch video after video from that one account.
Your bio is where you can describe your brands and products – most importantly, what they can do for your customers (focus on how the customer will benefit).
Vessi does this perfectly – their bio is short and sweet, but it tells you what you need to know to understand their brand.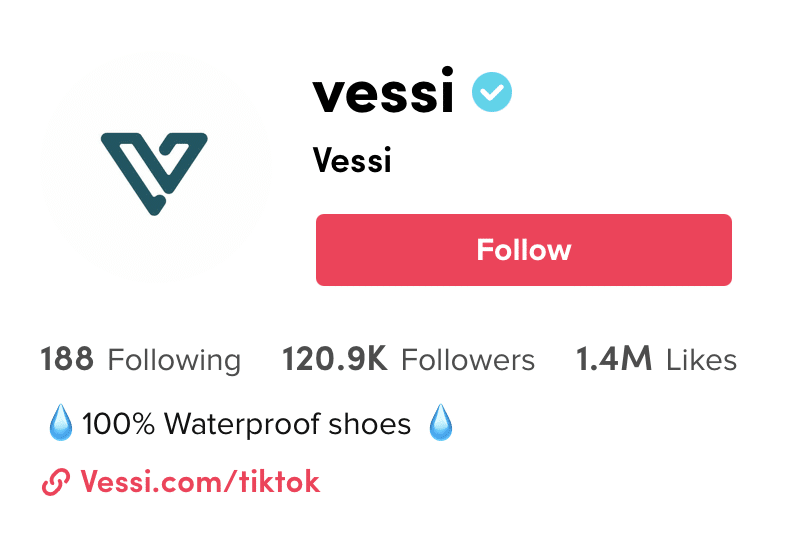 Target Your Niche
You wouldn't set up Amazon products without determining your niche. That's what informs the keywords, product categories, and photos you opt to go with. 
The same goes for TikTok. Don't create content simply for popularity's sake – an audience is only as good as its quality, not quantity. If you attract viewers to your profile for the wrong (read: non-brand) reasons, they're not going to pay attention when you start promoting your products.
Everything from the hashtags you use and the users you follow to the influencers you eventually team up with should be on-brand and niched down. You need to appeal to your target audience on both Amazon and TikTok.
Add Emoji to Your Content
While emoji won't be on-brand for every company out there, if your brand is already considering marketing via TikTok, odds are you have just the audience who will respond well to the cute (and informative) pictorials. Experiment with emoji and emoji placement to see if you get better results with or without them. Here's why they can be so worthwhile: they're cute and colorful – making them eye-catching – and you can say a lot with just one. 
The tulip emoji in this TikTok video from Guess makes us think that the perfume they're promoting has a floral scent – something that's conveyed with just one little image instead of a full sentence.
Add a CTA to Your Bio and Posts
Your bio and everything you post should conclude with a call-to-action (CTA). This is one of the best ways to increase conversions. 
You don't have to always direct the viewer to a product link on Amazon, either. You can tell them about a sale and how to find discounted products, or you can give them a coupon code and let them know how to use it.
Here's the thing: viewers may not even think of the next step to take, not because they don't want to but because it simply didn't occur to them. Don't make them do more work than necessary. Tell them what to do next and how to do it.
This video from Chipotle is a good example of a must-have CTA. The video only shows the beginning of how to make a Chipotle burrito at home – you need the CTA to tell you to see the complete recipe in the comments to make the post worthwhile.
Team Up With Influencers
One of the best ways to market your products on TikTok is to partner with an influencer – one who shares the same audience as your brand. Influencers not only have a ton of followers and views, but their audience trusts what they say and suggest. Influencers are seen as opinion leaders and niche experts, and having one of them get behind your brand or product is going to be huge for your sales.
Start a Branded Hashtag Challenge
This tip goes hand-in-hand with the last one because one of the fastest ways to get your branded hashtag seen and acted upon is by having an influencer promote it. The purpose of your branded hashtag is to get other people to create content related to your brand (this is called user-generated content, UGC for short). 
TikTok also has a program called Hashtag Challenge Plus that's worth looking into. According to TikTok, "TikTok's Hashtag Challenge Plus (HTC+) is a premium iteration of TikTok's infamous Hashtag Challenge which allows brands to show off their product range and generates in-depth engagement with the challenge."
Add Your TikTok Feed to Your Website
Using TikTok to promote your Amazon shop can reach beyond the platforms. By embedding your TikTok feed on your website (if you have one), your visitors will see more lifestyle-esque content than you may have in your product listings. If you use UGC for some of your TikTok posts, all the better – that goes toward social proof, making potential customers more comfortable with the idea of buying from you. If other people have had good experiences with your brand, there's a chance they will, too.
One More Thing: Don't Worry (Too Much) About Video Quality
You don't want to create low-quality content, especially since you'll be using TikTok to promote your brand, but your videos don't have to be perfectly produced, either. TikTok is beloved for its authentic aesthetic. So, yes, you can spend a lot of time planning and editing your videos, but when it comes to things like lighting and angles, you don't need to bring in a full crew.
Final Thoughts
One of the biggest perks of using TikTok to sell Amazon products is that brands have not yet caught on to the marketing power of the platform. That means there's a lot less competition for you and a higher chance of growing your profile and audience before your competitors eventually move in. 
We're all for TikTok marketing, but please avoid these six common mistakes.