In digital marketing, establishing credibility and security is paramount. Domain verification on Facebook emerges as a critical step for businesses seeking to solidify their online presence and unlock a realm of advanced features.
This comprehensive guide will unravel the intricacies of domain verification, equipping you with the tools to navigate the process effortlessly and gain access to invaluable insights within the Facebook ecosystem.
What is Facebook Domain Verification?
Facebook Domain Verification is a crucial process that establishes the authenticity and connection between a website's domain and a Facebook Page.
By verifying the domain, businesses ensure a secure and legitimate association, bolstering their online presence and credibility on the platform. This verification process involves confirming ownership of the domain through methods such as adding specific DNS records or uploading an HTML file to the website.
Once completed, Facebook acknowledges the verified connection, granting access to advanced features, improved ad targeting, and aggregated performance data. Facebook Domain Verification plays a pivotal role in enhancing security, optimizing ad campaigns, and providing valuable insights for businesses navigating the digital landscape.
Why Verify Your Facebook Domain?
Verifying your Facebook domain is a strategic step that brings a multitude of benefits to your online presence and marketing efforts.
By completing the verification process, you establish a secure and genuine link between your website's domain and your Facebook Page. This not only enhances the security of your brand by preventing unauthorized misrepresentation but also empowers you with valuable insights and tools.
Verified domains gain access to advanced ad targeting options, allowing you to tailor your campaigns more effectively and reach your desired audience with precision. Moreover, verification opens the door to aggregated performance data, enabling data-driven decisions that refine your marketing strategies for optimal results.
Ultimately, verifying your Facebook domain is a cornerstone of credibility, security, and maximizing the potential of your digital marketing endeavors.
Steps to Verify Your Domain on Facebook
With iOS14 now rolling out to users, Facebook has been implementing changes to prepare for the latest Apple software. One of those changes includes a requirement that some advertisers must verify their website domain on Business Manager. Here is a step-by-step guide on verifying your website domain that should be beneficial for any Facebook ad management agency.
Step 1: Go to Business Manager settings and click Brand Safety > Domains > Add a New Domain.
Step 2: Enter your domain name then click Add Domain.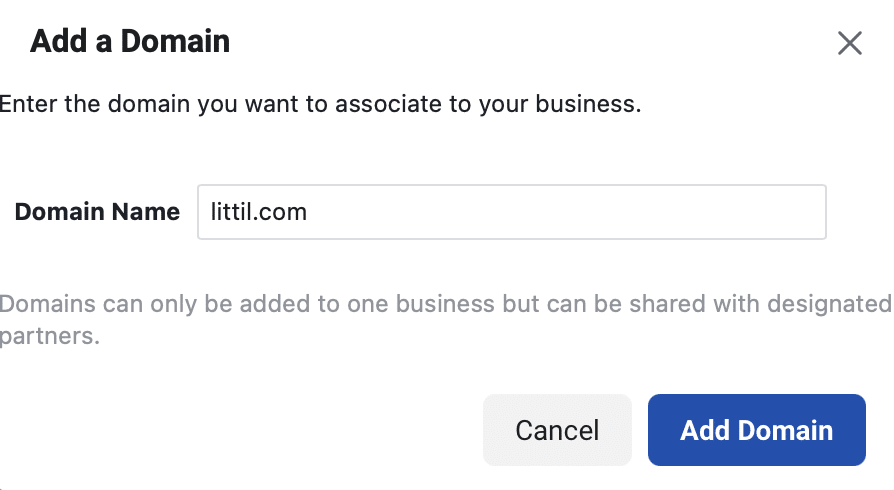 The domain will be added to your assets, and you will have the option to verify it either with a txt DNS verification or an HTML file upload.
Step 3: Copy the code under "Add this TXT record in your DNS configuration."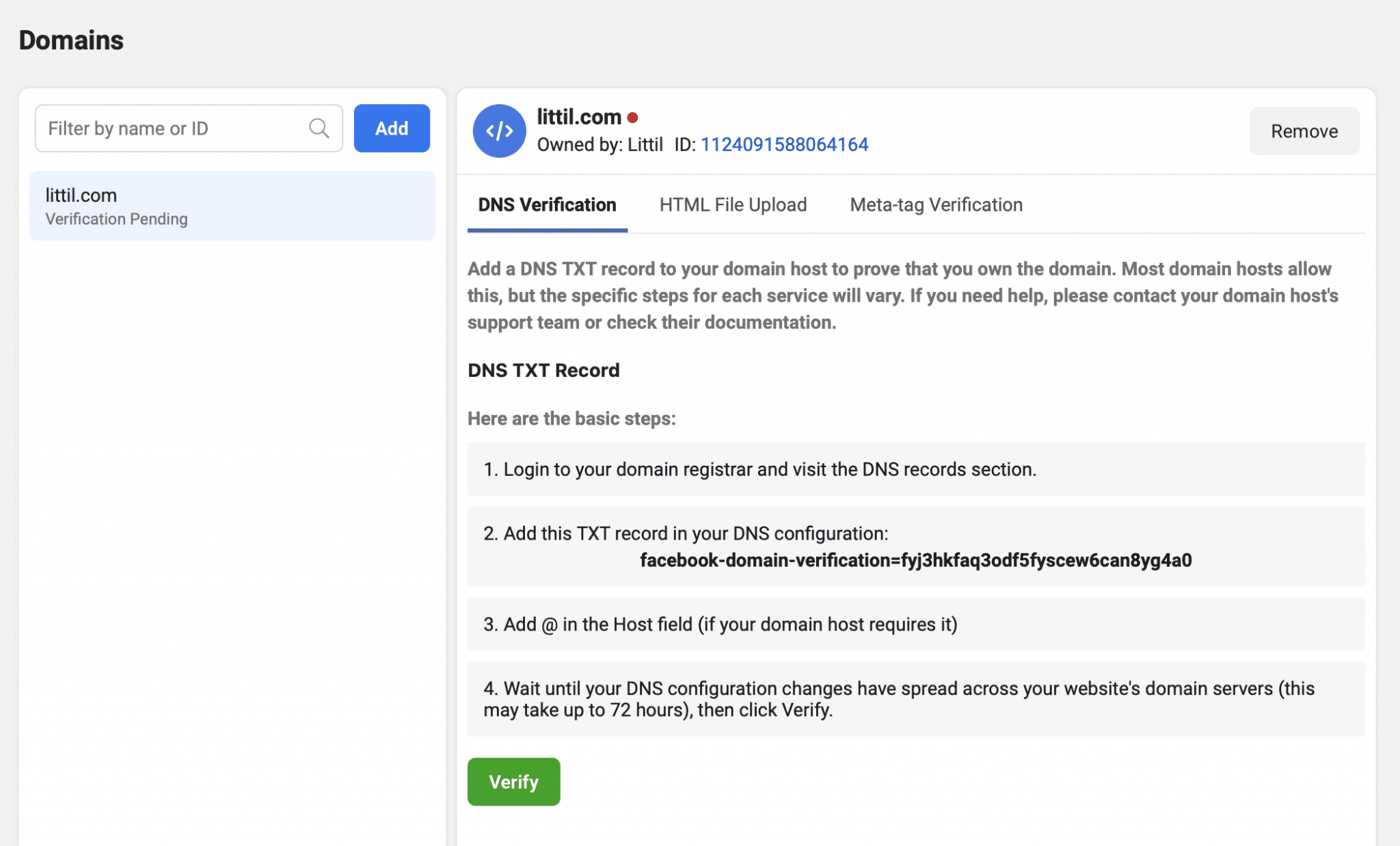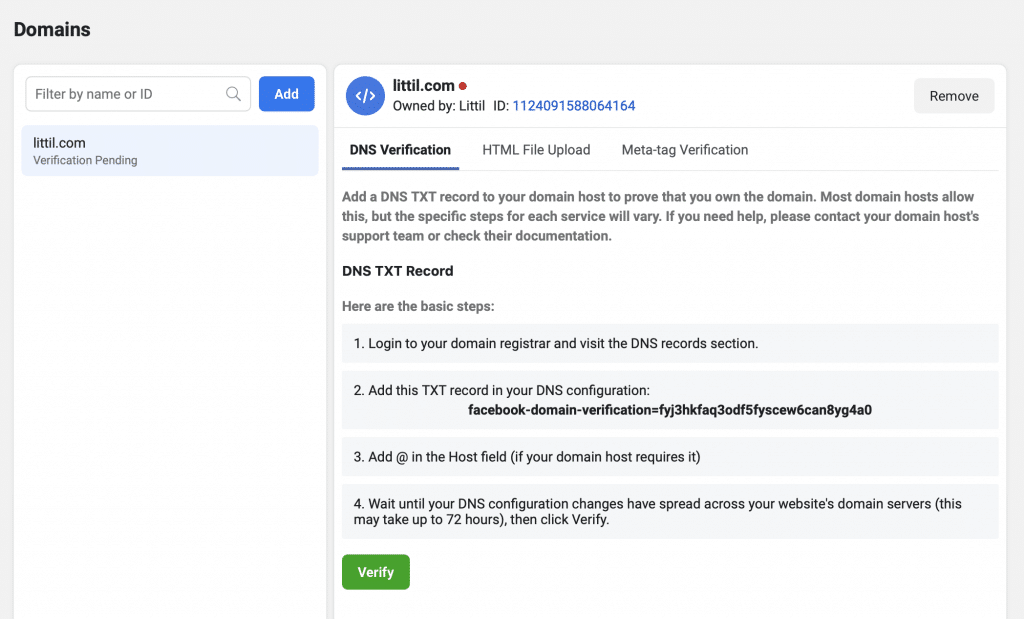 Step 4: Log in to your domain registrar and go to the DNS record settings page. Select Add a Record of Type and choose TXT from the dropdown menu.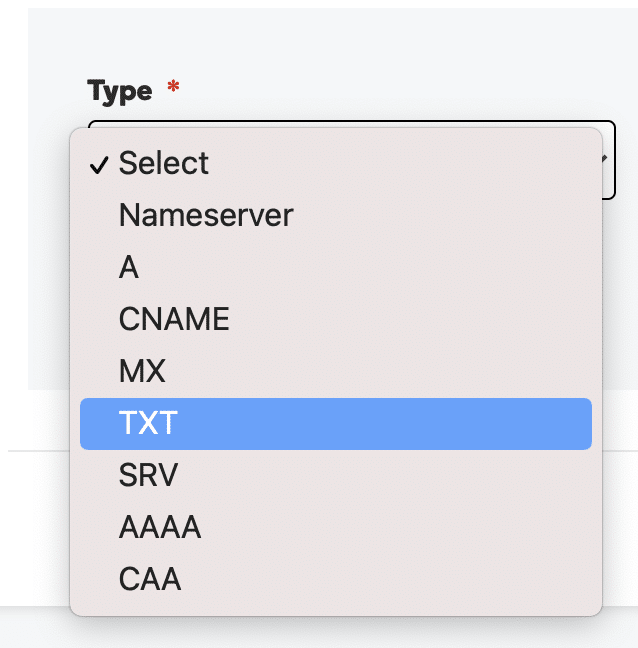 Step 5: Enter your verification information.
Put an @ symbol in the host field then enter "facebook-domain-verification=" in the "txt value" field or "content field" (depending on which domain registrar you're using. This example uses Go Daddy). Then, paste the verification code you copied from Business Manager after the = sign. Your txt value or content field should look like this: facebook-domain-verification=[enter code here].


Step 6: Return to Business Manager then click Verify.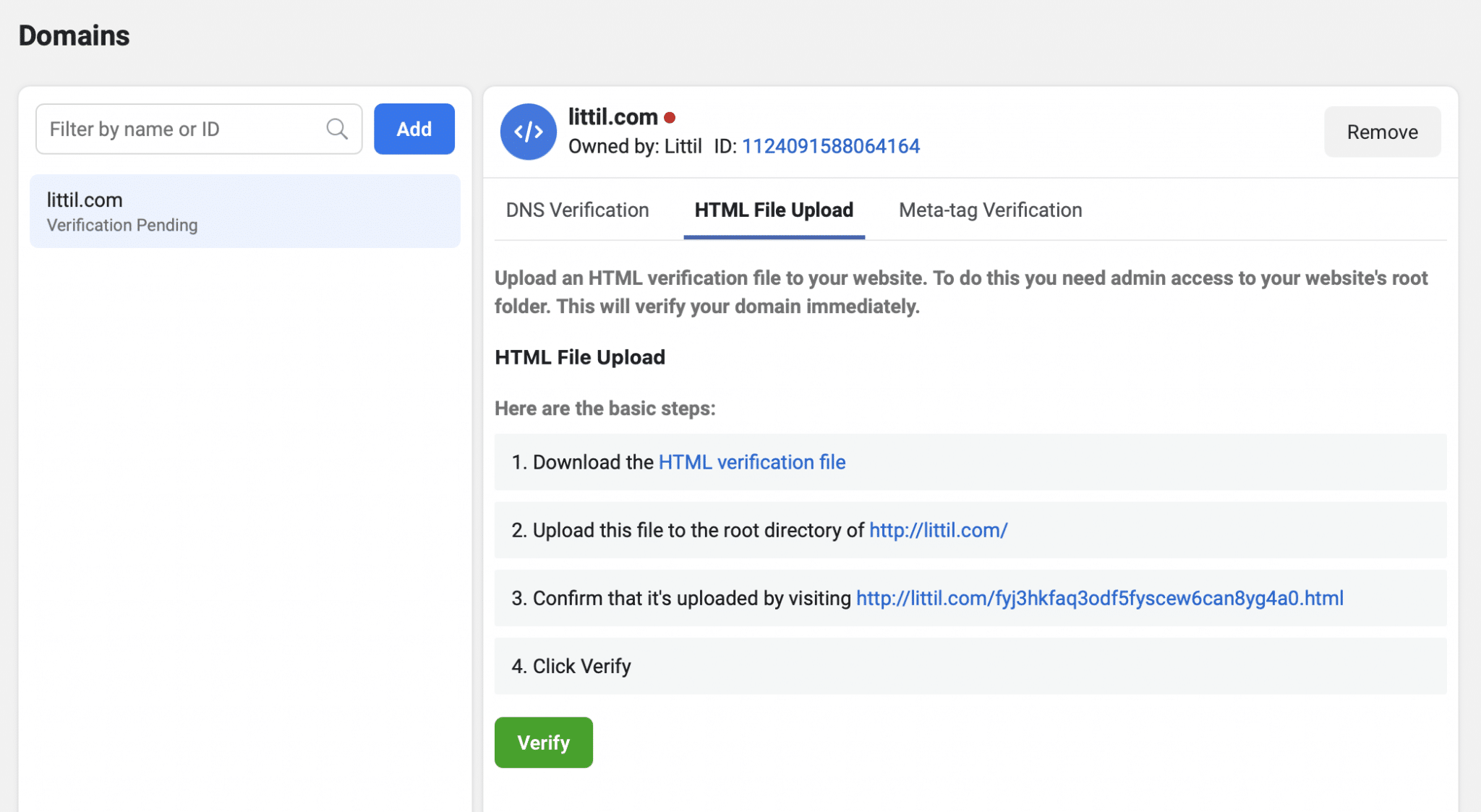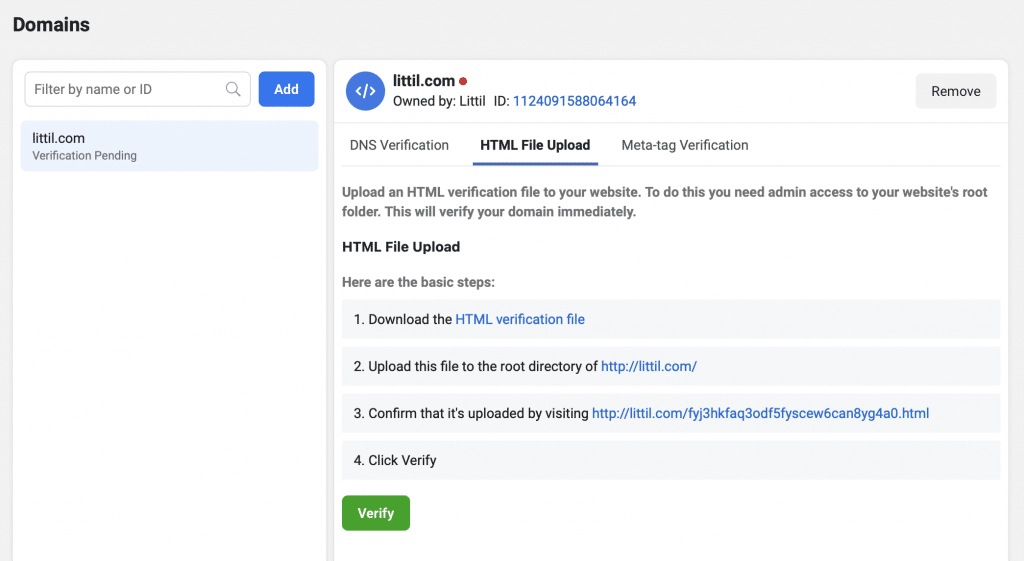 Step 7: You're done!
Once your domain has been verified, you should get this confirmation message.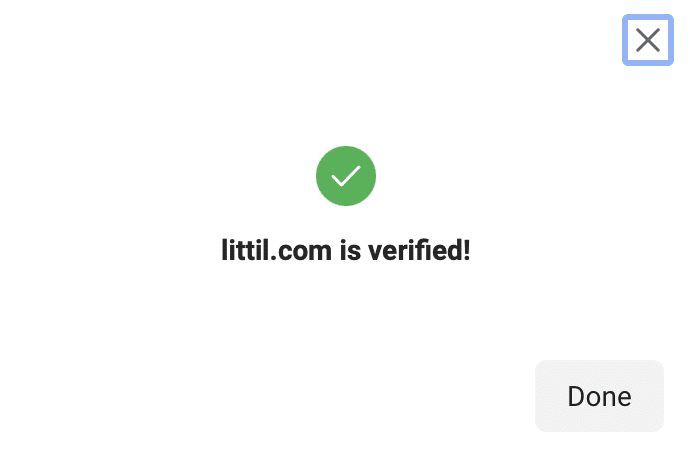 Troubleshooting and Common Challenges
Troubleshooting Verification Issues
While the process is designed for simplicity, hiccups may arise. Common challenges, such as DNS propagation delays or incorrect settings, can stall verification. Stay patient and consult Facebook's troubleshooting resources for guidance.
Verification Delays and Resolutions
In some cases, verification might encounter delays due to technical intricacies. Should delays persist, consider contacting Facebook support for prompt resolution, ensuring a smooth transition to a verified domain status.
Sharing links of multiple business manager accounts with the same domain.
By establishing a centralized domain verification process, all associated Business Manager accounts can collectively verify ownership of the shared domain. This ensures a cohesive and authenticated connection, allowing the accounts to seamlessly share and promote links with a consistent and unified presence.
This approach not only simplifies the verification process but also enhances security and trustworthiness by confirming the legitimacy of the shared domain across all associated entities.
As a result, each Business Manager account can harness the benefits of domain verification, such as improved ad targeting and access to aggregated performance data, while maintaining a harmonized online ecosystem that fosters effective link sharing and engagement.
Final Thought
In the ever-evolving digital landscape, domain verification on Facebook stands as a beacon of trust and assurance. Armed with the insights provided in this guide, you possess the knowledge to navigate the verification process seamlessly.
By verifying your domain, you forge a secure link between your website and Facebook, unleashing a world of advanced features, heightened security, and data-driven insights that will amplify your digital endeavors.
FAQs
Why do I need to verify my domain on Facebook?
Verifying your domain on Facebook enhances security, establishes credibility, and grants access to advanced features such as improved ad targeting and aggregated performance data.
What is the process of domain verification on Facebook?
Domain verification involves confirming the connection between your website's domain and your Facebook Page by adding DNS records or uploading an HTML file, ensuring a legitimate and secure link.
Can I verify multiple Business Manager accounts sharing the same domain?
Yes, you can verify multiple Business Manager accounts for the same domain. A centralized verification process ensures a unified and authenticated connection for all associated accounts.
What benefits does domain verification bring to my marketing efforts?
Domain verification offers benefits like improved ad targeting precision, access to aggregated performance data, and the ability to tailor campaigns effectively, resulting in optimized marketing strategies.
How can I troubleshoot common issues during domain verification?
Common challenges during domain verification may include DNS propagation delays or incorrect settings. Facebook provides troubleshooting resources to address these issues and ensure a smooth verification process.