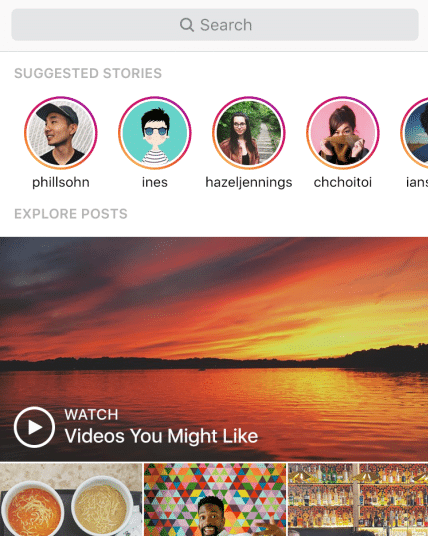 While Instagram Stories bears great similarity to Snapchat, it allow users to do one thing that Snapchat does not: discover strangers' stories. Last week, Facebook, which owns Instagram, confirmed that Instagramers will eventually be able to see stories from those who they don't follow. This new capability, determined by your interests and who you follow, will appear on the top of your screen. Criteria for suggested stories also include popularity (the most popular stories of the day), frequent popularity (users whose stories are always popular), and connection (stories that already appear on your explore grid).
This new move not only echoes Facebook's characteristic as a discovery platform but also shows its diligence in improving the Stories feature and making it its own. While Snapchat focuses on exclusivity in which you can view stories only by those who you added to your contact list, Instagram focuses on discovery, allowing users to easily find other users based on connectivity and interests.
Because Instagram makes it easy for users to discover others, brands prefer using Instagram Stories over Snapchat. Brands such as Mountain Dew, Quaker, and Nike, quickly took advantage of Instagram Stories to promote their products to Instagram's 500 million active users.
By including features that appeal to both regular users who prefer to post transient photos and brands who prefer to curate professional videos and images, Instagram is attempting to grow its already populous user base, perhaps as a tactic to divert people from Snapchat.
Given Facebook's recent Snapchat-esque adaptations, the recent one being Messenger Day, one thing seems clear: Facebook is out to get Snapchat. Will Facebook's moves make Snapchat obsolete? Only time will tell.
What do you think of Instagram's new feature? Leave your thoughts below, like, or share to friends.
Comments
comments