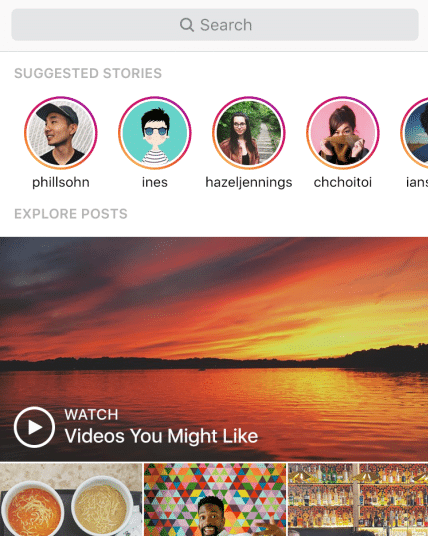 While Instagram Stories bears great similarity to Snapchat, it allow users to do one thing that Snapchat does not: discover strangers' stories. Last week, Facebook, which owns Instagram, confirmed that Instagramers will eventually be able to see stories from those who they don't follow. This new capability, determined by your interests and who you follow, will appear on the top of your screen. Criteria for suggested stories also include popularity (the most popular stories of the day), frequent popularity (users whose stories are always popular), and connection (stories that already appear on your explore grid).
This new move not only echoes Facebook's characteristic as a discovery platform but also shows its diligence in improving the Stories feature and making it its own. While Snapchat focuses on exclusivity in which you can view stories only by those who you added to your contact list, Instagram focuses on discovery, allowing users to easily find other users based on connectivity and interests.
How does Instagram Suggest Stories From Users You Don't Follow?
Instagram uses a complex algorithm to weigh these factors and determine which stories to suggest. The more you interact with Instagram, the better the algorithm will get at suggesting stories you're interested in.
The people you follow
When recommending stories, Instagram considers the accounts you follow. If you follow several accounts sharing stories on a specific topic, Instagram is likely to suggest more stories from other accounts sharing content on that topic.
The hashtags you use
Instagram considers the hashtags you use when suggesting stories. If you use a lot of hashtags related to a particular topic, Instagram is more likely to recommend stories from other people who use those hashtags.
The locations you visit
Instagram tracks the locations you visit and suggests stories from people in the same locations. This can be a helpful way to discover new stories from people who are near you.
The interests you have
Instagram gathers information about your interests by analyzing the content you like, comment, and save. This data is then utilized to recommend stories from individuals who are posting about subjects that align with your interests.
The stories you interact with
The greater your engagement with stories on Instagram, the higher the chances of the platform recommending similar stories to you. Essentially, suppose you react positively to a story by a non-followed user, such as liking, commenting, or saving it. In that case, Instagram is more inclined to suggest stories from that user in the future.
The stories that are popular among your friends and followers
When recommending stories, Instagram takes into account the ones that are popular among your friends and followers. This implies that if many of your friends and followers engage with the stories of a particular user, Instagram will likely suggest those stories to you.
The stories sponsored by businesses
On Instagram, you may come across stories that are sponsored by businesses. These stories are usually labeled as "Sponsored". You can enable the "See Sponsored Stories" option in your Instagram settings to view more sponsored stories.
Why should brands use Suggested Story Feature?
Instagram Stories is a highly popular feature, with 500 million users engaging with stories daily, according to Statista. This presents a significant opportunity for businesses to reach a vast audience. Notably, suggested Stories hold substantial visibility, reaching an average of 20% of users as per a SocialInsider study, giving businesses a strong chance of connecting with non-followers.
Furthermore, by leveraging targeting options, businesses can focus their suggested Stories toward specific demographics and interests, ensuring that their content reaches individuals most likely to find their products or services appealing.
Beyond mere reach, suggested Stories offer a versatile platform for promoting events and sales, effectively building anticipation and excitement among a wide audience.
Additionally, these Stories foster customer relationships by facilitating behind-the-scenes content sharing, addressing queries, and hosting contests or giveaways, thus nurturing connections with their audience.
How can businesses utilize Instagram Stories to reach a wider audience?
Because Instagram makes it easy for users to discover others, brands prefer using Instagram Stories over Snapchat. Brands such as Mountain Dew, Quaker, and Nike, quickly took advantage of Instagram Stories to promote their products to Instagram's 2.35 billion active users. Here is how businesses can use Instagram stories to target a wider audience.
Using relevant hashtags:

 Using hashtags is an effective method to increase the visibility of your stories to individuals who share similar interests. By incorporating appropriate hashtags, your stories will appear in the search results for those specific topics.

Creating engaging content:

 Make sure your stories are visually captivating and engaging to watch. Incorporate high-quality images and videos, and craft a narrative to captivate your audience's attention.

Asking questions and running polls:

 Asking questions and running polls is a great way to get people interacting with your stories. This can help you to learn more about your audience and to generate engagement.

Using interactive stickers:

 Instagram Stories offers a variety of interactive stickers, such as polls, quizzes, and emoji sliders. These stickers can be a great way to engage people with your stories and learn more about them.

Promoting your stories:

 Once you've created your stories, be sure to promote them on your other social media channels and on your website. You can also use the "Share" button to share your stories with your followers.

Running Instagram Story Ads:

 Instagram Story Ads are a great way to reach a wider audience with your stories. These ads can be targeted to specific demographics and interests, so you can ensure that your ads are seen by users most likely to be interested in your business.
Final Words
By including features that appeal to both regular users who prefer to post transient photos and brands who prefer to curate professional videos and images, Instagram is attempting to grow its already populous user base, perhaps as a tactic to divert people from Snapchat.
Given Facebook's recent Snapchat-esque adaptations, the recent one being Messenger Day, one thing seems clear: Facebook is out to get Snapchat. Will Facebook's moves make Snapchat obsolete? Only time will tell.
FAQs
Can I see stories from users I don't follow without following them?
Yes, you can see stories from users you don't follow without following them. However, you will only be able to see the first 10 stories from each user. If you want to see more stories from a user, you will need to follow them.
How does Instagram decide which stories to suggest?
Instagram decides which stories to suggest based on a variety of factors, including:
The people you follow

The hashtags you use

The locations you visit

The interests you have

The stories you interact with

The stories that are popular among your friends and followers

Stories sponsored by businesses
Can I control the Stories that Instagram suggests to me?
While you can't directly handpick the Stories, you can influence the suggestions by engaging with content that resonates with you. The more you interact with specific types of content, the better Instagram becomes at tailoring its recommendations.
Why is Instagram showing me Stories from users I don't follow?
Instagram's goal is to enhance your experience by suggesting Stories that align with your interests. Even if you're not following certain users, their content might be relevant to you based on your interactions and engagement patterns.
What do you think of Instagram's new feature? Leave your thoughts below, like, or share to friends.