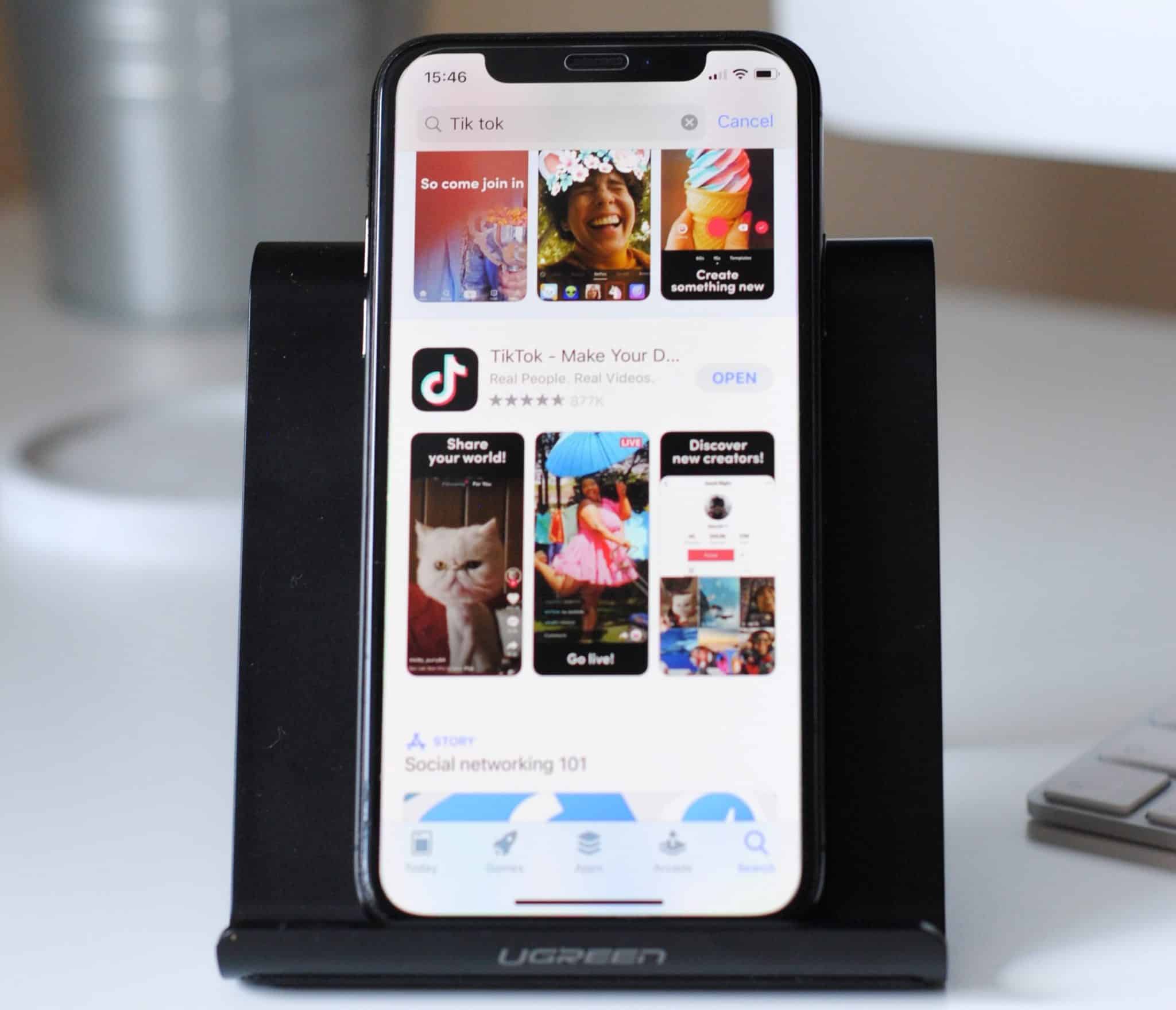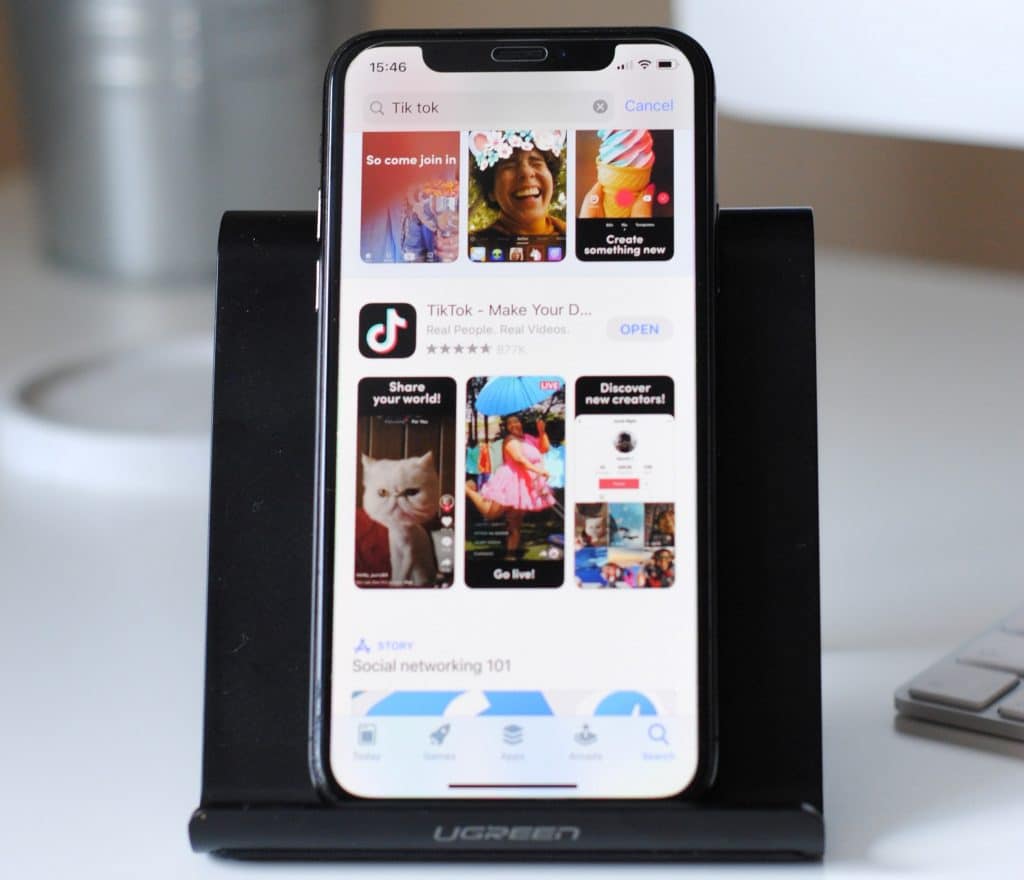 Hello I'm Nik / Unsplash
Update: 11/13/2020 TikTok can still continue to operate in the U.S., as it awaits further instructions from the government on how to move forward with its sale to Walmart and Oracle. More information about this update and its effect on TikTok advertising can be found here.
Fans of TikTok, whether a creator or a silent viewer, scrolling endlessly as the night hours tick by, have most likely heard the rumors that TikTok is getting shut down. But since you can still open your app and bring up your favorite videos, how true is this hearsay? 
There was a bit of a hurry-up-and-wait situation with TikTok, with in-the-know fans expecting the entire app to essentially disappear in mid-September. That didn't happen, but the outlook still isn't positive for the app or its committed users. Here's what's going on.
How This All Started
President Trump considered banning TikTok.
In July of this year, President Trump considered banning TikTok. Some said this was to punish China for its relation to the COVID-19 pandemic while others (including the government) said that it was for the sake of protecting the privacy of U.S. citizens. (Note that a spokesperson for TikTok said that the service does not collect data from Americans.)
Donald Trump confirms the government is considering banning TikTok due to national security concerns:

"We're looking at TikTok, we're thinking about making a decision."

— Pop Crave (@PopCrave) July 29, 2020
What Happened Next? 
Trump suggested a purchase of TikTok.
Around the beginning of August, President Trump said that TikTok can't be controlled security-wise by China because it's too large and invasive. He wanted a large, secure, American company, like Microsoft, to buy it. He also suggested that a company like Microsoft purchase the entirety of TikTok instead of a percentage of it, stating that it would be too complicated to buy a percentage of the company, partly because of the issue over which owner would get the TikTok brand name. 
The goal was to have TikTok purchased by September 15 (though September 20 was also a date mentioned by some outlets); otherwise, its operations in the U.S. would be shut down. Furthermore, Trump wanted the U.S. Treasury to get a lot of money out of the purchase deal.
How Did TikTok Respond? 
Their federal court complaint (and more).
On their website, TikTok put up a blog post saying: 
"The Executive Order issued by the Administration on August 6, 2020 has the potential to strip the rights of that community without any evidence to justify such an extreme action, and without any due process." 
The blog post also had excerpts from their official complaint filed with the federal court, including this one: 
"By banning TikTok with no notice or opportunity to be heard (whether before or after the fact), the executive order violates the due process protections of the Fifth Amendment." 
Then, by the end of August, TikTok's new CEO, Kevin Mayer, resigned.
And, as you'd expect, TikTok users started talking about the situation on their feeds as they prepared to leave the platform. They encouraged their fans and viewers to join them on other social sites, like Instagram, to continue watching their content. Overall, though, there was a shared feeling that TikTok is one-of-a-kind and difficult to replace.
Did Any Companies Consider Buying TikTok?
Big names competed for the purchase.
Major companies like Oracle, Walmart and — yes — Trump's suggested Microsoft considered purchasing TikTok. Microsoft even posted to their blog on August 2 about the potential purchase, saying: 
"Microsoft will move quickly to pursue discussions with TikTok's parent company, ByteDance, in a matter of weeks, and in any event completing these discussions no later than September 15, 2020. During this process, Microsoft looks forward to continuing dialogue with the United States Government, including with the President." 
If you're wondering, "Why Walmart?" since they're not exactly known as a tech giant, the answer is simple: TikTok has the opportunity to sell products to consumers, making it attractive to a big retailer, especially one with budget-friendly prices that appeal to TikTok's young user base. 
Ultimately, though, it seemed that Oracle had won the bid. While details of the plan weren't totally clear, it seemed that the company would have a majority stake, but ByteDance (TikTok's parent company) would still have a pretty strong minority stake, and it wasn't known whether or not that deal was supported by Trump.
Then What Happened?
TikTok was given a new end date.
Anyone who's an avid TikTok watcher knows that they can still access the app, and it seems that creators are still making new content , so it hasn't been effectively or fully shut down…yet. There still isn't an official buyer (details about and support of the alleged Oracle purchase were fuzzy at best), and it seems that the purchasing deadline has been pushed to November 12, which is when a deal has to be finalized by. WeChat has also taken a hit due to similar security issues (or suspected security issues), with a federal action limiting how money can be transferred and how payments can be made in the United States. 
But even though you can technically still use the TikTok app, whether you're a creator or a viewer, you can't actually take advantage of app updates anymore, and if you don't already have the app on your phone, you can't download it, either. When an app can't receive necessary updates, it can start performing poorly and even leave your phone open to safety and security issues. Updates often include must-have patches that keep the app, your phone, and you safe.
What happens mid-November? Once November 12 comes, the deal is the same as it was with the September 15 deadline: If there isn't a buyer and a finalized purchase deal, the app will be shut down. In the meantime, there are debates about how safe TikTok actually is right now versus its proposed safety should it be purchased by an American company. There are also discussions about whether or not this control by the U.S. government is actually reminiscent of the authoritarian government in China instead of being democratic. And, since the original deadline passed, there's also the question of if the ban will actually take place at all.