When Facebook created the placements Instant Articles, Audience Network, and in-stream video, it had one goal in mind: to give you more platforms to place your ads. When these placements launched, you could advertise beyond Facebook news feed and the right column. You could place ads within websites and apps outside of Facebook, articles, and videos. However, these placements produced one problem: your ads may appear alongside certain content that isn't appropriate for your brand or business.
For example, if you're an agency advertising your financial services, you might not want your ad to appear within the Tinder app. If you work for a university and you want to offer educational services, you might not want your ad to appear within a Cosmo article that talks about sex. The best Facebook ads agency will find a way around this, however.
What is Category Blocking?
Category Blocking is a feature that lets advertisers prevent their ads from showing up next to certain types of content categories. This ensures that if certain topics, themes, or types of content don't match your brand's values or target audience, your ads won't be displayed alongside them.
For example, if your brand is family-oriented and you want to avoid being associated with content related to alcohol or gambling, Category Blocking can make that happen.
This feature is your shield, protecting your brand's reputation by ensuring your ads don't show up where they shouldn't.
What are Block Lists?
With Block Lists, you can create lists of websites or apps where your ads should not appear, giving you greater control over your advertising efforts.
It's like having a "no-go" zone for your ads. If there are specific websites or apps that you believe aren't suitable for your brand or aren't delivering the desired results, you can simply add them to your Block List.
Let's say you've noticed that your ads aren't performing well on certain niche websites or apps that don't align with your target audience. Block Lists enable you to customize your ad placements, ensuring your budget is spent where it matters most.
Featuring Category Blocking Controls
To combat this problem, Facebook is rolling out category blocking controls, a tool that allows you to opt your ads out of certain topics. Don't want your ad to appear within college humor videos? No problem. Don't want your ad to appear within political articles? Don't worry about it.
You'll find this new category blocking tool under the "Placements" section of Ads Manager.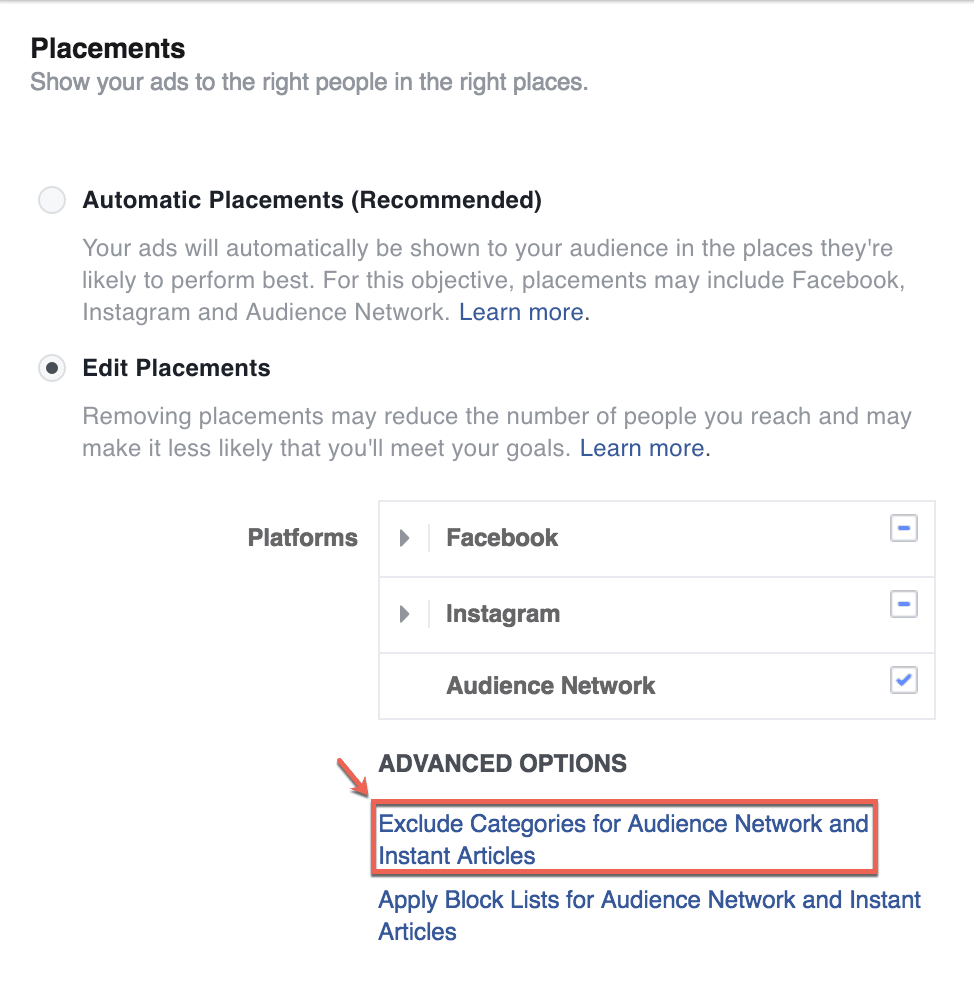 Once you click the text box, a list of categories that you can block will appear.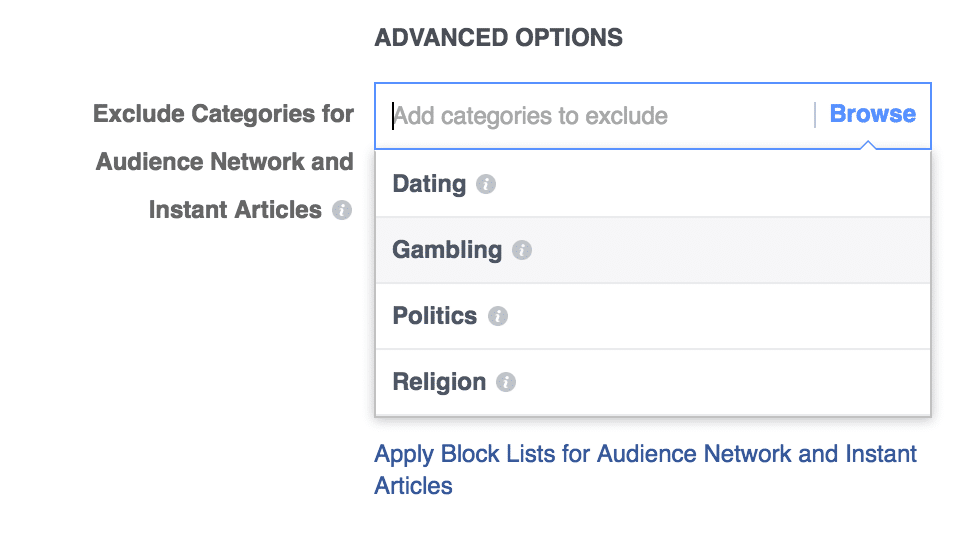 The five categories that you can opt out of Instant Articles, in-stream videos, and Audience Network are the following:
Dating
Gambling
Mature
Tragedy and conflict
Debatable social issues
Featuring Block Lists
If you don't want your ads to appear in specific websites or apps, you can do so by creating a block list.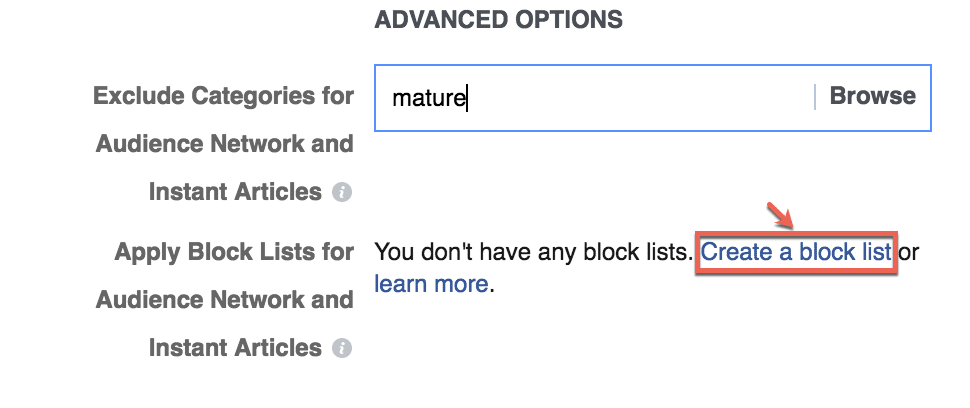 Click "Create Block List" to create your list.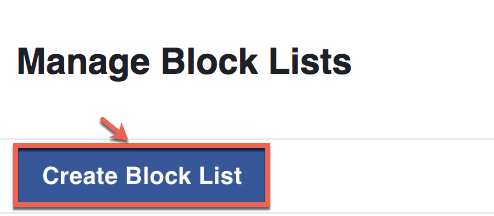 You can upload a text file (.txt or .csv) that contains up to 10,000 website domains and app store URLs that you want to block.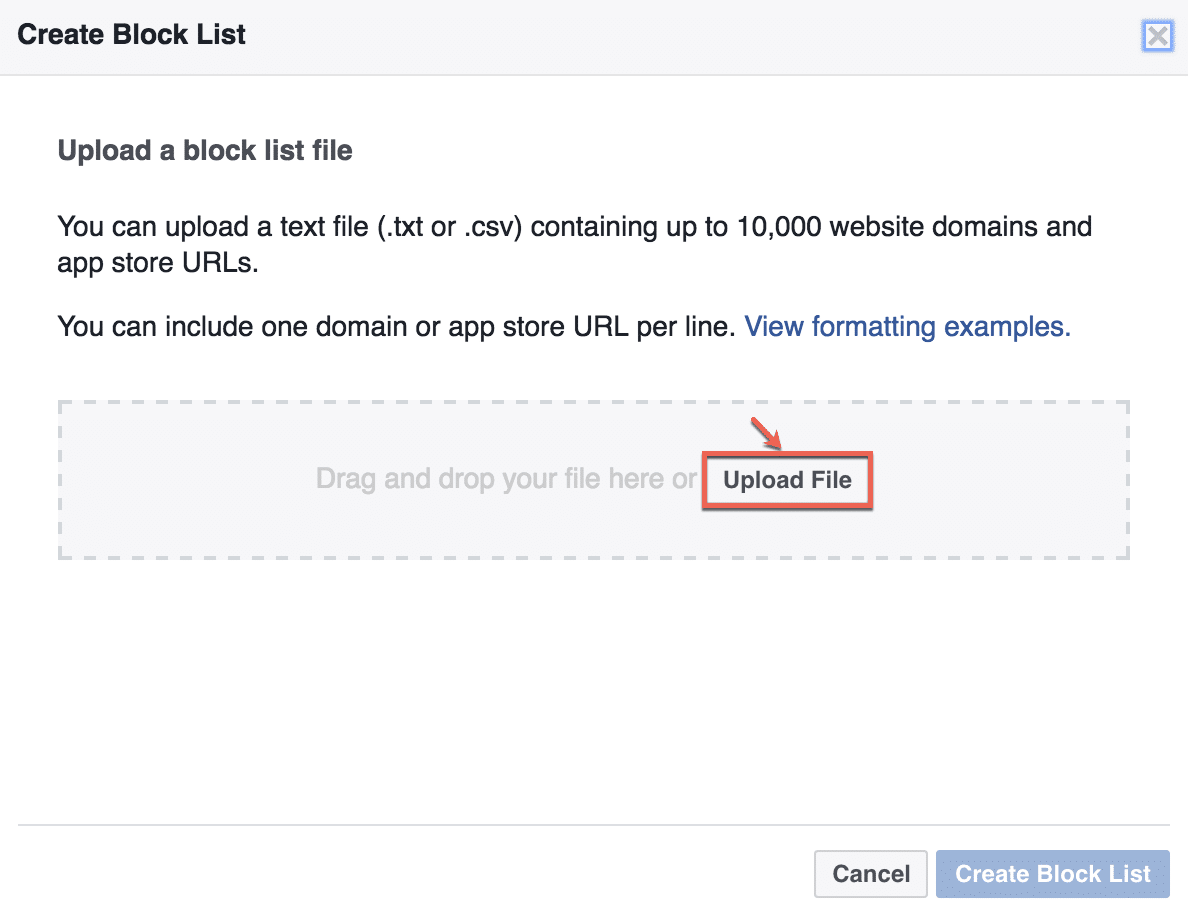 Factors to consider when using the Block Category feature?
1. Brand Alignment and Values
Consider how the content categories align with your brand's values and image. Ensure that the categories you choose to block are genuinely incompatible with your brand's messaging and audience expectations.
2. Audience Understanding
Understand your target audience's preferences and sensitivities. Some categories might be appropriate for certain audiences but not for others. Tailor your blocking decisions to the specific demographics you are targeting.
3. Campaign Goals
Align your blocking strategy with your campaign goals. If your goal is broad reach and awareness, overly strict blocking might hinder your campaign's effectiveness. On the other hand, if you're aiming for niche targeting, more specific blocking could be beneficial.
4. Industry Relevance
Consider the nature of your industry. Some industries may be more sensitive to certain content categories than others. What's appropriate for one industry might not be suitable for another.
5. Comprehensive Review
Regularly review the content categories available for blocking. Platforms may update or refine their categories, and new categories could emerge. Keeping your block list up to date ensures that your brand safety measures remain relevant.
6. Impact on Reach
Be mindful that extensive category blocking could limit your ad's reach. If your target audience interacts with a variety of content, overly aggressive blocking might prevent your ads from reaching valuable users.
Limitations and challenges
There are a few limitations and challenges associated with using category blocking and block lists:
It can be time-consuming to choose which categories or websites to block.

You may need to experiment with different settings to find the right balance between blocking ads and reaching your target audience.

Category blocking and block lists can only be used with certain ad formats.
Final Words
Category blocking and block lists are powerful features that can help businesses to improve their Facebook advertising campaigns. These features enable businesses to target their ads to individuals who are most likely to have an interest in their product or service.
FAQs
What is Facebook Category Blocking and Block Lists?
Facebook Category Blocking is a feature that allows advertisers to prevent their ads from appearing on specific content categories or topics. Block Lists, on the other hand, let advertisers create lists of websites or apps where they do not want their ads to be displayed.
Why should I use Category Blocking and Block Lists on Facebook?
Using Category Blocking and Block Lists helps you maintain brand safety by controlling where your ads are shown. It ensures that your ads are not displayed alongside content that might be inappropriate or misaligned with your brand values.
How do I implement Category Blocking and Block Lists on Facebook?
In Facebook Ads Manager, you can access the settings for Category Blocking and Block Lists in the placements section of your ad set. From there, you can select the content categories you want to block or add specific websites/apps to your Block List.
How often should I review my Category Blocking and Block Lists?
Regular review and adjustment are crucial. Content categories, online platforms, and user behavior evolve over time. It's recommended to periodically analyze your ad performance and update your blocking settings to ensure they align with your campaign goals and brand safety preferences.
What do you think of Facebook's new category blocking and block lists tools? Leave your thoughts in the comments section below. Also, share this update to friends.