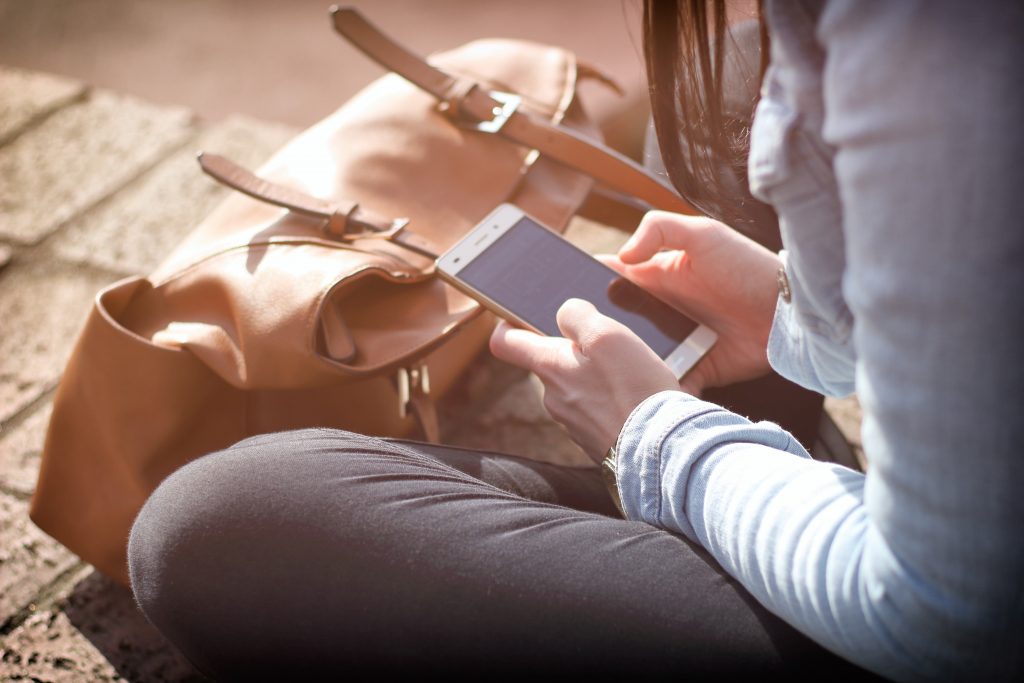 The Cambridge Analytica scandal sent everyone scrambling to protect their personal Facebook information that they had assumed was protected. When journalists discovered Cambridge Analytica, the data firm that worked for Donald Trump's presidential campaign, harvested personal information from about 50 million Facebook profiles, jaws dropped nationwide.
Not only did Facebook fail to stop Cambridge Analytica from constructing manipulative political messages to sway voters using the information it harvested in 2014, but it also did not uncover the unethical activity until 2015. After Facebook discovered the activity and demanded that Cambridge Analytica delete all the information it had collected, the firm lied and continued to use the data.
The public recently learned about this scandal amidst ongoing investigations regarding interference during the 2016 US Presidential Election. Many users have decided to delete their Facebook accounts altogether as a result. But many of us want to continue using our Facebook accounts with the assurance that our privacy will not be violated again.
The first step in protecting your data is understanding Facebook's privacy terms and how the network uses your information. Once you learn how it all works, you'll be better informed and equipped for a safer, more private social media experience.
The Types of Information Facebook Collects
First, it's important to know what information Facebook collects. According to the social network's data policy, there are eight types of information Facebook gathers from your Facebook account.
Things you do and information you provide. This includes the information you use to sign up for an account, the content you share or create, the type of content you view and engage with, and the photo locations and file dates.
Things others do and information they provide. Specifically, information that other users' activity reveals about you, whether it be through direct messages or photos you're tagged in.
Your networks and connections. Facebook gathers information about the Facebook group you're in and about the friends or pages you interact with the most.
Information about payments. Facebook collects information on any transaction you make through the Facebook app, such as a game purchase.
Device information. Depending on which devices you use to access the app, Facebook collects device-specific information such as operating system, settings, WiFi and GPS signals, IP address, and browser types.
Information from websites and apps that use Facebook's services. Facebook saves your website behaviors, such as visiting a website, engaging with an app, and liking or sharing a web page.
Information from third-party partners. Facebook buys data about you from data brokers such as Acxiom. (Note, however, that Facebook will discontinue this in the next 6 months.)
Facebook companies. Companies that Facebook owns or operates also give the network information they collect about you per their terms and policies.
How Facebook Uses Your Information
After Facebook gathers all this information about you, what does it do with it? According to its data policy, Facebook uses your data to:
Improve existing services, develop new ones, and provide shortcuts and suggestions based on your activity history.
Deliver marketing communication to you regarding the network's services, as well as respond to you when you contact Facebook.
Inform advertising measurements and services.
Provide safety and security to all accounts, as well as investigate any suspicious activity.
How Facebook Shares the Information
You may wonder in what ways Facebook shares the information it collects and uses based on your activity. In its data policy, Facebook says it shares information in multiple ways.
First, it shares information based on the audience you specify when posting a status update. For instance, you have the option to share with the public, a customized list of users you're friends with, or members of a Group you are part of. Additionally, when you comment or engage with posts by one of your Friends, the audience that sees that activity is dependent on that friend's audience settings.
Second, Facebook also shares information to other users who shared information about you. For example, if you're tagged in someone else's photo, you do not have control over who sees that photo; the user who tagged you in the photo does.
Third, Facebook shares information about your Facebook activity when you use or interact with third-party apps, websites, or other services working with Facebook. For example, when you download an app through Facebook, that app will have access to your public profile, username, country and languages, and any other information you may share with them.
Fourth, Facebook also shares your information with companies that it owns. Additionally, if Facebook sells its services to a new owner, it will likely share your information with that new owner.
Fifth, in order to deliver ads to you that are relevant, Facebook will share information with advertisers, vendors, service providers, and other partners. However, that information does not include personally identifiable information such as name or email.
How to Limit Apps' Data Access
Facebook CEO Mark Zuckerberg announced that your privacy and security settings will soon be accessible through a Privacy Shortcuts tab. Additionally, there will be a News Feed tool where you can see all the apps you've signed into and revoke those apps' access to your data.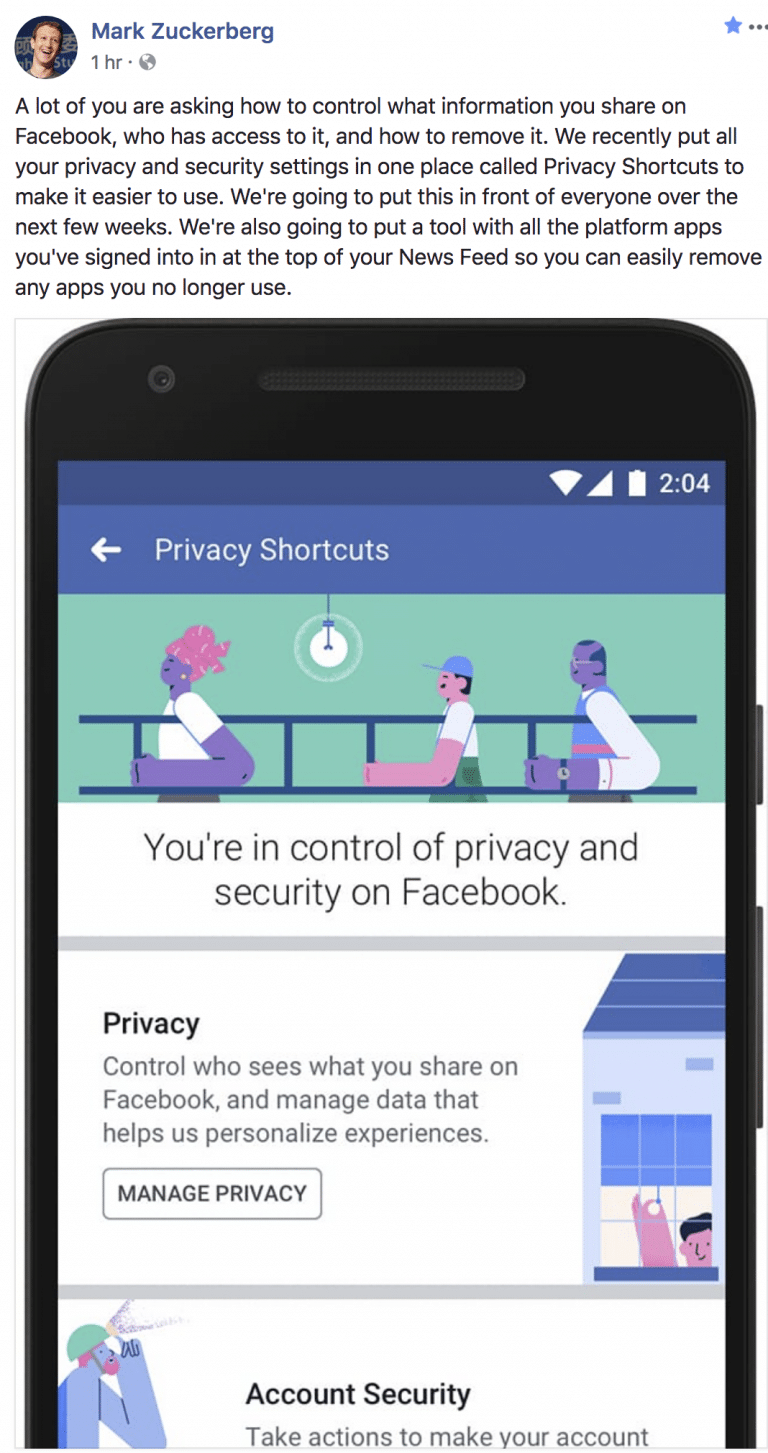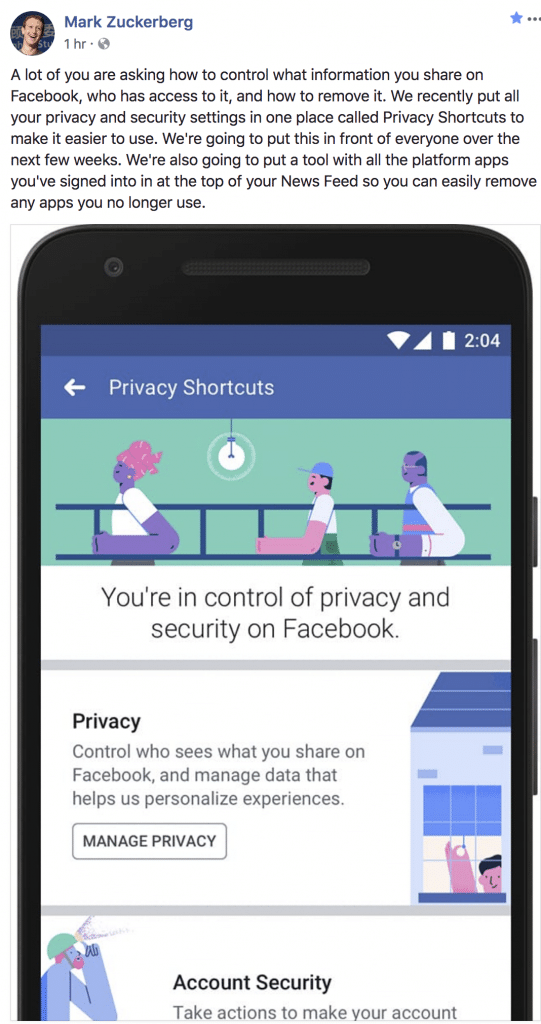 If you don't want to wait for the News Feed tool to roll out, the best way to protect your data without deleting your account is by limiting apps' access.
To restrict apps' data access, simply go to "Settings," select "Apps" from the left-hand column, and then select the apps whose data access you want to remove.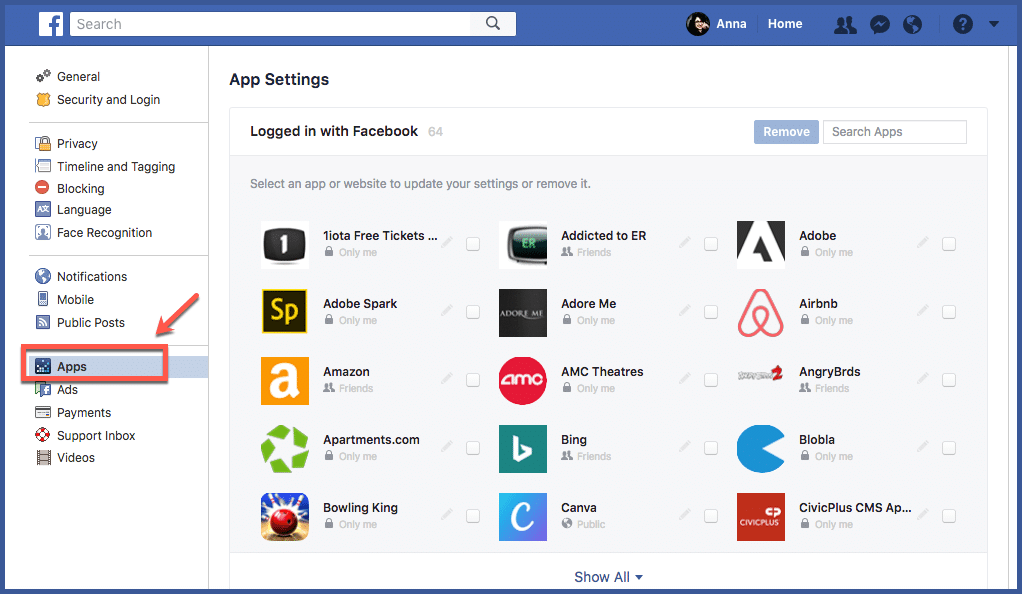 You'll notice that located under your list of apps are four additional boxes: "Apps, Websites and Plugins," "Apps Others Use," "Game and App Notifications," and "Old Versions of Facebook for Mobile." You can edit your preferences for these to further protect your data. Be sure to understand that editing these boxes may affect accounts you have with any websites or apps you've used Facebook to log in to.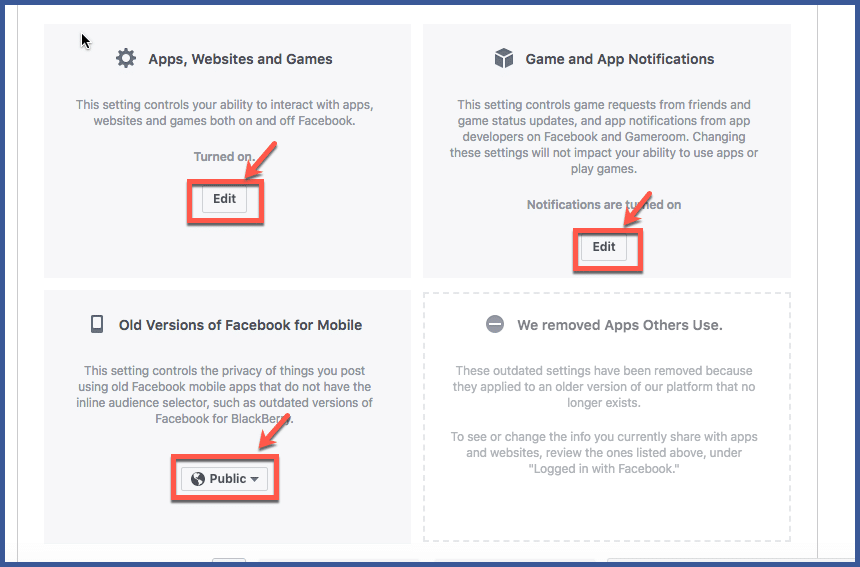 Let's say you want to create an account for an app or game through Facebook. Can you limit the permissions they have? The simple answer is yes, you can. To do this, all you have to do, before following through with the setup or selecting "Play Now," select "Review the info you provide."
Next, indicate which data, such as birthday or friends list information, that you do want to share. From there, you can continue the set-up process. You can also edit the privacy settings for any apps or games whenever you desire.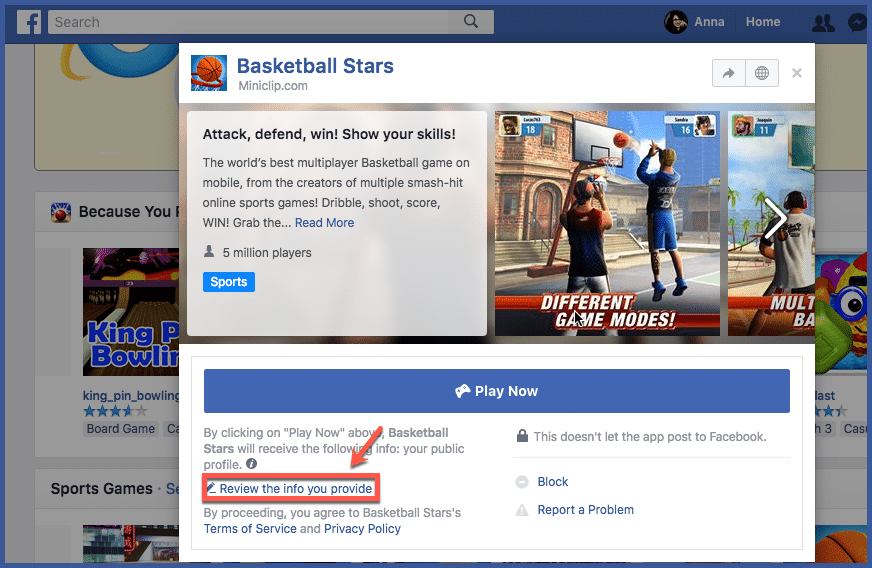 Mark Zuckerberg's Steps to Preventing Future Data Breach
In response to the Cambridge Analytica breach discovery, Mark Zuckerberg shared a post outlining the steps Facebook plans to take to improve data protection.
As part of the first step, Facebook will audit any suspicious apps with access to large amounts of data before the 2014 data reduction. If an app developer is unwilling to comply or tries to find a way around the audit, Zuckerberg says that developer will be banned.
The second step involves restricting developers' data access, first by taking away developer access to data with apps that haven't been used in three months. Second, by reducing accessible data to only name, profile photo, and email address. To gain access, developers are now required to request approval and sign a contract.
The third step involves the new tool Zuckerberg mentioned in his post that displays the apps you've used through Facebook at the top of your News Feed.