When publishers from Sri Lanka, Bolivia, Slovakia, Serbia, Guatemala, and Cambodia checked their Facebook accounts and scrolled through their news feeds, they discovered something strange and alarming—their page posts didn't appear in News Feed. Instead, they appeared in the inconspicuous and lesser-known Facebook feature, the Explore Feed. When they checked their page insights, they discovered another troubling occurrence: their post engagements dropped dramatically.
"Pages are seeing dramatic drops in organic reach," says Dennik N journalist Filip Struharik in an article on Medium. "Sixty biggest Slovak media pages have four times fewer interactions…since the test."
When Explore launched last month, it contained posts from pages users didn't follow but may be interested in. During Facebook's test in the aforementioned six countries, however, Explore becomes the only home for posts from pages users already follow, leaving posts by friends and families to dominate News Feed. After news spread about the test, publishers panicked. In one Mashable article, the author, Kerry Flynn, called the test a "nightmare." In another, a The Atlantic writer referred to the test as a time "when the Facebook traffic goes away." The panicked responses to Facebook's test, however, is an overreaction.
First, the change is a test that may or may not roll out globally depending on the feedback from participants. Facebook's head of News Feed Adam Mosseri said in a statement "We will hear what people say about the experience to understand if it's an idea worth pursuing any further. There is no current plan to roll this out beyond these test countries."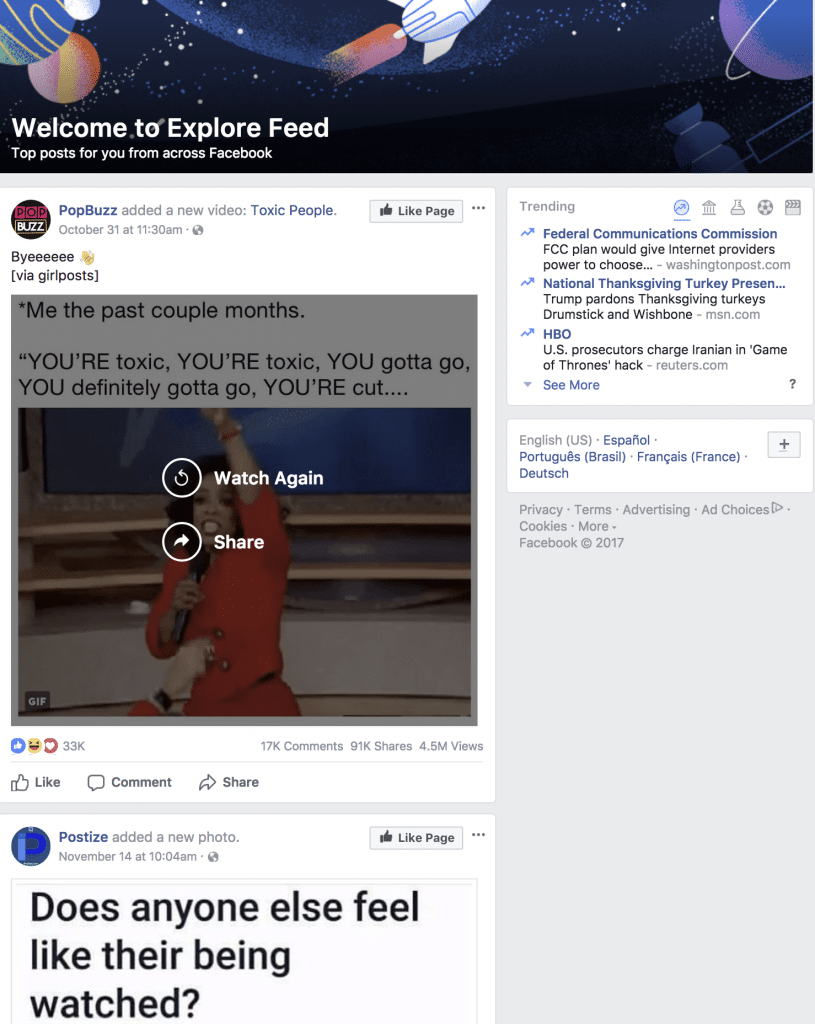 Even if the change rolled out globally, Explore benefits publishers. For years, Facebook has faced the problem of an overcrowded, cluttered news feed that intensifies publishers' competition for users' attention. Placing page posts in a separate feed declutters News Feed and lessens competition. In fact, publishers will fare better in the Explore Feed without the distracting ads, status updates, and News Feed algorithm that favors posts from friends and family.
Second, by relocating page posts to Explore, Facebook ensures that the users who see the page posts have high intent. If users made the effort to visit a separate feed dedicated to page posts, they likely intend to read only page posts. Page posts in Explore work particularly well with users who read the news exclusively on social media. They can visit Explore where articles are lined up, one after another, instead of scrolling through their feeds, hoping to stumble upon a publisher's article.
Third, publishers don't need to worry that they have to pay Facebook for their posts to appear in News Feed. When reached for comment, Chad Kramer, a Facebook representative, said "This test does not have any direct impact on ads, and we do not intend to charge pages on Facebook to pay for all their distribution on News Feed or Explore."
It's understandable why publishers are panicking. The sudden drop in post engagement is, of course, a cause for worry. However, once Facebook places Explore in a more prominent, easy-to-access area on its platform, and once more users know of Explore, page post engagement will resurge.