Do you want to find the best TikTok fitness influencers? 
TikTok fitness influencers are offering great tips and fitness advice in a refreshing way. Thanks to TikTok's creative content creators, getting into shape has never been more fun.
In this blog post, we will introduce you to the top 20 TikTok fitness influencers. Be ready to get fit and have some fun!
Read on as we cover the following:
1.) Demi Bagby
2.) Ulissesworld
3.) Rebecca Louise
4.) Antonie Lokhorst
5.) Jennifer Tavernier
6.) Steve Prince
7.) Jesse James West
8.) Eyal Booker
9.) Pernilla Soe
10.) James Tollefson
11.) Kayla
12.) Stefana Avara
13.) Isaac Smith
14.) Brenton Ross
15). Daniel Siegler
16). Trevin O'Cain
17.) Nick Falke
18.) Kate
19.) KJ Weatherspoon
20.) Vicky Justiz
Final Thoughts on TikTok Fitness Influencers
Frequently Asked Questions on TikTok Fitness Influencers
1.) Demi Bagby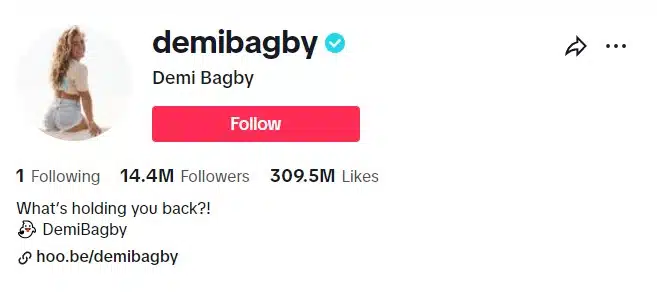 Demi is a fitness influencer who does CrossFit and bodybuilding. She is inspirational, as she was in a wheelchair some years back.
She is different from other fitness trainers because she works out anywhere. Unlike other trainers, she doesn't stay in the gym or work at home. She will come to you, even in the desert or on the sidewalk! You can learn outdoor fitness tips from her. If you want great tips, follow her profile.
2.) Ulissesworld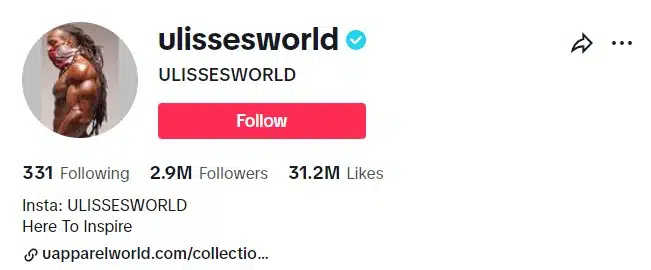 Ulissesworld is an influencer with over two million followers on TikTok and seven million followers on Instagram.
He worked as a professional builder, so it's easy to see why his body is strong and muscular. People love him because he posts great content!
On his TikTok account, Ulissesworld majors in a combination of entertainment and fitness videos. He is a great choice if you like funny fitness videos. He performs with his amazing wife, Sharah.
3.) Rebecca Louise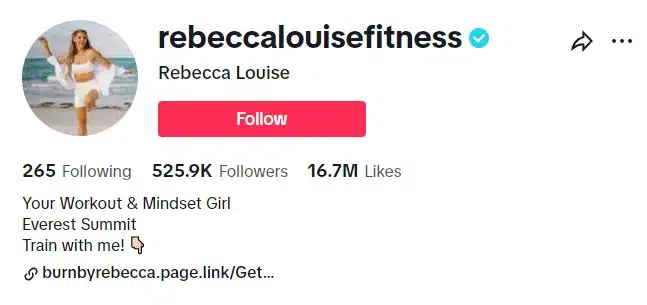 Rebecca Louise is a professional fitness expert. She knows much about fitness and has been doing it for many years. Rebecca has made a 30-day fitness plan that she sells online to her followers.
Additionally, she has a lot of people who follow her on TikTok, Instagram, and YouTube – over 500,000 people! If you want to look like Rebecca Louise, watch her on TikTok and work to be your best self.
4.) Antonie Lokhorst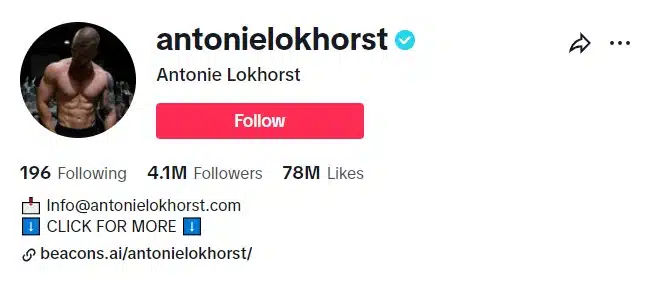 Antonie Lokhorst is a popular fitness coach and TikTok influencer with a large following. He shares content about everyday life and fitness on his TikTok account, where he interacts with millions of followers.
His TikTok videos have received over 78 million likes, making him one of the most-liked fitness influencers on the platform. Follow Antonie's fitness tips to get in shape.
5.) Jennifer Tavernier

Jennifer is a top fitness influencer with over 900,000 followers on TikTok. Her videos reach many fans, and she has an excellent reputation.
Her followers love her because she goes above and beyond to offer personalized fitness plans to help them achieve their unique fitness goals. You can talk to Jennifer Tavernier about your specific needs so that she can create a personalized workout plan for you.
She also shares workout videos, and sometimes her daughter joins in for training sessions. You can follow her on TikTok if you want to train with her, stay healthy and in shape.
6.) Steve Prince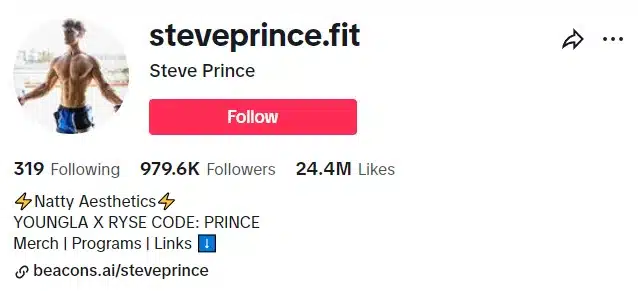 This TikTok account is perfect for anyone interested in building muscle and staying fit. Steve focuses solely on muscle-building scenarios and regularly posts fitness videos showcasing his impressive muscles. Follow him for tips and inspiration on how to achieve your fitness goals.
Steve also offers online fitness coaching to his clients. He is available for customized coaching sessions and can even walk with you.
If you want to get in shape quickly, he can help you achieve your goals. Send Steve a message to receive personalized plans.
7.) Jesse James West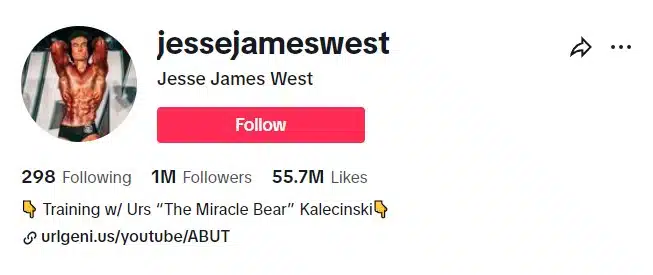 Do you like dancing and working out? Check out Jesse James on TikTok! He has over 1.4 million likes. You can follow him and do his dances and workouts with him.
He also adds humor to his workout videos, a rare quality among other fitness influencers. Watch his videos to achieve your fitness goals and enjoy a good laugh. His work has gained popularity among over 1 million followers.
8.) Eyal Booker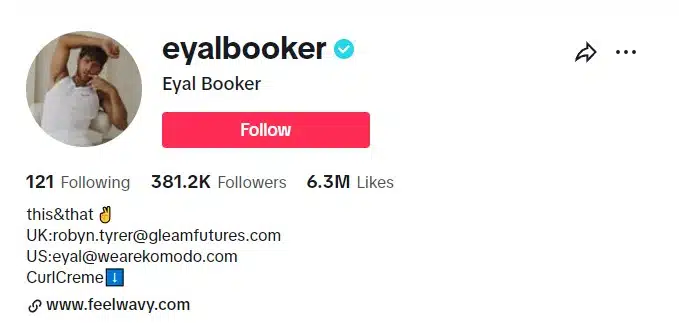 Have you watched the TV show Love Island? If so, you should know Eyal Booker. He got famous on Love Island but is now a fitness influencer on social media platforms like TikTok.
He has 1 million followers there! You can watch videos of him working out with his pet.
9.) Pernilla Soe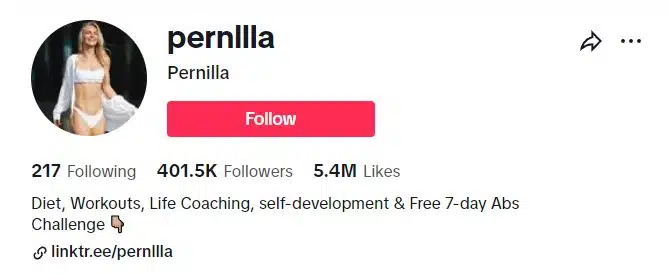 Pernilla Soe has gained popularity on TikTok with over 401 thousand followers, and her videos have received more than 5.4 million likes. She provides guidance on ideal diets for achieving maximum workout success.
Asides from physical fitness, her videos also focus on improving her follower's mental strength. Following her fitness routines will help you tone your abs and core.
Additionally, her dance videos are both exhilarating and effective for toning your body. She also participates in TikTok challenges and engages with her followers, so she's an interactive fitness guru. You can follow her to enhance your physical fitness and learn from her.
10.) James Tollefson

James Tollefson has a great presence on TikTok. He joins in on the challenges and creates a comfortable environment with his followers. His account has gained over 260,000 followers and has received over 2.6 million likes.
Follow him if you want a supportive fitness trainer and influencer. He is a professional fitness coach who also sells fitness courses online.
His courses can help you get a toned and well-built body. His fitness videos include excellent exercises for toning specific body parts. You'll enjoy the fitness content that James provides.
11.) Kayla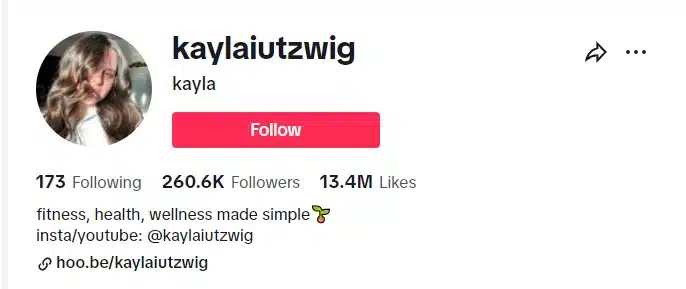 TikTok influencer, Kaylaiutzwig, is a fitness expert with over 260,000 followers and 13.4 million likes. She shares valuable fitness advice with her followers, helping them understand what their bodies need and what they should avoid.
Kayla will listen to your needs and curate a seamless fitness journey. Her health and wellness tips are inspiring, and her TikTok feed is exceptional.
12.) Stefana Avara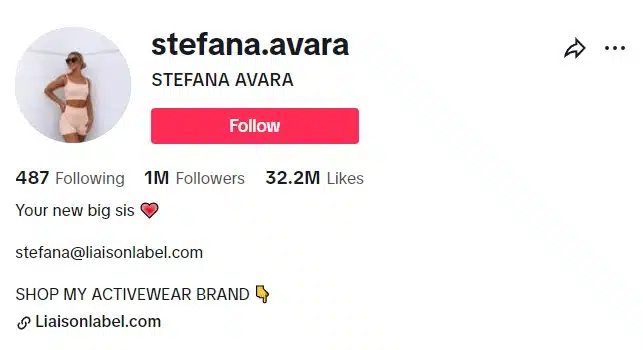 Stefana Avara's videos focus on both health and fitness, with each video targeting a specific health benefit while toning and building different body parts. With over 1 million followers and 32.2 million likes, this fitness influencer can help you achieve good health and a unique look.
She also dispels fitness myths and provides proven fitness tips. You can get healthy smoothie recipes from her too.
13.) Isaac Smith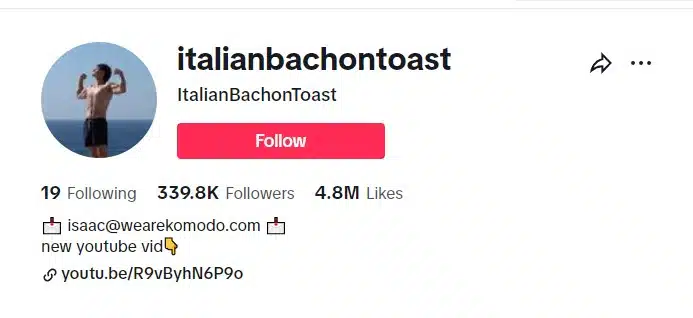 Isaac Smith is a fitness coach and influencer who focuses solely on fitness. He has gained a following of over 339,000 on TikTok and has received over four million likes on his informative videos.
His videos provide helpful exercises and fitness tips for specific body parts. He emphasizes the importance of building muscles differently for each body part. Whether your fitness goals are big or small, this trainer will inspire you to achieve your desired results.
14.) Brenton Ross

Brenton Ross, well-known as Brentonrossfitness on Instagram, uses the username Hombres Mamados on TikTok. With over 126 thousand followers and 831 thousand likes, this fitness influencer shares various workout tips through videos on his TikTok account.
This fitness influencer is an excellent choice for anyone interested in bodybuilding and weight training. He also sells great fitness courses and meal plans.
15). Daniel Siegler

TikTok account "danielsieglerfitness" has amassed over 75,000 followers and has received over 229,000 likes on its fitness videos. People have found the fitness techniques demonstrated in the videos practical and enjoyable. We recommend choosing a session with this fitness expert for a pleasant experience.
Daniel Siegler, a fitness trainer, has a gym where he enjoys working out. You can access his fitness gym videos for great fitness tips.
Additionally, his younger brother shares his passion for fitness and offers high-quality partner training sessions. You can also find a wealth of fitness advice on his TikTok account.
16). Trevin O'Cain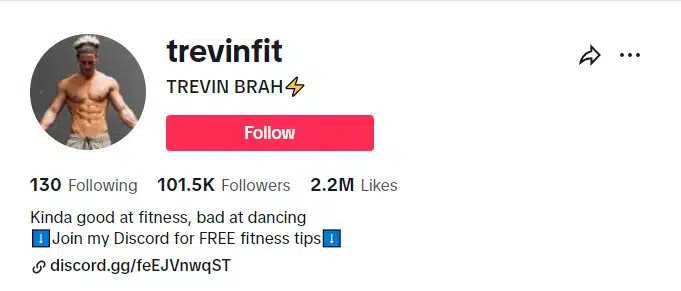 Trevin O'Cain is a TikTok fitness expert known as Trevinfit. He shares videos and live sessions to help his followers achieve their fitness goals.
Additionally, Trevin O'Cain has gained popularity by producing excellent videos. He has over 101.5 thousand followers who share his videos, resulting in tremendous likes. His workout videos, which include a mix of dance and exercise, are highly engaging and motivating.
17.) Nick Falke

Falke's TikTok account, named Falkefit, has gained a great reputation for its fantastic fitness tips. With over 170.4 thousand followers, Nick's videos have received more than 2.6 million likes.
Nick is a skilled fitness coach who provides valuable content to the TikTok community. His fitness videos are suitable for both home and gym workouts. He aims to assist his followers in building lean muscle and losing excess fat. Follow Nick to achieve your fitness goals like a pro.
18.) Kate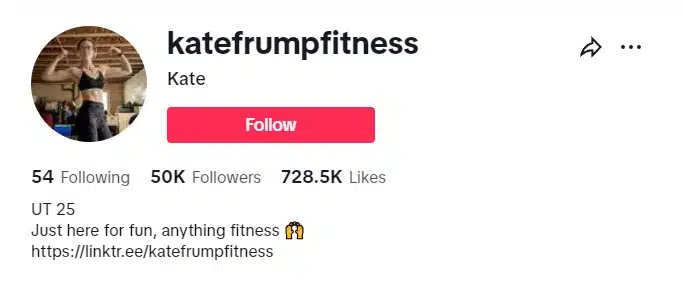 Kate's TikTok account, "katefrumpfitness," has garnered over 50 thousand followers who have enthusiastically shared her fitness videos.
As a result, her videos have received more than 728.5 thousand likes. Kate often participates in TikTok's dance and fitness challenges, entertaining her pool of fans with her unique fitness routines.
Her 30-day abs challenge has helped her gain more likes and followers due to the effective fitness tips she provides. By following her workout routine, which focuses on abs and upper body strength, you can have a great body too. Join her on this journey to build impressive strength levels.
19.) KJ Weatherspoon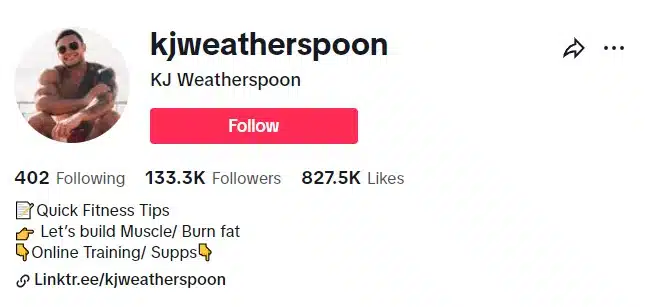 KJ Weatherspoon, also known as "kjweatherspoon" on TikTok, is a fitness trainer who offers weight training and muscle building sessions. He has over 133.3 thousand followers and 827.5 thousand likes on his account.
With his impressive physique and expertise in burning fat and toning different body parts, his videos are worth following whether you work out in the gym or at home.
20.) Vicky Justiz

Vicky Justiz, a popular fitness influencer on TikTok, is making waves with her impressive physique. With over 119.4 thousand followers, she's established herself as a trusted fitness trainer.
Her TikTok videos have garnered a whopping 1.5 million likes, demonstrating her significant impact in promoting fitness awareness. Not only are her videos trending online, but she also goes the extra mile by providing meal plans that target specific body parts.
Whether you are looking for practical fitness advice or valuable health tips, Vicky's account is a must-follow. Follow her for an entertaining fitness experience like no other.
Final Thoughts on TikTok Fitness Influencers
Those top TikTok fitness influencers have created a community to motivate and inspire people worldwide. Not only do they help people stay fit and healthy, but they also have excellent relationships with their followers.
Partner with the best TikTok advertising agency to achieve your company goals and elevate your brand to the next level!
Is your company seeking to enhance its marketing strategies? AdvertiseMint, the premier social advertising agency, can assist you.
Frequently Asked Questions on TikTok Fitness Influencers
Are there requirements to become a fitness influencer?
To be a successful fitness influencer, you must treat your brand like a business. Start by making social media profiles, creating a business email and website, and matching the branding on all your channels.
How often should I post as a fitness influencer?
Post on social media at least twice or thrice a week. Ensure the posts are interesting and helpful so people will like them. Remember that quality is better than quantity, so make each post count!
Do I need to be a personal trainer to be a fitness influencer?
To be a successful fitness influencer, you should be certified as a Level 3 personal trainer. The certification will give you the necessary knowledge and credibility.