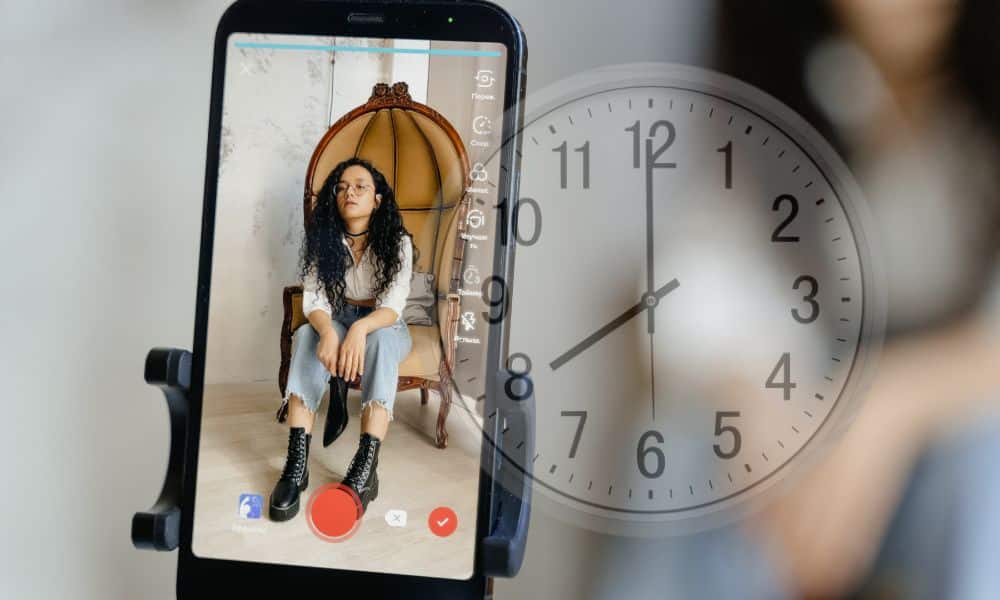 Curious about the answer to the query 'How often to post on TikTok for Business'?
Should you post once a day or five times a week? We understand how tricky this decision can be.
This article will help you determine how often you should post on a TikTok for Business account. Collaborate with a TikTok agency to get your message seen by the right people, build a loyal following, and grow your bottom line.

The Rule of Thumb
The frequency of posting on TikTok for a business account depends on several factors. These factors include audience behavior, engagement goals, and platform trends. Ideally, posting 1-3 times daily can be a good number. With this, you can ensure your viewers constantly get fresh content without being too spammy. However, you must only post quality content to avoid content burnout.
But what about the best days and times to post on TikTok, you ask?
According to Hubspot, marketers consider 6-9 pm, 3-6 pm, and 12-3 pm, the best time to post content on TikTok. Furthermore, in a study conducted by Influencer Marketing Hub, the best time to post on TikTok is on Tuesday (9 am), Thursday (midnight), and Friday (5 am). 
Advantages of Posting Frequently on TikTok for Business Accounts
Posting frequently on a TikTok for Business account offers several advantages that help you build a strong and engaged online presence. The following are some key benefits:
Increased visibility:

Frequent posting

increases the chances of your content appearing in users' feeds. It can

raise awareness of your brand

and offerings among TikTokers. 

Consistent engagement: 

Regular posts keep your audience engaged. It keeps them returning for more. It can also lead to higher interaction rates. You can expect more engagement on your TikTok content by adapting to the TikTok algorithm and having a consistent presence.

Showcasing variety: 

Frequent posting allows you to show varied content like product demos, behind-the-scenes tutorials, UGC, and more. This diversity can keep your content fresh and appealing to different segments of your audience.

Building community: 

Posting content often will help foster a sense of community among your followers. The continuous engagement can lead to an increase in brand loyalty.

Algorithmic advantage: 

TikTok's algorithm rewards consistent and engaging content. When you post frequently, it signals to the algorithm that you are a dedicated user. This can improve your chances of appearing on the "For You" page.

Trend participation: 

Frequent posting allows you to join in trending challenges and hashtags. It can help your content gain traction and expose your brand to a wider audience. All you have to do is find content that suits your brand and join in.

Data insights: 

Posting videos often allows you to tell a continuous brand story over time. It allows you to gain insights into what works best and what should be adjusted to your strategy. It can be an avenue for you to grow as you work on finding the posting schedule that is well-suited to you.

Brand recall: 

Frequent exposure reinforces brand recall. Users who see your content often are more likely to remember your brand when making a purchase.

Time sensitivity. 

Some content may be time sensitive. This includes limited time offers or promotions. Frequent posting ensures that you can share timely content with your audience. 
Best Practices for Posting Frequency
Posting frequency on TikTok can impact your reach and success. These are the best practices you can employ:
Be consistent: 

You must choose a posting schedule to maintain. A TikTok posting schedule will help your audience know when to expect new content on your channel.

Quality over quantity:

While posting consistently is crucial, you should also maintain the quality of your content. Posting low-quality content can affect your follower retention. To be successful, you should learn how to make good TikTok videos.

Know your audience: 

You should 

know your target audience

 and their habits on social media platforms. Know the type of content they like and don't. Doing so can help you tailor your strategy accordingly.

Test and analyze:

 It is crucial to test and see which posting frequencies work best for your viewers. You may use TikTok's analytics tools to track engagement metrics.

Create content that aligns with your brand: 

While joining trending challenges is crucial, you should create content that aligns with your brand's identity. This approach not only encourages audience engagement but also ensures that your account only produces high-quality content.

Plan content:

 You need to plan your content. It will allow you to maintain consistency. It will also help ensure you have various content ready for upload. You must align your TikTok posts with the best posting times.

Diverse content:

Different

content types will keep your platform interesting. These content types may be educational and entertaining. You may also include behind-the-scenes and promotional content. It will make you appealing to varied audience segments.

Event and campaign timings:

If you have events or campaigns, you must align your posting frequency to support these initiatives. This will help you maximize your event's impact.

Engage with viewers:

Posting content frequently leads to an increase in engagement. Hence, prompt response will enhance your relationship with followers. Be ready to engage with comments, respond to messages, and interact with your audience.
How To Avoid Over-posting and Burnout?
To maintain a sustainable presence on TikTok, avoid over-posting and burnout. The following can help you strike a balance and prevent exhaustion:
Set realistic goals: 

You must define clear objectives for your TikTok presence. Determine what you want to achieve with your content. 

Create a content calendar:

 Planning and 

creating your content calendar

 can do wonders for your account. It will help you stay organized in your posting schedule. It will also help you maintain consistency and avoid last-minute rush.

Batch content creation: 

You should dedicate specific time blocks for content creation. It will allow you to create multiple pieces of content in one go. Also, it will help you ensure that there will be plenty when it's time to post.

Use scheduling tools: 

Use social media scheduling tools to plan and automate your posts. These tools will reduce the pressure of posting in real-time. 

Alternate content types:

 Mixing up your content types will help you prevent monotony and keep your audience engaged. You should be able to balance promotional content with entertaining and educational posts. However, you have to balance the amount of variety you will employ to ensure clarity among viewers.

Take breaks: 

Lastly, you should take breaks from posting. It will help you recharge and avoid burnout. Breaks can also improve the quality of your content in the long run.
Final Thoughts on How Often To Post on TikTok for Business
Finding the right posting frequency on TikTok for your business account involves balancing consistency and quality. It is also important for you to adjust according to the platform's complex algorithm. By adapting to the TikTok algorithm, you can expect to see more engagement.
Frequently Asked Questions on How Often To Post on TikTok for Business
Is it okay to post multiple videos daily?
Posting multiple videos daily can work wonders. But while it is okay to post multiple videos daily, you should do it with care to avoid burnout.
Does the type of content I create influence how often I should post?
Yes, if your content involves elaborate production, intricate editing, or special effects, it may take longer to create. In this case, post less frequently to ensure that each piece of content is of good quality.
Should I post at the same time every day?
Maintaining a posting schedule can be a beneficial strategy on TikTok. It helps establish a consistent presence and routine for your audience. Also, users are more likely to engage with your content when they know new posts are about to come.