Do you want to know how to use the TikTok top ads dashboard?
As a digital marketer, it is essential that you stay ahead of the trends. Fortunately, TikTok offers advertisers a tool to achieve that—the Top Ads dashboard. This dashboard will help you stay updated by showing you the most effective ads in your industry.
This article will tell you what the Top Ads dashboard is and how to use it.
What Is the TikTok Tops Ads Dashboard For?
The TikTok Top Ads Dashboard is a tool designed to assist advertisers and marketers find and understand successful advertising campaigns on the platform. It serves the following purposes:
Insights into high-performing creatives: The dashboard showcases a collection of top-performing ad creatives. By examining these successful ads, advertisers can gain insights into effective strategies, creative approaches, and content that resonates with TikTok's user base.
Filtering options: Users can filter ads based on various criteria such as region, industry, campaign objectives, and more. It allows advertisers to narrow their search to find relevant examples that align with their goals and target audience.
Learning from success: The dashboard offers an opportunity for advertisers to learn from the success of others. Marketers can identify successful trends, styles, and storytelling techniques.
Performance evaluation: Advertisers can assess the performance of top ads, including metrics like engagement, views, shares, and more. This information helps advertisers understand what resonates with viewers and informs their campaign strategies.
Optimization and inspiration: The insights gained from the Top Ads dashboard can inspire advertisers to create engaging content. It can also guide optimizing campaigns to align with best practices and trends.
Competitive analysis: Advertisers can also gain competitive intelligence by observing the strategies used by competitors in the same industry or niche.
How To Use Top Ads Dashboard?
The TikTok top ads dashboard visually represents an ad campaign's success. The following is a guide on how to use the TikTok top ads dashboard:
1. Login to the Creative Center: Log in to the TikTok Creative Center. If you don't have an account, sign up and create one.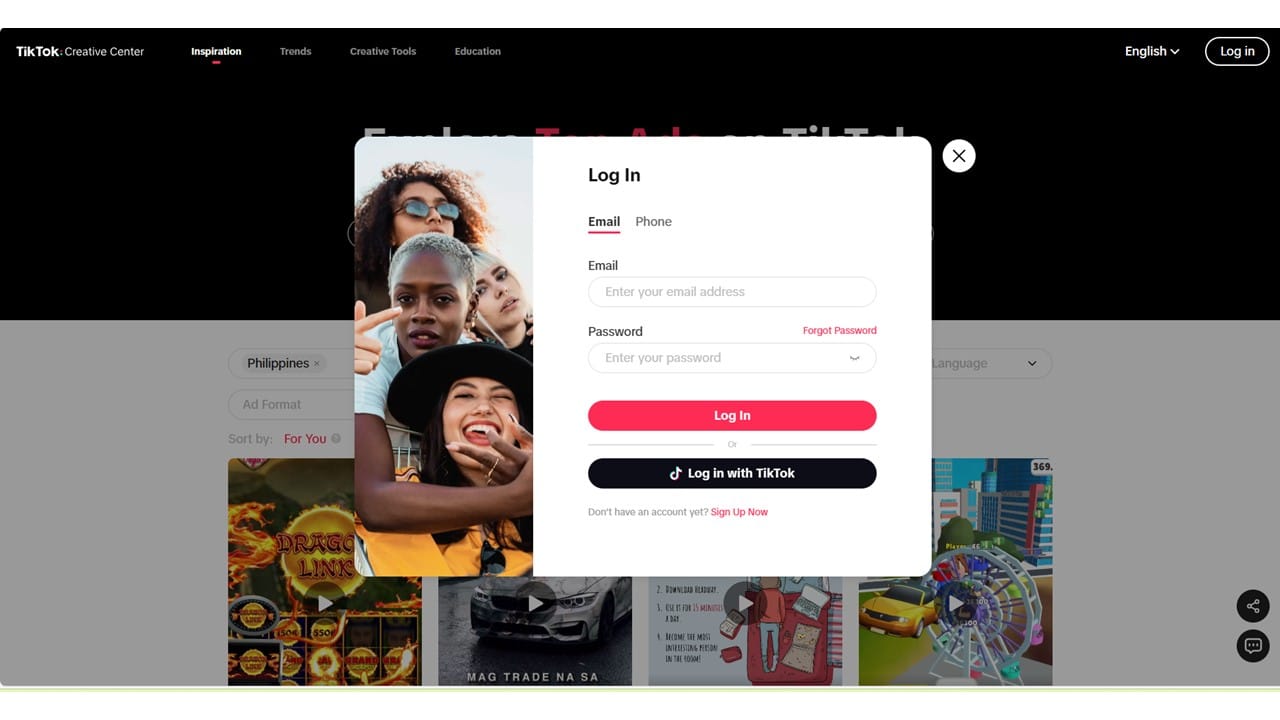 2. Go to Inspiration.
4. Set your search results: Select a Region, Industry, Objective, Duration, Ad Language, Ad Format, and Likes percentage.
Region: It allows advertisers to specify geographical locations where they want to see top ads. It includes countries, states, or other defined regions.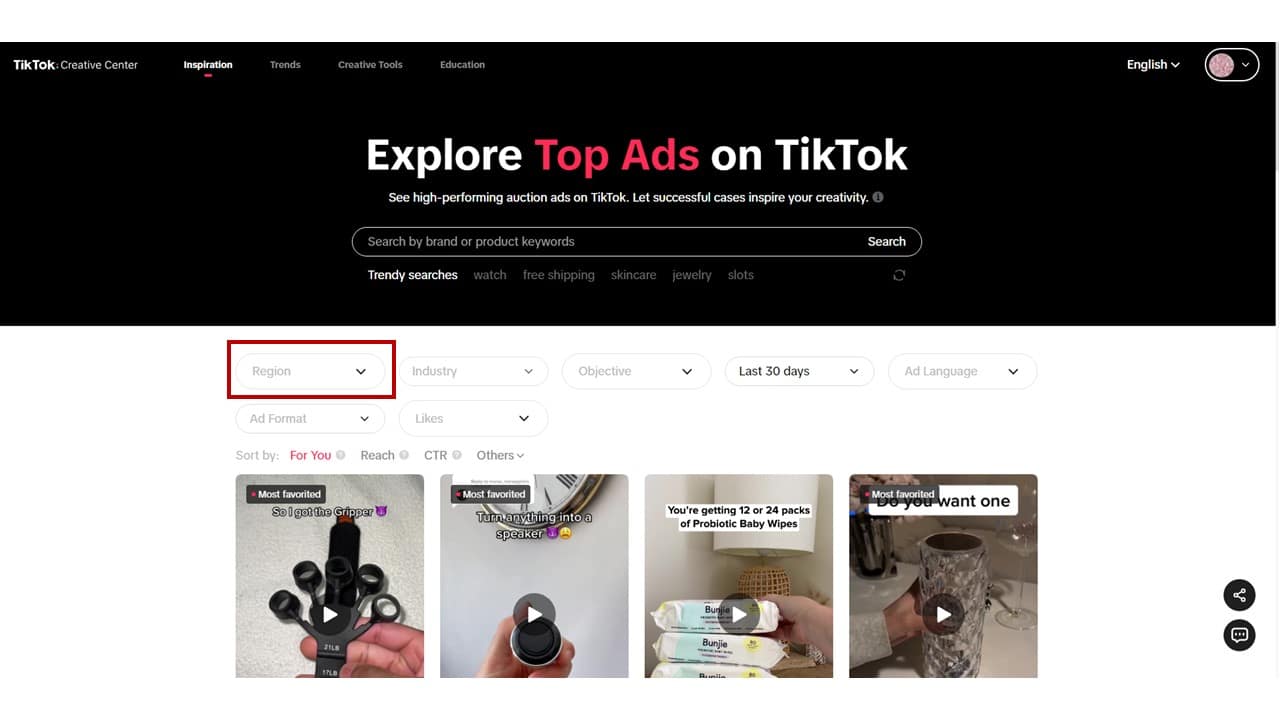 Industry: It refers to the option for advertisers to select the industry or category that best represents the products or services they want to see top ads.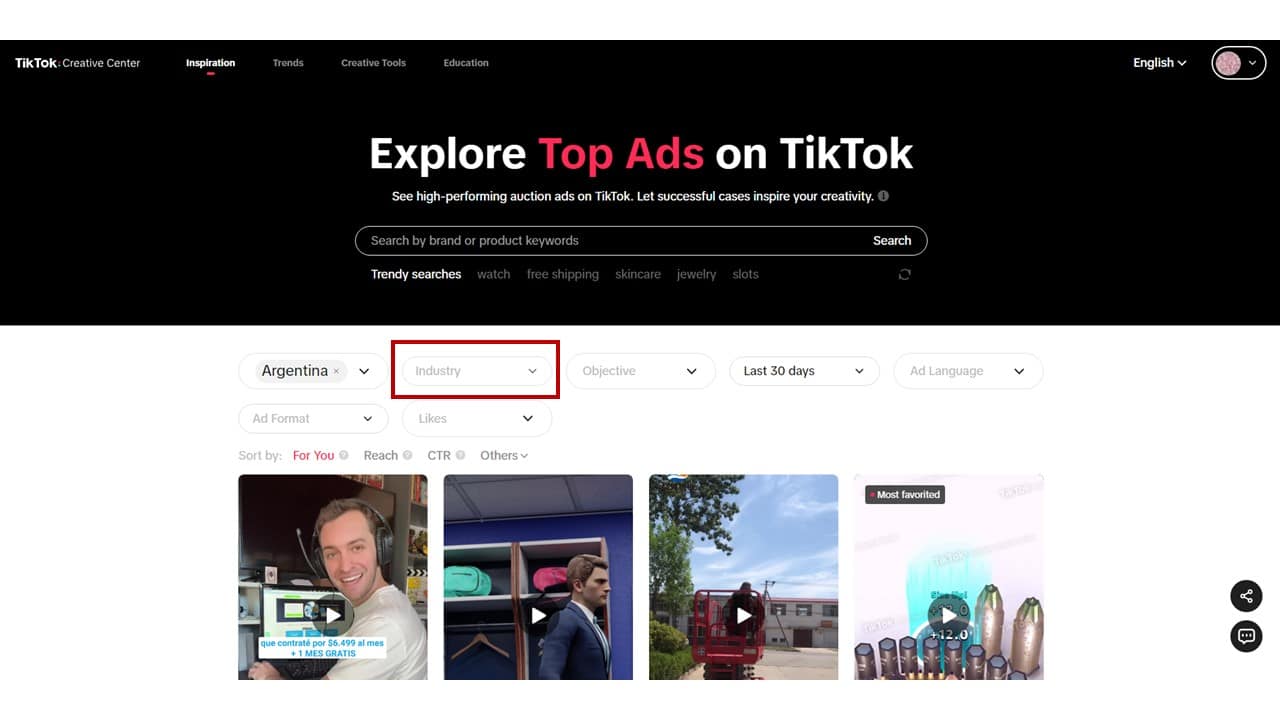 Objective: This refers to the main goal or purpose of the advertising campaign that you want to see.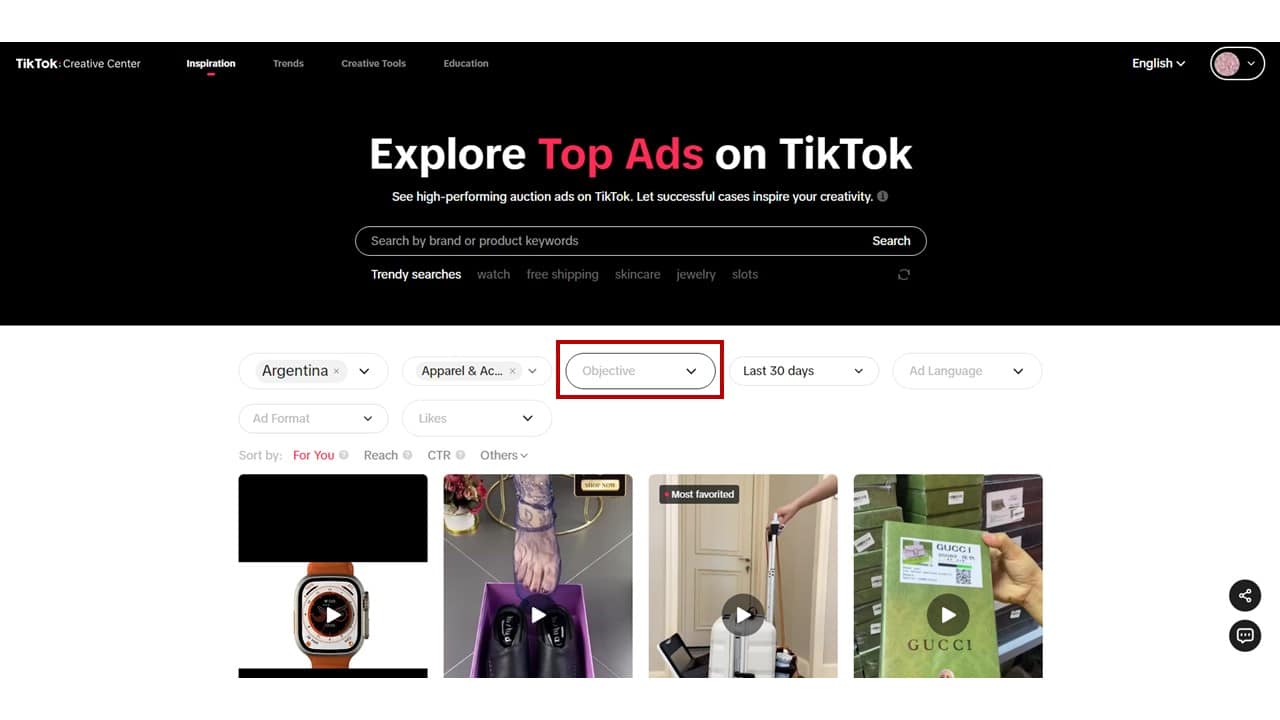 Duration: It refers to the duration the ads are active and displayed to the target audience.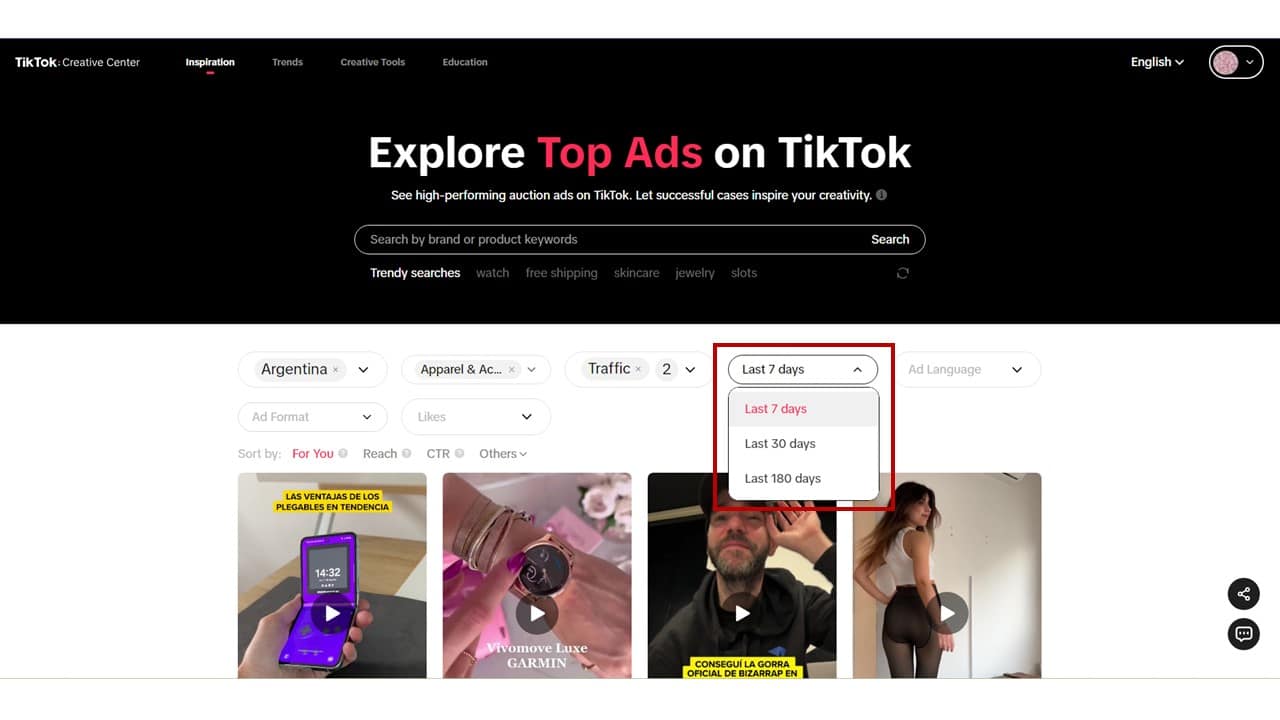 Ad Language: TikTok is available in multiple languages, and you can customize the language of the top ads you want to see.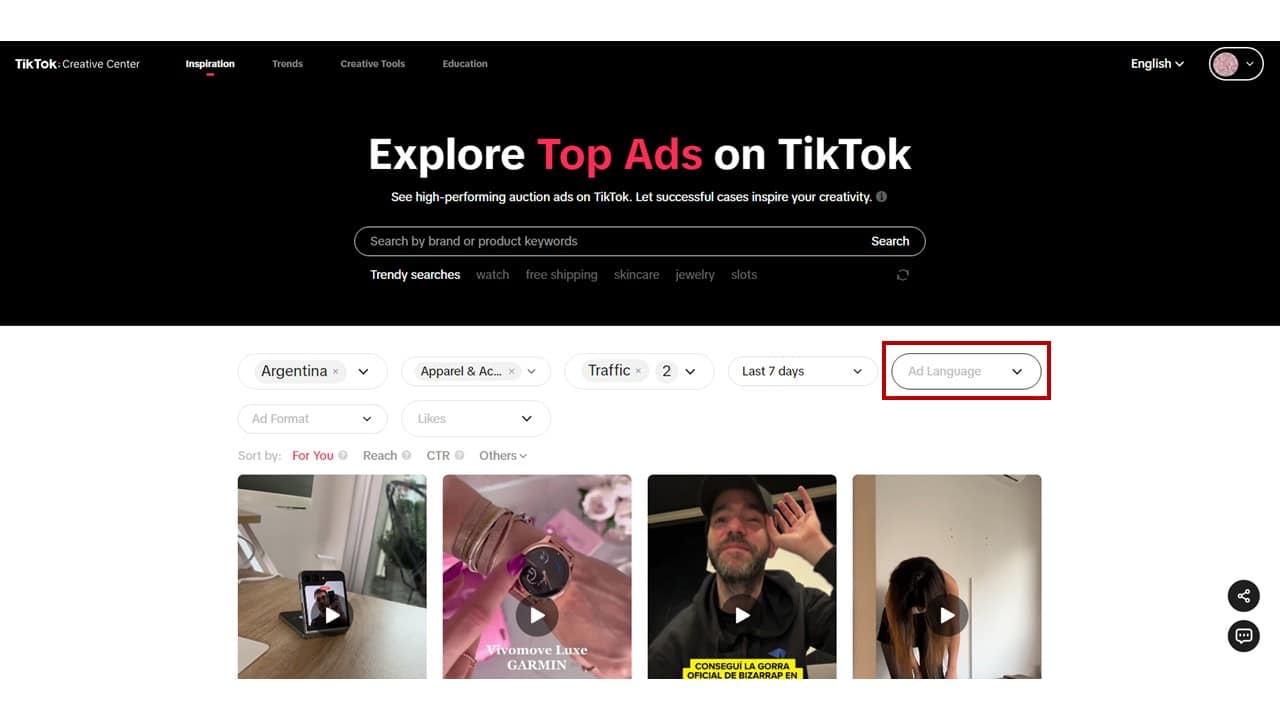 Ad format: Here, you can choose between Spark ads and Non-Spark ads. TikTok Spark Ads allow brands to convert existing content into ads. This can be content from their account or another user's account. On the other hand, Non-Spark Ads are regular ads shown on the "For You" page. These ads blend in naturally, looking like regular content.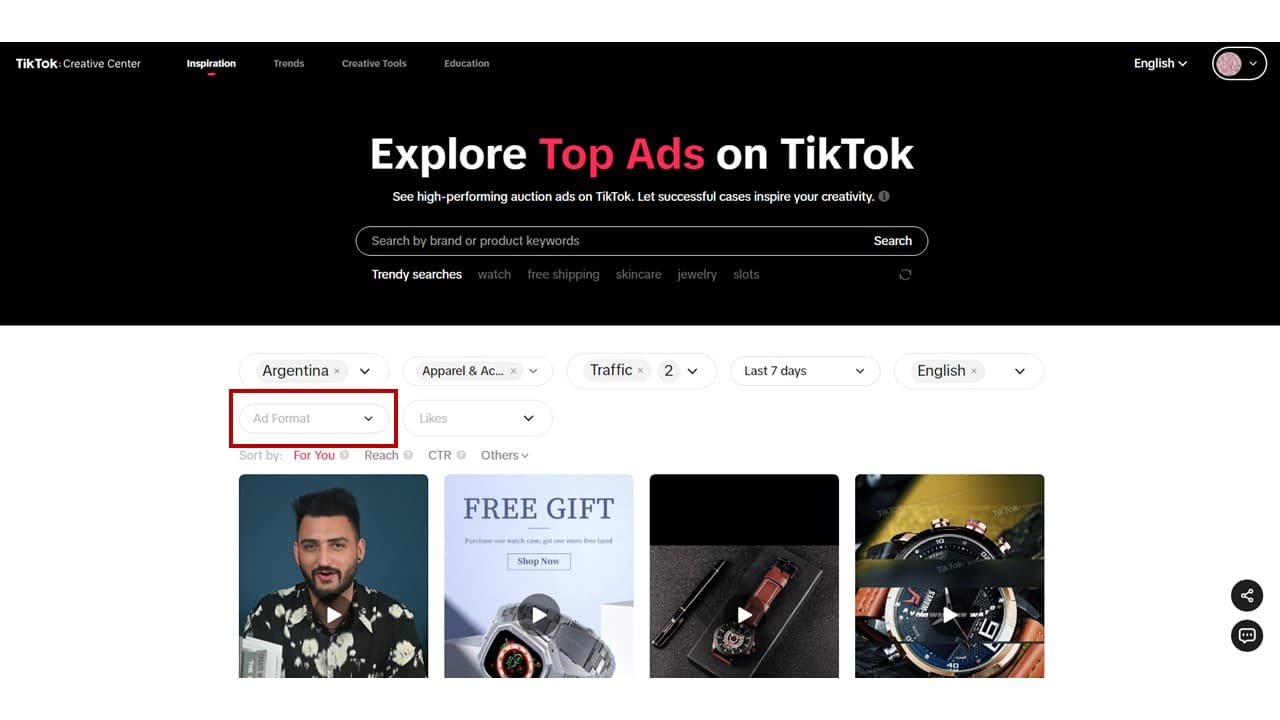 Likes: The "likes" metric measures how users respond to the ad content positively.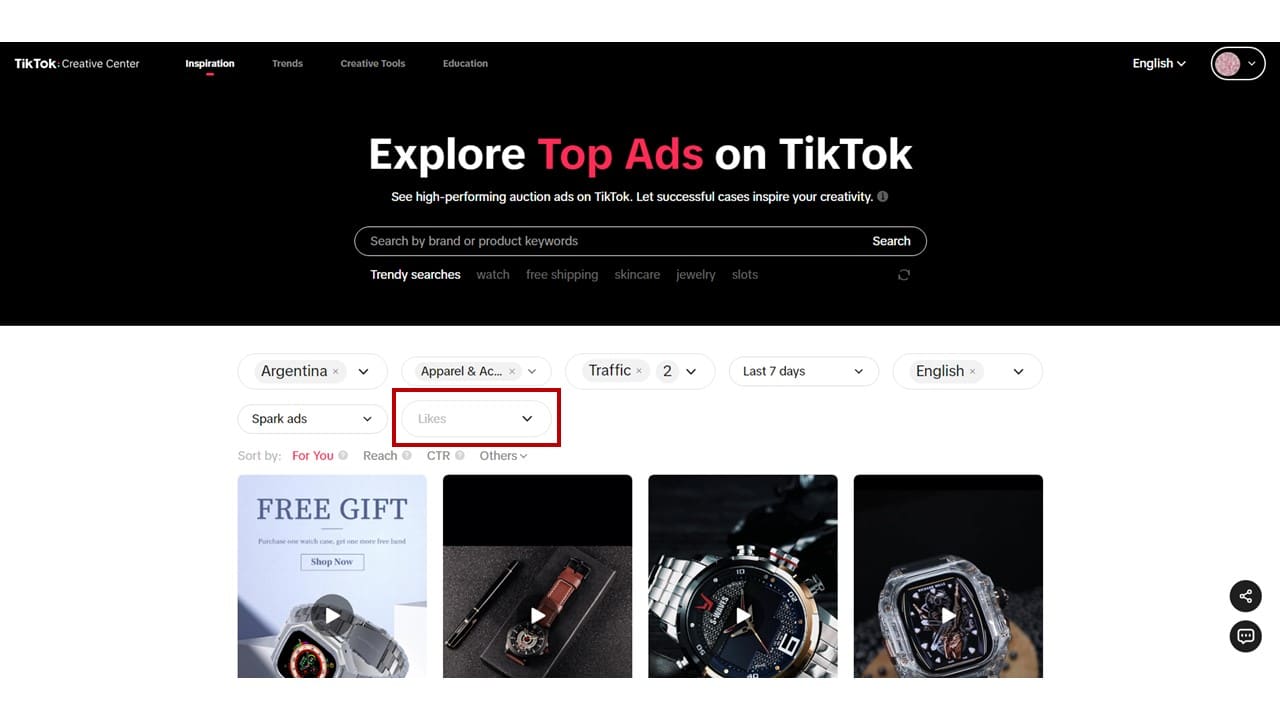 5. View top ads: On the dashboard, you will see a list of your top-performing ads based on the selected metrics.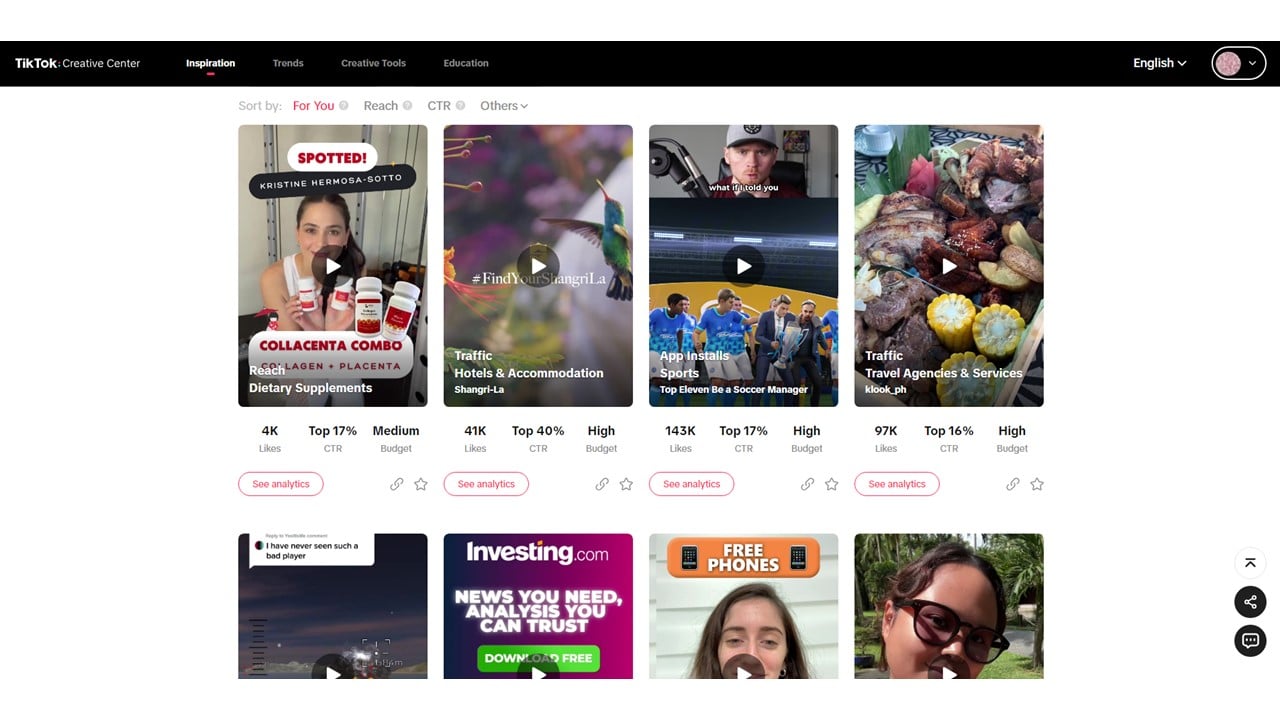 6. Move your cursor below the ad and click "See Analytics.": By doing so, you will see the graph that compares how well the ad is doing. It will show its ad performance, creative summary, and interactive time analysis.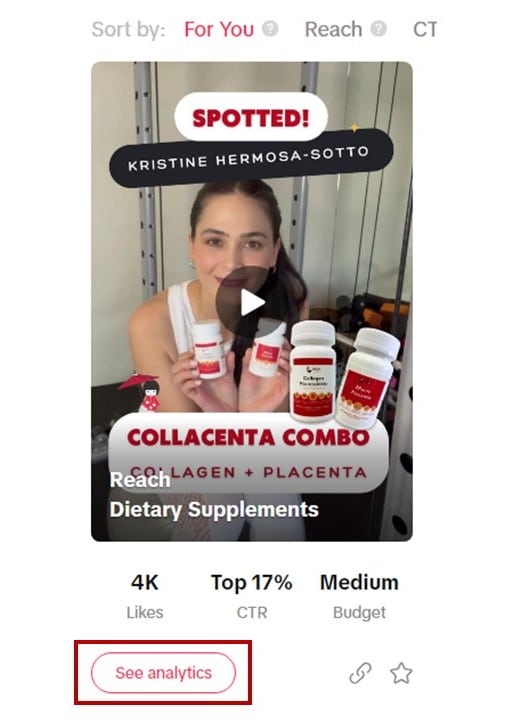 7. Save: Save the ads you want to put up as a reference to your Collection. This will help you find them easily later.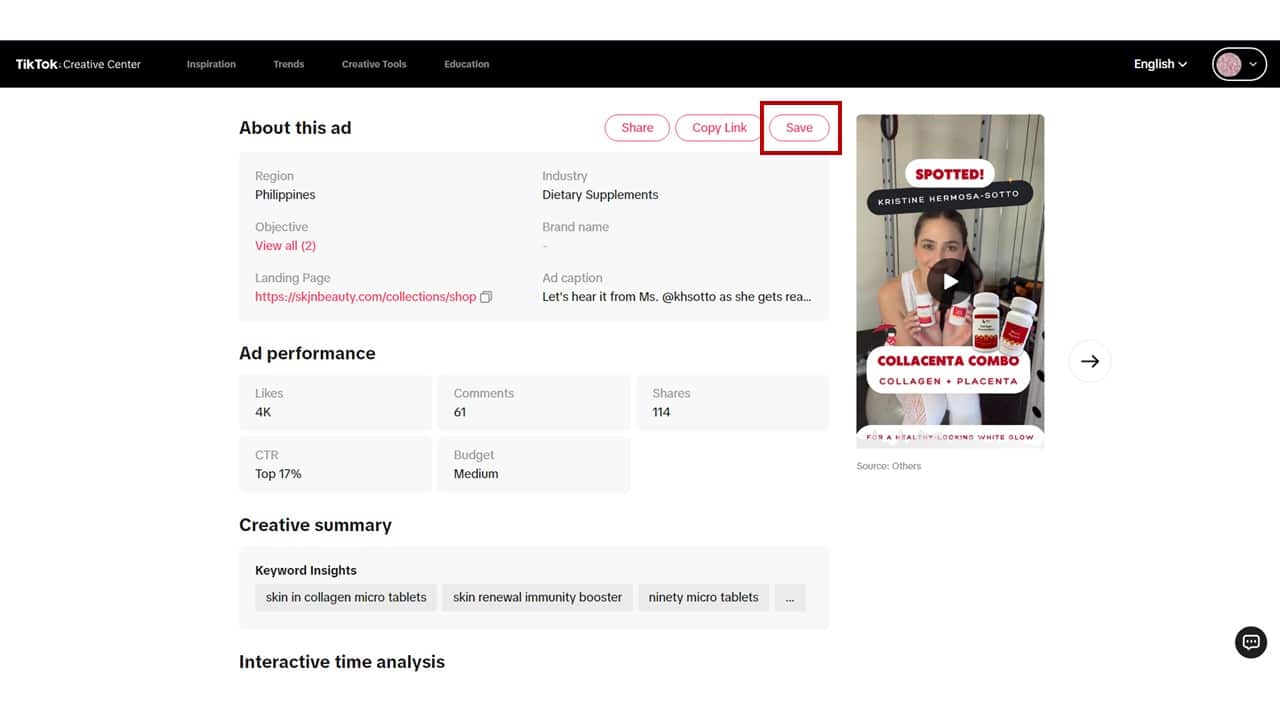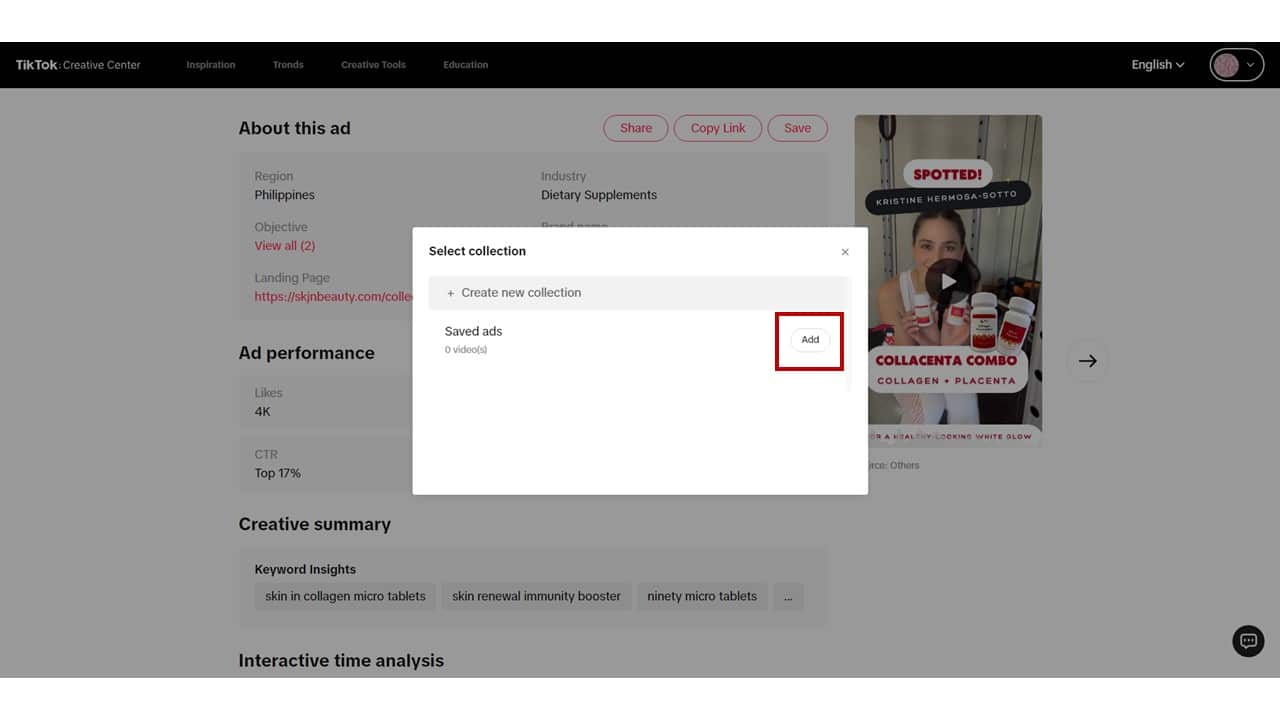 8. Visit your profile: Go to your Profile and click "My Collections" to see your saved ads.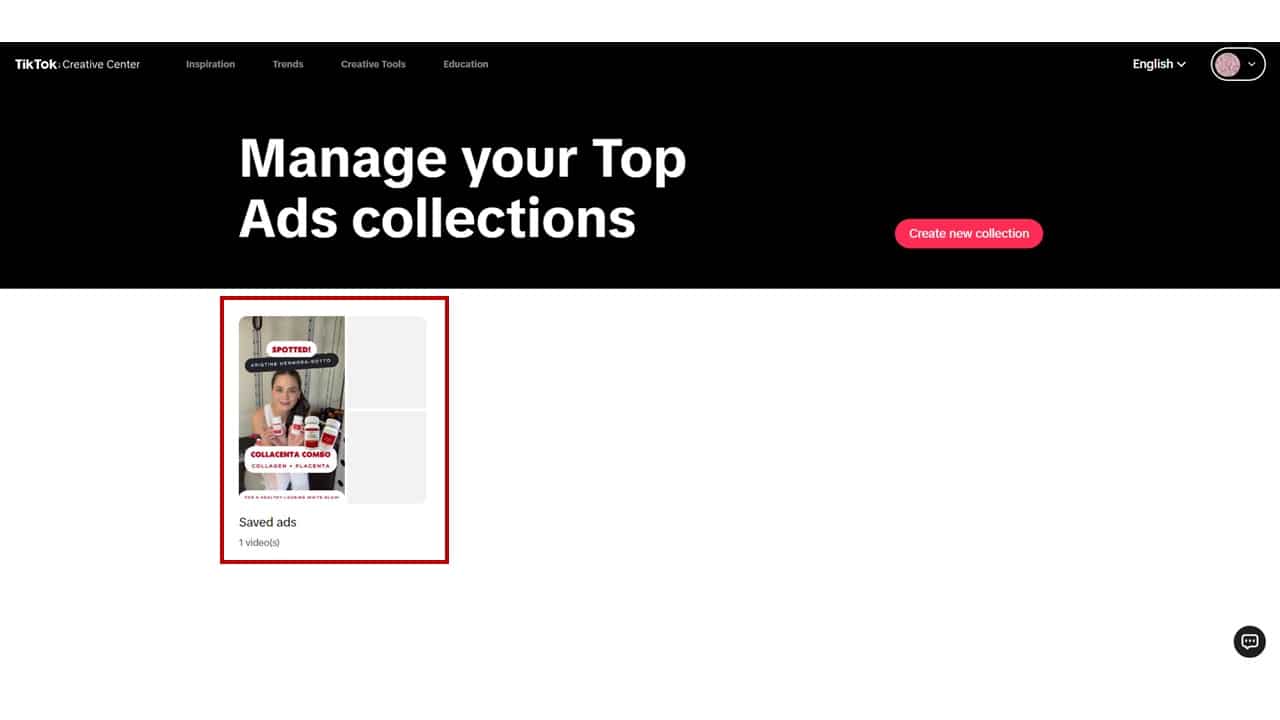 9. Analyze performance: Once you've compiled the ads you want as your reference, review and note their performance. Look for trends, patterns, and insights that can be helpful to you. Determine which creative elements, targeting options, or campaign types drive the best results.
Final Thoughts
The TikTok Top Ads Dashboard empowers advertisers with valuable insights to refine their strategies and optimize their campaigns. With its help, brands can achieve better results in the dynamic world of social media advertising. By effectively leveraging this tool, advertisers can make informed decisions that contribute to the success of their TikTok ads.
Are you considering running an ad campaign? Get the best TikTok advertising agency!
Frequently Asked Questions
How frequently should I revisit the TikTok top ads dashboard page to monitor and optimize my campaigns effectively?
If running time-sensitive promotions, consider checking the dashboard daily to ensure everything runs smoothly. However, a weekly review of the TikTok top ads dashboard can be sufficient for some advertisers.
Can I add a link to my TikTok ads?
If you run paid ad campaigns on TikTok using TikTok Ads Manager, you can include a clickable link in your ad creatives.
Is the TikTok top ads dashboard available to all advertisers?
The TikTok top ads dashboard is available to advertisers with an active TikTok Ads Manager Account.