As I mentioned in a previous post, successful ads tend to have these four elements: social proof, value proposition, strong CTAs, and a compelling image. The best advertising company would be well aware of this. Like the five Facebook ad examples I provided in my post, the ads below contain some of the four essential ad elements built to encourage sales this holiday season. If you need holiday ad examples or if you want to create an effective holiday ad, then you should examine the top 10 holiday ads below.
1. Gap

This ad's text concisely alludes to two value propositions, propositions which are then elaborated on the ad's image: free shipping and a 40% discount. The text and the image combined illustrate what customers should expect once they click "Shop Now": the ad will direct them to a product catalog page with discounted products.
Although the image does not blatantly convey a holiday theme, the ad's word choice dose. Words such as "holiday rush"and "merry place" evokes Christmas shopping. Not only does its word choice allude to the holidays, but it also creates a sense of urgency. The words "rush" and "now" jolt customers into action.
2. Target

Like the ad from Gap, this Target ad contains a value proposition and a sense of urgency. This ad promises both a 50% discount and free shipping on purchases and returns. It evokes a sense of urgency by using the words"hurry," "lasts for four days," and "four days only." Unlike the Gap ad, however, this ad visually conveys the Christmas theme with its image. The image lets customers know that this deal will likely end after the holidays, further creating a sense of urgency.
3. AT&T

Here, AT&T successfully, wittily, and humorously conveys its message in only four words. By saying that there are no "slippery slopes," AT&T promises its customers that its offer does not deceive. The pun of "slippery slopes" is made apparent by the image of two figures sliding down a snowy hill, a "slippery slope." AT&T's cleverly constructed message complemented with its equally clever image is sure to stop Facebook users from scrolling.
4. Boxed

Boxed's ad, like all of the ads featured here so far, offers customers a value proposition: customers can save $10 on groceries using a code.
The ad's image functions as a product catalog, featuring products that they offer. The image also places its brand front and center, among the array of supplies and Christmas decorations.
5. Tesco

Unlike the first four ad examples, Tesco's text contains more words. Of course, that is not necessarily a bad thing. In fact, the lengthy text works well for this ad. The text describes vividly and descriptively a dish customers can learn to create if they click on the ad. The ad's text is equally as mouthwatering as its image.
6. TrackR
Although this ad does not offer a discount or a deal like the others, it still offers customers a good value proposition in the form of a solution to a problem: the solution to forgetfulness. With TrackR, customers will never lose anything valuable again.
7. West Elm

This ad gives customers a good deal that is fitting for the occasion. As people scramble to purchase holiday decorations for Christmas, West Elm quickly offers discounted products that satisfy their needs. Who can say no to that?
8. Dorothy Perkins

In this ad, the image and the text work together to complete its message. While the text gives enough information to allude to a sale, it doesn't give away the details, forcing customers to look at the image. This ad's design also caters to an audience that looks at the image first since all the important details are listed on the image.
9. LOFT

This ad clearly understands the culture of self-indulgence. It speaks to self-gifters, as evidenced by the words "picks for them…and for you" and "one for them, two for you."  Consequently, customers are encouraged not only to spend on friends, family, and loved ones, but also on themselves. 
10. Target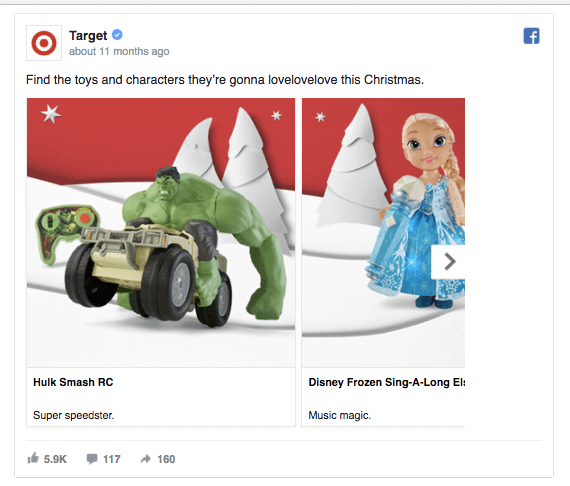 By using the carousel format, Target features multiple products in one ad. The image of hulk alongside Elsa shows that this ad caters to both male and female audiences.
What do you think of these holiday ad examples? Leave your comments below or share this to friends.