This article originally appeared on Swipe Studio. 
In this day and age, Snapchat perfectly fits the bill in being privy to what's happening and making users feel that much more special. You could even say Snapchat is a cut above the others at that. This is attributed to the content the platform uses: personal, unique, and snackable. In that moment, only you took that picture of the food you're eating, the concert you're attending, or the dress you're buying. That is one of Snapchat's biggest winning streaks, and now, as a business owner, yours. Here is a preview of what this post will talk about.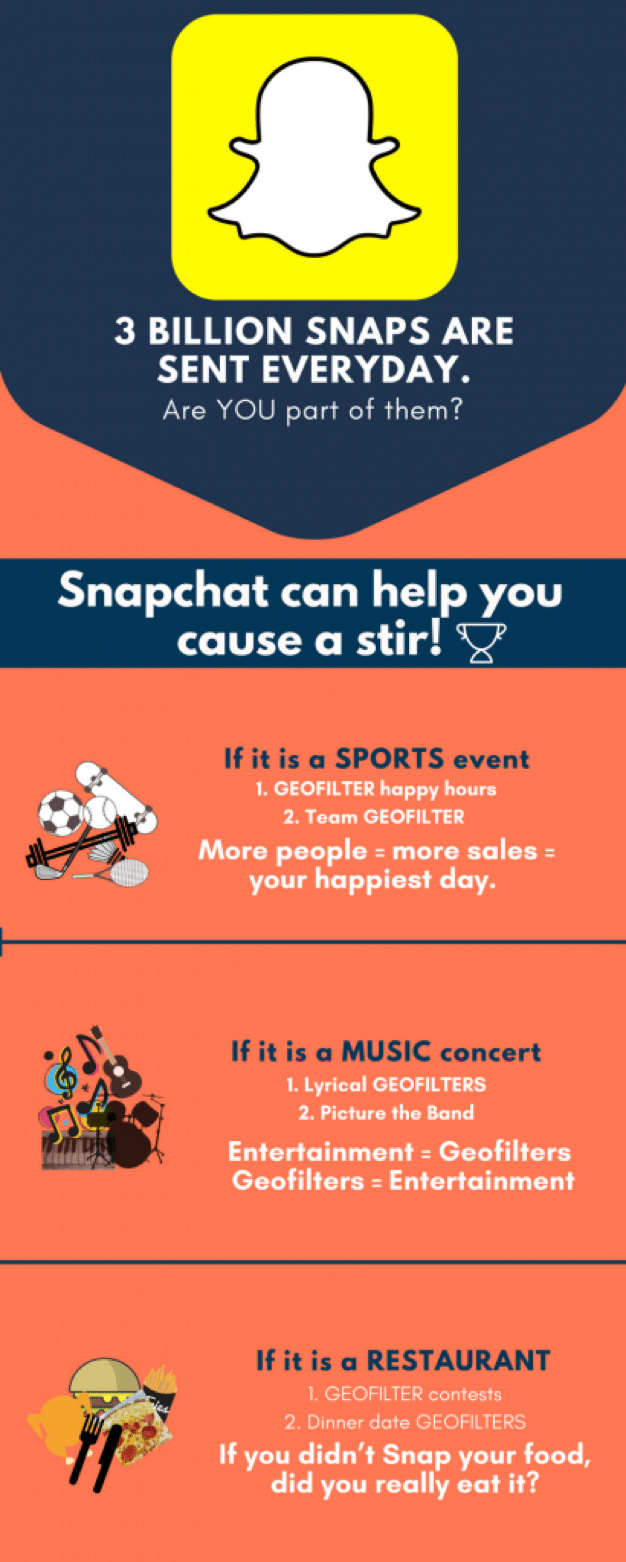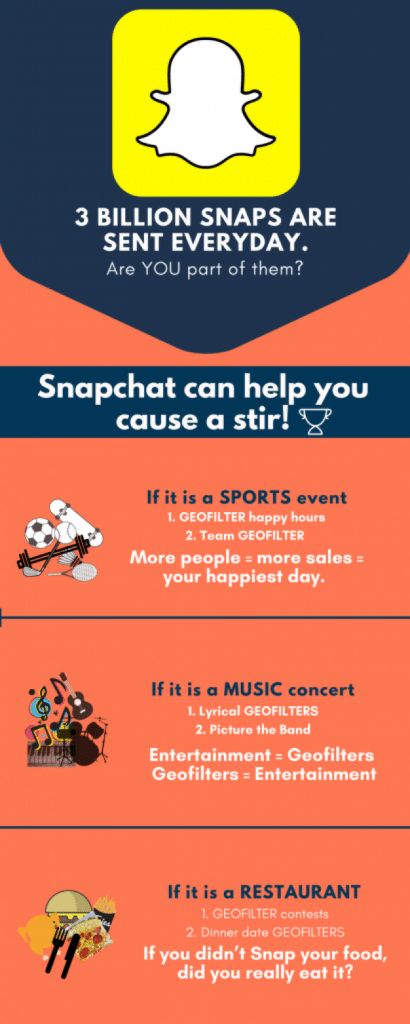 The ephemeral nature of Snapchat's content might just be the perfect fit for your next event. It's one of the best ways to generate curiosity and leverage the resulting fear of missing out (FOMO). Here's an analogy to explain that. If there's a flash sale with a 50 percent discount on everything from 9 a.m. to 10 a.m. only on that one day, wouldn't you step on the gas and be there for that hour? Just reading or seeing that made you feel that element of urgency, didn't it? That urgency is induced because of the short duration of the sale. Perplexing as it may be, the sense of urgency and exclusivity invites its buddies.
Snapchat Is a Hive of Activity
A hive with 178 million daily active users, to be exact. Imagine the amount of honey you can draw from that. People are using Snapchat to send snaps to their friends, find interesting things on Discover, create Stories, use quirky filters and lenses, and so much more. Additionally, people send three billion snaps every day. That's three billion snaps your next event can be a part of. How? Read on.
Snapchat Can Help You Cause a Stir
One of the most important things events are characterized by is they're location based. A music concert, a flea market, a food festival, or a cars expo, whatever the event may be, it'll happen in one or multiple geographically bound locations. Snapchat has devised a great opportunity to leverage the location attribute, and it's called geofilters.
Snapchat geofilters are graphics that overlay the images you click. They are related to a particular location and the events happening there. In one shot your brand will have interacted with your fans and their friends in a fun and contextually relevant way.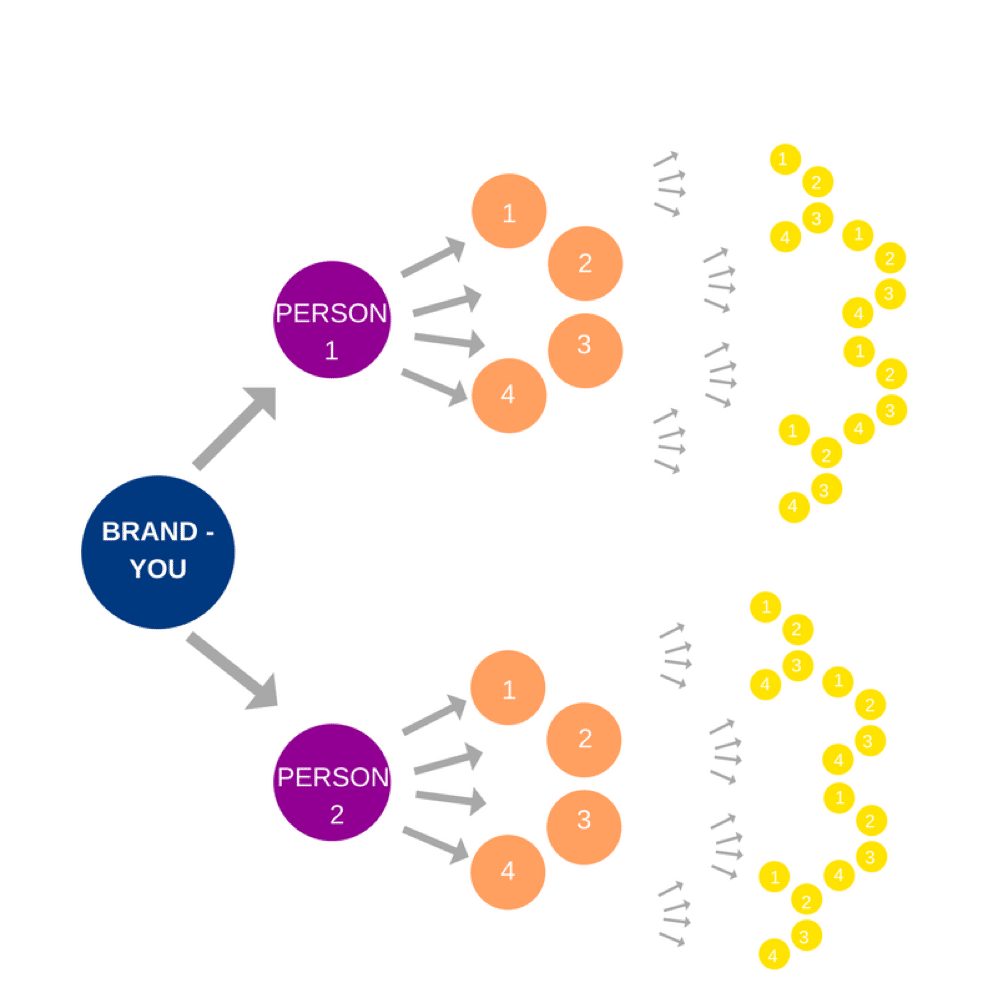 Geofilters are perfect for event advertisements because they safely lure your customers to your event. By sharing a live experience virtually, your audience is showing, not telling, their community what they're doing, creating a cascading effect of "Omg, look what's happening there! Let's go now." That's how your event sells out.
With Snapchat, you can reach a whole new set of audiences such as Millennials, a demographic that is more difficult to reach through television, print, or other traditional marketing methods. Geofilters are the perfect creative outlet for that audience to create exciting stories that they share with their friends.
Now, let's play a game. I created three events and three examples of geofilter designs for each. At the end of it, you can respond in the comments section below, stating if you fit into any one of these examples.
1. If it is a sports event
Sports events are all about the teams, the passionate crowd supporting and cheering, and the rivalry. Passion, excitement, and loyalty are emotions you could play on while creating geofilters for a sports event.
Let's say you own a sports pub and today it's the Barcelona vs. Real Madrid match. You have a huge screen, and you are telecasting the match. You've decked up your bar with banners, posters, and slogans of both the teams. You've even customized the menu with drinks named "Messi-ng with your head." There are multiple opportunities for geofilters here. Any geofilter you create will have your branding on it. Here are two ideas.
A. Geofilters can be perfect for running contests where you give away coupons. For instance, you could run a happy hour coupon contest for all those who take a snap with your geofilter and send it to you. This makes sure that your customers are in the location of your pub, thereby helping you increase your sales.
B. Geofilters with the teams' logos, banners, or famous players can add a big winning fun element to your pub, making you stand out from the rest of them.
2. If it is a music concert
Music concerts are high energy and extremely entertaining. The geofilters have to bring out those elements in their designs along with the genre of music, the location of the concert, and the audience the artist is attracting. If you are sponsoring or organizing the event, you can include your branding in the geofilter, thereby making sure you reach not just the people attending the concert but also their friends. Let's say it's a Beatles concert. Here are two ideas.
A. The geofilter design can have titles of their most famous songs with related graphics. For instance, for the title "Yellow Submarine," a small yellow colored submarine could be part of the design.
B. Imagine clicking a picture with the Fab Four. The design can include a sketch of their faces, placing them at four corners of the screen so everyone feels like they're taking a picture with them.
3. If it is a restaurant
Everyone takes pictures of their food. There are numerous contests you can run at your restaurant with geofilters. Let's say you own a restaurant called The Steak Out.  Here are two ideas.
A. "Stake out at the Steak Out" could be your geofilter. You can run a contest where you tell your customers the first five people to send you a snap with the geofilter gets a 50 percent discount on their meal for staking you out.
B. "Staken out for dinner!" could be another geofilter which your customers can use if they come to your restaurant for a dinner date.
Now, it's your turn. Comment with the event and your ideas for the geofilter.
Snapchat Is a Way of Life
It's no longer just a tool that teenagers use to take pictures. It's a platform for communication and, more important, discovery. The best part is even a shaky video of your dog with a Burger King crown is perfect for Snapchat. It has taken away the need for creating the perfect image by making it disappear in an hour or a day. That, honestly, is like finding that breath of fresh air amidst all that social overwhelm. Snapchat has a way of humanizing marketing content, and this opportunity to tell the story exactly while it's happening is golden.
Ajay Thyagarajan is the head of marketing at Swipe Studio, an online platform that allows businesses to launch their Snapchat Geofilters and Lens campaigns. To get started with creating your own Snapchat Geofilter, use a tool like Swipe Studio.