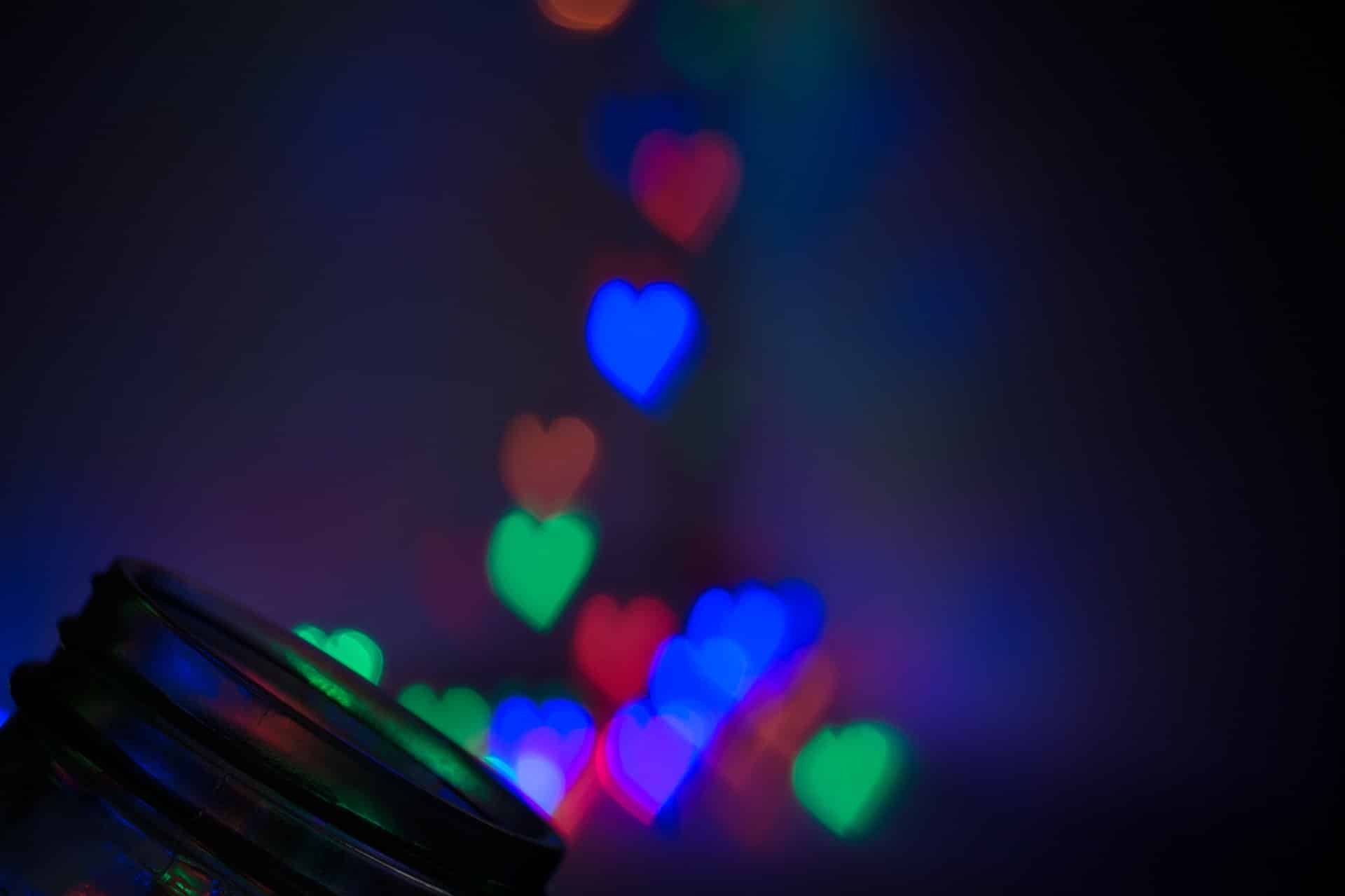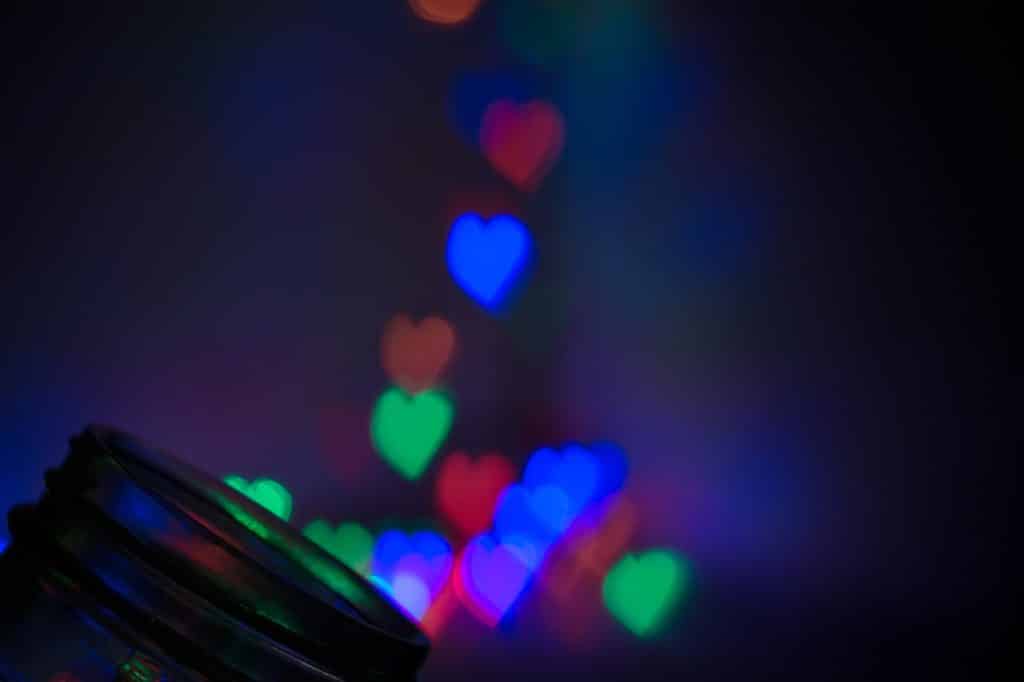 The Facebook post engagement is the measurement of users' interaction with your posts and ads, the likes, comments, and shares that occur. As a Facebook ads agency we know it is the "social" in social media, the reason you work so hard on your content because it indicates that users value your posts. However, if you are posting organic content regularly, and you are also running ads (with or without a Facebook marketing company), it can be tricky to keep track of your engagement.
Insights
Insights is the place you visit to see your overall post engagement and the quick snapshot of the engagement that has occurred on your page in the last week. You will, for example, be able to see how many new followers you have and how many likes. Although this is great information, it doesn't help you determine if a specific organic post or boosted post is getting good traction. To see the numbers for a specific post, scroll to the bottom of your Insights page.
In this area, you can see how individual posts are performing. Some of these posts are ads, and you can differentiate between the ads and the organic posts by looking at the amount spent under "Promote." Organic posts have the "boost" button underneath the "Promote" column.
As you can see, the ads have more interaction and engagement than the organic posts. However, not all the ads performed the same. If you wanted to put some more money on one of these ads, which would be the wiser choice? The ad titled "Here are 101 tips, apps…" performed significantly better than the other posts, with 1.1K individual actions taken on it. This particular post resonates with your audience. Take note of the best performing posts when creating content and try to emulate them. That's what we do here at this Facebook marketing company.
Why Does Any of This Matter?
You've been working hard and analyzing your data, but how do you know if any of this is helping your business? I assure you, it is. Have you heard of the Facebook algorithim? The algorithim determines if your organic posts are going to be shown to your audience or not.
You can see the effect of the algorithim on your personal page. For example, I have 400 friends on Facebook, but I only see approximately 40 of them in my News Feed, even though the other 360 friends post regularly.
As I interact with my friends' posts, Facebook is taking note of whose posts I like and share and whose posts I just skim by. It then makes adjustments based on these observations. It shows me fewer of the posts I skim by and more of the posts from people I interact with. That is, posts that receive a lot of engagement are prioritized in feeds over the posts that do not receive a lot of engagement. Of course, engagement is only one determinant to a post's prioritization in News Feed. Still, it is an important determinant nonetheless.
How to Increase Your Facebook Post Engagement?
In January 2018, Facebook made a major adjustment to its algorithm that affected business pages. In the age of fake news, Facebook reduces the reach posts from businesses, public figures, and publishers while increasing post from users' friends and family. The latest algorithm favors organic posts from users, especially ones that receive a lot of engagement. This is what businesses are up against. Now more than ever, it is more difficult to get your organic posts before the eyes of your followers. However, there are definite ways to increase engagement on your posts and ensure you are showing up in your followers' News Feeds.
Videos
To boost your Facebook engagement, first look at the type of content you are producing. Different types of content will garner different levels of engagement from your users. According to BuzzSumo data analysis, video is the clear winner on Facebook. Videos get at least 59 percent more engagement than other posts. Mari Smith, Facebook marketing expert, believes the "optimal ratio for your Facebook posts should be 70 percent videos, 20 percent photos, and 10 percent links."
Of course, one solution may not work for everyone. For this reason, test your formats and anayze your results. If you find that videos work well for you, then continue producing videos. If posts with static images work better, then continue with static images. Again, try to emulate your best performing posts.
Call to Action
Calls to action are also helpful in increasing engagement because they ask for the user to take a specific action, whether that's to visit your website or sign up for your newsletter. For example, if you want to post a video, go live on Facebook and ask for your users to sign up for your newsletter. However, don't confuse call to actions with engagement bait, which Facebook's algorithm demotes.
Posting Times and Days
Some studies show that the best time to post on Facebook is between 9 p.m. to 8 p.m., EST. Think of parents finally getting their kids to bed, millenials finally finishing their jobs, and teens, who are supposed to be getting ready for bed, surfing the web. That is why more people are on Facebook, interacting with posts during these hours.
But other studies have shown slightly different times or days. The easiest way to determine the best time for you is to experiment and see the times and days that get the most interaction for your posts. That will tell you when your audience is on Facebook.
Don't Make These Mistakes
Engagement Bait
Just as Facebook rewards relevant content with a good amount of engagement, the algorithim will punish certain types of content. A Facebook post that will get you in trouble is engagement bait. These are posts with message like "Share if your love your mom" or "vote for your favorite house type." These posts are purely for forcing engagement rather than creating valuable content that users want to interact with. Facebook will push these type of posts down the feed.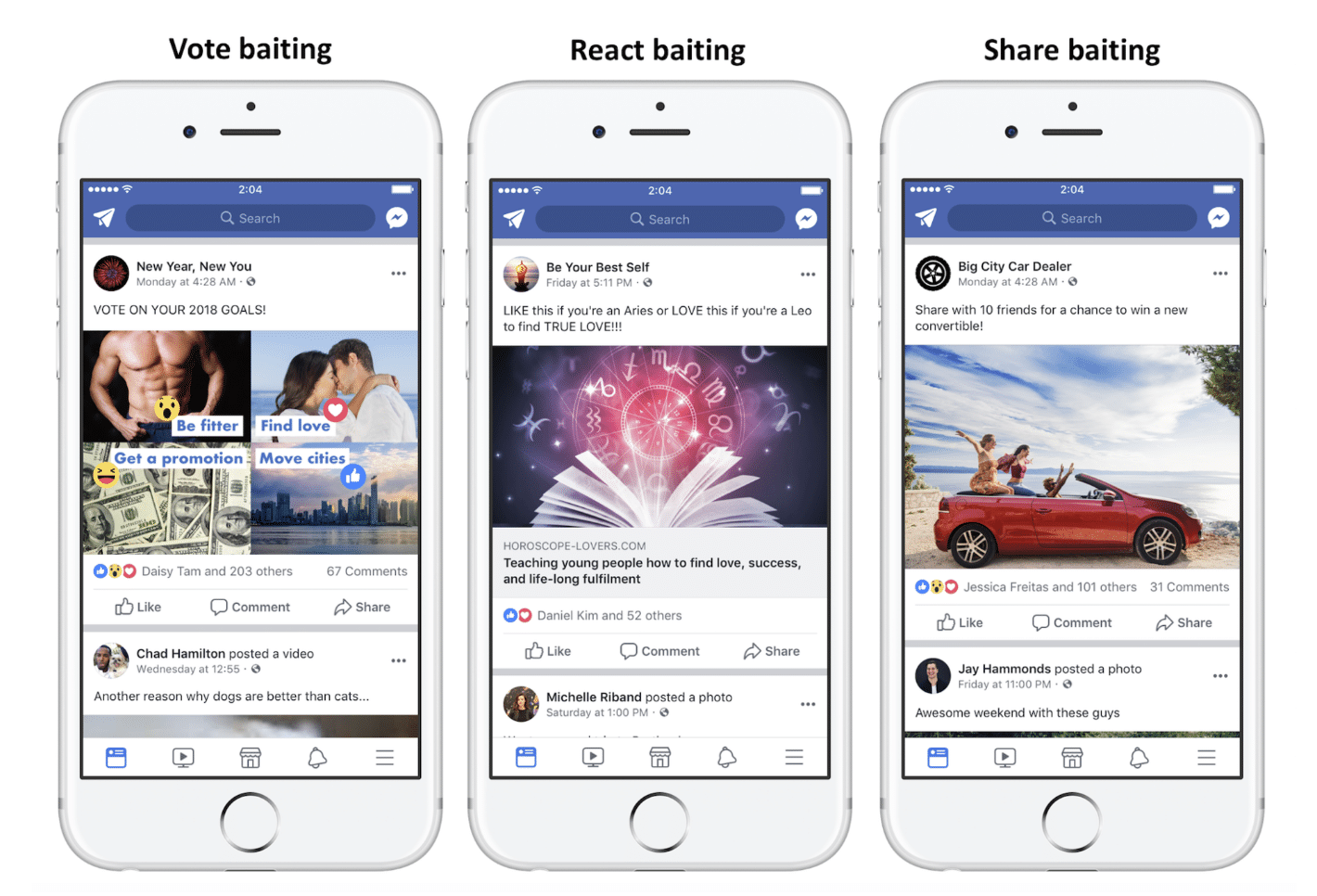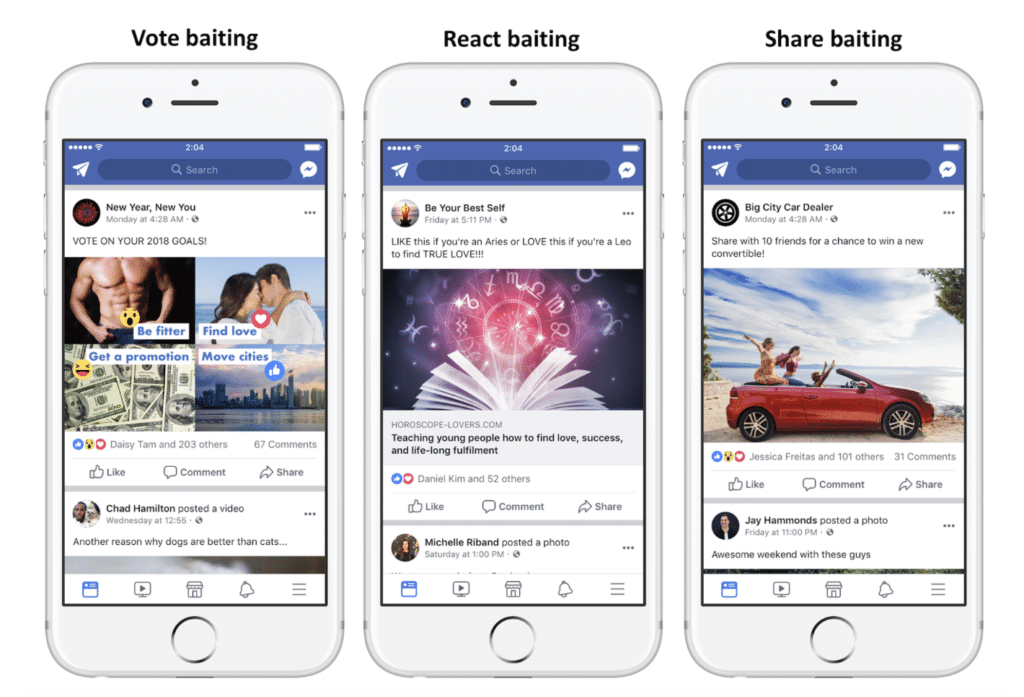 Rather than posting engagement bait, make your content engaging and relevant to your business. An occasional humorous meme that you tie into your business can add some personality into your page's Timeline. Useful and informative articles, infographics, and weekly tips may be valuable to your followers.
Don't Buy Friends
It is possible to buy Facebook likes and followers, and you might be tempted to do it: You're worried that your business lacks credibility by only having several hundred followers. Buying followers may seem to solve these problems in the short term, but it can cause problems for your page in the long run.
Remember the algorithim? It likes to see interaction with your posts. If you buy 1,000 users, they won't truly be interested in your product or service. They will not interact with your posts, and your posts will not be prioritized by the algorithim. Even if you boost your posts and put money into reaching your followers, your purchased followers won't care about you, and that money will be wasted.
Your Facebook engagement shows you how valuable your posts are to your followers. If you want to increase engagement, remember to post valuable and relevant content people can't help but like and share. Post content that sparks a conversation in the comments section. And when you do post something people love, use it as a guide for your next posts.