Relevance Score is a metric that estimates your ad's relevance to its target audience in real time. The more relevant an ad is to your audience, the better it's likely to perform. Ads with high relevance scores will be shown to your target more often than your ads with low relevance scores.
How Does Facebook Relevance Score Work?
Facebook represents your ads' relevance score with a rating of 1-10, 1 being the least relevant and 10 being the most relevant. Facebook determines whether your ad is relevant to your audience by weighing its positive and negative feedback. Positive feedback is the number of times Facebook expects your target audience to take a desired action (sharing or liking your ad or helping you achieve your objective). Negative Feedback, on the other hand, is the number of times Facebook expects people to make an unwanted action (hiding your ads, choosing not to see ads from you, etc.). If you have a high amount of positive feedback, you will have a high relevance score. If you have a low amount of positive feedback, you will have a low relevance score.
Why Should I Care About My Relevance Score?
If you want to save money and increase ROIs, then monitor and respond to your relevance scores. The higher your relevance score, the less money you have to pay to reach more of your target audience. Additionally, relevance scores indicate whether you should update your ad or edit your target audience. If your ads' high relevance score plummets over time, this means you need to update your ad. To remedy this, craft new creative and make it fresh for your audience's eyes. If your relevance score has always been low, try updating your target audience—perhaps you're targeting the wrong people.
How Can I Improve My Facebook Relevance Score?
1. Carefully choose your audience
Be descriptive and specific about your target audience. For example, if you're selling Louis Vuitton handbags, target women within the ages 18-45 from an affluent family or women who make a certain amount of money or wealthy men who are either married or in a relationship (men may also buy handbags for their significant others). Don't just simply target women. Low income women, for instance, may not be interested in buying expensive handbags.
2. Create a clear message
Write a clear and concise message on your ads so your audience knows exactly what you're selling. Write something that catches their attention.
3. A/B test
Test copy against copy, image against image, target against target, to see which ads work the best.
How Can I Find My Facebook Relevance Score?
Step 1: Go to Ads Manager
Click the "Business Manager" tab then click "Ads Manager" on the drop down menu.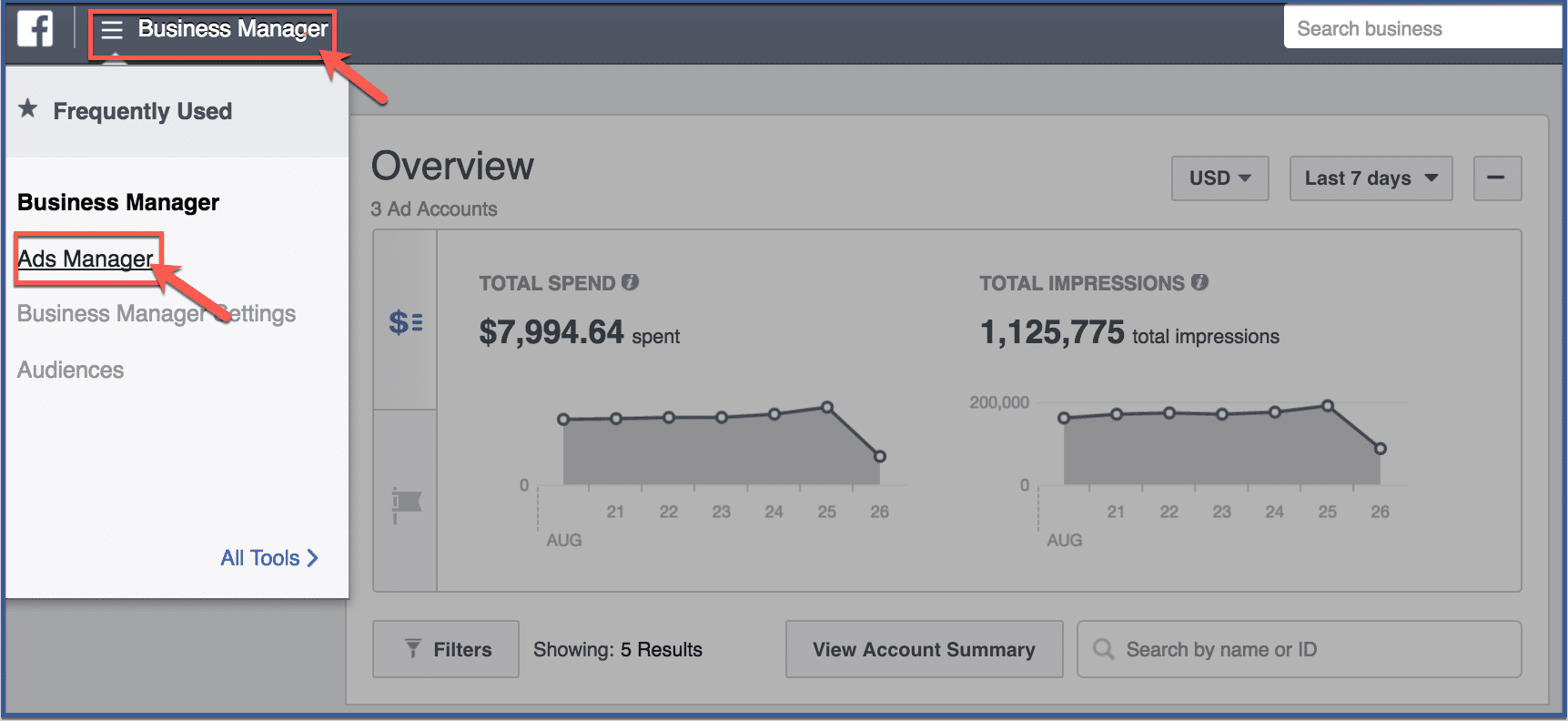 Step 2: Go to your ads
Click "All Campaigns" then click "All Ads" on the drop down menu. You can also choose "All Ad Sets" depending on whether you want to view your ad sets or ads. If you want to view the relevance scores of specific ads, click "All Ads".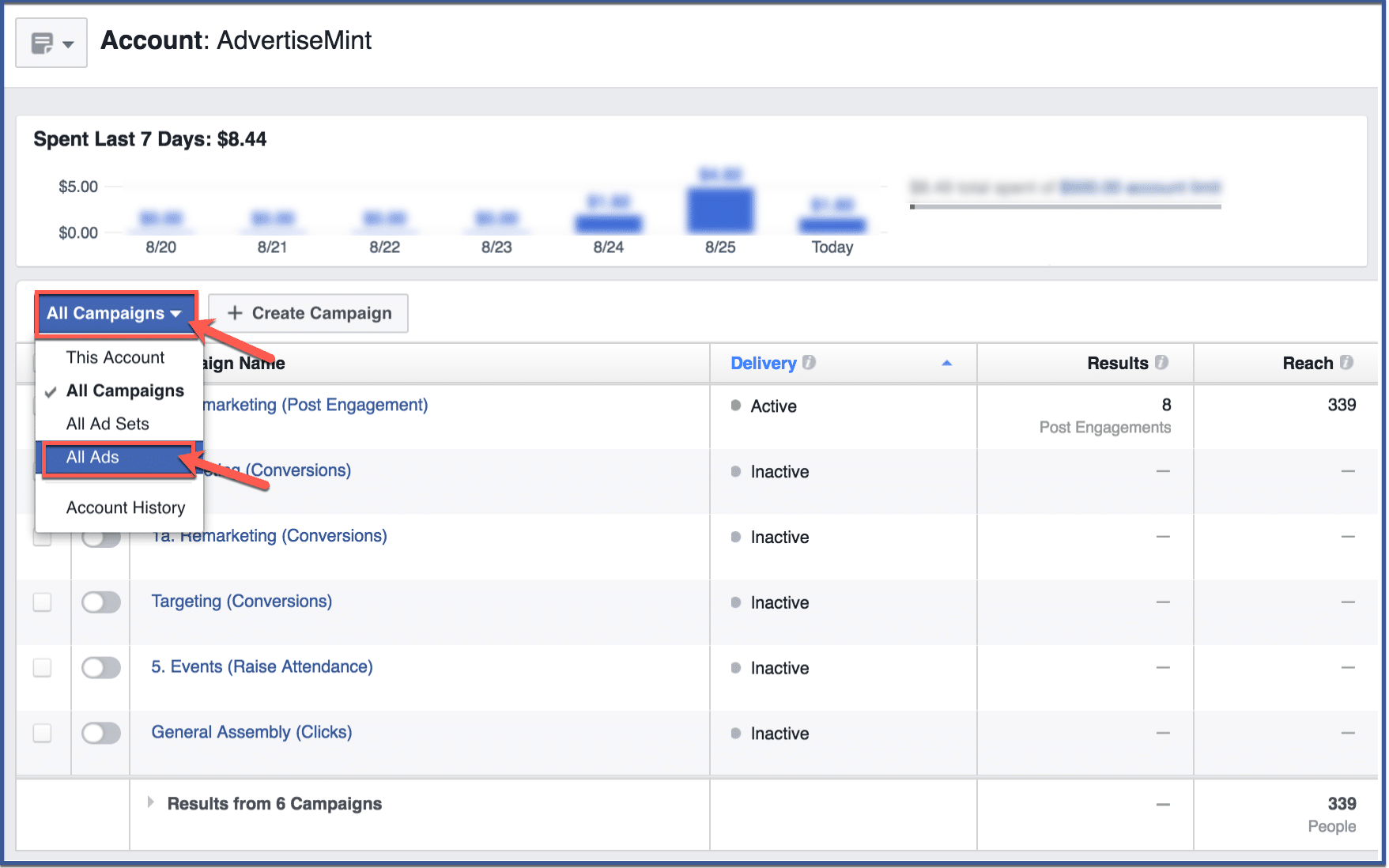 Step 3: Go to Customize Columns
Click the Performance tab located on the right side of your screen. Then click "Customize Columns" on the drop down menu.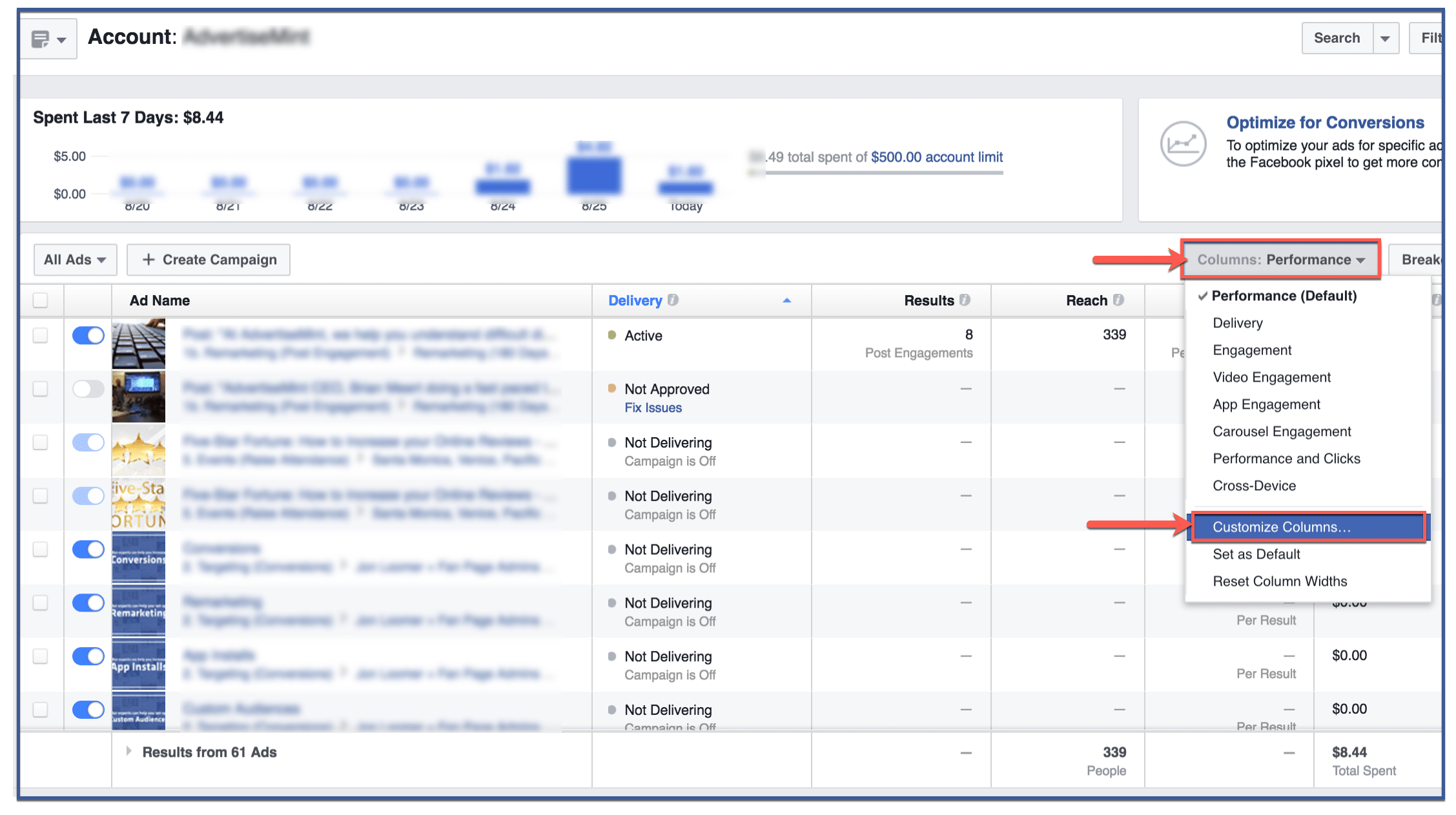 Step 4: Click Relevance Score
Check "Relevance Score". If you don't check it, your relevance score won't show. You can also check additional information you would like to see. For example, if you want to see your reach, frequency, or total conversion value, click their boxes. After checking the information you want to see, click "Apply".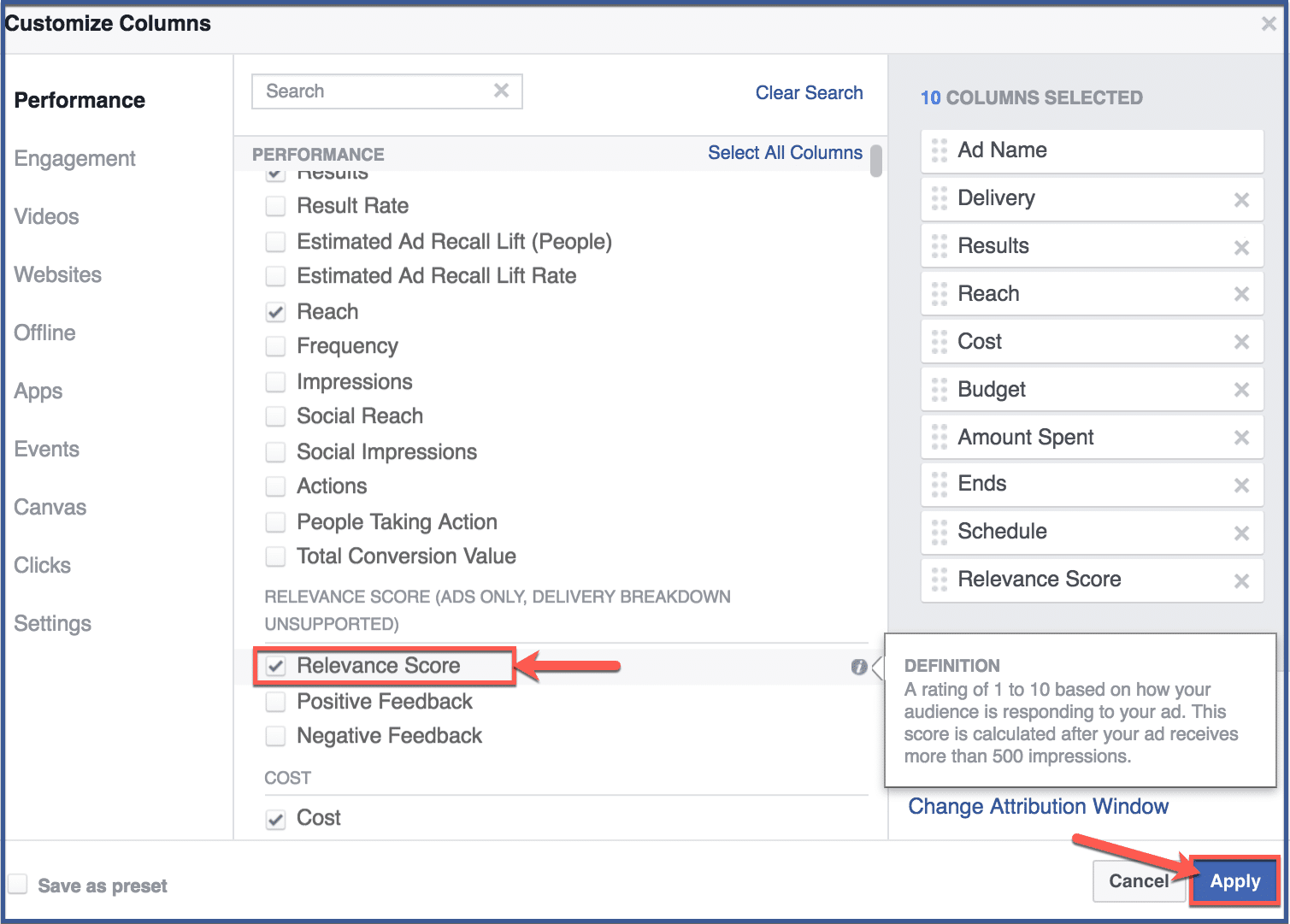 Step 5: You're Done!
Your relevance score is highlighted in the image below.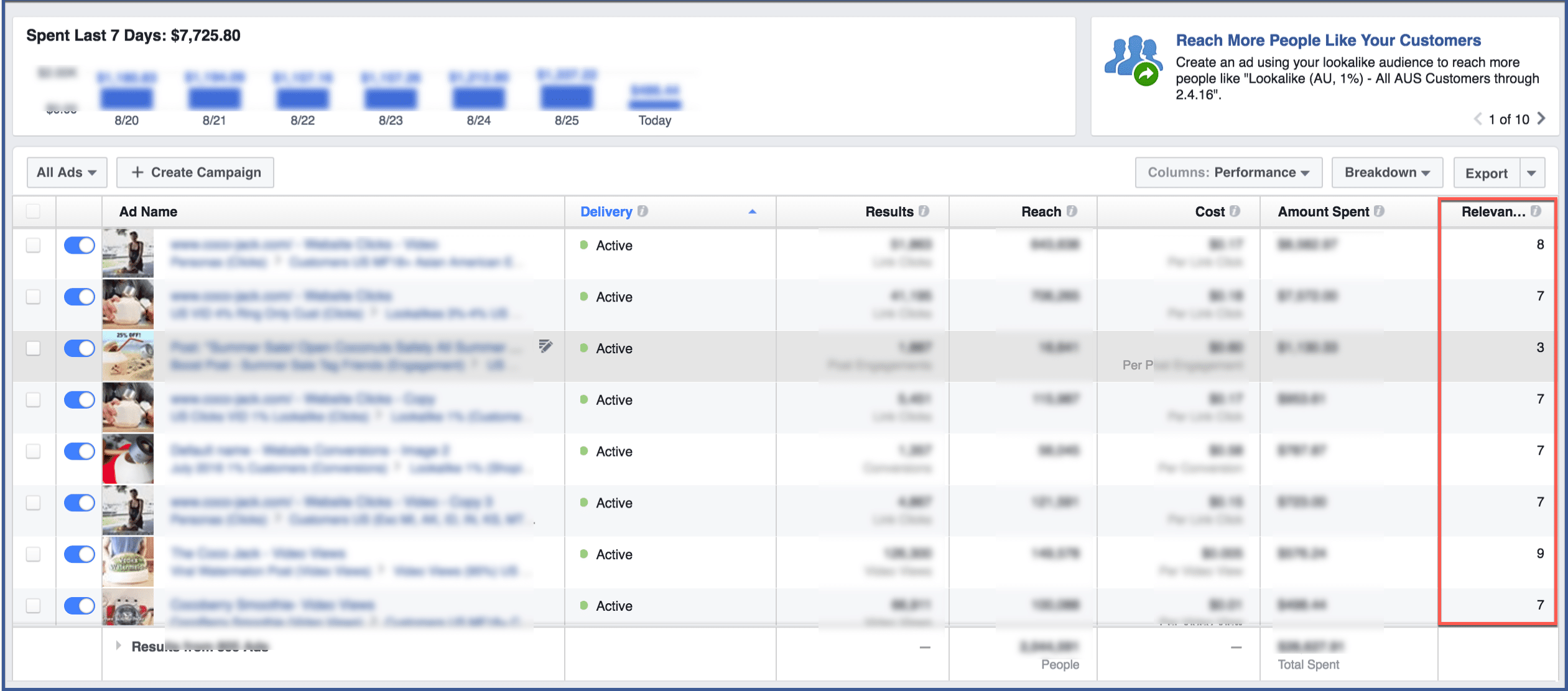 Was this article helpful and informative? Leave comments below if you have more questions or if you simply want to add other resources or tips.