The Facebook sidebars, also known as the right or left side columns, appear on either sides of your news feed. The sidebars contain both important information and easily accessible actions that a Facebook ads company will always rely on. For instance, the left side contains actions such as creating a Facebook event, an ad, or a fundraiser while the right sidebar contains trending topics and Facebook ads.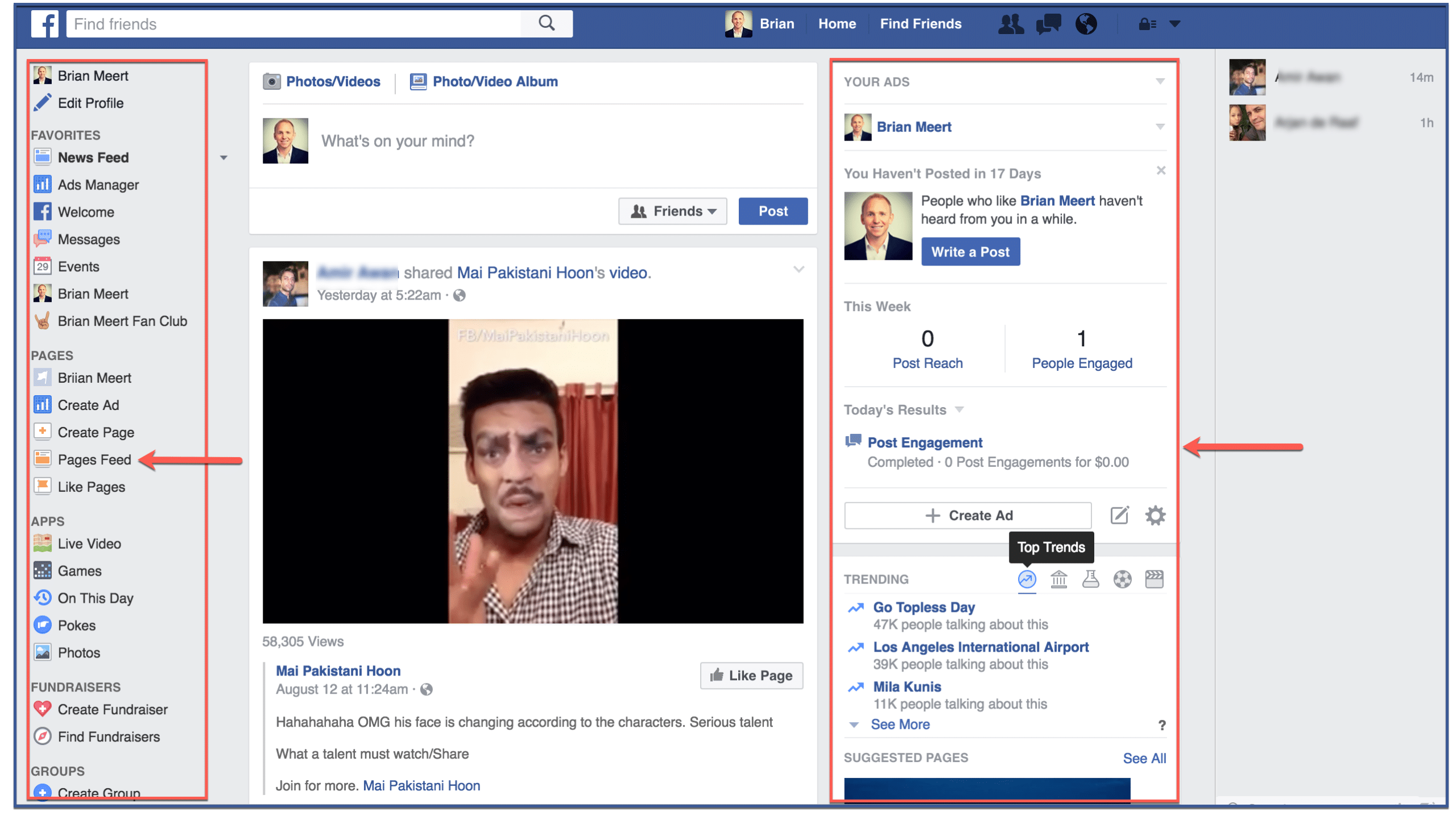 Although news feed ads trump sidebar ads in popularity, side bar ads also come with beneficial Facebook advertising services. To better the ad viewing experience, sidebar ads display a look consistent with news feed ads. Additionally, they are less intrusive then news feed ads because they are separated from the news feed.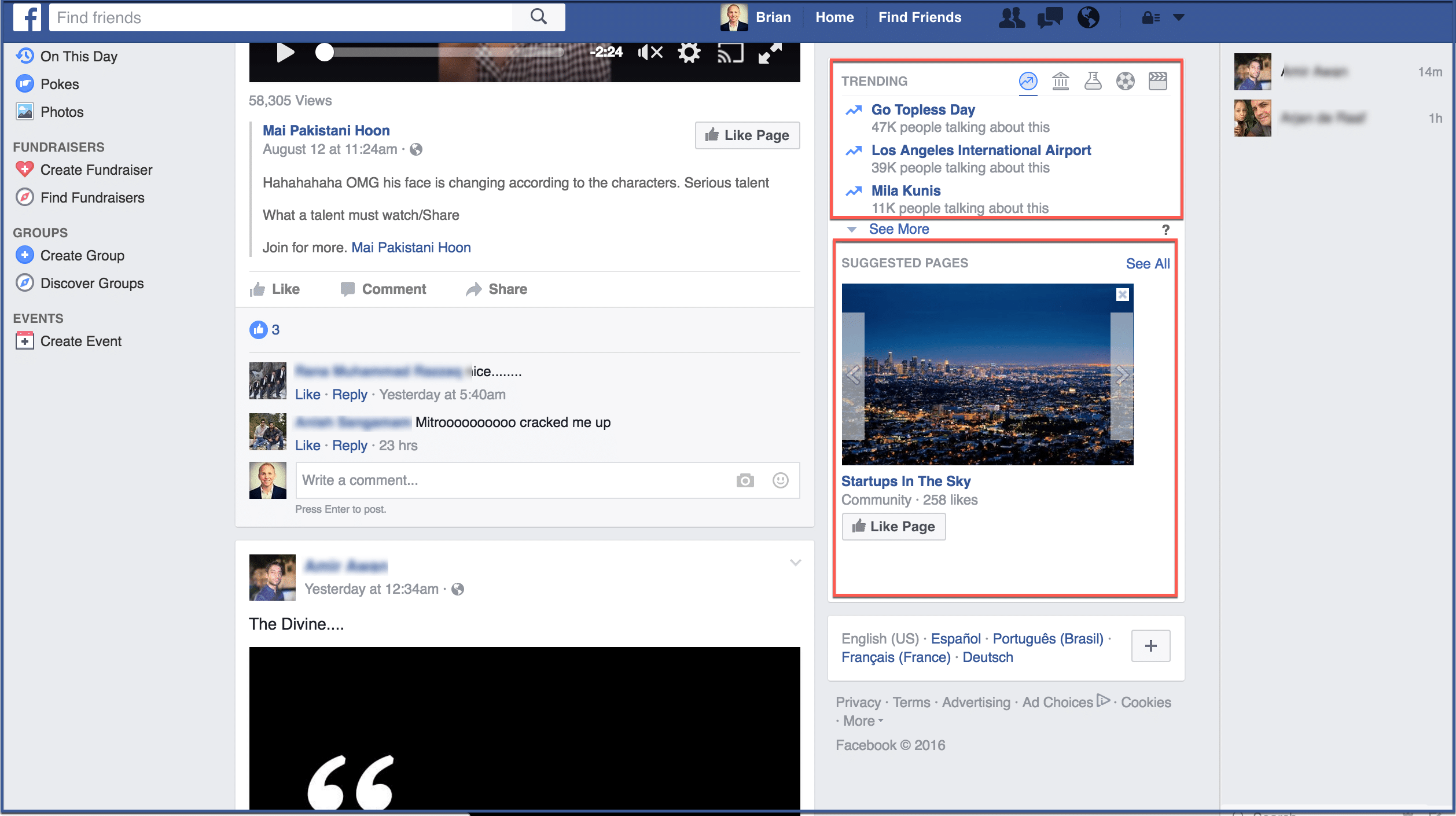 You might be wondering which ad would be better: the news feed ad or the sidebar ad? Using both would increase your chances of obtaining your objective, however, the sidebar ads are cheaper than the news feed ads. Furthermore, one placement may work best for some and not for others. To find the best method, A/B test until you yield the desired results.
The different sections of the Facebook Sidebar.
The Facebook sidebar is divided into several sections, each containing links to different features of Facebook. Here is a brief overview of each section:
News Feed:

 This section shows the latest posts from your friends and groups.

Trending:

 This section shows the most popular posts on Facebook.

Pages:

 This section shows the pages that you have liked.

Events:

 This section shows the events that you are attending or have been invited to.

Marketplace:

 This section allows you to buy and sell items.

Groups:

 This section shows the groups that you are a member of.

Watch:

 This section allows you to watch videos and live streams.

Games:

 This section will enable you to play games.

More:

 This section contains links to other features of Facebook, such as Messenger, Events, and Groups.
How to use the Facebook Sidebar?
The Facebook sidebar is a great way to quickly access the different features of Facebook. To use the Facebook sidebar, simply click on the different sections that you want to view. You can also use the search bar to find specific content.
Here are some tips for using the Facebook sidebar:
If you use Facebook a lot, you may want to pin your favorite sections to the top of the sidebar. To do this, simply click on the three dots in the top right corner of a section and select "Pin to top."

You can also customize the Facebook sidebar to your liking. To do this, click on the gear icon in the top right corner of the sidebar and select "Customize sidebar." From here, you can choose which sections to show and hide.

The Facebook sidebar is a great way to discover new content on Facebook. If you're not sure what to click on, try browsing through the different sections. You may find something that you're interested in.
Why use Facebook Sidebar?
Using the Facebook Sidebar offers several benefits that enhance your overall Facebook experience and streamline your interactions on the platform. Here's why you should make the most of the Facebook Sidebar:
Quick Access to Key Features:

 The Sidebar provides one-click access to essential features such as your News Feed, Messenger, Notifications, Marketplace, Groups, and Events. This eliminates the need to navigate through multiple menus, saving you time and effort.

Efficient Navigation:

 With the Sidebar, you can seamlessly switch between different sections of Facebook without losing your place. Whether you're catching up on updates, chatting with friends, or exploring events, the Sidebar ensures smooth navigation.

Stay Informed with Notifications:

 The Notifications icon in the Sidebar keeps you informed about interactions, activities, and events related to your posts, friends, and groups. This helps you stay up-to-date without having to actively search for updates.

Real-Time Communication:

 The Messenger icon in the Sidebar grants instant access to the chat platform. You can engage in real-time conversations, share media, and connect with friends, family, and colleagues without interrupting your browsing.

Discover Marketplace and Events:

 The Sidebar allows you to effortlessly discover and explore the Marketplace, where you can buy and sell items within your local community. Additionally, you can access Events to stay connected with virtual and in-person gatherings that match your interests.

Customization for Convenience:

 Customize the Sidebar by adding shortcuts to pages, groups, and profiles you frequently visit. Reorder sections to prioritize the features you use most, creating a personalized layout that aligns with your preferences.

Minimize Distractions:

 By providing a consolidated view of key features, the Sidebar helps you focus on what matters most. You can quickly interact with friends, engage in conversations, and access updates without getting lost in a sea of menus.

Consistent Experience Across Devices:

 Whether you're using Facebook on a desktop or mobile device, the Sidebar's core features remain consistent. This ensures a seamless experience and familiarity, regardless of the device you're using.

Engage with Communities:

 The Sidebar grants access to Groups, allowing you to engage with communities that share your interests, passions, and hobbies. Connect with like-minded users and participate in discussions and events that matter to you.

Optimized User Experience:

 The Sidebar is designed to enhance user experience by providing quick, convenient, and organized access to Facebook's diverse range of features. It simplifies the process of interacting with friends, content, and activities on the platform.
By taking advantage of its functionalities and customization options of Facebook Sidebar, you can enhance your Facebook experience and make the most of your time spent on the platform.
Conclusion
The Facebook Sidebar is more than a static element; it's your digital guide through the labyrinth of social media. From facilitating interactions to connecting you with friends, the Sidebar plays a vital role in your online journey.
FAQs
What exactly is the Facebook Sidebar?
Understand the core concept of the Facebook Sidebar and its role within the platform's user interface. Learn how the Sidebar enhances your navigation and interaction on Facebook.
How do I access the Facebook Sidebar?
Discover the various ways to access the Sidebar, whether you're using Facebook on a desktop computer or a mobile device. Get step-by-step instructions on how to locate and engage with the Sidebar.
What features are available in the Facebook Sidebar?
Explore the range of features and functionalities that the Facebook Sidebar offers. Learn about icons such as News Feed, Messenger, Notifications, Marketplace, Groups, and more, and how each feature contributes to your Facebook experience.
Can I customize the Facebook Sidebar to suit my preferences?
Find out how you can personalize your Facebook Sidebar by customizing shortcuts, reordering sections, and expanding or collapsing different components. Discover how to tailor the Sidebar to align with your usage habits.
How does the Facebook Sidebar contribute to a seamless user experience?
Learn about the benefits of using the Facebook Sidebar, including efficient navigation, quick access to key features, and streamlined interactions. Understand how the Sidebar minimizes distractions and enhances your overall Facebook journey.
Was this article helpful and informative? Leave comments below if you have more questions or if you simply want to add other resources or tips.