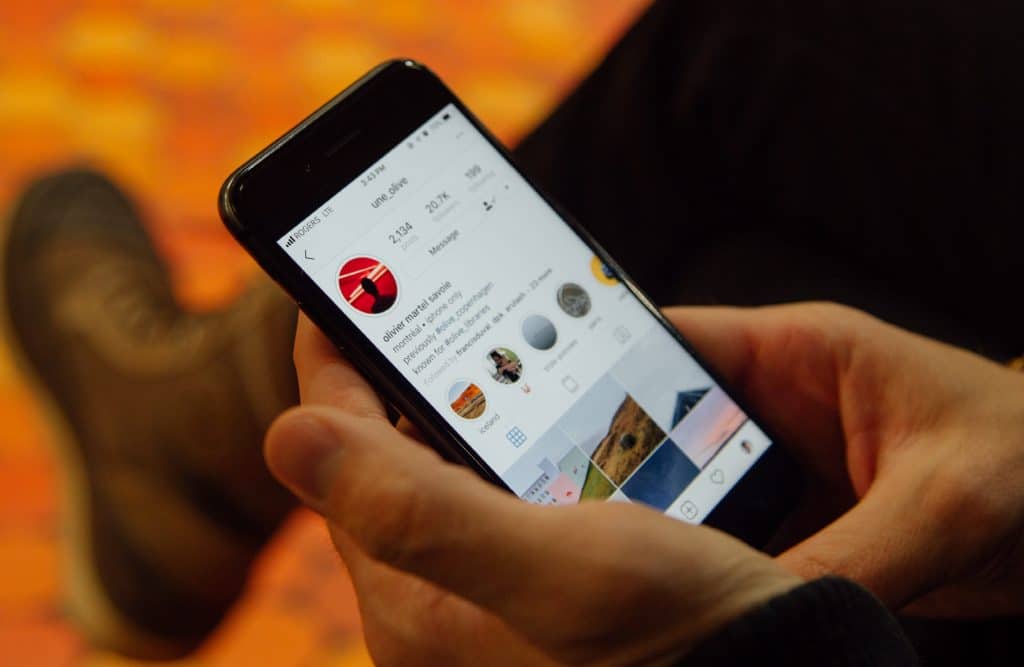 Charles Deluvio / Unsplash
With more than 500 million users visiting Instagram daily, it's no surprise that many brands leverage the platform to promote their businesses. But what if all the ideas have been exhausted, and you don't know what to post? This article provides six options for Instagram content that will generate interest around your brand.
Failure Stories
We all have flaws, and projecting an image of perpetual perfection is no longer a trend, especially in the celebrity and influencer industry. Tell followers about your failures: It reminds them that no one is perfect, that we make mistakes. This, consequently, humanizes your brand.
However, be careful with the type of failure stories you share. This does not mean talking about angry customer calls. Rather, share a minor mistake. For example, if you're an advertising specialist, share your experience of creating unsuccessful ad campaigns and the lessons you learned that improved performance.
When sharing failure stories, it is important to demonstrate the solution. At the end of the story, focus on how you got out of the situation. This will build confidence in your brand and deliver value to followers. By pointing out a failure without solving it, you run the risk of appearing incompetent.
Remember, there should be no errors in your copy. Avoid typos, and if necessary, use writing tools such as Pro Essay Writer or ProWritinGaid, so you can correct errors that undermine your message.
Influencer Posts
According to the data, companies earn $5.20 for every $1 spent on marketing influence. Whenever public figures use your product, encourage them to share a post on their pages. This is a great way to gain audience recognition. After all, influencer marketing is a powerful tool for building brand awareness, social proof, and customer trust. Find reliable influencers known among your audience and work with them periodically.
In this example, KitKat works with Monika Pundziute to promote its green tea matcha flavor.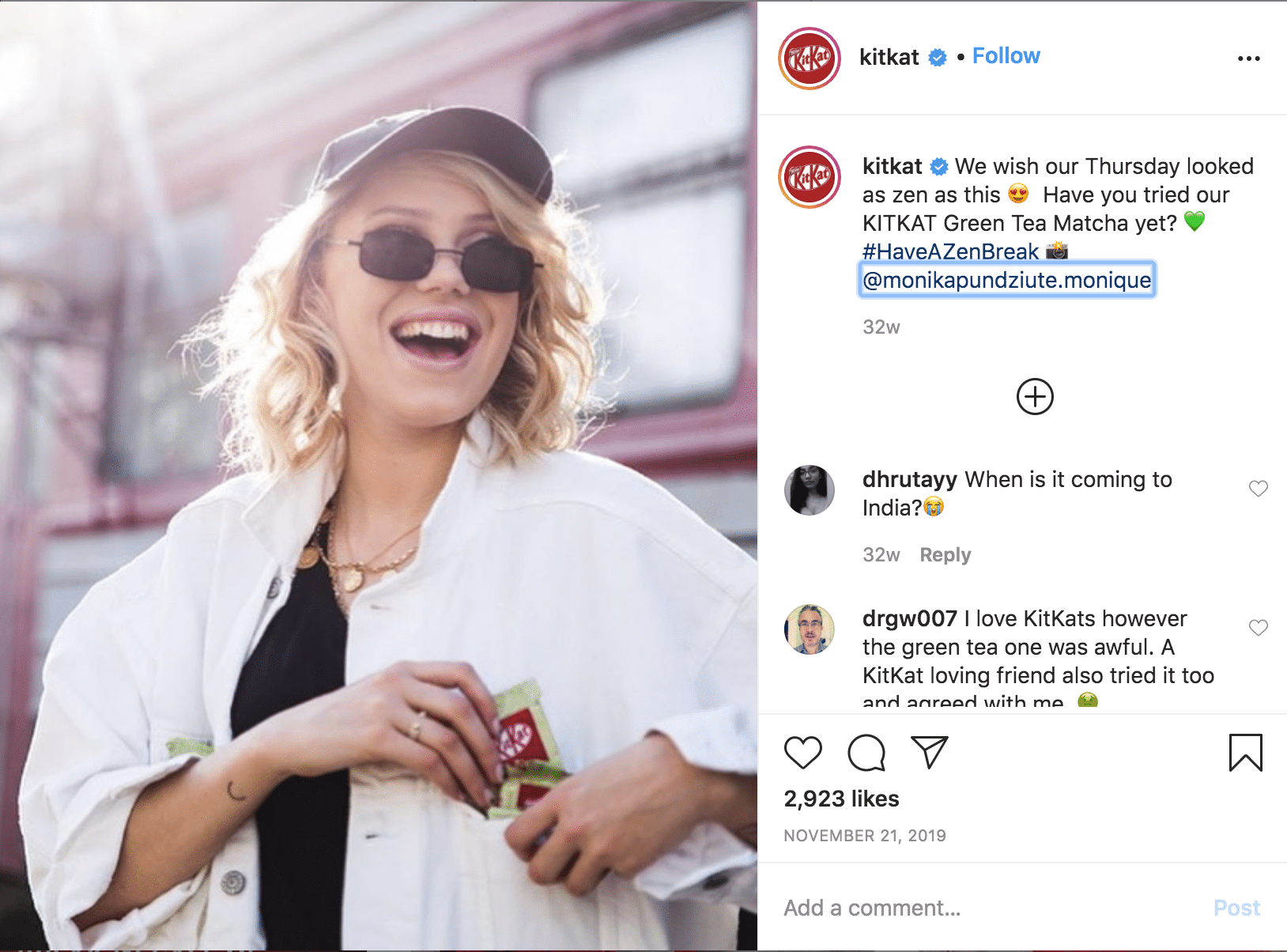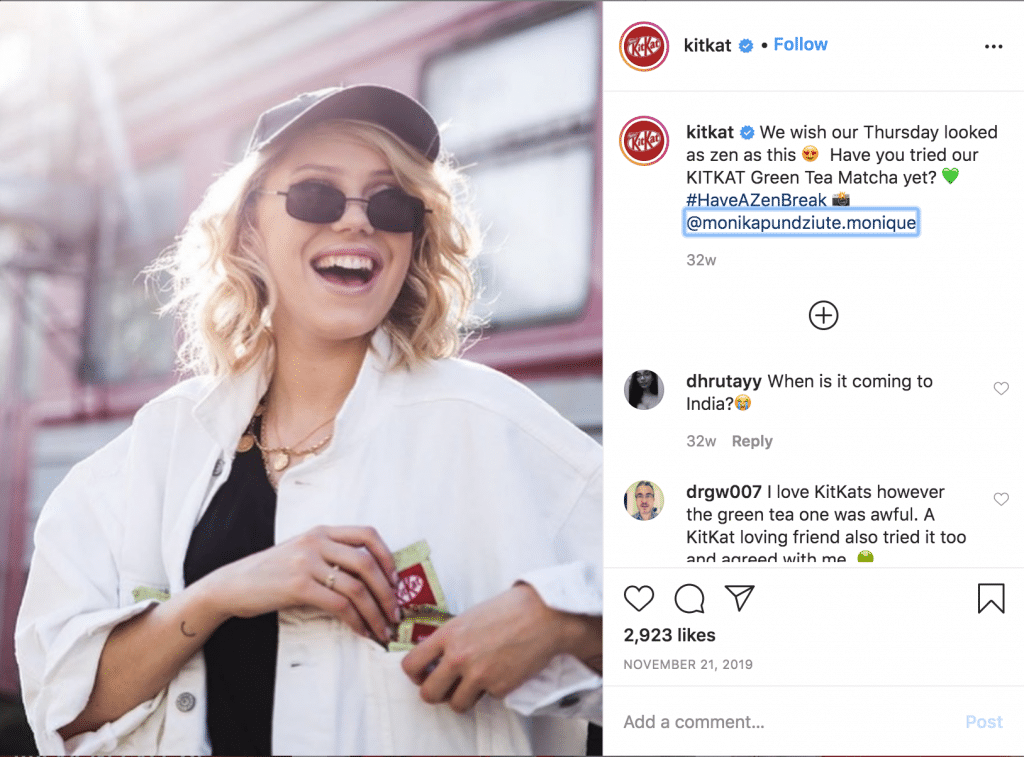 KitKat / Instagram
If you want to increase brand awareness, then you need to take care of your company's corporate identity. If you don't have a memorable logo, it's time to fix that. The bottom line is the more users see your brand, the more trust it builds. Therefore, it is so important to create a logo as soon as possible and work on recognition.
Live Streams
Live streaming is the best way to get closer to your subscribers. Share something useful to generate engagement. For example, if you manage a cosmetics brand, show how to apply your product correctly or show unconventional uses. To get the best effect from this type of content, it is necessary to conduct such broadcasts periodically, so you can win the attention and love of your followers, who will look forward to your next broadcast.
In this example, Converse goes live on Instagram. After the broadcast, Converse posted the video on its feed, where it will remain permanently for all followers — even those who missed the live stream — to see.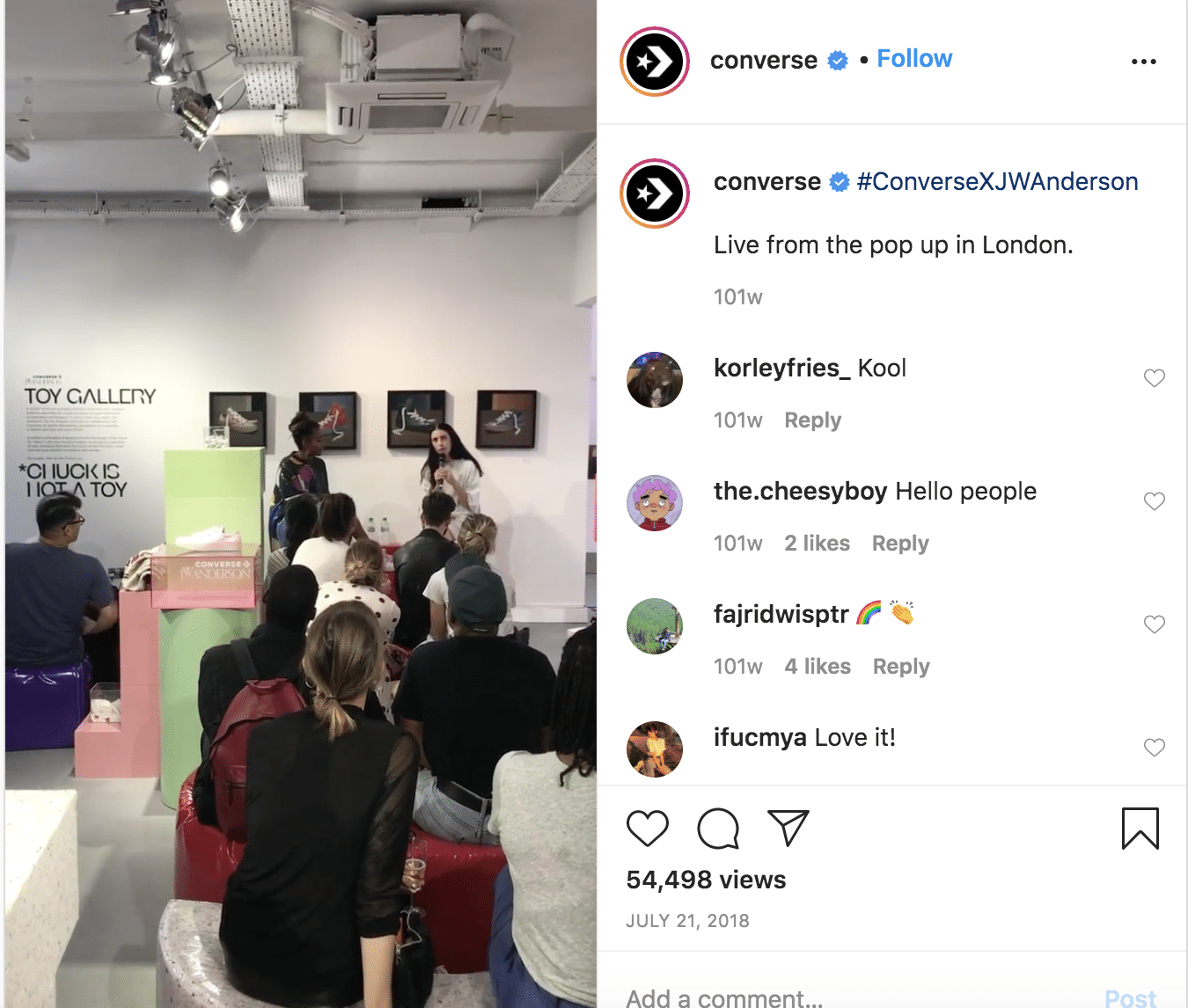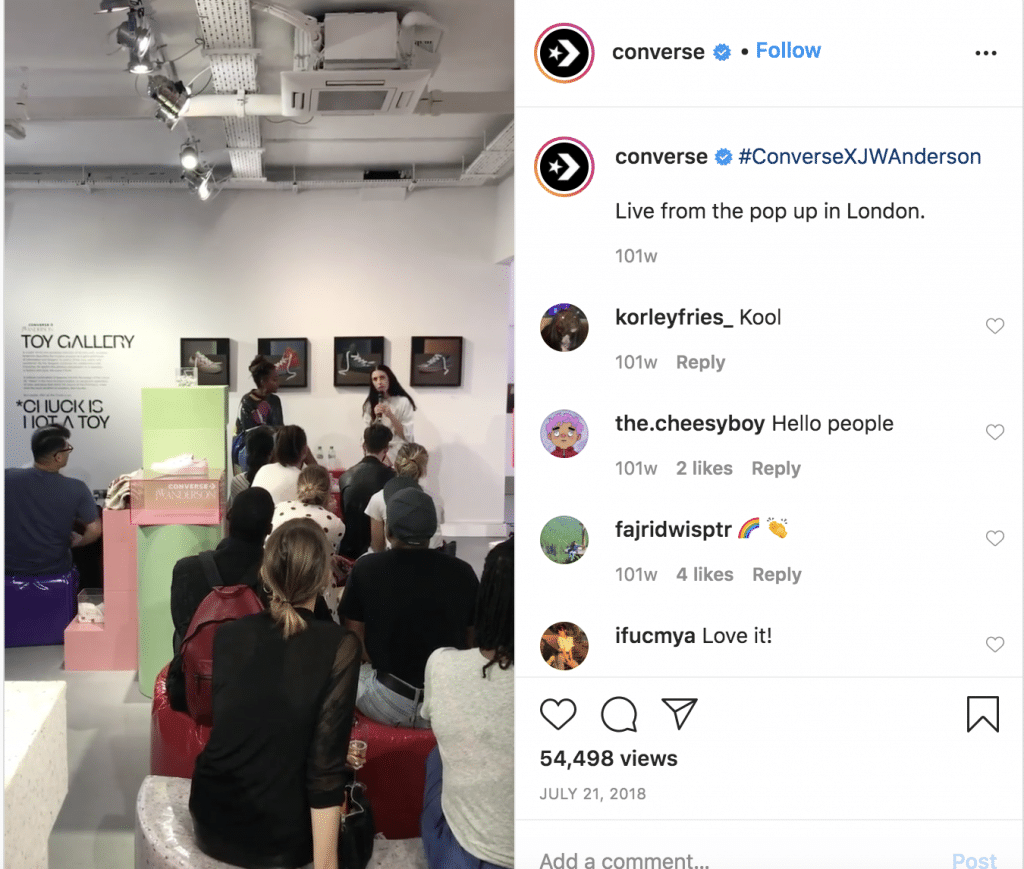 Converse / Instagram
UGC Reposts
This is a technique that should be in the sleeve of every brand manager who wants to increase reach: user-generated content. UGC presents two benefits. First, people whose photos you publish will be pleased, and they will be more likely to tell their friends about it. This may result in a chain reaction: Your followers' friends and family may want to create their own content. Second, using UGC builds trust around your brand. It acts as material confirmation. According to research, 82% of buyers are more positive about a company after seeing user-generated content.
The easiest way to get people to share photos with your product is to give an incentive. For example, offer a discount on their next purchase. In this example from Nyx, the cosmetics brand reposts content from a customer who is showcasing her makeup skills.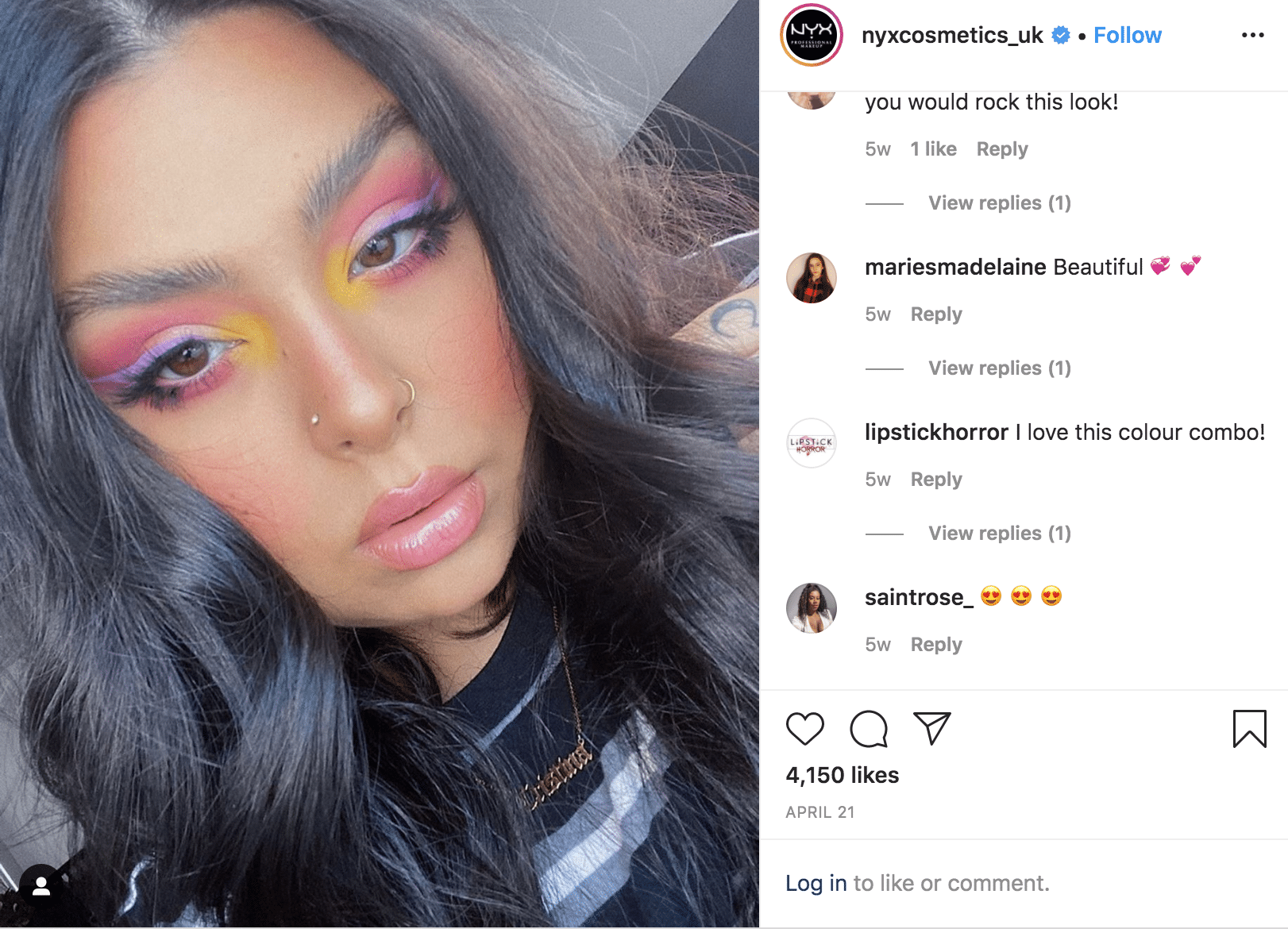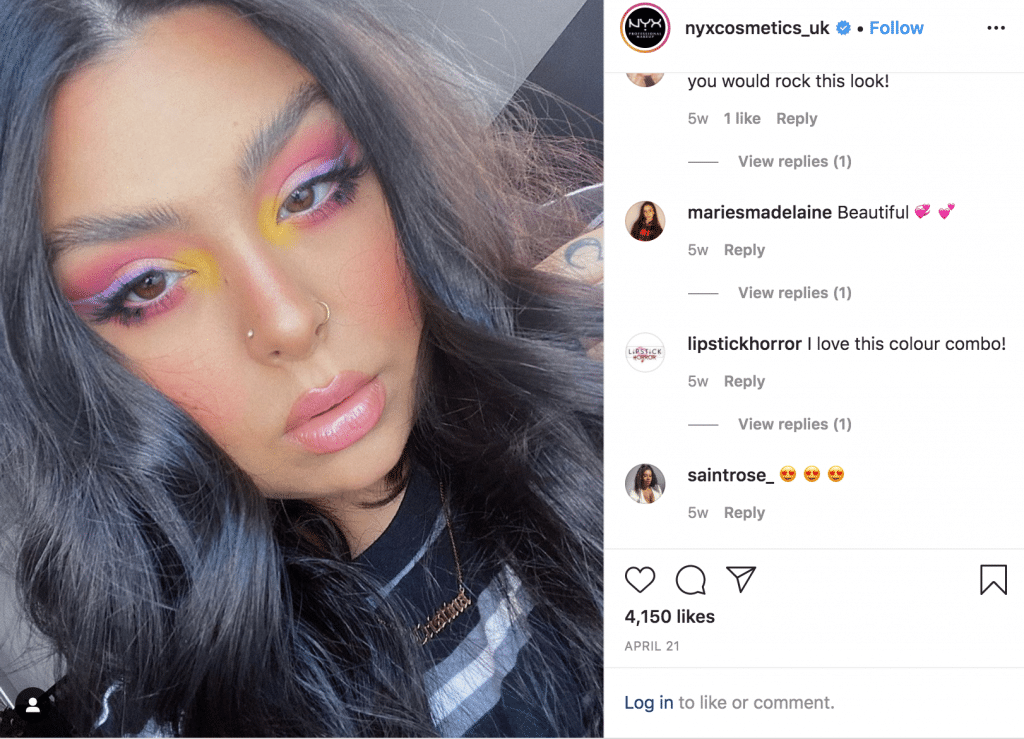 Nyx Cosmetics / Instagram
Customer Feedback
Are you constantly receiving feedback from your customers? Make it an additional tool for building trust. It can be photos, videos, or screenshots of messages. Any option is suitable. The main thing is to demonstrate the benefits of using your product. According to studies, 63% of users more often make purchases from a brand that has reviews from other customers. Add significance to your words and let your customers feel safe and relaxed, having received confirmation that you can be trusted.
Here, Hana Cure Effect features before-and-after posts from customers on its Instagram account: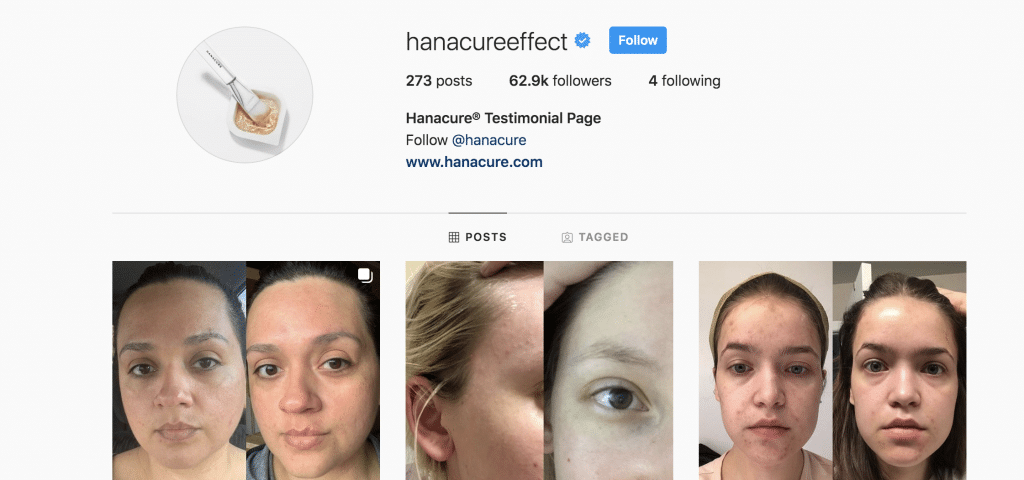 Hana Cure Effect / Instagram
Guides
Share useful content that will simplify the life of your audience. Product usage guides are something that they will definitely be interested in. For example, if your brand released a new cream, show followers how to apply it correctly: what movements, on which areas of the skin, at what time, how often, and with which products can be combined. This will not only potentially attract new followers but also increase sales.
In this example, MaxiGlide provides a how-to guide for curling hair on its Instagram post. 
MaxiGlide / Instagram
Conclusion
The ideas outlined here will diversify your Instagram feed. To generate new posts while maintaining a steady publishing rhythm, plan ahead and schedule content by managing a content calendar. The more value you give, the more followers you receive. In fact, you might just end up doubling your Instagram followers if you implement the right strategy.