Facebook has a new feature that allows you to share events to Stories. When you create an event page, you can promote it further by sharing it on Facebook Stories, where users can indicate if they're interested in your event. This is exciting for any Facebook agency.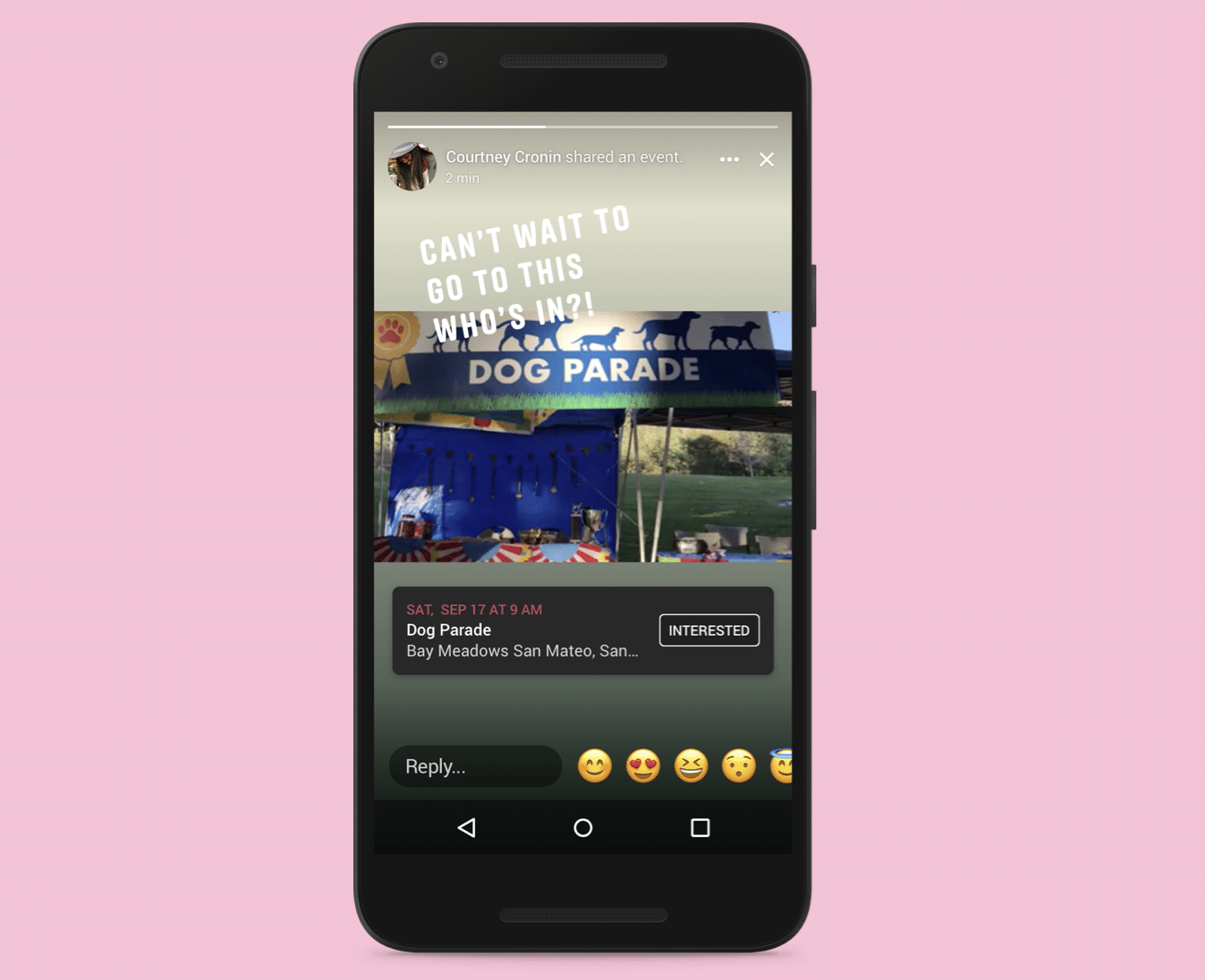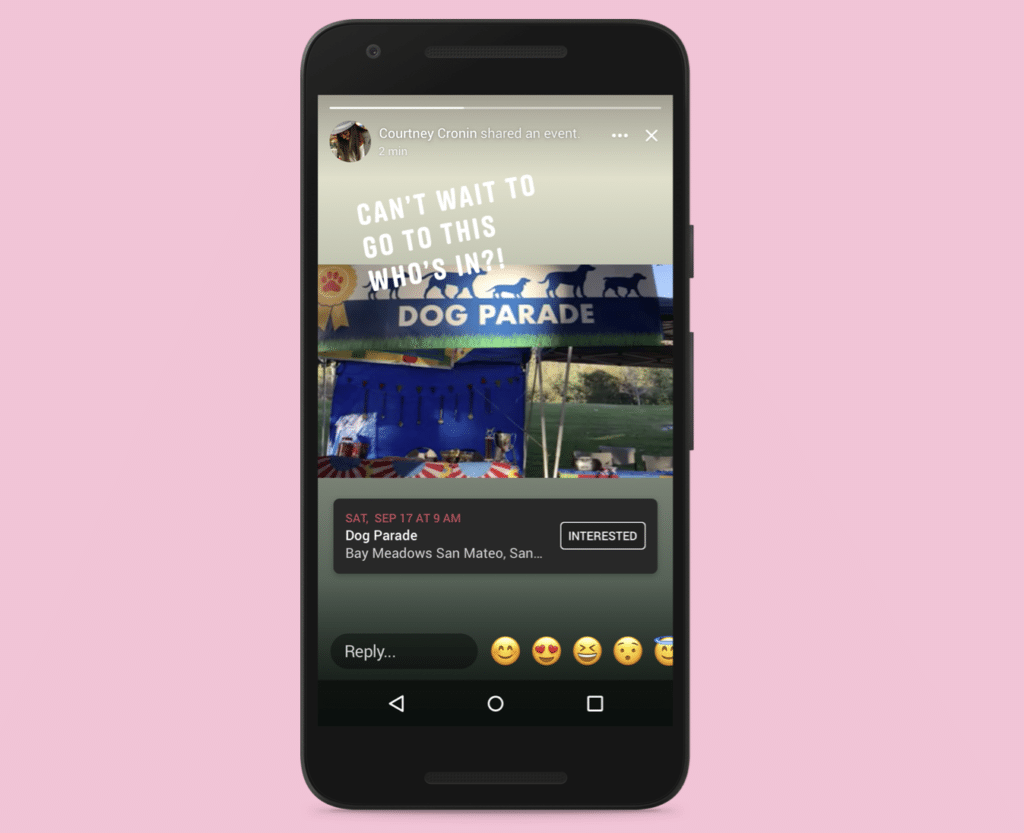 What is a Facebook Event?
A Facebook event is a digital platform that allows users to create and promote gatherings, occasions, or activities. Users can create event pages, provide event details such as date, time, location, and description, and invite their friends or a broader audience to attend.
Events can range from social gatherings, parties, and fundraisers to workshops, webinars, and business conferences. Attendees can RSVP, interact with event posts, and engage in discussions, creating a virtual space for event coordination and communication.
Facebook events provide a convenient way for users to stay informed about upcoming activities and for event organizers to manage attendance, share updates, and foster engagement within a targeted community.
Why share Facebook Event on Stories?
Sharing a Facebook Event on Stories offers a potent blend of visibility, immediacy, and interactivity that can significantly amplify your event's impact.
By seamlessly integrating your event details into the Stories format, you tap into a captivating storytelling medium that captures users' attention and compels them to take action. The ephemeral nature of Stories triggers the Fear of Missing Out (FOMO) phenomenon, encouraging users to engage with your event promptly.
Moreover, Stories reach a dedicated and engaged audience, ensuring your event garners the attention it deserves. With the added ability to incorporate swipe-up links, you create a direct pathway for users to explore event specifics and seamlessly RSVP.
Engaging features like polls, questions, and stickers transform your event promotion into an interactive experience, fostering meaningful connections and boosting attendance. In a digital landscape where moments are fleeting, sharing your Facebook Event on Stories is a strategic move to elevate your event's visibility, engagement, and ultimately, its success.
Here's How you can add Facebook Event on Stories.
Step 1: Go to the Facebook event that you want to share to Stories. Select the three-dot menu near the top of the page where it says "More."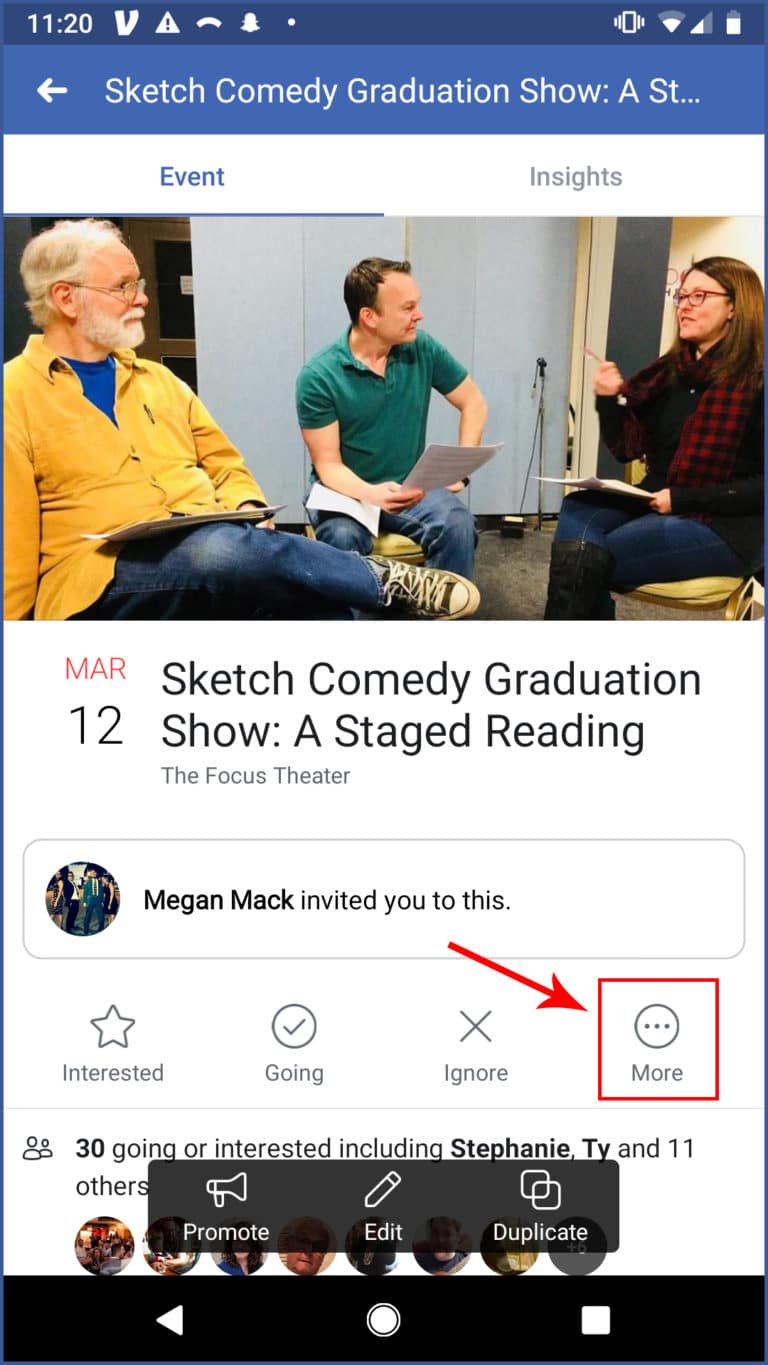 Step 2: Select "Share."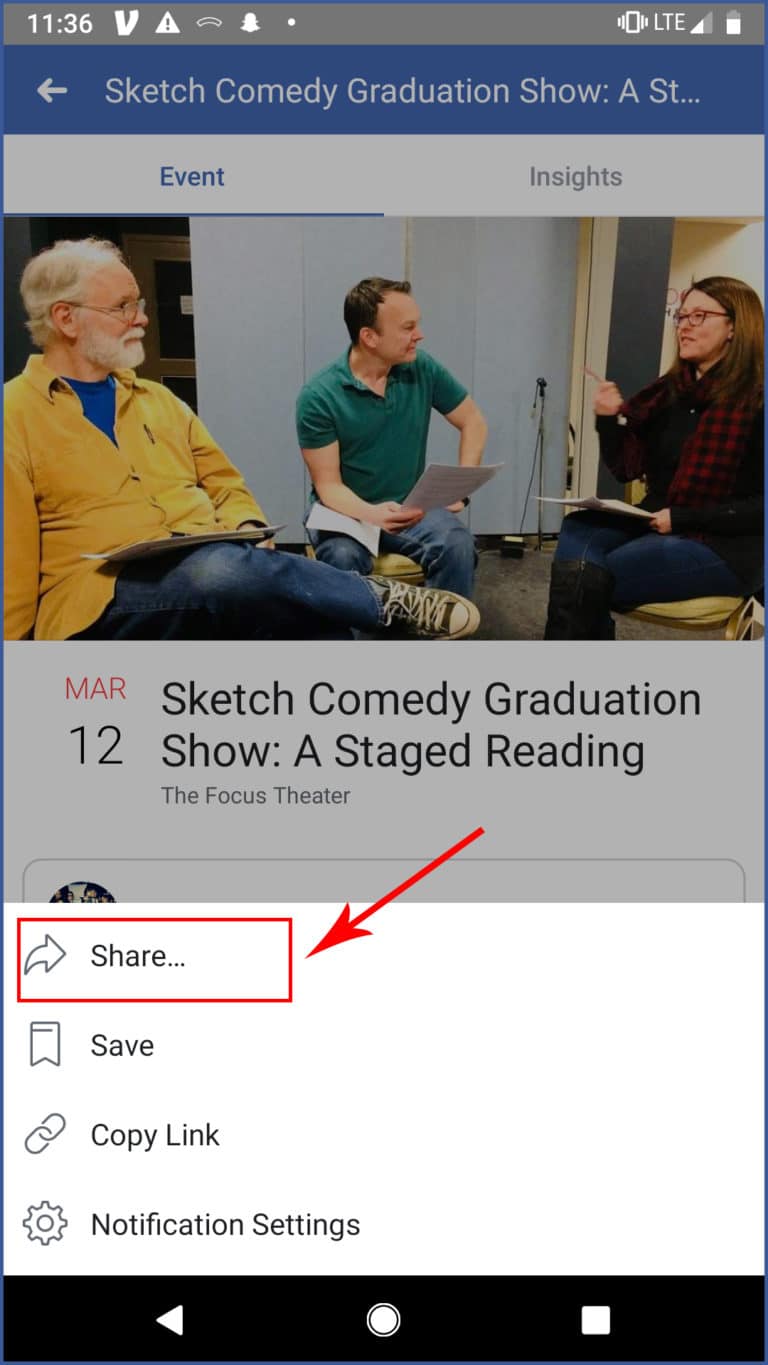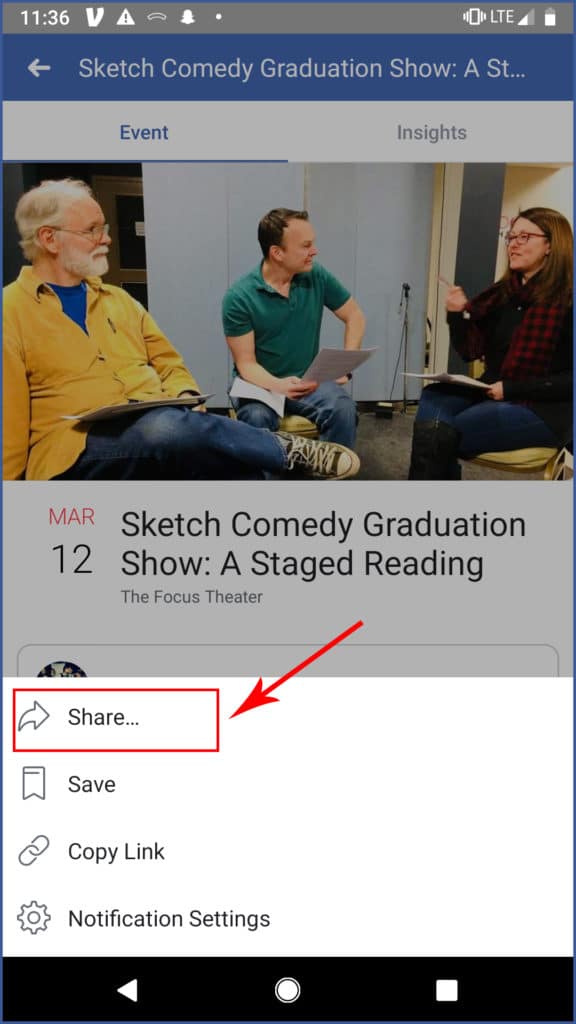 Step 3: Select "Share to Story."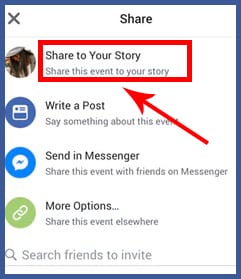 Now, when users see your Story, they can tap "Interested" within the Story to indicate whether they may attend the event. You will be able to see whether a user says they're interested.
Crafting Engaging Stories for Your Event
Sharing your event on Stories is just the beginning. To truly maximize impact, craft Stories that are visually appealing and emotionally resonant. Consider employing the art of visual storytelling – use captivating images, compelling captions, and intriguing design elements to convey the essence of your event.
Don't forget the power of the swipe-up feature. By incorporating a swipe-up link in your Story, you provide a direct path for users to access your event page, eliminating any friction and streamlining the RSVP process.
Driving Engagement and Measuring Impact
With your event Story live, it's time to harness the full potential of engagement features. Polls, questions, stickers, and interactive elements create an immersive experience that encourages users to participate and connect.
Capitalize on this opportunity by asking thought-provoking questions, sharing behind-the-scenes insights, or offering exclusive previews. And the best part? You can track the impact of your efforts.
Facebook provides insights and analytics that unveil the performance of your Story – from views and interactions to link clicks and conversions. This data empowers you to fine-tune your strategy and optimize future event promotions.
Benefits of sharing Facebook Events on Stories.
Sharing a Facebook event on Stories offers a range of benefits that can significantly enhance your event promotion and engagement efforts. Here are the key advantages of utilizing this feature:
Multi-Channel Sharing:

 If your Instagram and Facebook accounts are connected, sharing your event on Facebook Stories also allows you to cross-promote it on your Instagram Stories, maximizing your reach across platforms.

User-Generated Content:

 Encouraging attendees to share their own Stories related to your event can create a ripple effect of user-generated content. This amplifies your event's reach and showcases authentic experiences.

Dynamic Content Format:

 Stories allow you to experiment with creative visuals, GIFs, music, and stickers, making your event promotion more engaging and visually appealing.

Instant Feedback:

 The interactive nature of Stories enables you to gather real-time feedback, opinions, and preferences from your audience, helping you tailor your event based on their interests.

Measurable Performance:

 You can track the performance of your Stories posts through insights and analytics, giving you valuable data on views, engagement, and link clicks to assess the effectiveness of your event promotion strategy.

Event Reminders and Updates:

 As your event approaches, you can use Stories to send out timely reminders, updates, and countdowns, keeping potential attendees engaged and informed.
This integration offers a holistic approach to event promotion, enabling you to create a compelling narrative, foster connections, and drive higher attendance and engagement levels.
Conclusion
Incorporating your Facebook event into Stories introduces a compelling blend of engagement and immediacy. By seamlessly merging these platforms, you transform event promotion into an interactive and visually captivating journey.
Each swipe opens a window of opportunity for attendees to explore, connect, and participate. Embrace this innovative approach, and witness how the fusion of Events and Stories creates a powerful avenue for driving excitement, building connections, and achieving event success.
FAQs
What is the benefit of sharing my Facebook event on Stories?
Sharing your Facebook event on Stories offers increased visibility, immediate engagement, and a sense of urgency due to the ephemeral nature of Stories. It allows you to reach a wider audience and utilize interactive features for higher user engagement.
How can I share my Facebook event on Stories?
Sharing your event on Stories is straightforward. Navigate to your event's page, select the "Share" option, and choose the "Share to Your Story" option. Customize the Story with event details, visuals, and interactive elements to make it engaging.
What are some creative ways to optimize my event Story?
You can enhance your event Story by using eye-catching visuals, incorporating interactive stickers like polls or questions, showcasing event highlights, and utilizing the swipe-up feature to provide a direct link to your event page.
Can I measure the success of my event Story?
Yes, Facebook provides insights and analytics for your Stories posts. You can track the number of views, interactions, link clicks, and overall engagement, allowing you to assess the effectiveness of your event promotion strategy.
Can I share my event on both Facebook and Instagram Stories simultaneously?
Yes, if your Instagram and Facebook accounts are connected, you can cross-promote your event by sharing it on both platforms' Stories, maximizing your event's visibility and reach across different audiences.